Nokia HERE Maps will 'wind down' Windows Phone app development in favor of Android and iOS (Update)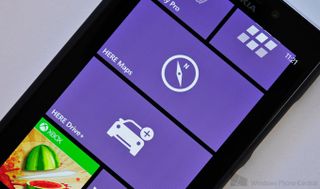 Nokia's HERE Maps division won't be spending as much development time on the Windows Phone platform as it has in the past. In a new interview with The Next Web, Sean Fernback, the Senior Vice President, Everyday Mobility, at the company's HERE division, is quoted as saying, "As a result of the transaction, we're having to wind down our Windows Phone app development and shift it over towards Android and iOS."
The "transaction" Fernback is referring to is, of course, Microsoft's acquisition of Nokia's Devices and Services division in April. Nokia has made no secret of the fact that it wants to expand its HERE Maps efforts so it can be a viable competitor to Google Maps. A few weeks ago, it launched an Android version of its HERE Maps app for Samsung smartphones and will expand that app to more Android devices, as well as iOS, later this year.
In today's interview, Fernback says that while the Windows Phone development of HERE Maps may not be getting as much attention anymore, it won't be going away completely. He added, "It's a dialogue we're having [with Microsoft], so we will see where it takes us." It's more than possible that the two companies could reach an agreement that will allow HERE Maps to continue heavy development on the Windows Phone front.
HERE Maps launched as a Windows Phone, and Nokia Lumia smartphones, exclusive in 2013, in a rebranding of Nokia Maps. Nokia also released a version of the app for Windows 8.1. Do you think Nokia is making the right or wrong decision in scaling down their Windows Phone efforts for HERE Maps?
Update: Pino Bonetti from the HERE Maps team has left a detailed response below regarding the information presented here. In short, Bonetti reaffirms that HERE Maps will be used by Microsoft for at least 4 years, offline maps are not going anywhere, and that HERE and Microsoft are "discussing with Microsoft how to proceed" with software development. In short, this looks to be more like catching Microsoft and HERE between talks, rather than any firm decisions, as Microsoft is likely to take on development more in the future.
Source: The Next Web
Windows Central Newsletter
Get the best of Windows Central in in your inbox, every day!
why ms doesn't buy a here map ._. maybe they plan to and they buy whole company and nokia name back in lumia phone @@ #slapped

I agree just buy what's left of Nokia lol there research and patents would make them king!

That would be even harder to get approved than the devices acquisition... The companies can't just go buying, and selling as they please.. Especially when they are worldwide..

What about they buy the "Here" division and integrate it with coming fully so they can better compete with "Scroogle"?

If this becomes an issue, could they not just put back Bing turn-by-turn announcements via Cortana? I think they should anyway. I can't tell how much map data in Bing is coming from HERE at this point, but if HERE were to close that door, then we'd have to wonder.

Hmm. Read Mary Jo for a less alarming (click-baity?) story.

I wouldn't be suprised that while they've shunned xbox music they've probably been expanding on the old bing maps app behind the scenes with full Cortana integration.

I think the maps itself will be developed continuously throughout all platforms. These guys are just talking about the apps that use those maps.

It's not for sale.... But, everything has its price.. Nevertheless, it's not likely... Or is it❓❓❓

why do MS and Nokia love to give the competitors pleasure by releasing their apps on ios and android and subpar skype etc on windows phone i mean concentrate on your own platform first,as a windows phone user this pisses me off and i hate when my friends rub this in my face sometimes too

Lol.. I understand your frustration....... It's all about market share..
.......
MS has money to make to. And shareholders to please..

At this point Android and iOS aren't Nokia's competitors, they're potential customers (and bigger ones than Microsoft).

still if i ever sold half my company,id never go running back to the competitor even if the nokia division ,which is not MS's , wanted to really support another platform they could have helped maybe jolla they were all nokia employees who made their own nokia of sorts

So true! Same story with the excellent MS Office mobile apps for iOS. It's frustrating and ironic for windows phone loyals that we always get the raw end of the deal but unless the lumias start shifting massive numbers it's not going to change anytime soon.

No but they do want ms to pay them to develop like they did all the other big name apps

Agreed. Nokia wants even more money from Microsoft. Microsoft made a huge mistake engaging in business with this mediocre company, in 2 years they couldn't built a decent smartphone, and now they are using the key assets for extortion.

No. It was MS who wanted to kill Nokia to acquire its mobile division. Nokia made some of the best Lumia devices like the 920, 925, 1020, and 1520 but MS was so low to update the OS. After the acquisition, MS has been much faster in upgrading and releasing new features for the OS. This feels more like Nokia's payoff to MS.

Microsoft didn't eat to kill Nokia, Nokia forced Microsoft's hasn't to buy them because they knew they were the only cell phone company making compelling windows phones and they wanted to get out of the devices and services business so they made they X line of Android phones to force Microsoft to purchase them. More they're doing basically the same thing with here maps because they know Google isn't making official apps for windows phone. In short, Ellop was a Trojan for Nokia using Microsoft s the cash cow and securing himself a job at the same time.

So Nokia wanted to get out of the handset business.. So they made another handset?

Elop is a Trojan for Nokia now??? Make up your mind people...!

Poor Elop. That guy can never win

Shockingly poor analysis. Nokia bled itself dry whilst Microsoft chopped and changed course. Microsoft drove Nokia into the ground - I'm not surprised the remnants of Nokia are ditching MS/Windows Phone.

Not at all. Nokia killed themselves with Symbian. It didn't grow beyond a simple smartphone platform to engage the developing expectations of the public. They also didn't market it properly in North America. Those bad decisions led them to the brink when Microsoft saved their bacon. Sadly Microsoft was even less capable of marketing to the public and the two of them were riding a horse that could only carry one. The Nokia X was a dagger poised over both their heads. There's no way Nokia could compete with Samsung, and there was no way Microsoft could risk losing Nokia as the only manufacturer of Windows phones. Nokia doomed themselves. Microsoft prolonged their downfall and gave the Shareholders a lot more than it was worth.

It was actually a double edge. Nokia could not compete against Android with Symbian and lost market share. Then turn to Microsoft who was using the CE core that could not keep up and compete against Android then change cores but took forever in making the change and still come under specs to Android. Nokia did a pretty good job with the Lumia line but Microsoft was a slow turtle in supporting the next version of Lumia which would have help it compete against Android which doomed Nokia. Microsoft was not a good partner actually a pretty bad one.

LOL please. Nokia is the only reason why Windows Phone still exists.

How very true.. Well said

Not true. If it wasn't Nokia, it would've been Blackberry or some other smartphone co. Looking to get ahead. I'm glad it was Nokia

Nokia making the huge sacrifices in order to keep the platform on life support.

What did they sacrifice? Symbian? It was already a dying platform. A chance to compete with Samsung? Good luck with that. Nokia's Management screwed up, leaving a dying company that was rescued by Microsoft.

Jealousy, jealousy... The two companies got together and got married because they were "in-love". They both had to benefit from each other

I believe we can thank Elop for that?

LOL PLEASE! Nokia only chose to produce windows phones because they could collect money from Microsof to do so, something they couldn't collect from Google because Android is free with the exception of patents fees paid to microsoft which Nokia knew the wouldn't have to pay to Microsoft because of the deal the already had in place. They also knew as the genteman above stated, "That Microsoft couldn't afford to lose them as an OEM" because they were the only ones producing a phone the public was willing to try. (Noone here is trying to dispute the fact that Nokia can make good hardware, they just fail miserbly at producing good operation systems themselves)......Look at how choppy an miserable the Nokia X is. If they wouldn't have taken the deal with Microsoft, all Proction costs plus royalty fee would have been out of their own shrinking pockets. Nokia knows that Google will not make a G-Maps app for WP and will likely stop supporting waze for WP since they own them, Nokia figures it will exploit Microsoft again......Noone except former Nokia fanboys will choose here maps over Google maps which isn't many.

You seem mad. Don't be mad.

@rodan01 Mediocre?????? Look up the standard essential patents developed by Nokia and you will change your tune pretty damn quick.

Windows Phone would be dead if it weren't for the awesome work Nokia did. Why should Nokia want HERE to be exclusive for Microsoft? They would be missing 98% of the market.

Microsoft tried to acquire HERE Maps too, Nokia wouldn't sell it.

Once they see they can't compete on iOS and Android they're likely to change their tune.

Hopefully that attempt at competition will cause them to improve their North American content.

Yeah, would love for them to announce the exit number rather than just say take the exit.

When Here Drive first came out, it didn't annouce exit numbers in NJ. Now it does.

Of course Nokia can compete. And it will improve.

Google is not going to just roll over and let HERE come to be on par with their map offerings on Android.

Why does response prefer Google maps them????

Yep. I know so many people using Google maps on Android and I never hear them say anything about HERE. If Nokia failing there keeps them "here" as WP begins growing then great. I wish Nokia the best but come on...biting the hand that feeds you is a no-no. Likewise to Microsoft! Stop putting WP users last!

Ha..? Haha-Haahaa-haha stupendous thought

Something tells me Google May not approve HERE maps.

Google will decimate here maps. Even the name, here is gay

How can an apps name be homosexual, what are you, 10?

I seriously doubt that's going to happen. Here maps is far superior to anything available on iOS or Android. It's going to be a hit!

I wouldn't want them to if they could. Here maps sucked compared to vanilla bing maps, though i do like here drive, just not maps

This. Here Maps isn't all that good. Here Drive is excellent.

Well when you put it that way... That is the one I actually use the most

Well it just makes making the switch to Android easier. No need to find alternatives to the awesome here maps.

Actually I also have an xperia z1s running office,Xbox music , smartglass,one drive,Skype and Bing rewards

lol well done sir ... when the nexus 6 releases i think ill be going back to andrioid MS is a joke with WP when they focus on thier own eco system and its short commings ill give windows a try again.

You wish here maps could even get me all the way through parts of Florida, had to use Waze which google owns and will probably kill there WP app. Nokia knows this and is using this on their favor just like they did with the Nokia X line.

MS bought Skype - and what? In three platforms WP Skype still worst and seems to be the same forever.

Yesterday my friend asked me if he goes with new iPhone 6, can he use facetime with his family (who use a Windows laptop)...I know none of them use WP, but do you have anything better to suggest them?

That doesn't change the fact that Skype is a really crappy product. Yes it lets you make video calls, but the UI is terrible and has not progressed at all in years.

Nokia didn't wanted to sell Here Maps but Microsoft tried anyway.

That would be so, SO good! Although, I'd think Microsoft would just slow the progress down...

Nokia will not sell their Bread & Butter.

It is not for sale. MS already tried to.

In case you didn't know, even Microsoft gives preferential to iOS over Windows Phone.

Yep, Skype is a testament to that.

Yes, and companies definitely shouldn't be trying to make a profit, should they? >facepalm

I agree, it does sound like them trying to get some extra money out of Microsoft to continue development, however on the other hand, the Here Maps platform is pretty mature on Windows Phone and really only needs to catch up on location data to be able to search more places and businesses, expanding this on Android & iOS will automatically improve the Windows & Windows Phone experience also. Additionally they are starting from nowhere on the other platforms so it makes sense that they need more resources to play catch up on those platforms. I'm sure that Offline Maps & Drive will be paid apps on Android & iOS, it will only be the maps that are free on all like Google Maps. They will want that income asap so another reason to develop for those platforms.

Yes, If Microsoft were smart, they'll just pay Nokia to get the source code of the app and move the team that develops the app to Microsoft. But this is Microsoft we're talking about so I don't expect anything to happen.

Yeah and after moving the employees to Microsoft they will fire them a month later lol

I agree Infamy79. This will do good to WP users in terms of Location data and feedback. And anyway Android and iOS already have maps (now offline too) so it dos'nt make any difference not to give them access to HERE maps. What I want MS to do is to make tiles more useful. Live tile is the USP of WP. And I think the tiles have lot of potential.

Agreed 1000% VGNtl...need to work with developers to help them make their apps use live tiles more effectively. Especially need apps on the business side, iOS/IBM will start to be a player there very soon.

I agree make live tiles more 3d or where you can spin each tile like a cube with the live feed so much different opportunity with live tiles

You are the voice of reason sir. I forgot that when this was released I felt the same way. The more users updating this, the better. WP maps is rather mature. Thanks

you mean good business? maybe if you read the article you'd respond differently. give that a shot

What yar? This is not good.

I think we might be taking this the wrong way... Lets say that right now WP is getting 90% attention from Nokia/Here... Most likely that 100% is going to just get spread around thinner..
...........
But, it should ease our minds when thinking about the average consumer, and how they will most likely stick with the default maps on iDroid... That makes it really hard for Nokia to not to continue decent support for WP... Granted the amount of Here customers on iDroid can surpass WP customers really quickly because there are way more,, It's still going to be an uphill battle for Nokia with Here maps competing with Google on iDroid...
...........
This guy just outlined one of the tactics they are going to use to compete with Google, but he didn't get into the many obstacles that Here will face..... Lets also keep in mind that WP isn't stagnant... And, just like any other app, as WP market share increases support from the developers does as well... Support from Here on WP is now dependant on how well the new OEM's do will there new low end devices.....
.............
Actually, the fate of WP, in almost every aspect, hinges on how well all of the new low end devices do......... Nevertheless, Here maps on Windows being a universal app can make the situation a lot better for Windows users.

For once, i would actually agree with Rod on this one ;) haha

You always agree with me.. You're just to jealous to admit it... Lol❗❗❗❗❗❗❗❗

True, probably more difficult to compete in Android market due to Android users would prefer Google services. Its probably easier on Apple market.

Paul's take, including FULL quotes... http://m.winsupersite.com/windows-phone/are-here-maps-winding-down-windo...

I predict that today, or tomorrow Nokia will be releasing a statement backtracking, and doing damage control, on what has been said, and perceived....

I think its fine. I like how WP services and apps are being portet over to android and IOS. It allows other users to begin using the MSFT eco system (although HERE isn't MSFT, but you get what I mean) and that will make the switch easier. However, they should have certain features exclusively free in WP. Otherwise why would anyone switch it they could have the best of both worlds..

Exactly... It's good for MS to let iDroid consumers know they are still in business, but just give them a free sample... MS wines, and dines, them like they wanna get some pu$$y later on...

Nokia proved to be MASSIVE disappointment for WP. For nearly 3 LONG years they FAILED to produce STONG selling hardware. DESPITE unconditional financial SUPPORT from MS.
3% market share is pathetic return on the huge investment. Plain and simple.
Surface phone anyone?

They are making the wrong decision they need to stick with one platform everyone else is doing it why help the competition out?

Why would they care about one platform or another now? They want as many as possible to use their mapping services.

Here maps doesn't cover the whole world like Google maps, updates takes months if not years to be implemented on here maps yet on google maps it's just days.
I have been trying to update my home country in areas that I have official maps/atlas on here maps so that they are at pa with google's but you get frustrated as here creator is full of bugs and the edits never see the day light.

What do you mean competition? Microsoft didn't buy Nokia's mapping team, therefor they are more than welcome to develop for other platforms.

From a business standpoint, you NEVER stick to one platform when you can make money on other platforms as well. Imagine you make beer, would you sell it only at liquor stores? Or would you expand to grocery stores as well?

Lol lets be honest. They are lucky companies like google didn't follow that logic. Google maps comes to windows phone = here maps dead. Or close to it.

Uh, no. It's the other way around. As a navigation utility, Here Maps runs circles around Google Maps!

Not Really . Google Maps is hands down Leaps and Bounds ahead of Nokia Maps. Nokia Maps is good...dont get me wrong but as a Navigation Utility...IF I had the choice....I would bet my money that Google maps would get me to my destination quicker with more navigation choices than NOKIA maps....

too bad you can't find your destination, find public transit options, use in east asia, or get good localized results. other than that, Here is great! /s

Uh, it can't even tell me which exit I'm supposed to get off at.

It works really well for me in Denver and Chicago. And Chicago...wow...that's an intense drive! It even kept me from paying a single toll. Family memembers that drove separate were shocked when I asked them if a bunch of toll roads were removed, since the last time we were there.

I see Here Maps as a complement for Here Drive. I don't think the voice navigation from google is anywhere as good as Here Drive. Actually Here Drive is way better than most expensive GPS navigation solutions out there.

Overall, I've had the best navigation experience from waze. Guess who owns it now.

Yes Waze is great but only if you're looking to avoid traffic in a place you know at least a little. In Brazil, for example, you can't do everything waze tells you to do otherwise you will end in some really bad areas. In addition, the waze app has no update for a long time (after google bought it). At any moment, the app can disappear from the wp store. At this point, it is already behind Android or iOS versions. There is many new features missing from the WP app. As soon as they change something in the core, WP is gone.

Waze is as useless where I live and I'm being polite.

Hahhahahahahahahahahaha....ha

They dont make the money with the plattform but with the product. why whould they want to limit their market to just Windows Phone? Do they gain any profit from doing this? I very much doubt that

Microsoft would, and that's why they need to work hard to keep here maps on WP, preferably exclusive, but, oh well.

Its about time Microsoft builds their own mapping app. Or at least agree to disagree that Google Maps is more plausible.

Swipe left to your app list. Use your jump list to get to the m's. There's something called Maps. I believe its developed by a company named Microsoft Corporation. #just_saying

Yeah the realtime nav is the part they need to add to actually compete with here (and add the same offline option and realtime speed here does as well)

what are you smoking and where can i get some? there is no Microsoft-made Map app that uses Bing Maps data (unless youre still on WP7). and most of the crappy apps on the store that call themselves replacements for Bing Maps, actually use Here data; the maps have Here watermarks on them. #stop_being_wrong

Nope. WP8.1 and it's definitely there. Never launched it before today but its there. What I do know is that it came with 8.1 and I cannot uninstall it. There is no navigation but its definitely a "mapping app" to which the OP referred. It launches Here Drive for navigation.

The Map data for "Maps" still comes from HERE. And in some cases it sucks compared to the map data from Bing in WP7.

While you're not technically wrong, Bing Maps as we knew it in Windows Phone 7 was removed in WP8, and replaced with something that is just a reskinned version of Here Maps. To be clear, this has generally be a good thing, as the Here maps stuff is vector-based and nicer looking. But it's lacking some Asian countries like Japan (like, nearly non existent data for them). My hope is for them to finish the Bing Maps Preview on Windows 8.1, and release it also as a universal app so it's on Windows Phone.

They already have their own mapping app. Look for an app called Maps on your phone.

This is not good news. Though from a business perspective for Nokia it makes sense. But to lose a strong support for a great app(that was previously exclusive to our platform) is disappointing.
If the news was that they were simply EXPANDING greater support to Apple and Android, but MAINTAINING their current level of development for our platform of course we wouldn't like it but at least we'd still have the FULL backing of a big player in app development industry.
But the direct affects of the decreasing support which will likely yield a better product on iOS and Android over time in comparison to WP in conjunction with the "message" (subtle or profound) that the word of thier decreased support for WP will have on other companies who are considering working with us(who may see Nokia's backtracking as a reason not to invest time and energy); in addition to the morale pummeling affects for those of us in the WP camp, this is just not good news.
I hope MS has a good PR message that will rally the troops or some good news to share of new partnerships. This os the time to share.

I honestly don't think we'll see a difference. There was already only an update every 6 month, so it'll probably stay the same. The only difference is that instead of working only for the WP app they will be working for the mobile app in general, whatever the platform. I think it's just make the map more accurate. The more people use it the more there will be people to report errors and the more companies will be encouraged to add their store or restaurant or whatever on the map. I don't know how it is in the US but currently here in Canada a lot of stuff is missing. I often have to open my Google Map app to find stuff the Nokia Map isn't finding. And since Windows Phone isn't that popular in Canada most people don't even know Nokia Here Maps exists. I'm glad it'll get more visibility, it'll make it more accurate, and it'll show everyone that there are alternatives from Google and Apple.

Put Bing Maps on Lumia phones. Goodbye here maps. End of discussion.

I was just thinking, don't we have Bing Maps or something on Windows PC's?

it is not the maps thing.. it is the here drive that has not replacement

+720
Here drive , unique design and features, wait what about Where's my car it's still in beta??

Yeah, but still, Here Drive isn't going away. It works great and I think it'll just work better once more people start using it on other platforms. It'll just get more accurate as more people use it.

Here Drive has sucked since I upgraded to WP 8.1. Just yesterday if I had followed its directions I would have spent an extra 20 minutes driving. I have no idea where it was trying to send me, but I have lost faith in Here Drive+. Bring back the Bing Maps nav from the WM days!

Yeah I've had same experience where Here Drive tried taking me on an asinine route. What's frustrating is that the route I was going on was to airport and should have been easy but it kept trying to take me off highway and use back roads (no, avoid highways is not enabled)

(Bing) Maps. No need to panic.

all we're left with is bing maps, start to panic!!!!

I use Waze for navigation.

Sorry man, that looks bleak too for us...https://mobile.twitter.com/waze/status/486884337715912706

lol google company = they hate your OS choice buddy.

yes. bing maps needs to stop sucking. seriously. it is like satya doesn't believe location services matter in his freaking mobile first world.

Lol. O boy...it's gonna be tough to support a platform that's self imploding.

Agreed more bad news every week! Herr maps was a large reason I bought a WP..

It was a stong factor for me also.

Same for me. I came from a Nokia where Here maps was exclusive, and the best nav tool on a cellular. Wish they keeped it that way.

I have been very disappointed in Here maps overall for my needs. The integration between Cortana and Here Drive is lackluster. Example, Cortana tells me every day how long it will take to get home and will route me the fastest way. If I click voice Nav, it sends me the shortest path right through the worst of traffic. Here has traffic awareness, but not avoidance. Here Commute can be useful but not if you need to start from a different location than your pre-programmed endpoints and it won't reroute if traffic conditions change.

I can completely agree with you that here drive has its disappointments and lacking features. That's why it is so sad that development is slowed down further. I was hoping for a big update about to come. I guess not... Do you use any other navigation now that you can advice?

No, mostly I just curse at my phone while stuck in traffic and have no way to avoid it. My favorite GPS program was TomTom on windows mobile, it had the best traffic avoidance I ever used.

People hub brought me to WP. OOPS, MS cut half of it out.

Isn't it only "self-imploding" when it's something the main company who makes the OS does? I wasn't aware a 3rd party potentially making a decision (which doesn't turn out to be true) would be them self-imploding. After all, Microsoft did not buy HERE maps. That's not to say they didn't try, though.

God damn it. And Jesus as well. Also, at leas on WP they have a captive audience - there is no telling whether they can get any success on IOS and and android...

Well, Google Maps doesn't offer offline navigation and Apple maps is an unmitigated disaster. So they stand a better chance of growth in those markets than by keeping with WP only.

google maps does offer offline maps now

Google Maps offline maps are terrible.

Only in a 10 miles radius unless that's changed Posted via Windows Phone Central App

Yeah, I was under the impression it was very very limited. Hence it not beeing true offline navigation but more "cache navigation". Will have to confirm it once my Z3C arrives.

VERY limited usability, to the point that it's actually useless...

Now it does not I wish people would stop saying this lie. It only caches a certain area, for examply with Here maps I can download all of Germany or all of Europe. If I go home I can download all of Illinois the surrounding starts or all of America. Zoom in and out all I want and be completly offline, that is offline. Oh and the maps stay on my phone till I decide to delete them. Whereas you can only keep the little area you cache with Android for only 30 days then they get deleted. Unless of course you hack and slash your droid.

30 days?
<sensored>
My maps are loooong Gone!
I'll have check and reload because my next study requires different routes anyway.
Well...I'll learn them typically in a few weeks or less than 30 days...anyway.
Sgroogled again! :-(
I need to get a used Lumia 1520...

Lol funny story I don't share..don't think you used google maps..because you can't even find it.

Well this could be a bummer...

Serves me well with no issues; as long as it works, no problem. Hoping this isn't abandonment though.

Speaking as somebody who loves his HERE Maps apps on his Windows Phone because of offline navigation and darn good directions, I will be missing this app if it stops being developed. Unless I find a worthy competitor for my Lumia 1520. That includes maps for Japan and Australia. Lol

gMaps Pro is my map app for Japan.

One of the reasons I use Windows Phone is for Here Drive. Hope this doesnt go to crap now...

Haven't used HERE Maps since WAZE was released for WP.

Same, but the waze app is really not optimized honestly

It's pretty smooth on my Lumia 1520 :-P

U don't have landscape mode etc etc... Waze is a good app but not on wp

WAZE stopped developing for windows phone too

But Waze is now owned by Google and they have said they wont be updating it anymore. Prob wont be long before they actually remove it.

Waze is no longer being updated for Windows Phone. http://www.winbeta.org/news/google-owned-waze-will-likely-see-no-more-updates-windows-phone

<p>I want to buy a new phone this festive seasion. I love WP but I am not sure where MS is heading. Oh I hate this lack of certainity on this beautiful plateform.&nbsp;<br />
<br />
Future full of uncertainities.... Help me MS... waiting for a pleasent surprise on 30th.</p>

would not surprise this really, just google is doing front attack to Microsoft, the only funny thing is that androidfans believes that Microsoft is greedy and the worst in the world, but now Google is greedy and the worst of the world, besides that already do not understand why such rivalry between companies, after all the majority of the personal computers over the world uses windows which is developed by microsoft and is the user of that Operative system which made to google grow up and be the monopolic beast that is now, also snowden said clearly that to google the people are their product and not backwards , having the 89% of the mobile market dominated by them so can they do anything because they have the world to their feets hanging over them if we would like destroy google would be very easy just do not use the google services anymore and done in few weeks would google be destroyed and begging that we be benevolence

I don't know why they think they can move to iOS and android...they can't get the WP version right. There is no way that they can compete with google maps. They are just wasting time and money. HERE- Forget trying to move to other platforms and perfect the 1 that you already have.

What do you mean they can't get the WP version right? I've had zero problems using HERE. In what nation do you live?

I live in the US. HERE Maps can't hold a candle to Google Maps. I wish Google and MS would kiss and make up so we can get Google Maps to WP.

Just the opposite here. Google maps are close to useless, Here drive takes me to whatever address I put into it.
My Garmin GPS collecting dust...

Here maps sucks in the US, I liked Bing maps before they started using Here Maps data

Just proving you're a moron.Yes??

What a stupid comment. Why wouldn't they want to expand their product to platforms with a much larger install base?

Lets put it another way. Lets say for example, that you are a runner. You can run a mile or 2 OK, but can barely finish a 5k. Why are you going to now decide that you are going to try to run a half marathon, or marathon without perfecting the 5k run??? It makes no sense. If HERE maps was great, then it makes total sense for them to expand...but it is far from perfect.

Agreed here drive crashed on me yesterday. Plus no live traffic redirection, no way points and no routes based on traffic. No new features for over a year. So please some how let Microsoft so the development.

I thought "The Transaction" was going to net us the best of both worlds. Nokia's hardware under MS' wings, their location division doing what it does best, for us... this is a bummer to hear, for sure.

You are so naïve my friend...

If here maps available for IOS or Android I will convert direct

This is really bad news to be honest. They are trying to get MS to pay them for development but will do it for the other (IOS and Android) for free.

Where is it stated they're deveoloping for free?

Maps on Windows phone really need to catch up - esp now! I hope MS need to realize they can't fall behind in areas like Maps and Travel - which they do feel as they are slipping behind!

This kind of left a sour taste in my mouth

Was wondering why here maps/drive hadn't been updated in ages

Mmm. I can't say I'm surprised. The Here apps have been kind of stagnant for a while now. I don't even remember the last time we got an update. MS should just license the Here offline maps and beef up their built in Maps app with some Cortana support for turn by turn navigation.

I wonder if it will be for free for the other platforms.

Man that would be stupid if it wasn't free, just shooting themselves in the foot. They need the user-generated data as much as the user needs their maps. In general WP is not looking good for me. I was *really* interested in switching from my aging Optimus G to a Lumia 925/930 because of the better camera and want to try Here Maps. But with Here maps coming to Android and the weird issues with WP8 mail apps & attachments that I read here, I just don't want to deal with that. Plus my main personal email is Gmail and office uses Google Apps. I'm not gonna bother. I'll just get an LG G3 soon as I find a good deal.

Well this sucks .... I hope Microsoft and HERE Maps reach an agreement.... HERE has a lot of work to do still on the WP front :| ......

Here maps is one of the things I really like about my 1520. Gosh.

Here Maps is the MAIN reason I bought my 1520 because of its exclusivity and offline navigation. If I've known earlier they were gonna ditch WP for IOS/Android I should've gotten a Note 3. This is very disappointing.

Of course they are going to focus on the much larger markets. MS will probably drop buckets of cash on then to continue WP development for now. Perhaps MS will eventually create their own solution down the line. They certainly have all of the pieces that just need to be put together.

Yes, I think Nokia is right. They've wasted enough time with Microsoft and that partnership only led them to have to sell their D&S division and start over again. Now it's time for Nokia to concentrate in the market that actually matters consumer-wise: Android. If Microsoft wants Nokia to keep developing the apps for a platform with less than 4% share and shrinking, they better pay up for that. Otherwise it would be foolish of Nokia to keep wasting resources. Now I know that WP fanboys will curse the seven winds and try to crucify me for this. But deep down you know it's a wise business decision. One you'd make yourself if you owned a business too.

Can WPCentral just include one of your biased posts at the start of every article so we can get it out of the way?

Why? Doesn't little Alex Rodriguez Jr. like to read opinions that don't match his own? Too bad, mate. Live with it. Also, no one forces you to read me. You only do it because you want.

Here Drive in Florida really suck anyway, it only give you good direction to landmark location, anything else is flat out horrible.

Nice point of view. I agree

So they'll develop for Android/iOS for free but want MS to pay for them to develop apps? And no i don't think it's wise on Android as Google Maps is the default and the go to Map solution of almost every Android user. Heck even people on iOS don't think twice about using GMaps. They are going to have to spend allot of their own money to even get some meaningful usage on those already established platforms. I don't think there is room in the Android/iOS world for another dominant map solution.

The markets they're aiming on Android and iOS is vastly superior size-wise. If they're spending money, they better spend it where they have more chances of getting customers because there are more customers available. Also, Google Maps not only is disliked by many Android and iOS users, it doesn't offer you offline navigation. That alone is enough to bring them a lot of users. Add to that the fact that Nokia is forging deals with Android OEMs to pre-load HERE maps on their phones. That's what they did with Samsung. And they'll expand it to other OEMs. I would not be surprised if Apple were to sign a deal too. Apple maps is a disaster and Tim Cook admited that already. And Apple doesn't really like Google (hence they use Bing to provide data to the iPhone instead of Google). It won't just be a "here's the app in the store. Use it?" thing.

Google Maps not only is disliked by many Android and iOS users, it doesn't offer you offline navigation???? What?? are you serious?? People on iPhone also use Google maps.. and Google maps or waze is deault maps for every android user....i havent seen one person hating it... You walk in NY streets and every tourist has google maps opened on his phone... also there is absolutely no competition for Google street view right now.. .And yes Apple maps was disaster when it was launched.. but it is very stable and precision has improved a lot... So no.. as of now now one gives a fcuk about Here maps on any of the platform...

People with iPhones use Google Maps because Apple Maps is horrible and there's no other real competitor on iOS where mapping is concerned. It's a question of offering choices. And offline maps - something Google doesn't do - will be a major motive for many people to be willing to ditch Google Maps to HERE. Also, it's completely false that there's no competition to "street view". HERE maps have street view AND you even get the former "City Lens" now bundled with it.

I think people are mixing a lot of things here. Apps itself are small beans. It's the data behind that costs hundreds of millions. There Nokia (old navteq that Nokia bought for 7 billion euros) and Google are the two big players on that. Nokia controls the car userbase with 85% martket share and Google does mobile devices. Nokia is mostly intrested in getting their map data to phones.

Do you really think NOKIA will be any kind of player on ANDROID or IOS with Google Maps the already established king...The best NOKIA can hope for is that Google buys them and their little navigation app...because there is NO ONE going to switch from google maps navigation to NOKIA for long or for that matter even entertain having both options on their phone for long on Android or Even IOS...Hell I dont think any of the Android users know what NOKIA is now. Nokia is wasting there already limited resources going after Google Main Bread and Butter Application!! They would be best served continuing to work with Microsoft but if I were in their position ( seeming as how they are a Hollow shell of what they once were) I guess I would try and do the same thing. The problem is they have nothing that differentiates them from Google Maps... And anything they do have....Once Google sets their attention on them...will only ingest whatever they are doing differently into Google's already massive Google Maps Platform. This to me is suicide for Nokia...However its is not a total Loss for MS. MS could decide to buy that division of NOKIA or include Navigation in its BING MAPS. application. My Guess is that MS is weighing its options and going to make a decision soon on what it should do. Especially if they deem this is a big issue going foward for them. However I think that NOKIA is making a big mistake ...but hell....Nothing beats a failure but a Try so I commend the little company for trying something different.

Nope Nokia Here Maps are not inferior to Google's!! And DJCBS is right.. They need to develop for other platforms..

Sorry to say it again but Google Navigation is Far Superior to Here Maps....DJCBS is wrong ...first off Google Maps does have offline navigation and isn't Disliked by many Android and IOS users...In fact IOS users went APE SHIT when Apple tried to replace Google Maps with their own APPLE maps (or whatever they call it) so much so that Apple had to submit and apology....IT is APPLE themselves that dont like google...and the few people who do not like the google navigation app certainly arent going to find HERE maps better .....If Google Navigation ever came to Windows....You would never here anything about here maps from WP fans...and I AM A WP FAN whole heartedly but listen ...it is what it is....and the truth is Google is better than HERE...do I use HERE?? YES...will I continue to use HERE?? You betcha cause right now there is no better alternative other than WAZE..but make no mistake ...if Google Maps Navigation officially ever comes to WP....HERE is gonna be in serious trouble.... LUCKILY we never have to worry about that...Google isnt coming...so LONG LIVE HERE MAPS

are people like DJCBS smoking pot in this forum?? I am so with you..i havent seen even a single user hating google maps.. Gmaps is the default maps for every android user.. havent seen any android user use any other navigation system on android phone...

No, I don't smoke pot. I don't have your habits. Google maps is great on a computer, at home. The moment I get to my phone and, if I want to use Google maps, I have to waste by data plan, that's when Google Maps stops being good and HERE maps becomes way better.

PUHLEEZZEE!!!!......most people who use Google Maps already know that it uses their data...yet they dont go crying about it and run to HERE maps....they continue to use google maps because it is superior to HERE.....If your arguement is that HERE is better simply because you can download maps and use them offline....Then you are crazy. Using a navigation system that is inferior or incomplete online ...is going to give you the same results offline...so that fact alone makes your point Moot. Here is a good navigation system..... But to even suggest that its anywhere near Google Maps and Navigation is Ludicrious ( spelling) They have a long way to go to catch Google....however they are getting better and eventually they can pull to be on Par with Google....but right now needs work

"The problem is they have nothing that differentiates them from Google Maps... " I'll say they do! True offline maps. Not cached mapping information that is deleted in time, but maps I can download and have to use forever, even when I have no cell phone signal. I live in a small town, and I often have to go to jobs in the country, where there is no Verizon cell data signal available. I have to be able to find my clients, and I don't have the time to cache maps every time I have to use them. If it wasn't for true offline maps, I might not even have a smartphone, certainly not a Windows Phone. the one true differentiator, aside from Nokia durability, that caused me to buy a Windows Phone.

True Offline Maps is not a game changer if they are not Accurate...and Here Maps while nice isnt always acurate...something that Google does better most if not all of the time. I will even venture to say that cached offline mapping is better because it is updated quicker than you having to download periodically maps for offline use. Once a cached map has expired.. another map is downloaded in its place... Offline maps need to be stored on your phone and you dont get a notification that the offline map may need to be updated because of route changes... but lets play devils advocate for a moment and say that Offline Maps IS a game changer...its only one facet of the many things that Google Maps and Navigation can do better that HERE maps... Re-routing, better suggestions, better traffic crowdsourcing, more detailed maps...with Several different layers of Maps and near pinpoint GPS location ( and yes I know that is the accuracy of the GPS phone ...not necessarily the application) Here doesn't hold a candle to what GMaps can do. Also just my opinion but I doubt that you brought a windows phone strictly for offline maps....there are apps on IOS and Android that will give you offline mapping...could be for the NOKIA durability as you suggest. So again I say "The problem is they have nothing that differentiates them from Google Maps... Offline maps doesn't cut it- Their differentiator is being on Windows to compete with Google...once they go to Android....they will be another third party Navigation app...just like everyone else. And we will hear less from HERE than we hear now!!!

Actually, the existence of true offline maps WAS the primary reason I bought my first Windows phone. The other reason was "it's a Nokia". Accuracy: Only twice in the past three years have I not been able to find my clients using HERE Maps. I don't like Android as a platform because of the undeletable apps in the /system/app folder (as opposed to the removable apps in the \data\app folder). And that's my choice. If Windows phone as a platform dies, I'd switch to Apple. I like the simplicity principle. Thanks for your input!

This seems like a big middle finger to the like company that used them exclusively and made them relevant in the mobile space again. My distaste isn't with developing cross platform, they need to earn revenue somehow, but to wind down development?

Huh? Most people who bought Windows Phones anywhere except North America bought them because Nokia built them, not because of the software. Time to wake up.

"big middle finger to the like company that used them exclusively and made them relevant in the mobile space again." You're completely insane. If someone made WP minimally relevant in the mobile space, it was Nokia. If it wasn't for Nokia, WP would be dead long ago. You know that perfectly well. If you don't, that's only because you dislike History. And reading. And facts. Also: economics. Know about it? Resources are scarce. Hence, you must always use them in the most profitable way possible. WP isn't profitable hence they reducing the allocation of resources from a non-profitable platform to others that offer more chances of profit.

It's funny how you call an assumption a fact.

WP was thriving before Nokia wasn't it? And it's thriving now that Nokia's gone isn't it? Oh wait...

So you think that Android/iOS users will pay for Here Maps? I can't see that becoming a thing honestly but that's my opinion.

I don't think they'll have to "pay". It will most likely be free to use. Perhaps it will have some ads. It's too soon to say. But I would wager on it being free. And it will be pre-loaded on some OEM devices (Samsung for a start).

I wonder if that will interfere with the deal Samsung signed with Google so i am not sure about that. Though i do agree that bundling it is the way to go, otherwise its just an app in their oversized app stores.

I don't think Samsung really give a rats arse about what Google thinks lol Samsung has, as they say, Google by the balls. If Samsung decides to drop Android, Google will suffer major losses. Anyway, the deal was apparently for Samsung to scale down the replacement of Android offerings with their own in exchange for Google dropping Motorola. I don't think Samsung adding another mapping solution will be that big of a deal. Besides, HERE maps will run on Tizen too, so Samsung has the excuse that they need HERE on Android to play with their Tizen watches.

Thats the biggest Bullshit I read in a while. Stop it with your fucking Nokia bias. Nokia would be dead by now if Microsoft hadn't thrown Billions at them. Microsoft on the other hand could pull another Surface or make a tight partnership with OEMs such as HTC, LG, or Samsung to make WP relevant, Microsoft has Billions to burn Nokia has not. Also: Stop portraying your assuptions as god damn facts!

1 - Stop whinnying just because you don't like reality. 2 - Microsoft is not interested in burning millions on their own devices. They already waste too much on the Surface which has brought them nothing but losses. 3 - Stop being deluded. Other OEMs don't give a rats arse about WP. Samsung pretends they care to shut up Microsoft, LG and Sony don't even pretend, and HTC was also certainly paid to put WP on the M8. Nokia's finances were aggravated by Eflops pernicious management. 4 - Learn some manners.

You obviously have no understanding why Elop was put in place at Nokia. Posted via Windows Phone Central App

Not this horseshit again. Not even a dedicated WP site is immune, I guess.

Actually the first time I bought a Lumia it was only because of the "Nokia" name on it. And a lot of italians thought the same (WP is the second OS here in Italy and Apple is the third, just because of Nokia prestige) I hope that this OS will grow but there's no point in blaming Nokia for selling their own products to anyone in order to make money.

Wish MS would just develop the apps. None of the here apps have had any meaningful updates for a year. WP has been let down by Here apps. Use the map data and write your own apps.

Whoops, seems like MS are putting their own nails in their coffin. Why the heck wasn't here maps part of the acquisition deal? You know full well that it will continue on though, MS will just have to pony up to keep development going. Navigation is a huge deal in the mobile world, and it is one area MS simply cannot afford to screw up.

Exactly, Here is one of the big positives of the Lumia line. Losing this is bad on Microsofts part. Can completely understand Nokia's POV looking at Android and iOS but MS needs to wave cash to developers at the moment as it's the only way they're going to stay in the race. Been Windows Phone since day one and the app issue is causing me to think platforms nowadays.

Well according to "reports" , Microsoft wanted to Here Maps as part of the deal but Nokia wasn't selling . As a matter of fact , asked that Microsoft not bring in anything about buying Here before the buyout talks could begin. In return , Nokia gave Microsoft access to all of Here maps data to do whatever they want. Microsoft has enough money and expertise to make a more compelling map application than Here Maps if they want to.

How exactly is MS putting Nails in their own coffin?? Nokia did not say they were ending support ...they just said they are working on other platforms and MS wouldnt get the bulk of their attention.....Why would MS decide to purchase NOKIA MAPS in its aquisition deal?? MS already has a MAPS division...Nokia only provided MS with an immediate solution for navigation as the two companies were working out a deal. And its quite possible NOKIA's Maps division wasnt available for sale...If MS new this ....then they also knew this day would come...HOW COULD THEY NOT...before MS even brought NOKIA ...NOKIA made a bid for Android by making an Android PHONE...do you honestly think MS was caught with their pants down and didn't think that the first chance Nokia got...they would to expand into IOS/ANDROID territory?? Highly doubt it... What I hope MS does is say Screw YOU NOKIA and we will put out our own Navigation APP... They certainly have more money and could run circles around NOKIA if they really wanted too...and who know..that might be already in the works...or better yet...MS could buy a Navigation Company and keep it moving This is not MS fault...Nokia is an independant company...capable of making their own decisions outside of MS... They made this decision ...so MS should weigh their options and go with the best one. I say let NOKIA GO... and bulk up BING MAPS...add Navigation..and become as BIG as Google Maps is For ANDROID.... As beautifully as they did Cortana...they could do Bing MAPS ....and it might be their way to go!!

Sounds like Nokia really loves WP right Nokia fanboys? As I've always said, they were paid to be the biggest supporter and now that those checks are going to slow up, they'll go to where the money is. This is why it was crucial for MS to get to get other OEMs involved and excited.

I don't recall Nokia fanboys saying Nokia loves WP. Actually, I recall a lot more Nokia fanboys complaining about the ill advised adoption of WP instead of Android than the other way around...
Just sayin'... That Microsoft needs to attract more OEMs, that's unquestionable. But it has been for a long time. However, the other major OEMs don't seem too interested in investing on WP. And that's Microsoft's problem. They haven't made WP appealing enough to other OEMs.

What else can they do to make WP more attractive? They made the OS free to OEM's and they have some of the lowest specifications required to run WP 8. It seems Google has recognized this and sees that Microsoft has been starting to make ripples in the low-end smartphone market, with phones like the 635, 520, etc. Some reports I've seen show up to 14% marketshare in the space. Google is now promising Androids that will be focused in this market. Personally, I think the problem here is Microsoft's marketing has been pretty bad for most of their devices. They've also been fighting an uphill battle for years in the consumer space thanks to flops like Windows Vista (the OS that really gave Apple plenty of material to bash), Windows 8 (which really wasn't as much a flop as it was a PR nightmare), Windows RT (no clear messaging and a lot of confused consumers) and the initial Surface Pro / Surface Pro 2. Microsoft was late to the game and it really is pretty impressive they have been able to capture the marketshare they have captured, both for low end and overall global marketshare. Microsoft is also known to play the long-game and have been working to provide some really attractive options for developers like no annual fees, universal apps and the upcoming hopes of Windows Threshold with a unified OS across all devices. Now if their marketing can help change long held perceptions about Microsoft and help attract more developers with good opportunities, this could be a good time for Windows Phone and Windows. That's what is so upsetting about this article -- a developer is threatening to abandon their app and attempting to hold Microsoft captive. Microsoft knows it needs good apps like the HERE line, but it shouldn't have to pay the developer to continue development. Consumers just want devices that help them in their day to day lives, and they will flock to the platform(s) that seem to be most mature. Also, I thought I saw somewhere that Samsung is looking at producing a WP8.1 device. We've already seen the announcement of the HTC One with WP8.1. I would call both of those major OEM's.

I only cared about WP because of Nokia. I liked WP because of Nokia. However Nokia alone couldn't keep me on WP which is why I'm back on Android. Posted via Windows Phone Central App

Wow so you loved Nokia so much that you are "back" on "Android" and not Symbian? great!

Nokia is on Android now, in case you've been sleeping. Started with the Z Launcher, HERE will follow and many other things will follow HERE. Anyone who loves Nokia will move to Android because that's where Nokia is.

What the heck are you doing on this site then? Android central is the better place for you.

Since Cortana stores all the favorites in the Maps app, and they're synced with the Maps Preview app on my PC, I'm not necessarily going to miss HERE Maps. I hope MS comes out with a Navigator app before HERE Drive goes away though...


HERE apps are NOT going anywhere. They just won't see many updates. The apps will remain and will keep working as before. But the bulk of the app development will be moved to Android and iOS.

Exactly, the apps will become useless as they get no updates. Here drive needs a big update, the Symbian version is still better. Microsoft needs to buy the here app code and develop it themselves.

So MSFT Buys Nokia, fires 36k employees, erases the "Nokia" name well known in the last 15 years and now makes HERE go away all over Android and iOS when it was launched for Lumia's only. I don't use maps much, in fact I don't use them at all due to a few reasons but still these movements from MSFT are just.... they look like they want this whole thing to fail, that's what it looks like.

Here's the problem that's making this confusing to you: Microsoft did NOT buy Nokia. Microsoft bought a division from Nokia. That's why they can't keep using the name. That's why HERE is reducing investment on development for WP. Nokia is STILL an independent company. HERE belongs to independent Nokia. This time it's not Microsoft's fault. Well, not directly at least.

I might have expressed myself wrong. I know it's just the devices division. But whenever most people hear Nokia, they (we) think about phones. Don't you? And you could always make an arrangement/contracts to keep those projects up. Whatever though, I have the basic maps app like I do on my PC so I don't really care.

Yes, Nokia does mean "phones" to a lot of people. But Microsoft really had no choice. Nokia has their plans and I don't think they play along Microsoft's. There's a reason the deal between the companies was so explicit about the dates of the non-competing agreement on the phone business. If Microsoft was sure Nokia didn't intend to re-enter the phone business, they would have managed to get the rights for the Nokia brand on phones. If Nokia was so sure they were not re-entering the phone business, they would have licensed the brand instead of placing such a rigid date on the deal. Contrary to what some people were led to believe because of how Nokia committed to WP, folks at Nokia didn't really love the Microsoft partnership and subsequent deal that much. We'll have to wait and see. At any rate, your PC maps and the maps app on your WP is powered by HERE and will continue to be. They're just not updating the apps. I expect the maps themselves to keep being updated.

Se isso acontecer é pedir para que eu mude o meu wp para android

I'm tired of all this sh**.
My Lumia is a great phone with a very nice OS (this is my first WP phone).
But really, the lack of apps and support drives me mad.
Time to go back to Android I suppose.

And get no OS updates at all :eck:

No, cus I always customized my Android Phones.
So custom roms over custom kernels.

The fact that you even need to put custom roms on your phone says it all

This is funny and strategic, looks like I will be buying Garmin or copilot!

It could be a good thing. With mapping apps, the more people use it, the more accurate it will get with people adding to it and reporting errors. I think it's good! As long as they don't totally abandon it on Windows Phone, but I don't think that will happen, they probably just want to make sure they offer the same service on every platform.

+ Exactly my sentiment. Plus my Nokia stocks should go up even more...! ;-)

One of the few things that is keeping me with Windows Phone is now getting less attention... I never favored the buy of Nokia from the first place but this, this is just ridiculous. Microsoft is signing WPs own R.I.P. stone if their letting everything just move on after that buy...

Am i on a sinking ship? +820

It's already sunk. Microsoft is just saving face by not letting it die.

Except Here Drive needs feature parity with Google maps. It is inferior besides offline navigation.

In Ios and android is not available offline right ?

This was one of the things attracted me to windows phone. Now Bing maps have to get serious about their maps.

They r using same mapping data. I don't really like here maps UI though...

MS should seriously develop their own map app. The existing one is really a mess

No surprise here. Windows Phone is hard to develop for. Maybe it will turn around with this port of the IOS development tools but at this juncture of WP development, companies have to go where they think they could sell product and get paid. I still say Microsoft might want to blur the lines with WP and other platforms and add a switch to turn tiles into buttons. It can't hurt.

As a .NET programmer, I don't really see Windows Phone as a difficult platform for development. I like their design language and I like that declaritive language is used to create the user interface. However, I agree that there are a lot of API's that appear missing or incomplete in Windows Phone. I'll also be the first to admit I don't currently have any Windows Phone 8.1 apps in development as well -- so I can't speak directly from experience. What do you find difficult about Windows Phone 8.1 development?

If it is easy as you say, then why is this platform seemingly losing the interest of those that develop? Maybe it was just a dislike for Balmer.

Absolutely incorrect. It's extremely EASY to develop for.

Windows phone is one of the easiest platforms for development. And that's from first hand experience.

Been using maps instead of here maps since I got wp8.1...

Maps is powered by HERE maps you know? lol =P Still, "Maps" is developed by Microsoft. HERE isn't. Perhaps Microsoft needs to step up and work more on Bing Maps now. They've the licenses to use HERE maps data.

Who uses it anyways!! I don't.. :)

I do. Here Drive. All the time.

I do as well, but then I have to charge my phone immediately after using it -- such a battery hog!

The way I look at it is that on windows phone Here maps is a great app already and only so much improving to the app can be done. I'm happy with it as is.

Wrong decision. That's all I use

Personally I do not use HERE Maps because I believe it is unusable in the NYC Metro/LI area. This news does bother me in that this action does adversely affect the Windows Phone community as a whole. Note that Microsoft discontinued their Street and Trips software in July. With the additional news of Nokia scaling back support for HERE Maps for the Windows Phone platform, it is reasonable to conclude that a new navigation software will be released. Perhaps this announcement will occur at the September 30th event. Alternatively, I can see Microsoft removing HERE Maps on subsequent Microsoft phones and re-establishing the Bing Maps app that was previously the navigation app default on Windows Phone 7.

I totally agree with you. If you use Bing maps people will see it is a great alternative it doesn't have the same power as Here solutions but it cant take you where you need to go.

Bing Maps is powered by HERE. Also, Microsoft has a licensing deal for HERE services. They could, however, step up the development of the Bing Maps app to make the HERE apps less necessary. The maps will be the same, HERE is just scalling back the development of the apps, not the maps.

Great clarification for the posters requesting the acquisition of the HERE unit! Nokia HERE acquired Navteq (map provider for Garmin) and consequently all their licensing deals for Yahoo and Bing among others.

I've never understood why MS did not buy Here. Now, it may come back to bite them in the ass.

Correct me if I'm wrong, but didn't the original Nokia acquisition deal stipulate that Microsoft would agree to license the HERE Maps suite of apps for like the next 10 years or something? Wouldn't this current decision to shift focus away from developing for a platform that you just locked into a licensing agreement to use your services be some type of violation of said contract?

I guess, this announcement is clearly FUD i hope that MS will sue them! Max

Can't sue them for discontinuing a product. They have the legal right to do that. It would just mean the agreement is null and void and MSFT is free to go elsewhere for it's map business. I assume MSFT is aggressively trying to grow the BING maps system to go offline and ultimately compete directly with HERE.

I think this guy didn't read the memo and it will clarify once MS lawyers remind him about the agreement.

Actually the deal doesn't mention HERE suite of apps. It talks about HERE licensing agreements. HERE is what powers Bing Maps for example. It's that enpowering that the licensing agreement preserves. Microsoft can develop their Maps app instead, using the same maps the HERE apps use. IF Microsoft so wishes, of course.


80% of new cars use Here maps. They need to keep the market on their maps and best offline/voice guide. Also Windows phone isint the bigest market. Android is the bigest then is the iPhone(which has badest maps unless you use google maps) Also Google maps are best maps but it isint best for navigating since it uses alot of internet data and doesnt support offline maps yet or offline voice guide driving


F??k Nokia, i've just downloaded ms maps and removed Here maps From my 1520 It's clear since the Nokia x project, hope they will go bankrupt asap, it's what they deserve! Max

Go uninstall MS Maps. They're powered by HERE.

Whaaaaaat? Go ahead and develop for Android and iOS, but don't kill the WP dev!

Out of the range of Here applications on Windows Phone, we only really benefit from Here Drive... The default Maps application does just as good a job as Here Maps, and Here Transit is really inferior to the majority of travel applications available anyway, in my opinion.

Really? For me it's the other way around - I find Here Transit to be by far the most user friendly and accurate public transport app around...

Here Transit is fantastic, but Here drive is mediocre. Either way sounds like the platform is in trouble.

Gee, that's really going to help grow market share and confidence in the WP platform. "Dialog with MS" meaning, MS is going to have to beg us to give two shits about WP from now on.

More like Nokia wants more of the Microsoft $$$. The $2B Microsoft was paying Nokia has stopped after the acquisiton of the D&S.

Windows Phone is the new symbian...

Being the OS with the most marketshare in more than a decade?

TBH I love Here maps so whilst I hope dev doesn't stop fro WP I wish them every success.

Well now that just sucks.

Wish we had the 3D aerial feature as found on the web browser.

Microsoft will still use their data, though. Although I like the functionality of the HERE apps, UI wise, they weren't that good anyway.

Yeah the UI could use some changes

Well I'm very happy for my Android devices, Nexus 7 and offline navigation? Bring it on :)!
On the other hand.. There goes our exclusive app..

Well, time to find another mapping solution. Copilot?

If only micrsoft used their large chunk of ca$h to buy waze when it was put on sale. then we wont be having this kind of problem.

Why the fuck can't Microsoft buy here maps and make some good google maps competition. No, they are stupid and buy a stupid Minecraft game.

Dude they wanted to buy it of u didn't know. We could have got the whole Nokia brand but Nokia refused to sell maps to them.

Sialan, fix gue bakal pindah ke android, ga pernah gue sekecewa ini...kamfrettttt anying

Sabar om, hanya peta nya saja

Middle finger to you Nokia!! No need to "Wind down",just expand.

And the backstabbing begins.

Cross platform is the future of mobile computing. I don't mind them branching out, but not at the cost of wpdev

This will prove to be good decision.

Microsoft: better fix this messed up shit !!!

If they want to compete google maps sure that's fine they can compete them but we want our platform also to get updated. This is all due to Microsoft shit marketing. But still the discussion I going on lets c.

What!? That's not loyalty! I never thought this would happen! I loved Nokia so much because they were the ones that developed Windows Phones and made everything for WP :'( I'm so disappointed. It's ok to expand their market but WP should be the one with the most attention!

I have a feeling Microsoft will work out a deal to merge there mapping Solution with here. Because Bing Maps is powered by here technology. I mean look at the web version of Bing maps. On the lower Right corner next to copyright Microsoft it says copyright Nokia.

It's what Microsoft does, so I can't blame Nokia for doing the same.

Hence the move to bing on nokia devices

I don't remember opening Here Maps in a long time. Here Drive is another story.

Cool, even Skype is doing the same, setting as the Skype app on iOS & Android get new features first before WP.

ignoring the OS which made them popular

Nokia was the world's largest phone maker in more than a decade. It took Samsung until 2011 to overtake Nokia. Windows Phone didn't make Nokia popular. Symbian did. Symbian was their goldmine and downfall.

Are they trying to fail Microsoft? That's the reason WP is not the leading OS

WP doesn't Leeds the os coz
wp is friendly this is what ppl think Nokia was marketing quickly and very well, Microsoft isn't

One thing I don't understand is if I have my region set to Portuguese I'll have to pay for Here Drive 40€ (50 dolars) but if I set my region to USA it's free and it works flawless in Portugal. Why in Portugal we only get the Here suit free for the nokias and not all Windows Phones? I don't mind since I use Cortana so I have to set the region to USA anyway, but once Cortana is avaiable in Portugal I will have to get a cheaper choice for a navigation app since 50$ is too expensive for me

Yes ! I kept telling peopel that Microsoft buying Nokia's phone business was a very bad idea. We'll all now "reap" the benefits.

Here maps is best.
They can't let it down

The Only reason i want a Nokia Lumia 930 or 1520 is because of Here maps and its 20MP camera. if i can get here maps on my iphone i dont see the need to bother get a lumia device.

Dude you will still have Here maps, he just said that development will slow down.

I won't begrudge you that a specific app is your deal breaker. App availability is why many people are iPhone users. However, you do know that HERE maps are used for Bing Maps and that the downloadable maps for your phone are also used for the Maps app?

So long as MS offer a 1st party comparable 3d turn by turn navigation facility with offline maps available in UK & EU , I will stay with WP...MS Maps app "navigation" as it currently stands, defaults to Here NAvigation for turn by turn nav...If this stops then this will be a total dealbreaker for me & would prompt me to start looking around to see what other mobile OSes offer. I'd be loathe to ditch WP over this as its the best mobile OS by far, but will if I have to...but i'll be patient for the time being. I have always relied fairly heavily on offline maps with proper (decent!) 3d turn by turn nav, which I now use on my Lumia 1520 - so hope we dont get left up sh!t creek without a paddle! MS need to get themselves sorted with WP pretty soon because the last thing they/we want is for the platform to fail after consumers have invested so much time & money in supporting MS. Similar story for Xbox One - how they can have BBC iPlayer, Sky Go & ITV player missing this long after launch is a disgrace. Xbox video is a poor service - it's unreliable & very expensive compared with Netflix. Microsoft are losing their way - they need to stop the poor support, the delays, the lack of communication to consumers etc.

I think part of this may be a recognition of how far behind HERE Maps apps are on iOS and Android versus WP. They've put in quite a bit of love to make WP HERE apps really great. So while this headline sounds a bit concerning, it may be more a reflection of where they see they need to play feature catchup on the other platforms. The more telling sign will be to see what happens once all three platforms have feature parity. If we see WP fall behind after that point, then I think we all have reason to be upset.

For those who love Here maps on WP, I hope you are right.

It's ALWAYS a bad idea to focus on IOS and Android over Windows Phone

That's really bad!!! Here maps got famous just due to windows phone and now its moving on to android??....

Actually no.. Here maps got famous because it is the evolution of the Nokia maps used in all Nokia phones before windows phone..

One of the reasons I transitioned to WP was cos I loved turn by turn navigation on my Symbian phone... The funny part of my move is turn by turn doesn't work on my WP in my country.... But it used to work on my Symbian

What the fu*k ?!?!?!?!?!?

This is no good for Windows Phone.

Nokia has done its part. They have look after themselves.. No surprise here

Didn't Nokia release an app for iOS last year, failed miserably and tried to blame Apple instead of themselves?

MS must make an agreement with Nokia, on of the top selling points is the maps!!!

Windows Phone is slowly dying...

Initially thought this was very bad news however then suddenly thought... maybe Microsoft is doing their own front end API based OR they are doing their own Maps service and Nokia has picked up on this hence why they went public faster than Microsoft. We'll know soon as Microsoft will comment on this seeing that is now in the wild and many will be concerned.

If Microsoft don't get another highend device out soon and get more premium apps on board there going to loose all that hard work Nokia And themselves put in

It's like you believe Microsoft should make all the apps in the world. It's not that easy.

"As a result of the transaction, we're having to wind down our Windows Phone app development and shift it over towards Android and iOS." The app is rearly updated, it does not even have waypoints. They added that to the Windows 8 app, so I can add multiple destinations on my PC but not my phone. Over my in car GPS, HERE Drive has two advantages, free map updates and speed limit. But does not show petrol station logo (some have members advantages) and I can't click on a point of interest and get the directions to it, two things I can in my car. I only hope that when people use it on Androind and iOS we will get better maps, faster updates andup to date speed limits.

Those free map updates are part of the licensing agreement with the Nokia HERE unit and Microsoft and have nothing to do with the Nokia HERE Maps app. You will still be able to download free map updates and use them with the Maps app.

Doesnt the Microsoft "Maps" app use Here anyways? So MS could just continue to update that app but just have it use the Here server

Nothing in windows phone is going right. Alot of people have dont even cyan yet! MS have to thing something big for windows phone to attract people. Otherwise people will tend to have ios and android. Seriously after reading this im dissapointed. Slowly and steady windows phone will be vanished. :(

The more time goes the less I understand the benefit for Microsoft of buying Nokia's mobile division..

Nokia forced Microsoft's hand, neither company really had any choice... That's what the Nokia X line was all about. Prior to the take over Nokia was losing money hand over fist on WP, but also dominated it... If Nokia were to independently stay in the phone game, and wanted to make money they would have had to focus their attention on other platforms. What would have happened to WP if its largest contributor is now no longer focused on it? Outside of the USA, the single biggest reason anyone owns a WP device is simply because it has the word Nokia on it. Around 95% of the WP market has followed the name Nokia to it, and in turn would have followed Nokia had they shifted to Android. If Microsoft wanted to keep their 4% of the overall market, they had to stop Nokia moving on. The only way Nokia would agree to do that was to sell the hardware division... on their terms. Nokia retained everything that was worth any money in the long term; patents, mapping, networks etc. Microsoft saved it's own mobile platform, and lives to fight another day, which if it pulls it's finger out of it's arse, may one day be successful. Make no mistake though, Nokia were the winners in this buyout. And fair play to them really.

Oh boy. I use here maps a lot on my lumia 625.. This is not good news.

oh no just was getting to like this app.

Really I actually like here maps.. Bing maps has no voice navigation or anything it's rather bland.. Why not show equal development on all platforms..

The HERE Maps does not have fully functional voice navigation either, i.e. Text-To-Speech(TTS). Expect to see Cortana enhance Bing Maps app.

I hope they will update the apps in the future, I really hope to not forget us

Its official WP users. WE SUCK!!!

Couldn't agree more! That's exactly what everyone is telling us!

Hope Microsoft will by Here division also, Here Drive and free mapping is a very big advantage for WP...

Not necessary. Microsoft receives the map information through a licensing deal with the Nokia HERE unit. In house app development and support is already provided by the Bing Maps team.

How the heck can we support such a platform that is stumbling left and right and I can't see myself switch to any other OS...

Nokia has to shift attention away from WP8 to Android because of how fragmented it is. Each phone model is running a unique version of Android after the manufacturer and carrier are done with it. Nokia shouldn't shut the door on WP8 since the platform was where they were enabled to work out bugs and build a great product.

I finally switched to WP when the M8 was released. Almost went back to Android once I discovered there was no native voice nav (Really, MS?!?!) until I discovered Here+. Unless Nokia can maintain quality or MS can produce a viable alternative I'm afraid I'll be forced to return to the Google army as there don't seem to be any other worthy options on WP.

Tha article says its even possible of heavy development of windows phone. So what's the matter they wanna update or not?

I just woke up and read this, really?! What the diddly?!

Well honestly I only care about here drive ... I don't use here maps often. But I also use here drive only because it is free and very good integrated. But there are still lots of things to do. Their routes are good but if the streets are crowded it doesn't automatically change to a not so crowded road to save you time it just sends you directly into the traffic jam and tells you you will need xx minutes longer. I mean wtf - the crappy DVD navigation system in my dads car can do that. Also it eats the battery on my ativ s that much even the car charger can only slow down that process but no recharge. So wtf nokia just get your apps on one platform running before throwing out crap like that to other platforms where you have more than strong (third party) competition

Like seriously!!! It's not enough that not much developers care about Windows Phone, now even the apps that were supposed to be Windows Phone exclusive are caring more about Android and iOS! Awesome! I couldn't be happier -_______-

Does Bing Maps on phone have turn by turn GPS and voice? I only know here maps that does this and offline.

I love the HER Maps for navigation, but if they do slack off on Windows Phone then I for one will be switching to something else. No Love for us that brought 'em this far, No Love for them then!

Here maps should come to other platforms too but prefer all of them equally...

That is so not fair. Here maps should have been windows exclusive.

Making a classic Nokia decision. Abandoning a solid base for hopes of grabbing the other crowd. Watch it end up with TomTom or some other mapping application that actually supports the platform take over on Windows phone with Here maps losing out and still not making up ground on Android or IOS.

Nokia has clearly decided to "gamble" on the 97% market share. Reality is that Nokia made a decision on resource allocation. Resources were allocated toward what will make them the most profit. A sound business strategy. Still doesn't mean you have to like it.

Dear nokia...
Ooo nokia...
My beloved nokia...
Please provide maps for Pakistan.... :(

Anyone else expect to see Nokia making phones again within a year?

2016. That's when they can make phones, and it seems like they will.

Yeah Android Nokias if they do I'll probably jump probably

Threshold can only save us. One windows

HERE on android? Idiot. One of the reasons I bought WP phone is because of the offline maps which is by HERE.

That won't change as the offline maps are available to the native Maps app through licensing deal between Microsoft and Nokia HERE. Don't believe me? Uninstall Nokia HERE Maps. Go to Settings/Applications/Maps. Yep that's right, free maps part of Windows Phone NOT Nokia HERE Maps!

Time to "wind down" my usage of here maps then and switch to navigon, MS maps and Cortana.

Good luck with that. I don't know about Navigon, but MS/Bing maps, and hence Cortana, use the HERE mapping database regardless of whether you have the HERE apps installed on your phone...

And what's your point? I have no problem if they use Navteq data but if the app is being abandoned I prefer to use something else. No need for luck, and yes Navigon uses Navteq data as well.

So much emotion. Read the words "HERE Maps". HERE Drive wasn't mentioned. How much more developments needs to be done on the apps side for HERE Maps? Not much for WP. Most of the improvements are done on the back end which involved including the mapping data. They are just developing HERE Maps for Android and IOS. We have BING Maps which uses HERE mapping data.... So think about that..... It's the other HERE apps that really matter and those were not mentioned.

Lold. Nokia is glad they ditched WP.

It's not that bad. People's dependency on technology is !! Nothing wrong with expanding an apps' availability to other platforms. And if they want app to be successful, they'll have to run it well on all platforms.

Doesn't really matter what I think. I'm sure they're making the move after thoughtful consideration for the business, but I'm very sad to hear it because I love HERE Maps & HERE drive.

Well maybe I stand alone on this... But I think it is a good thing. Frankly, I hope Microsoft partners with someone else for mapping/gps. Nokia Maps/Drive... What ever it is called this quarter is abysmal. I was always a HUGE Nokia fan as well as Microsoft. Before I took the plunge into Windows Phone I was a stout Symbian fan. The Nokia Maps for Symbian blows this swill baked into Windows Phone out of the water. The Symbian client was LIGHT YEARS ahead in functionality. Nokia Maps was better about most everything, uploading the maps, the actual directions seemed more stable, routing was better, Nokia actually USED Highway Specific Icons on the header to make it easier to see what Exit Signs you were looking for (it was not just a TEXT bar with unreliable generic information). When the transition started happening Microsoft using the Here stuff... It was HORRIBLE. It got better overtime but sadly... IT still never matched it's Symbian counterpart. I would not mind Microsoft totally dumping here and going with someone totally different.

I don't mind them developing for other platforms assuming we still have a strong app for Windows Phone. It only helps the service as a whole. Now if they just focus on Android and iOS leaving Windows Phone out in the cold then that spells trouble. MS needs a strong free turn by turn navigation app to compete.

My guess...Microsoft is folding elements of the Street and Trips team to the Bing Maps team. Navigation app already exists (Maps) and app support is already in-house so no need to acquire the Nokia HERE division. This is not like Apple which clearly failed the execution of its own Maps app release when the Google Maps app license expired. Apple bought out a small navigation app company in order to create an iOS native navigation app and the results speak for themselves. We can expect to see quite an increase in Bing Maps app functionality once Cortana is fully functional with it. Time frame for that? Who knows...

They should expend, not wind down.

Damn. That sucks. I use the maps and transit all the time

MS should just come out and make a public statement in support of WP. I can't help but shake the notion that the ship is sinking and MS will throw in the towel. Satya doesn't seem interested in it as he hardly if ever even mentions the OS by name. Maybe all these companies coming out saying they will no longer support WP know something that we don't know.

Shame on Nokia. Big shame. As a loyal customer of Nokia I expected better than this. They think they can get money from Microsoft now this has left a bad taste in my mouth about them.

WTF! As far as I am concerned, HERE and all the HERE apps are incomplete with bare minimum features compared to competition on other platforms or other mapping apps on the WIndows Phone Platform. Microsoft Maps was abandonded in favor of HERE, and that is incomplete Bring back the Streets and Trips Team and get the Bing Maps team together and give us something that is worthy of the platform. This may be a money grab, but in general a total fail by MS in not seeing the value of mapping What is worse, not having a viable competition, means no updates by Navigon and others. Such BS!

Microsoft buy HERE or WP will slowly die

Don't let the door hit you no the way out, Here. Bring back Bing Maps!

Ms most likely has been working on a mapping/navigation solution while nokia/here has just been keeping the user experience a float on WP until its complete. Even if that's not the case, i dont see the big deal about this news, of course they are going to develop for other platforms, and of course, they have to shift resources rather than just hire a slew of new peeps which means one side will wind down as the other picks up steam. Ms knows how important this aspect is for smartphone users, so I'm not worried.

They have, Bing Maps on WP8.1 and Maps (Preview) on Windows 8.1

I know, I actually loved using Bing on my Focus S before I bought a Nokia, but what I meant is that they have been working hard to improve, innovate and blow the competition out of the water while here has just been a placeholder...

That guy can say whatever he wants; MS just has to point out the agreement they signed with NOKIA and he will have to swallow his words even if he doesn't like it. Here maps had a great opportunity when it lunched in iOS but they screwed. I know they want to go where more people are but let's remember that they offer HERE on WP for free because the agreement between MS and NOKIA. I dont see anybody using Google Maps for Here Maps; althgouh I prefer Here solutions Nokia doesn't have the same income format than Google. Nokia would want to charge for its solution while Google is going to stay free. I used bing map last week and it have gotten really good I believe MS saw this coming and they steping up Bing maps.

Sorry, but the app blows. Good riddance.

Awful news but I wonder if MS is going to continue using nokia's mapping data for Bing maps...

Nooooo Here Maps, Drive and Transit are extra perks for using WP... I hope MS will have good alternatives if Here services begins to suck.

Microsoft should buy whatever that is left of Nokia too. One of the main selling points of Windows Phone is offline navigation. If Android and iOS have them too, then Windows Phone will lose priority.

I think it's ok for MS to develop their own map app based on HERE data just like what they do on Bing map. But the navigation app we have now is questionable in the future. Meanwhile, I doubt Nokia would drop most of its attention from WP since they can't just leave their biggest existing market and enter a green market just yet. Additionally, if MS quickens its pace on WP development in terms of both sales and system advancement, Nokia won't be that stupid to look down on WP. So, it all depends on the performance of MS, which it is the part I worry the most according to the records.

They are probably upset about Bing maps preview. It pretty much leaves here maps with no advantage.

Hey I hope MS gives them a bunch of cash to keep development up of the here apps. I would love to see them still built in to Lumia in the future. Off line nav is a big differentiator.
It would also be good if they start taking off on Droid and Apple it would make switching to windows that much easier.

In the long run, this is good for MS. If Nokia can put out a better product then Google Maps (Which I believe it already does) then people bitching about WP8 not having Google maps is a less relevant argument. Nokia succeeding in this area only hurts Google. Concentrating on making the application good for iOS and Android users will move people away from Google Maps. Please note he did not say Here Maps were going away on the Windows Phone platform, they are just shifting their resources to compete with Google on the other two platforms. If history is any indicator, Apple will latch on quickly to Here Maps (having done poorly themselves in that area). This is good news for MS and MS fans, someone else just announced they are fighting Google on all fronts...

Why doesn't windows use voice in there maps?

Well that's a pretty obvious jab for some "development money". I done see HERE maps having a huge install base on either iOS or Android, at least here in the states. And considering that the product is already available (duh), and works well, I don't really see a huge minus to that. That could be a good thing though as well. It would give Microsoft incentive to bring Bing Maps ahead with additional features and the like.

It's a great idea for Nokia HERE division... But another death nail for Microsoft and Windows phone.

Things like these really freaks me out. Supporting other platforms is one thing and not supporting the parent OS is another.

Technically Symbian would be the parent OS for here setting as that's where it started.

Wow, this is pretty big. I love here maps (and Drive) so if I start seeing it show more features and options elsewhere I'll jump ship, I'm on Windows phone because of Nokia and it's apps, why would I bother sticking around if Nokia don't.

Are you crazy? They ate just going to develop for other platform in addition to WP. That's it.

I don't want other phones to have offline maps

It's like u don't want other to have something to eat. Devilish thought :D

Come on guys. If Microsoft owned Here they would put it on the other platforms them selves. Just like all of their other services.

I don't mind them developing apps for the others, after all they are no longer bound to be Lumia exclusive... But what I do have a problem with is if support for WP is dropped or it turns out better than what's offered for WP, the chances of which are very high.

Now we'll have an outdated mapping system to go with our outdated flagship phones.

Ha ha good move by nokia to steer wp users towards android.sorry still I love my wp.

It's kind of a moot point I think. 24-months from now Cortana, Siri, Google Now will be doing all our mapping and navigating. Getting added as an OEM software partner with Samsung was a good move...but even they are stumbling a little bit.

Noooo don't let that happen!! One of the best apps on Windows phone and THE REASON I bought one!

This is problem for here maps, m worried in future for ziss lenses as well. Hope they will be with us.

I think i will change to iOS

Well well I already plan to buy a gear s watch for the here drive and be tryin out android. Nokia drive was one of the apps that I loved about wp7. Offline navi but since it don't support my country anymore since it was renamed here drive.

Time to left Windows Phone .

I've always used Bing Maps so meh.

Oh crap. The German version of the interview at drwindows.de sounds much worse actually. This would be bad.

This is no different to every other Microsoft app such as Skype.

Well, for one is time Microsoft starts looking elsewhere for another map solution given Nokia's decision... And number 2, to me this is a bad decision by Nokia because their maps business would have never gotten a chance to rise to prominence in one smartphone platform had not been for Windows Phone. My first experience with Nokia Maps and Drive (now HERE) was on a Windows Phone Lumia 900. Before, I didn't even know that Nokia had a navigation app on iOS or Android. Hopefully someone may be able to get another mapping service to Windows Phone because to me there's nothing else in the WP mapping business except for HERE Maps and Drive.

Have you guys used Bing Maps on WP8.1 in NYC? It has superior venue listings, more sensible address recognition, can also pan/tilt/zoom/rotate. Out isn't too far off from the gap HERE Maps was initially filling. Over time HERE Maps actually got on my nerves and I resulted to using Bing for most searches anyway. The only plus I have for it in NYC is the transit map layer. Buying has also recently added pretty through transit direction to Bing instead of having to load another app like HERE Transit.

I think a cohesive agreement between the two companies is needed as Here Maps is much better than the current Bing Maps app on Windows 8/8.1 and Windows Phone.

WTF !! Google, blocks the development of Waze in WP. Nokia now blocks the development of Here Maps / Drive for WP ... What's going on? Fear or hatred? This is bad for WP......

It's not good!!! At least we have Bing Maps...

Who would care for here maps when they already have mature Google map

Here maps is more useful mostly for offline navigation. That crap google maps requires connection even your phone has gps. Posted via the Windows Phone Central App for Android

Good to know. I'm using my first and last windows phone

I'm not sure that this will make a whole lot of difference. I believe the MAPS app is using Nokia data anyhow. So if I search for a place with bing or cortana, the map that I see is the MAPS app, not Here Maps. Look at the fine print on the search map....it says both Microsoft and Nokia. Maps app is using Nokia Data, which microsoft bought equal rights to for a time at least. Here Maps app is redundant on WP, so why continue development. That doesn't mean that Here Drive is going anywhere, does it? And If I want navigation direction, the Maps Apps automatically selects Here Drive for NAV. I think you have to discriminate between Here Maps and Here Drive in this article.

This is not backstabbing. Now Nokia (Nokia in Europe means high quality) is an independent company and their purpose (like all companies) is making money. They are owners of the "here maps" brand and they can sell their products to anyone (android or IOS). I think it's normal.

I agree death of WP? Not yet I don't think

So, is the platform dying ? It looks like no one cares about it, unless MS pays tons of money to the developers. Google has zero interest to port their apps and it feels as the ship is sinking. Just a year ago it felt as WP is on it's way up, and now....

This guy just jump ship sheesh not hard

:'(. Then again, how much more can they do here.

Why bing map is so pathetic that it could not compete with even here map ?

Google Maps is far better than HERE in Hong Kong.

Offline matters a lot in india

Makes sense, actually. We now have the native Maps application on Windows Phone which is highly similar to Here Maps, in my opinion. Most of the time I choose at random which application I open up. I think Here Maps will have a better time competing with Apple Maps and Google Maps.

Shrewd negotiating tactics by Here Maps Team. Well played. MS doesn't need to lose their business. Well played....

I'm largely on a first gen Moto X these days anyway, but I held on to a Lumia 1020, in case I'd be somewhere where I needed to take a photo or video, or for navigation with Here Drive, and it's still great for that. It looks like everybody is jumping overboard for the lifeboats, figuratively speaking. It might be a good time to see what the Lumia (unlocked), can go for on ebay. The 6Plus (128 gb of course!) is awfully tempting, bending issues and all. Hey, I'd put a case on it anyway.


Are we looking like losers?

I understand the business side and they have the right to do as they please but MS better be on top of this and keep Here Maps development alive for WP. One of th best mapping technology out there for us.

Another reason why Microsoft should drop the name "Nokia" from the Lumia phones. They're asking for more money from Microsoft now that the 2B per year from Microsoft has stopped coming.

One of the most bad news of recent times just f off...:angry:

The routing in HERE maps sucks anyway. No great loss.

This is very bad news. MSFT need to step up and pay Nokia to continue developing maps for windows devices, phones, tablets, wearables...etc. The technologies that connect the digital and analog worlds are critical. Language translation, speach, location/mapping, are all ecosystem fights. Lose one, and your ecosystem is at a severe disadvantage. Excel and you gain converts.

Like a developer said in /r/Windowsphone last night, its hard for major apps to turn a profit, especially if they are free without ads. I hope the best for HERE, but they have their work cut out for them with google maps.

Optimize here maps for WP! It gets pretty hot on my 920 and uses a ton of battery power, even with offline maps.

People panicking all over the forum

I like Google Maps as it has local shops/businesses and transit information all integrated in one app. Also Street View. Bing has non of this on the W8P! At least Nokia did, even though less and missing shops/info/streetview when compared to Google maps!

I've said it before and I've said it again, and now the defenders of the nokia maps are going to eat crow: nokia maps was a bad idea because they would always pull this card on microsoft who now has to rush out and get bing maps up to speed. MSFT lack of investment in bing maps is one of the reasons people pick google.

Can't really blame them. That's what I'd do if I was in their shoes. Nokia is trying to survive right now and it doesn't take a crystal ball to see that MSFT will probably be a direct competitor of their HERE system with BING Maps very soon. This also illustrates why MSFT bought Nokia's phone division. By early next year they would have probably pushed WP development into maintenance mode also, and started moving Lumia to an Android platform. MSFT couldn't let that happen so they were basically forced into the purchase.

Not for to much longer :)

So why MS compete, make comparison, commercial to IOS and always said that they want to get the no.1 spot in OS. They made a wrong move to put their other apps and work to IOS and AnDROID. C'mon MST.
And because of that maybe i don't want to be a WP loyalist anymore, why? B'coz all the things that you can found in WP can found in android, and IT'S MUCH BETTER than wp.. Tsk tsk haaayy...

Translation from Nokia: We won't spend time on HERE maps for Windows unless Microsoft pays us money or buys us off.
Seems like the prevalent thing these days; extorting Microsoft.

See, that's how it came across to me too. HERE executives need to seriously work on their public statements.

Hi guys, some of you already know me, I'm Pino from the HERE team and I would like to provide a bit of clarity on this. 1. HERE is powering Windows Phone and that's not gonna change (for at least 10 years) Microsoft entered a license agreement with HERE to use our mapping platform for at least 10 years. This is why you see HERE maps on Windows Phone not only in the HERE apps but also in the Facebook app, in the Foursquare app, in the Instagram app and many more, even in the Uber app. 2. Offline maps aren't going anywhere either Licensing our mapping platform doesn't mean that Microsoft is only using our data, but thy have access to our full capability, including the possibility to store maps offline. 3. The more people use HERE the better it gets for everyone Every cloud based service lives with user input. The more you use Amazon or Facebook, the better they get and we're not different. The more people use HERE, the better it gets for everyone. Don't you want better traffic info on your Windows Phone? That's why we have to enable also your friends with an iPhone or a Samsung Galaxy to use HERE so that everyone can take advantage. We used to develop for "Windows Phone first", now "all OS are equal". 4. The map apps on Windows Phone will get better We haven't stopped developing for Windows Phone, but we are discussing with Microsoft how to proceed. At the end, whether as a HERE app or not, your location experience on Windows Phone will improve. Btw, we updated the maps on Windows Phone just a short time ago and more updates are coming soon.

I think, if u r pino indeed, u should tip the authors or something to update the article.
Regarding "We used to develop for WP first, now all OS r equal", I think u should continue with "WP first", at least features should arrive first on WP. I know I am talking from "WP user point" and android and iOS have more market share, but WP is the only platform that u r fully integrated in, while on other platforms ur presence will be simply an app, plus most iOS and android users r to this date using Google maps and they will have little incentive to switch, when google implementation has always been reliable on those platforms. I know it's simply silly to ignore those juggernaut platforms, but bigger doesn't mean more gains. Many games launched first on WP like chicken can't fly went cross platform and met very little success there, despite its popularity in WP.

Whoops sorry guys, while I was typing I made a honest mistake: the license is currently for 4 years, not 10

Yes but ontly within a short period of time, so yeah... I made a mistake and now I have to live with it ;-) It's great to talk to you, btw.

Likewise. Sorry for my aggravation, but your bosses should have thought more about how to present this business change before making public statements. You've done a better job at communicating than they have.

Thank you for clarification. Now if only Fernback and other executioves at HERE could do a better job at communicating.

Thank you... For helping to calm this tempest in a teapot... Unfortunately most commenters do not read the article or any of the comments. They read a headline and vent emotions, then add to whatever replies they garner. Still, I appreciate you confirming what I suspected as the case all along.

How can you claim that "The more people use HERE the better it gets for anyone?" You do not get any information from HERE users, not even those of us who want to send you information. HERE has the worst-in-class crowdsourcing platform. There's literally NO way to get a correction made to your maps, even egregious errors, like streets that don't connect, one-way traffic, etc. I have tried. For years. At HERE you STILL demand that corrections be submitted to a Web 1.0 Navteq reporting page and then the changes never get made. Your Map editing system is open for edits only to 3rd world countries, and small ones at that.

Hi TrthDurr, first of all, when you use e.g. HERE Drive we're collecting probes to calculate traffic conditions. They're anonymos pieces of information that we collect randomly, so we're not tracking you and we're also giving the option to opt-out. We're updating our maps 2.7 millions time every day from 80,000 sources. We are relying on our precise mapping technology, because we care about the quality of our maps. In some countries, however, people can send suggestions via the Map Creator tool. Those suggestions are verified then approved by us. In other countries, Map Creator is only open to real geographers, students of cartography, etc. because we believe that quality is better than quantity.

while I respect your work, clearly the reason google maps is THE name is because of the ease of crowdsourcing. You need to embrace change or be swept with it. Otherwise you're going to end up like Encarta going against wikipedia.

as long as the development stays equal to all platform without prefering ios, android and ignoring windows phone here apps im fine

So let me understand this right...you are saying 1. Here maps is halting/slowing development of the windows phone app 2. Here map data on windows phone is going to get better because its common across all platforms 3. for enhancements to a drive app, we should hope microsoft will build one using the here map data.

Usually all these services run in a backend and rely on the application if the backend is not available for whatever reason... so that might be true.

big mistake for Nokia if they do that

I wish here maps would still remain an exclusive product for Windows phones. But it's a great prospect for HERE to make some cross platform maps, since no other apps work offline. For Microsoft it's too late to get them back and probably they won't do it. It would be so great if they support HERE works for Windows platform at least.

Here maps is very good a lot better than Bing maps. As Nokia is not in smartphone business anymore so its just completely waste of time to focus at one OS while they can expand the service by huge margin by lunching in iOS or Android. It could have been better if here apps were exclusive to Nokia phones but now Nokia is no more so the step is fully justified

What a bummer. WP is losing more support than it's gaining. Soon everything that's actually worth getting a WP for will be on other platforms and probably better as well. Guess I really have to consider apple and android devices when I upgrade next time.

I was seriously thinking exactly the same thing. I have an iPod Touch that I use as my main music player and as a test platform that I have Bing, OneDrive, Office and OneNote installed on it. I was thinking to myself that if I were to buy an iPhone the only thing I'd really be missing now is Cortana, and the value of that is kind of debatable. Otherwise I'd have everything I have on WP plus access to far more apps that get updated more frequently. The fact that there isn't so much as a whisper of any high end devices coming in the near future doesn't bode well either, so I'm going to be doing some serious debating come upgrade time next spring.

Nokia hope you find another way out, please rename it back to Nokia Maps instead of Here Map. ;)

I think all of the development has been going to Windows Phone and now they want to expand the service-App! It's seems to me that you need to move your resources to other operating systems if you are going to expand in that market! I think in time here is going to be a product you can choose on any device just like Microsoft Office is moving to! It is just the evolution of this mobile market!

We will see in coming weeks that there was some kind of deal related to Maps or revised strategy....

that says so much about the future of Windows Phone.

This is a bit troubling to hear although the actual apps are mature versus what will appear on the other platforms. I will be somewhat happy as long as they keep updating the actual map data. One thing I want is a button to be added to toggle a list view of my planned route. I know u can see the list before u hit that start button (to begin the actual voice guidance). It would be nice to have that button accessible even after u hit the button to begin your journey. Anyone know what I mean?

HERE maps can't get any worse at this point. You can't even create a route in the damn thing. I'm an avid motorcyclist and I enjoy taking the routes that keep me off of the interstate.

This makes me mad. I don't want to have to use even one android or IOS feature. I want to be completely in Microsoft/Nokia ecosystem.

The here navigation keeps freezing for me. Didn't do it before. Guess I can't expect that to get fixed. Guess I need to find something else.

Looks like my next Lumia will be my last.

No what does that tell you? Before 8.1 I loved maps then the built in maps came along and its so annoying

It was expected, now that they were off the leash. Business is business.

Please don't screw your most loyal fans!!!!!

This comes across as a real slap in the face to us Windows Phone developers who have focused app work around the HERE APIs. And the next to last paragraph sounds like HERE is trying to force Microsoft to make some sort of overture in order to get development back up to a reasonable level. I'm wording that nicer than I'm thinking...

More platforms are good, but give up WP is fat shit. Hope they do nothing in this way!!!!!!

Switch from Windows Phone to Android?! That's just crazy, haha. If I left I'd probably go iOS. At least Apple is focused on that product. The Nexus 5 would also be a possibility. Stay focused people, carriers are the biggest problem when it comes to smartphones. I'd like to see Microsoft do their version of a Nexus phone. Bypassing the carriers completely!

Nokia drive is the defacto best navigation app on any platform available

I don't care for this move, but it isn't surprising. If their goal (as a separate company), is to compete with Google Maps then this is a necessary move. Though I hope they are true to their words when they say they won't abandon WP and I really hope Microsoft works to keep their product live on this platform as it is a great product. Business is business, though, and life will go on.

I'm betting Google fights back... hard.

I don't mind them dropping HERE Maps, but, is it only Maps or all of HERE? Is Drive a part of this as well, that's where I'll have an issue.

Could someone more familiar with the mapping industry please explain to me how mapping applications are monetized? Is it a license to the vendors or ads or what?

And now im not going to close my doors on other plarforms. Yass!

Stupid move, you can't compete with free. Google gives away maps as a loss leader to sell adds. Nokia's only play is to integrate with another search engine, did I say Bing, to capture add revenue.

Smart business call, disrespecting the platform where more than 95% of your customers are. Smart.
/sarcasm

Why not make more bucks..??
Why leave opportunity..??

Now the hard truth comes: if you are building a business providing mobile apps, you have to go where the fish are...and there are, what, 10 billion Android phones in service and maybe a half-billion Windows (phones)? But, if you could make money relative to investment on Windows (phone) you'd still do it. Microsoft will have to pay them for that, based on market share (or lack thereof).

Anyway, Lumia 920 will be last windows phone.

i really do like Here Maps... hope nokia will still continue its support for Here Maps on WP...

Tom Warren just tweeted that this is patently wrong, to ignore any reports that Nokia is winding down support for Windows Phone.

I know this gonna happen, MS bought nokia and ruining it. I waiting from last six months for Lumia 930 release in my country but its not and now MS delay its release in Lumia 830 favor and also not releasing it.
Till my buy of Lumia I am waiting for a descent video player app but no, I got laggy moliplayer and now MS ruined the music player which lags like he'll.
Now this news makes me more angry. Long time gone but still less first party apps.
If they takes this much time to release their flagship phones to release, than I am done with MS.
I might switch to Android and iPhone combo from Android and Lumia.

I use here map n drive a whole lot. I'm really disappointed that they are not spending more time improving the app. Which is really good, but let's face it, could really use some tweaking and updating.

O dear. Offline maps n best camera are two big reasons I av a WP...

These will make iPhone becomes top sales.

Since I first used a Nokia 6680 with maps and a separate Bluetooth gps unit I have found the sat nav guidance second to none, now couple that with the carl ziess camera on the nokias, lumias etc., who can compete with that combination? So to lose here maps would be a huge mistake for Microsoft, I'm sure their customers would desert them in droves

Who cares. Bing Maps is faster. If MS can keep developing on that front, it won't matter to me. They have some of the best looking apps on the platform anyways. All the Bing stuff looks and runs better than the apps it competes with. The only ones that really care are NOKIA fanboys, which I used to be 'til WP came out and then I saw the light. Most stable OS I've used. Symbian what? Ovi What? Garbage OS and Software, that's what.

Thank god! Windows needs ONE map solution like it needs one "windows". Here + Local scout is a clusterfudge that WP team should never have allowed two "apps" for.

Updated articles with 10 years confirmation

Not surprising... Natural to shift dev resources to platforms they want to expand on. I hope they Scroogle Google!!

No worries. Microsoft have Bing map

This makes me so mad. I don't think it will help, people use Gmaps if on Android, Amaps on iOS, so they're just kicking themselves in the head for ditching WP, they had pretty much 90% of WP vs max of 10% on the other platforms. Also big 2? iOS is only now really big in the USA everywhere else its been declining, so much so that they probably were on more WP devices in EU than if they got 50% of iOS devices in EU. *stats from top of my head but ya get the jist.

I knew it. Hahahahah once MS lawyers made the call they clarified their intentions. Hahaha

How in the world will people "switch" to Windows Phone if most of its features are on other platforms...

What's awesome about Bing maps? No voice guided or turn by turn. Just list view on my maps app on 8.1. Am I missing something?

Well, WPC does make a very prominent impact.

Here maps is available in android?

Here maps available in android?

Please buy the lisence of here map solutions. Seriously, after this we do not have any official map and nevigation system except bing which is less responsive and reliable. Not working perfectly as here map. I loved this here map since beginning and that was one of the valid reson to stand out in the crowd few days ago. Expanding is ok, but disbanding us and residing on the android and apple, is totally sick option.

Sounds like it's time for another updated Navigation Apps comparison review.

For Nokia this would of course be a good thing, the same doesn't hold for WP though

Annoying and sickening and dragging loyal customers for their greedy mired ride.

Microsoft, please listen and work hard. We need to capture 4% market share anyhow. Seriously, do something. Tizen is on the way! What the hack is happening.

And today, I really hate Microsoft for this big lose.

Another lost occasion for Nokia to just shut up...

Wow makes it sound as Nokia Here keeps WP alive give me a break

Exactly. It didn't keep Symbian alive. They use to charge for their maps and then they started giving it away for free when Google Maps came out. Come to think 'bout it, that's kinda why I stayed longer than I should have with Symbian. But gave up after too many issues with their phones.

I never cared much for Microsoft phone, I ended up here because I chose Nokia years ago, primarily for the LIFETIME of free off line navigation, open file system and superior cameras. And now this insensitive posturing?

So they're basically trying to get a better deal by spreading news like this.

This is stupid. Google and apple has their own service. Why not windows phone.

Well, I have Nokia stock, so hooray!

This app must be an exclusive , I hate Microsoft for what its doing , why , they don't care about. Us , IMO we shouldn't even consider them alive ....

Why Nokia can't give out their HERE maps when Microsoft can give its Office suite, One Note, Smart Glass and further planned Cortana to iOS & Android and what not..

I'm leaving windows phone Posted via the Windows Phone Central App for Android

Wow. People really took it the wrong way.

Why microsoft don't just build up its own maps service is beyond me

They were. They had. Bing Maps was being developed until NOKIA came onboard the WP bandwagon and forced MS to abandon it and use HERE maps instead. Actually, we even had turn by turn before HERE, although it was nowhere near as robust. You had to tap on the screen to "hear" voice navigation. This was in WP 7.5

HERE maps is awesome...so is the "Maps" which I guess is Bing maps I got after I updated to wp8.1...i personally find maps come with an extra touch..i just find it convenient using maps...

I don't know why MS Spends all this money on advertisements when they have nothing, I mean nothing to compete against the iPhone 6 and 6 plus. Nothing on all four carriers... The last great device they released with no compromises was the Nokia Lumia 920, and that phone was released 2 years ago. The Icon in this day and age is a huge compromise. Then this bombshell regarding that Nokia won';t develop Window Phone Here maps, this is just sad :( RIP Windows Phone....MS should quit spending money on the Cortana apps until they release a no compromise hardware flagship, that has appeal to every user from Children to Grandparents.... Bring on that flagship!

Really happy to see this confirmation.....

There is enough space for everybody!!!!

Do not remove offline map. It is a selling point

Now microsoft is killing Nokia....how frustrated. They will never kill our hero's brand because Nokia was popular around '90..

Bing maps are not as good as here maps

What Stephen Elop said about the burning platform, he meant Windows Phone :(

A reasonable decision given Android & IOS has a larger slice of the mobile pie. If Microsoft can secure commitment from the HERE team for further licensing & development (and I do hope they can), then I would expect that MS/WP users would benefit from the larger scale work done for other platforms.

Honestly I don't use it anyways, I use the Maps app that comes on the phone already.

That sucks! Well we have Bing Maps!!!!!!

Not snatching up Nokia's maps division was a mistake!

It's good that HERE Maps are expanding to other platforms as well. Not too good if they don't work on the WP version of the app as much though.

4 years of a wind down. So what did we learn new in the update? Not much except that this was put out to avoid wholesale abandon ship of WP.. The wind down is still happening and we need to look for another solution...just not today.

at least still here for another 4 years a lot can change in that time.

Here maps is garbage to begin with... same with here drive. If they can't generate brand loyalty to begin with, there is no point supporting there failures. Garmin all the way

I hope Nokia don't leave Windows Phone, we don't have a viable maps option I'd they do.
Could be time for MSFT too buy the rest of Nokia...

God dam it Microsoft!!! Work harder on Windows Phone!!! They make videos comparing Siri vs Cortana but so?? Cortana is not in all languages, Siri is. Microsoft needs to expand faster in other countries, bringing new devices and services as the same time than US!! That's why iOS and Android gain more users! I think MS is loosing this badly :(

just found this link http://www.zdnet.com/nokia-were-still-here-on-windows-phone-7000034055/

Well, that's not good, I really hope they Will change the"wind" back to WP as it's one of the best app on the platform...

Will they give away the Here suit for free on iOS and Android too as they did on WP? Don't think so.
Poor decision and feels like some kind of revenge towards MS

Ok let's move to other platforms as well since no one seems to care for WP

since wp users are the current users of here maps, they are the ones recomending ios and android users to use it, if they get a crappy experience i dont see that happening, and therefore here maps will die in wp where it is loved while trying to appeal foreign platforms, a great mistake i hope they never make, ms will probably make agreements to keep the best experience and exclusive features to windows apps

Can I get Google Maps for Windows Phone? Pretty pleaaaaase? :(

I often use HERE maps and HERE Drive and I've been mostly pleased with them. The offline feature is a real benefit. However, it seems like progress has really slowed of late, so this announcement doesn't come as a surprise to me. For example, live traffic rerouting in HERE Drive is a feature that seems to have talked about for a while, but has never materialised (despite being available on Symbian). There's something really frustrating about being told much traffic is going to delay your journey, without being re-routed around it!

I use copilot now, no worries. Too bad though...

Waiting on my pre-ordered Note 4 :)

Poor Nokia, let the purge end... !

windows phone is becoming nothing but a crap...

I bought Nokia Lumia not because of windows os but for the brand Nokia; it's built quality. And believe there are lot others who bought for the same reason like mine.

Now I have finally lost hope in WP....

Wondering what else they are up to!? Considering this; https://www.zlauncher.com/

I absolutely agree that they should be developing for other platforms so that they can increase potential revenue, however, MSFT should double down and pay them if they have to to get continued product upgrades in lock step with upgrades for the other platforms. I'm a huge WP fanboy like most of you on here are and would like to see WP gain market share. Having a solid 'native' mapping application is IMHO an absolute must. I know it's not truly native except for Lumia phones today but that's just it - the defualt mapping app on WP should be HERE and not Bing on all future phones. I've used HERE maps as the primary GPS on my Lumia 1520 when I'm travelling and using rental cars, I can happily say the experience is far superior to the ones I have in my in-built navs in my cars (Lexus and Porsche). MSFT - ARE YOU LISTENING???

Stupid sellouts...
If Nokia's name is taken I can deal with that but if they continue destroying Nokia's star apps and services I will be one angry person.

Please why such hate towards Nokia they are doing what's profitable anyway even Microsoft gives more attention towards other os( Skype) so I don't know why Nokia should get all the blame anyway this just means the app will not be updated rigorously, the map data will still be updated as and when required. For me I am hoping that as more users start using the app, the map data will be updated more frequently and also some countries or places not supported will be included very soon.

If here maps comes to IOS! I'll buy an iPhone

All the negative commenting about leaving the platform etc.. Read the article properly or research topic before pulling the trigger with responses. Here maps for win phone isn't going anywhere in the near future relax

This is TERRIBLE news! The HERE suite of Navagation/Location services are a major reason I chose my Lumia 920 (I drive a lot for work). I really don't want to but if HERE starts falling behind I may have no choice but to jump ship back to Apple just when Windows Phone is starting to be a true competitor. :(* Microsoft if this isnt proof that Bailmer was actually right, for once, that you needed to buy ALL of Nokia I don't know what is.

No big deal. That app cannot come close to the functionality of CoPilot GPS.

If HERE maps will not usable offline anymore, there's no more point in using it. It will be the same as Bing Maps, Google Maps, and all other maps in the store. Let MS give HERE maps what they want to do.

I think it will be great for Nokia to expand the Here Maps & Drive apps to other platforms. Good business for Nokia & I think those services will rock on the other platforms. Posted via the WPC App for Android!

LoL complete with Google maps on Android. That is the only crazier position Nokia could take compared to going dedicated to Windows phone

Here Maps is absolute rubbish anyway. MS needs to do a ton to it to even be in the same realm as Google Maps or even their own Bing Maps.

Not encouraging news (except for Nokia shareholders, which I kind of wish I still were-- they made me some money though, no hard feelings). I have been hoping for some updates to HERE Drive-- it's decent, but I want better routing (more traffic-aware routes, for one) and a few more features (lane advice, better search, the opportunity for a little discovery while driving, more POI's). Now I don't know what I am hoping for outside of the status quo to remain a baseline for functionality for this app. MS better not let this one slip through the cracks; location services are a HUGE part of mobile and a sub-par experience is one of the things that could push even satisfied users away from the platform (and they certainly don't need more reasons for folks to NOT to buy a WP, for crying out loud).

Cortana Maps? Anyone? backed up by Bing or other source

Hi, For the Record. This is a more-detailed post by Paul Thurrott from SuperSite for Windows about this issue: http://winsupersite.com/windows-phone/are-here-maps-winding-down-windows-phone-update-no Ciao!

This is one of my favorite app on WP. If you remove that one without a proper alternative you will disappoint a lot of WP users Posted via Windows Phone Central App

I'm very sorry to hear this. HERE Maps is my favorite navigation app.

Well its signs of the times, is this platform is going to die?

MSFT needs to lock this down, unless they somehow allow google maps on WP. Right, it's probably between talks but here makes is a money earner for Nokia, far more than its mobile division - msft can't let this go. Bing is just not up to scratch!

Ah yes, the classic case of (Nokia)rebelling against your new step dad (Microsoft)

Don't need any new features anyhow, just keep updating maps of all I care about

So true. This is a good move by HERE as a financial decision to develop for IOS and Android. This will grow their mapping system massively. HERE actually has 80% of the new car market for in car GPS systems. If you have tried HERE maps beta on PC you will see they are well on the way to becoming a major player against Google maps. I've even seen the HERE street mapping car in Brisbane Australia so it won't be long before they have a complete GPS and mapping system that more than rivals Google... In fact I wouldn't be surprised to see the world saying "Search. for that on HERE maps" instead of using Google. With the years of experience behind them Google Maps is already an inferior product to HERE maps... LOL OFFLINE MAPS MY ASS!... I can't cache more than a square 100km area with Google... Give me true offline maps any day.

I. Stuck on t- mo both business and home im done with coming soon lack of high end devices no updates done

After tricking people to buy Nokia phones by putting their free maps (promoted as life time free) as part of the package, they will leave their poor customers and runaway just like that?!?

Good move for nokia Posted via the Windows Phone Central App for Android

Development of here maps wound down on wp long time ago! Drive hasn't been updated in ages and lacks features from symbian version (especially waypoints). I can't imagine how more can it get wound down. If things continue in this fashion it may be a good time to abandon ship.

I really wish HERE Map app available to other platform, for me the best navigation tool.

Sounds like the descent apps for Windows Phone are going to move away to where the rest of the market is.... If we lose the good apps, we will lose the war.... I am seriously watching what's going on because when I have enough money to buy a very great phone I'll be choosing between the three OS's and right now I'm leaning towards a Note 4. But it will be awhile before I have enough cash since I'm going to save up at least half off contract price before I buy

Offline maps and navigation is THE reason for me to have a WP Nokia phone.

Awesome, can't wait to use HERE maps and have offline mapping when I drop this miserable WP and get a Nexus device

I just think they should drop the HERE name and just go with Nokia Maps, etc. What were they thinking?

YES BRING BACK THE OLD WINDOWS PHONE MAP FROM WP7. That was actually better than Here Maps.

The reason why i still use Lumia is because of HERE Map

Wanna fight google maps? Common...even japan maps they don't have it until today...

From what it seems, the best way to enjoy Microsoft services is to get an iPhone or an android. Imagine Google providing more polished and first to WP their apps. How would android users would feel about it? What Microsoft is doing with their services to their own devices is at least absurd. Yeah this one is about Nokia, but I mean in general how Microsoft Handle things in similar cases, Skype etc.

Microsoft's purchase of Nokia is finally starting to pay off.

What a bunch of ignorants. Wake up. Elop was a trojan horse clearly. Nokia is mediocre? Are you kidding me? If their would have been no Nokia. Samsung would make cheese now and apple would have soled iprank on steak. Wake up you bunch of ignorant preeks, everything that is mobile is made with nokia pattents. Smartphones, camera, gsm network, even your shity touch. Elope came and destroyed the only real mobile company out there. When he came, n8 was comming out and meego. 2 great platforms. And this basterd killed them with two words. Burning platforms. As if wp is not. Share holders clearly knew what flop is doing, otherwise i can,t understand the idiocracy to let some microsoft troll to destroy a legend, a king, not just a brand, but a legacy. The only company that can leave a legacy to the ignorant mass these days that can,t multiply two by two but brag about smartphones and their hardware, whom they also have no clue why and how is to be used. Here has nothing against google maps? :)) for a bunch of kids who want to see their home door, maybe not. For someone who uses maps to travel. For sure is able to take a dump in some google area, and then comes this other ignorants with ms and their salvation. Salvation my ass, if there would have not been ms. I would be playing with a real platform now on my lumia. And that one,s called meego, or at least symbian. Only reading this clueless comments can be clearly seen that this people have no ideea what power of proccesing symbian has, what true multitasking is and how many capabilities that system has in front of all this new trend crappy child os,s. Taking only fmtransmitter and 41 mpx camera is already to much for crapple and crapdroid to digest.

Waze and Here both the most used navigation apps for me are now getting the cold storage treatment. Great. The life of an average WP user.

The saddest /silliest thing about this is that Nokia STILL has managers who don't know how to keep their bloody mouths shut. Just say "we will be investing a lot into our IOS and Android apps". No need to talk down your main platform.

Here's the thing, Microsoft has it's own mapping app that uses the same mapping data. Now that Nokia no longer makes their own WP devices, it makes no sense for them to make Here apps exclusive to Lumia on WP. Making the mapping app available to all WP users when Microsoft has another app available to all WP users with the same exact data might be a waste of resources for Nokia at this point. To be successful with Here, Nokia has to concentrate on iOS and Android. Google Maps and Waze are tough competition for them on those two platforms. For these two reasons it makes less sense for them to still heavily invest in the WP apps. Microsoft on the other hand, needs to start thinking about their future with maps. Maps are an integral part of mobile platforms. They have a deal with Nokia for the mapping data but they need to create their own turn-by-turn navigation app to complement their maps app

I wonder if we'll see Cortana Maps in the future??

This is depressing news. Oh well. As long as Microsoft adds voice to Bing Maps, I'll be fine. In the past, I've found that Bing Maps was more accurate but since it didn't offer turn-by-turn voice navigation, it was never really a viable option. As far as developing for Android and iOS, while I understand the need to expand in order to increase revenue and all that, realistically, I don't see them making much of a dent on Android. If a person is using an Android device, then they're going to be using Google Maps and would have little reason to switch over to the 'new kid on the block.' They would have a much better chance making in-roads with Apple users. From the reviews I've read, the iOS 8 update did little to improve their mapping service. I hope things work out for them but moving most of your resources from a proven commodity to an unknown one doesn't make much sense to me.

Here map ? Lousy, just in front of my own home, it tell me to keep going.

What's next? WP users will have to go to the local AAA store to get a map when they wanrt to navigate?

Windows 9 is our last hope to stop this massacre!!! Keep the platform alive! PLEASE!!!

Time to jump ship and go back to Android

I stopped using here maps anyway. It started getting buggy and crashing. Plus I like copilot better now.

Why would they want to do that in the first place? I always boasted of Nokia Maps (the best in the planet) and is exclusivity to WP. If Nokia goes completely out of picture. I am going out of picture for WP :(

I bought my Lumia 1520 with free LIFETIME navigation, I don't think they can just take it away/stop updating it?

I think Nokia is absolutely right!!! Coz ms is killing their name and destroying them so they have to do something to remain in the market... Well done Nokia.

i think microsoft wants to prefer bing maps over HERE maps.

Sooner or later that was gonna happen. Lets see how Microsoft will improve on Bing Maps.

I stopped using HERE maps and Drive when they switched voice commands over to BT Phone instead of BT audio. It's unusable as all I get is "*music,music,music**silence**more silence*"...-ight"*silence**music*"
Waze does voice commands through AD2P so there isn't even an interruption to what I am listening to yet still understandable.

I think maps is the same as here maps?

OK I am not understanding this thread, does this mean that Win Phones will no longer have access to Here Drive? If so what would we use instead?

What it means is that, the app is likely, from here on out, in maintenance only mode. Don't expect any major updates to it, and when licensing runs out in four years time, Microsoft will have to come up with their own Navigation solution. That is, if they're still in the mobile OS and hardware game, which I highly doubt. (In fact, I suspect Nadella writes down the Nokia purchase and quietly sells off the manufacturing assets to other OEMs. The guy does NOT want to be in the hardware business).


Here Maps is so goofy. The software is used by many major auto manufacturers, is present in millions of vehicles on the road, yet maybe 5 people know who NavTeq is and that Nokia is powering the nav system. MS is missing a mark by not revising their auto OS to resemble the Modern theme and tie everything together. License the damn software, and integrate it into everything map related at MS.

No!!! Are they stupid or what? They already have Google Maps on Android for free And this is most used on mobiles and PC's

well is the worst decision of develop for android Here maps, because the piracy of apps in android exist and is the biggest problem for developers have seen in websites that there was an leak from Samsung apk to the rest of Android phones, so with almost 80% of people using android and do not wanting to pay by the application then the only final of Nokia here maps division will be bankruptcy, i am watching that even in many android phones been sucessful installing here maps and downloading for free the maps in an application which just is pirate.
Windows Central Newsletter
Thank you for signing up to Windows Central. You will receive a verification email shortly.
There was a problem. Please refresh the page and try again.