Microsoft completes its acquisition of Nokia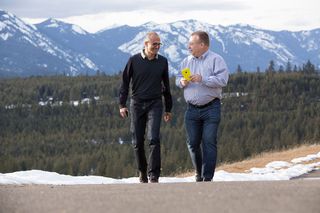 As previously reported, today marks the day when Nokia and Microsoft ceased being two parties with similar goals evolved around Windows Phone. Both companies have fired out press releases detailing the finalization of the deal seeing Microsoft absorb the phone business from Nokia.
From today, Nokia will be formed of HERE, Nokia Solutions & Networks, as well as further developments. The handset side of Nokia will now be part of Microsoft. Nokia's Devices and Services unit has been sold to Microsoft for €5.44 billion (US$7.3 billion) and will be renamed as Microsoft Mobile Oy. Stephen Elop, pictured above with Microsoft CEO Satya Nadella, will move to Microsoft to lead the hardware division.
Check out the Microsoft press release below.
Source: Microsoft (opens in new tab), Nokia
Microsoft Corp. announced it has completed its acquisition of the Nokia Devices and Services business.
The acquisition has been approved by Nokia shareholders and by governmental regulatory agencies around the world. The completion of the acquisition marks the first step in bringing these two organizations together as one team.
"Today we welcome the Nokia Devices and Services business to our family. The mobile capabilities and assets they bring will advance our transformation," said Microsoft CEO Satya Nadella. "Together with our partners, we remain focused on delivering innovation more rapidly in our mobile-first, cloud-first world."
Reporting to Nadella is former Nokia President and CEO Stephen Elop, who will serve as executive vice president of the Microsoft Devices Group, overseeing an expanded devices business that includes Lumia smartphones and tablets, Nokia mobile phones, Xbox hardware, Surface, Perceptive Pixel (PPI) products, and accessories. Microsoft welcomes personnel with deep industry experience in more than 130 sites across 50 countries worldwide, including several factories that design, develop, manufacture, market and sell a broad portfolio of innovative smart devices, mobile phones and services. As part of the transaction, Microsoft will honor all existing Nokia customer warranties for existing devices, beginning April 25, 2014.
Windows Phone is the fastest-growing ecosystem in the smartphone market, and its portfolio of award-winning devices continues to expand. In the fourth quarter of 2013, according to IDC, Windows Phone reinforced its position as a top three smartphone operating system and was the fastest-growing platform among the leading operating systems with 91 percent year-over-year gain.1 Furthermore, with the Nokia mobile phone business, Microsoft will target the affordable mobile devices market, a $50 billion annual opportunity,2 delivering the first mobile experience to the next billion people while introducing Microsoft services to new customers around the world.
Microsoft will continue to deliver new value and opportunity, and it will work closely with a range of hardware partners, developers, operators, distributors and retailers, providing platforms, tools, applications and services that enable them to make exceptional devices. With a deeper understanding of hardware and software working as one, the company will strengthen and grow demand for Windows devices overall.
As with any multinational agreement of this size, scale and complexity, Microsoft and Nokia have made adjustments to the deal throughout the close preparation process. As announced previously, Microsoft will not acquire the factory in Masan, South Korea, and the factory in Chennai, India, will stay with Nokia due to the tax liens on Nokia's assets in India that prevent transfer. As a result, Microsoft will welcome approximately 25,000 transferring employees from around the world.
More information about Microsoft's expanded family of devices and services is available here.
Founded in 1975, Microsoft (Nasdaq "MSFT") is the worldwide leader in software, services and solutions that help people and businesses realize their full potential.
Microsoft refers to Microsoft Corp. and its affiliates, including Microsoft Mobile Oy, a subsidiary of Microsoft. Microsoft Mobile Oy develops, manufactures and distributes Lumia, Asha and Nokia X mobile phones and other devices.
For further information regarding risks and uncertainties associated with Microsoft's business, please refer to the "Management's Discussion and Analysis of Financial Condition and Results of Operations" and "Risk Factors" sections of Microsoft's SEC filings, including, but not limited to, its annual report on Form 10-K and quarterly reports on Form 10-Q, copies of which may be obtained by contacting Microsoft's Investor Relations department at (800) 285-7772 or at Microsoft's Investor Relations website.
All information in this release is as of April 25, 2014. The company undertakes no duty to update any forward-looking statement to conform the statement to actual results or changes in the company's expectations.
Windows Central Newsletter
Get the best of Windows Central in in your inbox, every day!
Rich Edmonds was formerly a Senior Editor of PC hardware at Windows Central, covering everything related to PC components and NAS. He's been involved in technology for more than a decade and knows a thing or two about the magic inside a PC chassis. You can follow him on Twitter at @RichEdmonds.
Yep Congo but they should have named the handset division as surface mobile ND wish Chennai plant was also under the deal
Sigh it was left out bec. Of stupid court demands underseeking the fact it moved towards 8000 workers unemployment

Surface Mobile would work in the USA but not Europe or Asia. Brand recognition is very important with the Nokia brand being so prominent in more than 90% of the world it's going to be interesting to see how this is accepted.

It'll be interesting to see what affect this will have on sales, particularly in Europe where Windows Phone was actually gaining traction.

Well, according to grandmaster expert DJCBS, WP's existence will eventually vanish since what Europeans really care is not the WP brand, but Nokia. Well, I am just quoting the expert, I tell ya.

Even that "expert" knows how it really goes...

Europeans know NOKIA as Lumia, as such Microsoft Lumia will continue to build upon Nokia's succes.

actually we know nokia as nokia

Lol. Same here in Philippines, we know NOKIA as NOKIA nothing more nothing less. Posted via the WPC App for Android!

you are right, but there had been reports that they will continue to use Nokia brand on smart phones and not just feature phones.

MSFT gets the rights to use the Nokia branding on hardware for 10 years from the close date, IIRC. It was part of Elop's original press release.

Check Nokia's official twitter account, they have confirmed that they will use the Nokia brand on Lumia devices too.

Well he is right. Not even 3% of world population know s about WindowsPhone, it mostly sold in Asian countries like India and many other because it was Nokia now no one is buying it here or in France, Germany, etc are going for iPhones or Androids instead. The shift is very evident. Trust me Microsoft hampered the sales of their own Mobile OS, actually ppl bought it bcuz it was Nokia and a long earned brand trust. If I'm buying an expensive stylish phone then it'd be iPhone.
If ppl need a Samsung it'd be an Android not WP.
HTC already withdrew
No major players of tier A are in for WP

then buy ifong if u want...lol

Art least learn to spell the word PHONE because it's also used in WindowsPhone.

According to Nokia, they are getting a slightly higher amount than posted. And the only thing I don't get is why Microsoft is paying this much when they don't have the plant included.

Because it's a net liability with the tax lien.

Congrats MS and Nokia. finally the acquisition has been completed. Hope to see MS go a long way from here with Windows Phone.

Now if we can just get them to release a high-end modular phone and get VZW to pick it up....

Remember the day of the acquisition when DJCBS said that the EU and Nokia's shareholders would never let this happen? Yeah, those were the days.... (;
Now Microsoft is the second largest phone maker by sales. Its Friday. Today is a good day.

I heard one tear fall. Then I saw this article and realized it was him. ;-)

Is the 1st largest samesung ?

Lol, i had to edit my above comment 3 times as WPC app was interpreting it as a "i am first" comment, lol !

I think Nokia was the largest including dumb phones of course.

Nope. Was distant 4th if that.

I beloved Nokia is still the largest phone manufacturer but in terms of smartphones it's 4th.

Correct. Nokia was the first to break 100 million annual phone sales (total phone sales, not just smartphones), and until 2010 or 2011 was the largest manufacturer by volume, which Samsung has since taken. If just smartphones, it's a similar statistic.

I don't recall ever seeing a Microsoft phone... So Microsoft is nothing in the mobile business until they produce the first phone. Unlike what Microsoft fanboys would like, Nokias phones didn't magically turned into Microsoft phones.

Nokia is nothing in mobile, they are dead. Poor boy, is there anything more sad than being a Nokia fan? Even BlackBerry is still around.

not dead, nokia phones are now microsoft phones, same team

Nokia still exists, you poor ignorant.

Sure there is - being a basher of fans of anything is far, far more sad.

Meet The Microsoft Kin.
http://en.wikipedia.org/wiki/Microsoft_Kin For some reason you started to remind me of the "BlackDynamiteOnLine" dude on MotorTrend & AutoBlog ... No offense dude.

I don't read any of those blogs, though, so that reference is lost on me. Also...are you sure you want to mention the Kin? =P

It was a decent feature phone. It's downfall was a cocktail of different things: Poor dev team leadership @ MS, being split between many different departments under "PMX" collaboration, Separation from the WP7 team (thus OS differences, with similarities), lack of app store, late production, poor marketing as a smartphone, lack of basic apps (calendar for instance), data plan changes by Verizon causing an inflated cost, etc... I bought one a few years ago, and it overall wasn't a bad device. In fact, some of its features were ahead of its time, such as studio, which, from my research, appeared to of been better for syncing user content than the fragmented OneDrive/Outlook/People offering we have today.

My point is: Its a Microsoft phone. That's where my interest ends ... I don't really care about it, how it performed, how it sold ... Etc.

Any idea whether buying a Lumia now is still safe ? I was keeping an eye on the 930, i hope the nokia lumias wont be discriminated against the Microsoft lumias.. ?

Oh, I will be buying the Nokia Lumia 930, whatever. Sure it will be excellent quality and last for years, like the 920.

Lol!!.... Just get the phone you want... It's just a smartphone dude.. It's not like your childs daycare was taken over by new management... Lol!!

Depends on what you mean by "safe". In a security perspective, they'll be as safe as Samsung or HTC devices. Do I recommend buying phones to Microsoft? No. I do not. Specially if you're not in the US. Because Microsoft's services suck big time outside of the US. As for the 930, check with your local ex-Nokia Care Centre how will the warranties, repairs etc work from now on. If they remain open and will assist, you may buy a 930 relatively safely since you'll have that Care Centre to serve you. If not, then I'd advise against it.

Microsoft can't cover ever square inch of the planet with service my man,so deal with it and quite using that as an excuse ever time there is a article about the Microsoft and Nokia deal.

Microsoft can't cover every square inch of the planet...you're right. But Europe? Really? They can't cover Europe decently? Actually, they can't cover anything that isn't the US? Poor Microsoft. They're too small and poor to be able to do that, isn't it?

Parts of the U.S still have no service or very limited.It's not as easy as you are trying to make out to be,but Tec heads like us want everything right know:)

When I mentioned Microsoft's Services I wasn't thinking only of Microsoft Stores. I was talking also about other stuff including software services. I won't even mention Cortana, but Bing, for example, is pathetic to use in Europe. And you'd think that at least a continent as important as Europe would be treated with some parity by Microsoft. Yet, no.

We should talk about CORTANA,it's beta software just released.Did you expect Microsoft to go full throttle on beta software and release it world wide?Not going to happen. Software services is what I'm talking about. Some of my family in parts of the U.S have no service or limited bordering on pathetic.Does Microsoft need to step it up?Yes.No doubt. I live thirty minutes outside of Los Angeles so no problem with services or Microsoft Stores with me,lol.

A continent as important as Europe is also a continent that pounce on Microsoft like a mad dog for any chances they get while slapping Google
on the wrist only for they 'mischievous' behaviour. Treated with some parity? Yes, after checking with the lawyers they are not killing the competitions with their monopoly or their product got a 'sky' word in it.

Love that Google and Apple get a pass and Microsoft gets bombed in every single thing they do.

The EU has been disrespectful to Microsoft and thus they will move with more care than elsewhere.

Microsoft Mobile OS (aka Nokia Devices and Services Division) is a wholly owned subsidiary of the Microsoft corporation. From what I've read, they will be operating somewhat independently from Microsoft. With that in mind I would expect no change in their already excellent customer support. I'm sure DJCBS will vehemently disagree, but then again, he can find no good in anything Microsoft.

Didn't you read the article saying they will honor customer warranties?

Apart from the reason that the 930 is very high quality, has a glorious screen, an out of this world performance and the second best camera on a smartphone today, it'll probably be the last Lumia to bear Nokia's brand on it.

To quote from Romeo and Juliet: "What's in a name? that which we call a rose
By any other name would smell as sweet"

Maybe you missed the part in the article where it said that Microsoft will honor all Nokia warranties going forward. So Lumia 930 will be a great buy.

My Nokia logo fell off and behind it was the Windows logo ;)

You must be young. There was a Windows phone before the iPhone and Android phones. I had 2 - Palm Windows Treo and Sprint Touch. Posted via the WPC App for Android!

Ha go tell them that we will plague them with a disease called Steven Elop and make us the nominee of their property. And then we'll be better than them..
How stupid analogies ppl can make seriously..
Microsoft is nothing more than a Virus to many Successful ventures like Skype, Nokia, etc. So what Microsoft does is act a leech to win over others.. Huh loosers

Yeah, Nokia was doing so well without Microsoft. That Symbian was really taking off. You're kinda dumb.

Most probably you're one of the blind fans of Microsoft, who won't believe that Nokia CEO Steven Elop was a an ex-Microsoft employee who was sent to Nokia as a Trojan because Microsoft needed a Hardware subsidiary pretty much like Apple & BB. And that Elop cancelled Nokia Android tie up, Sold home grown OS Meego & Maemo.

I was wondering when you would say something

Remember all the times he said he would leave if the deal actually happened...

I told him that he's not going anywhere... I want him to stick around... I actually like him. I think he's smart.. I don't agree with some of the things he says, but oh well..

Well, thanks for the compliment =P I will stick around. As I've said before, I'll still be using the 1020 as my dedicated camera so I need to know what's going on with WP. And if Sony ever releases a WP device, I might even return to the OS.

Exactly if only Sony would make one, but I don't see it happening and thus gonna retire my Nokia Lumia 820 but not 920 because of the elegant industrial design, which would soon be effed up by Microsoft.

I don't know him so I don't know if he is smart or not. However, I know from the way he berates others instead of supporting his own arguments that he thinks he's smarter than everyone else here, so that's enough for me to disregard his opinions.

And I will keep my word. I've just ordered a Z1 Compact which still comes with Android 4.3 (and hence, no limitations on saving apps to the MicroSD card). However, if you think I'll stop using WP, you're mistaken, since my 1020 is still my dedicated camera (and my current daily driver until the Z1 arrives and the 920 returns from Nokia). So I'll still be reading WPCentral.

Just curious, are you on Instagram? And if you are what's your username. Coz I'd like to follow anyone with a Lumia 1020 with an Instagram gallery.

Nah, he and those nay sayers will still be around, using a Microsoft-Nokia phone coming soon.

quoted from ice cube " today was good day "

Yes, I do remember reading that. Speculation based on nothing more than their own opinion..But here we are. The deal is done. . Just like we all figured it would.

End of the games. Bye Nokia, welcome Microsoft.
In Europe this is a sad story.

Yeah, you lost the biggest European tech company, you're going to miss them..

At least we had a big company in EU.....now we have nothing :'(

You have each other:-):-):-):-)

Wow, would the EU prefer it closing down or it being bought out by Samsung instead of MS. Sammy would have just taken the tech and factories and let everything else Nokia die.

Nokia is a very important trademark in Europe. A phone with Nokia written on it has its importance.
It's like the sin's apple logo on your laptops guys :P
If Apple disappears, a lot of Americans would be disappointed, the same is now in EU with Nokia.

Agreed....actually I feel proud that my phone has the Nokia name on it.

True govt should have helped it by funding it like USA did to General Motors

Microsoft Finland will reign in its place

Nokia's services are fabulous here in Brazil. Nokia Care is really excellent; Microsoft's support, on the other hand...

Microsoft will take over Europe now. This should positively effect their customer service in Europe too.

We will miss you Nokia. You always be in my heart. Proud to be 1520 owner.

Correction: NOKIA Lumia 1520

I just noticed an interesting trend by Nokia..... In the Lumia 520, the words 'Nokia' are emblazoned in bold, whereas in the 525, they are printed in a very faint manner.....I think the Nokia branding will just disappear......

Microsoft are building some kind of European HQ.

Great news, shame Nokia lost its way but fantastic for Microsoft. Watch out apple.

Their arrogance was the reason. But they will still strive

Arrogance, totally agree with you there. But yup, I am quite confident they will thrive to.

I can understand why they were so aggogant, It just prooves that no company can let their guard down.

THE ALL TIME PERFECT COMMENT❗❗❗❗❗❗❗❗❗❗❗❗❗❗❗❗❗❗❗❗❗
..........................
THAT WAS WELL SAID!

Be a kind gentleman and pass me some of what you're smoking will you?

hipporama; Once you get it from him, kindly have a spirit of sharing and let me on what ever that is.

I don't get it. Did I read the article wrong? Did Nokia absorb Microsoft or is this guy on a good one?

Do you happen to be DJCBS's offspring?

*knocks on wood* Please, no. Nothing against the poster, but the last thing I want or need in my life is children. I also have no patience for them. So, no. No children, thanks. ;P

So will the Lumia series remain or shall a new range with the Microsoft Mobile branding be formed?

They still own the Lumia branding. How it or if it will be utilized is the question.

Possibly now would be the era of Lumias and not nokia lumias, but they should still come with a nokia branding, or not ?

From what I understand, they will not be Nokia Lumias. Only the Asha phones will keep the Nokia name on them.

aah thats sad, microsoft mobile doesnt have the same ring that nokia lumia has to it

Microsoft Mobile replaces name of holding division. I am sure they will brand it to Lumia or WP or Surface Phone. Microsoft mobile is too much of Ballmer type, not at all Satya type.

Unless they keep Lumia or use the Surface branding (possibly for a Surface Phone), it would make sense to name their in-house phones "Windows Phone 00" that way people can refer to their phone as a "Windows Phone - 00" the same way you'd refer to a Nokia Lumia as a "Lumia 00" or "00" Examples: Nokia Lumia 920 / 930 / 1020 / 1320 / 1520 / 2520
Windows Phone 920 / 930 / 1020 / 1320 / 1520 / 2520

Nokia's number branding was boring and unoriginal...which made it unappealing to the non-Nokia fan market.

I really hope they don't keep random numbers... the numbers don't really mean anything to anyone outside of the hardcore windows phone fans. There don't seem to really have any rhyme or reason to them.. I mean to an extent, yes.. the 920 is "not as good" as the 930... but then you get down too 920 vs 925 vs 928... which is one thing then the Icon is supposed to be the 929, right? Just a bit confusing for the consumer I think.

Seriously? If i just look at the Samsung's range of phone name I would have no idea which is which, except those famous one like S series

Branding should be done with care that Nokia brand remains and Microsoft also excels from it not only by profit but by goodwill

Microsoft Lumia would be much stable. But I doubt whether Microsoft is allowed to use the Lumia branding.

With the sale, included was the rights to the Lumia branding.

That photo.. Jobs and Wozniak.. in an alternate universe

I was thinking Kermit and Ms piggy. In all seriousness, going by the picture at least, your sought of glad the right guy got picked as CEO

Don't insult Wozniak, please. Eflop couldn't come up with anything useful is his life depended on it. Wozniak built Apple. We may not be fond of what he built, but the guy has way more merit than Eflop will ever have.

THIS! Piss on Apple though :P

Everyone knew this was going to happen as soon as a Microsoft exec took over Nokia. The writing was on the wall three years ago. Lets just hope they don't balls out up.

Surface Phone! Bring it to life! See this? http://www.geeky-gadgets.com/microsoft-surface-windows-phone-concept-25-... I want that in my pocket by September, sporting a 5in 1080p IPSLCD panel, 32/64GB storage, Snapdragon 805 and external storage.

This is the only way I would retire my 1520. There's nothing that comes close to prying this out my hand.

I have the exact same feels man. Love this phone or whatever you'd call it

I have a quandry. I am deploying in the near future. I'd LOVE to get my L1520 unlocked and take it with me. However, last time I deployed, I ruined a digital camera with the environment I was in. I have a L920 or a L520 that I could take in its place. I'd be super jealous of any update the L1520 would get while gone though.

Surely you would have more pressing things to be worried about than phone updates?

I'm kidding, just showing my enthusiasm towards my L1520. It was a toung in cheek comment

Surface Phone would be awesome, if it had a Nokia camera, because the camera on the Surface tablet is crap!

Took the words right out of my mouth, both front and rear cameras are awful.

Pretty much the same as a Lumia 930.

Exactly, but with external storage!

Apple would sue Microsoft over this design. Way to close to iPhone 5.

That's nothing like iPhone 5's design... if Apple were going to sue for that, they'd have to sue for the design of the Surface and Lumia Icon. Even still, it's not like iPhone 5 is truly original either. Like most things Apple claims to their name, it is stolen... and we can find the two-tone thing from the original Galaxy S and Samsung Focus Flash. Likely even further back as well.

TLRtheory; That was published 2012, and looks like MS version of iPhone design wise. Nope, I want surface phone concept with its own orignality and not possibly iPhone wananbe

I don't see how it goes the iPhone at all. It's effectively a Surface RT at a smaller dimension with a Windows Phone front. I'd love a phone like this.

Wow, that phone looks cool

Terrible photo "lets have you two rich dudes walk down an empty road used in iron man 3 while holding a Lumia"

Elop could do with some exercise though..;)

Seriously, that is some gut he has grown

Reminds me of the scene in Shawshank Redemption when Warden Norton took Tommy outside to have him shot. Long range sniper rifle, Sataya gives the nod... The plot for Nokia's downfall goes to the grave.

Nooo , they weren't readdddyyy nooo ... ;)

Well, how about acquiring blackberry too MS ?

I think they tried, but some lunatic at Blackberry thought they still had a chance to be number one! Of they had let Microsoft buy them Blackberry would still be the best phones for companies, mixing the blackberry experience with the Windows ecosystem.

Lol
It would be good for MS's image, and many more devs would develop for the WP ecosystem then,

I thnk MS passed on them, not the other way around

My greatest belated birthday present!

Happy belated birthday!!!

I'm gonna buy Nokia Lumia 930, the last one that is Nokia!

Weldone trojan horse Flop. When and what is you next device named?

Weldone trojan horse Flop. When and what is you next device named? Nomore excuses JB!

Lumia Icon is out...there might be...Lumia Elop
NOKIA Lumia Icon vs (Microsoft) Lumia Elop

"Microsoft will target the affordable mobile phone market"..that says it all.

They have Asha in their hands

Does it mean that Asha series will become Oy and Nokia Lumia series will become only Lumia?

Microsoft just leapfrogged Apple in the Feature phone market. ;)

They can't leapfrog a company that doesn't have a presence in the feature phone market...=P

Microsoft Mobile Oy? Interesting name, but they still didn't answer what they are now going to put on the phones? Just Lumia?

You're never know.....maybe a miracle will happen and we'll see the Nokia name on their phones.

Or maybe another miracle will happen and the general population will finally realize that Microsoft isn't a bad name anymore... One can dream...

I really wish that happens ! Nokia is more classic looking on phones, i love my nokia Lumia !

I just noticed an interesting trend by Nokia..... In the Lumia 520, the words 'Nokia' are emblazoned in bold, whereas in the 525, they are printed in a very faint manner.....I think the Nokia branding will just disappear.

My predictions... MS will keep the Lumia name for WP phones/phablets. And Surface for tablets. Just like Surface they will simply brand the phones Lumia (ie the Microsoft name isn't prominent on the Surface products). MS will probably not keep using the 3-4 digit model names.

I agree with this 100%! Posted via the WPC App for Android!

Future phones.....Lumia ...not NOKIA Lumia

That does sound more likely. In any case, congratulations to Microsoft.

Ummm... that is the case. lol

No, check Nokia's twitter account, they have confirmed that they will use the Nokia branding on Lumia devices too.

Nice ! Looking forward to see what comes up next ...

i wonder if they'll keep surface or the lumia tablet.

Surface for business, 2520 for consumer Posted via the WPC App for Android!

"Surface" and probably implement some of the 2520 best features.

What a great start to my weekend! "Welcome Nokia, let's create some extra ordinary cross breeds between my software and your hardware. My place! ;)" said Microsoft tonight.

Have you ever read "Frankenstein"? ;)

Goodbye "Nokia world" events....

Congrats Microsoft and Nokia

I'd hate this deal only if new phones are also "US only", I'd really hate it then. Otherwise its great !

...wtf? Why would that even enter your mind? It's an American-owned company based in Finland (Oy is like our Inc. or GmbH in Europe) with factories worldwide that have their biggest markets in Eurasia.

Nadella looks similar to Steve Jobs in the photo

There is just one thing i really want to know. what will happen to Nokia stores? they will be now MS, ou will just disapear since Nokia won't sell any devices, just services & software?

I'm also wondering the same thing.

Well, theoretically Nokia stores became property of Microsoft. So, probably, if folks at Redmond aren't complete idiots, they'll just re-brand the stores.

Of course this is what I want. My city have 2 Nokia stores. Would be great if they turn in MS Stores.

I hope Microsoft will keep fighting for new apps and giving Lumia owner good app deals like Nokia used to do. Nokia has done more to bring new apps to the store than Microsoft.

Don't worry ms will do best..they have built the best exclusive app for railway in india launched two days before...we love Nokia & ms

Nokia has done more? Really?

I guess whatever part of Nokia is still left will keep on making them apps. I GUESS

FunFact is that Jobs used to go on (long) walks when making his biggest and best choices and decisions. Maybe it's accidental this photo appears but who knows..;)

That's like saying armed robbers go on a parade before robbing the bank.

Microsoft mobile Oy! Ooo yyy?

If only Americans liked Nokia as much as the rest of us, they are so vast in numbers that this may have been avoided, everyone should take a look at the gooPhone i5 and then realise how overpriced iphones are, yet they are sold in bulk to the unbeknownst

At least they do sell iPhones in Europe. Just see what happens with Lumias. Like Cortana. Damn M$.

They are on a vacation?? Discussing the acquisition near Mount Everest

Mount Everest Is not that flat

Does this mean we wont be seeing the Nokia Lumia name again ??

Just Lumia on smart phones.

Microsoft Lumia, Xbox phone out simply Lumia

No, check Nokia's twitter account, they have confirmed that they will use the Nokia branding on Lumia devices too.....

Notifications starts working thumbs up...problem solved ..,1st notification bad one Nokia cry cry

Rip Nokia. Started using mobiles with a Nokia. Sigh you will be missed Nokia.

Rich, why did you write a misleading title for the article? I honestly can't believe that you would do that!

Quite the way to kick off a new quarter, good luck to them all. Excited to see the first Microsoft Lumia product by summer

Just the same...the engineers in Espoo, Finland are still the same...only the name on the roof changed.

Oh i get that, just want to see what is next now that the division will have the financial backing to do really amazing things.

Hmmm....bean counters may still restrict the wild ideas of the engineers...

DJCBS, all of us are officially are waiting for your expert insightful comments on the matter.

He's not happy that's a given.

Well, A-M-A related to this matter that you wish to know and that I haven't said a hundred times before and I'll gladly answer you...

Yes i have waited for this for so long now let the games begin!

I wanted the whole Nokia but this will do.

Well mark my word, microsoft mobile oy will become bigger than microsoft someday. Posted via the WPC App for Android!

This sounds about right :)

"Cortana, Mark this day"
"What do you want me to call it?"
"Bigger than Microsoft"

"There is no way in hell that is going to happen! Especially not in Europe!!", saith DJCBS.

Haha he has his own quotes now? ;)

And apparently quoting things I didn't exactly say...lol

LOL! I'm sure he now regrets he ever said that. He very emphatically said Europe and the Nokia board will not allow it.

I never regret saying anything I believe in. Yes I said I didn't believe the European Commission and the Finnish Government would allow this. But you know, I believe in the rule of law, common sense and that European and National institutions should take care of their European and National companies. I was wrong there. Corruption and the power of money rule supreme. But I keep saying WP sales without Nokia will plunder in Europe. And now we'll see if I'm wrong there.

You don't regret saying ridiculous things because you're a D-Bag. And by the way, you also said you'd move to iOS and/or Android if Microsoft succeeds in getting Nokia D&S. When are you finally leaving? Goodbye is now in order I hope.

You know, the difference between you and a dog is that dogs can be teached good maners. You can't. Your parents must be *so* proud.

And you're the equivalent of a dog poop so talk on.

I don't get it. He had his opinions on the matter, you disagreed with them. Yes he may have stated his opinions a little too often, but why the hate? Pesonally, Nokia MS merger aside, I find his comments to be really good, yes he can be a tad combative at times, but that's the internet aka SPARTA

Why should I hate him when I don't know him from Adam, just as I don't you who you are. I'm merely reacting purely on his body of voluminous d-bag comments in the forums.

You'd think, but the finnish goverment doesn't have the balls to do anything so important. What do you think would happen if the geography was reversed...

I don't need to imagine it. I know the US Government would not allow Microsoft (or Apple of Google) to be bought by a foreign company. They'd come up with everything and some more just to create enough trouble for the deal to fail. I guess this is, in the end, a good example of how rotten Europe has become. Nation States became infected with careless people in their governments, people with no backbone that bend and hail everything the US or China says, and the European Union is nothing but a burocratic house to fill ones pockets.

dude, no offense and the illegality argument aside, but believeing in a rule of law when billions of dollars are involved is just naieve.

Why on earth would purely healthy companies Microsoft, Apple, Google be put up for sale?!! But there were ailing U.S. companies for sale on several occasions with the U.S. Government not putting up objections to foreigners buying them. So much like to you to talk of European corruption just because you don't agree with the sale of the ailing Nokia.

LOVE IT. Just call it (logo) Phone.

Will next upcoming phone be branded Microsoft on their backs and front ??

Microsoft Lumia is where my money is.

It would be pretty cool to see that.

It would look awesome if they remove where NOKIA used to be printed and adding a Windows Logo there or on the back. Now that would be sweet. Guess we'll have to wait and see

It could be an Asha model...

No, check Nokia's twitter account, they have confirmed that they will use the Nokia branding on Lumia devices too.......

For now. Cannot really change existing products or products on the pipeline. The deal terms only allow 18 months of Nokia name for smartphones.

Now that the deal is final, the first thing they need to do is kill Asha and Nokia X.

aaaand That's why you are not leading any size of a company (hired by the owners)

The name is just terrible, they should get a shorter name. Ugh, I hope they change it. I'm die-hard fan of the Nokia but now... Question - will they keep Nokia brand on the phone or change it to this "cool" new name?

They'll keep Nokia as a mobile brand. I just checked Nokia's FB page and it said that Microsoft licensed it for all existing phones (Lumia, Asha, S30)...

They can use it for ten years.. But there is no reason.. Microsoft need to get creative with names.. Tired of numbers.

As per the terms of the original deal, MSFT can only use "Nokia" on S30 and S40 series phones. Nokia's social networking pages are saying Microsoft licensed the name for the Lumia brand too. For that to happen, they had to change the deal. But I've found no written evidence so far of that happening.

No, check Nokia's twitter account, they have confirmed that they will use the Nokia branding on Lumia devices too..........

That's a cool headline picture

When can I have my Surface pro phone please?

This will definitely be an option they are discussing right now

just call it Xbox Phone A.K.A (XPhone) bet it will sell like hotcakes Xphone almost sounds like microsofts version of Iphone

With them creating Cortana due to the huge response from us, I'm pretty sure they are good listeners, this phone may just become a reality :D

They might as well just shorten Xphone and call it XP. Windows XP has a nice ring to it ;)

Because he only read the title and then jumped straight onto the comment section?

A perfect example of why articles MUST be accurate, especially the title.

A perfect example of why we should always strive for accuracy in everything we write, even the title.

A perfect example of my first post not showing in the browser so I typed a similar post and BOOM....now there are two posts....perfect. :/

Nope, Nokia still thrives.

Are you predicting the death of
[1] Nokia X
[2] Nokia Solutions & Network
??

Haha I'm looking at the name and cant help but think the people that do not approve of this deal reading it as "Microsoft Mobile...Oh why!?" :P

My first phone was a Nokia. One of those unbreakable bricks. Love that beauty. All those games of Snake. Best of luck to the new Microsoft Mobile team.

Welcome to the new world! Prepare to be bossed!

Things we'll know 1 year from now and I can't wait to find out: 1) Did OEMs decide the low marketshare of WP isn't worth trying to get into the platform as one single company dominates 93% of a market that is too small to yield the sales needed to cover the overhead costs. Not only that but that company also makes the OS and knows the roadmap ahead better than 3rd parties, ensuring every OEM trying to compete, starts at a huge dissadvantage. 2) Will MSFT kill products like the 1020 which are low volume products intended to show what is possible just because they can, in addition to grabbing headlines even if at the end they are not big money makers. 3) Now that MSFT is in the phone hardware business, will they finally keep up with new hardware for ARM devices? We're already seeing 8 core, 1440p android devices even as WP just got to 1080 4 cores. Or will we see the same lag where WP finally gets there as others are leaving. 4) Will microsoft continue to pontlessly pursue apple in the high end just as they have with surface, while failing to realize volume and low price is where nokia should have started as the lumia 520 showed them before it was too late. Will the surface phone be basically an iphone challenger the way surface is, but that nobody cares for at the end, just like surface? 5) Will the android push die off with the nokia x? or will MSFT embrace android. And if so, will they consider supporting android apps on their WP platform in order to address the app-gap which every single review always brings up as the #1 reason to avoid WP like the plague? 6) Will they just re-spin the nokia business to avoid OEM backlash while keeping the patents to further troll the android OEMs? 7) Will they finally get into weareable tech now that they own a mobility powerhouse like nokia's mobile division? 8) Will the nokia employees infuse the dead wood culture of MSFT with some much needed perspective into why windows phone sucks from an OEM POV? 9) Will they allow 3rd party OEMs to customize WP to address fears that MSFT has an unfair advantage over the customization options of WP since they control the look and feel of the OS which is off limits to other OEMs? 10) will it blend?

Did you not once said you had a surface pro, or you were just lying? Posted via the WPC App for Android!

surface pro 2 :) and surface RT (x2). Why lie about those things? It isn't as if they are part of an elite club you have to join. it's just hardware silly.

All interesting questions. But question 4 I think was answered by Microsoft when they wrote in that press release "Microsoft will target the affordable mobile devices market, a $50 billion annual opportunity".

which then brings the question, what happens to high end devices if the focus is on low? Seeing as how neither sony nor samsung has blessed WP with plans for any of the new 2014 flagships, will this be the realm of OEMs to fill in as MSFT focuses on the low end?

That's a good question. I don't think even Microsoft has any idea what they'll do exactly. I don't know how are their relationships with other OEMs, but Samsung will probably not care to fill in the high end phone business on WP. They were against Google producing their own smartphones with Motorola and I see no reason why they would be OK with Microsoft doing it. Not to mention, flagships aren't the ones that bring in the big bucks. HTC has enough problems staying afloat on Android. I don't think they'll diverge efforts towards WP unless Microsoft basically pays them the construction of the phones, which I doubt they'll do. Sony...no one knows about Sony. They are themselves in a process of reestructuring the company. They're now also looking to become "One Sony". They will be betting more on mobile and their mobile phone marketshare on Android is increasing (they're 2% away from surpassing HTC and becoming the second biggest Android OEM). Will they release a WP device? Rumours say yes. I'm skeptical. But if they do, I'd imagine it would be a mid-range phone just to test the waters.

Microsoft Mobile Oy will set up a chip fabrication plant, which will be called Chips Ah Oy.

LoL. That's funny right there...

Good luck selling Windows Phones without Nokia, Microsoft. You're gonna need it.
I really hope you've taken these last month's to lick Sony's boots properly to get them on board. As for Nokia, we'll be waiting for 2016.

Microsoft been selling Windows phones\mobiles without Nokia's Help for years ... I'm sure they can manage.

Have they? Funny...I don't recall ever seeing a Microsoft produce Windows mobile phone. Mayhaps because there never was one?

Didn't they contract HTC to build one back in the day ? Just like Sony did with the OG Xperia ? Also they have been distributing Windows Mobile OSes via "Partners" ... Nokia happened to be a "Partner"

(Lets not mention Kin. I think every Microsoft fan would like that to just be erased from the pages of History along with Windows Vista)

They will have to do everything fro mscratch. Most of the hardware related patents went with microsoft. Only the 3g and maps patents stayed . So that means completely new designs and new cameras.

Nokia retains all their patents apart from a few design ones which aren't really patents but copyrights. Nokia also retains their R&D division, which included a Mobile division within it. Microsoft licensed Nokia patents, but those licenses belong to Nokia and aren't exclusive for Microsoft use. Meaning any OEM can get the same licenses.

Of R&D, Nokia retained only Advanced Technologies unit - a very small unit (few hundred people). Plus of course HERE & NSN R&D.

Don't to you think that Nokia (now just Nokia Network Solution) will release any device after 2016. Wake up dude.

Nokia is Nokia. Not "just NSN". NSN is a division of Nokia like D&S was, HERE is and their "Advanced Technologies" is (which included R&D, patents, etc). You should get to know the companies and the details of the deal a bit more before talking. Just a friendly advice.

DJCBS, readers can't help but be confused with all of the poor journalism hailing from the rooftops that "Microsoft completes the acquisition of Nokia". Personally I am sick of writers lying to and misleading readers. It seems as if writers are doing this on purpose, it is seemingly IMPOSSIBLE to not understand that Microsoft did not buy Nokia and it blows my mind that people don't understand what the D&S deal consist of when they can read the press releases for themselves. What is this world coming to?????

+1 biased journalism is biased. And bad.

Dude, whatever which part of Nokia still its Nokia. Nokia doesn't have a unit Mobile Device anymore, "Nokia will be formed just of HERE, Nokia Solutions & Networks, as well as further developments."

Nokia retains its "Advanced Technologies" division. That division contains within it the R&D division. Which, in its turn, contains a Mobile Division. They just don't have the Devices division to produce and sell them anymore. They still have the know-how, the patents and all that. And they're hiring a lot of engineers and software architects for that division. You should check Nokia's job offerings. It will give you an idea about the way Nokia is structured.

I guess you'd know everything about butt pains?

No, there will be the Nokia logo on Lumia, check Nokia's twitter account, they have confirmed that they will use the Nokia branding on Lumia devices too.

Hurray for both Microsoft and Nokia!

Microsoft did not acquire Nokia.

It's a Rich Edmonds article. So, as usual, it's inaccurate.

It's really a shame. I wonder if Rich reads the comments to his articles and if he does....how can he not correct his articles or atleast comment or join the discussion. Oh well....

I want to ask a question. Ok as I read, Nokia brand will stay in Asha series, new Lumias may get Microsoft brand name but what's the future hold for Nokia X series, I am not expecting them to release more phone but Who will working on maintaining and updating the current Nokia X os?? Or will go in dustbin like Symbian and Meego?

Just check Nokia's twitter account, they have confirmed that they will use the Nokia branding on Lumia devices too.

SURFACE PHONES!!!! If you look at the leaked pics of the surface phone. It looks like the 930.

Now wht will to the user using nokia Lumia and will they further get me update in Lumia phone

Microsoft update in Lumia phone will the nokia Lumia user will get it

I would be happy if they branded their phones with LUMIA instead of MICROSOFT, it's five letters name like NOKIA and even it has the "IA".

They will be named Nokia.... check Nokia's twitter account, they have confirmed that they will use the Nokia branding on Lumia devices too.

These 150 years of innovation were great....thanks a lot Nokia :)

Everytime I see Elop I expect him to sound like Gen. Burkhalter from "Hogan's Heroes". Now that the switch is complete can't wait to see what changes they'll make to surface!

"D*mn, that's a big as$ belly!" says Nadella

board is set, pieces are moving..

Isn't it oxymoronic that one of the worst CEO's ever has in his hand one of the best phone ever made? He doesn't deserve to have a Lumia 1520.

Elop isn't to blame for the decisions that doomed nokia before he arrived.

Actually they hired him to blame. The real culprit is still out there somewhere..

How with Nokia brand ? Microsoft will remove Name NOKIA in Lumia phone ,asha,And Nokia X device?
Please answers bro.... :(

You can get some nokia stickers and stick them on... :D

This. I am going to put some in eBay tonight. With buy it now option too.

"Nokia" name Removed...?, :(

No, check Nokia's twitter account, they have confirmed that they will use the Nokia branding on Lumia devices too........

Nokia Surface 1560: 6" screen, 50mp camera (40mp hi res pix and 10mp "sharing" pix), 2GB RAM, SD card slot, Qi built-in with 32GB/64GB versions. This is about the only phone I'd give up my 1020 for...

You won't get a "Nokia" Surface, ever.

Nice pic of Nadella and huge mountains, tall and big

I feel like the moment to announce the Surface Phone is now... with the momentum from Build conference. WP 8.1, cortana, and finally the finalization of the merger with Nokia. Come june, Apple will start gaining momentum with thei new handsets and new product lines and Microsfot can't compete head to head with that launch. So it has to be Now (in a few weeks, once they have the final WP 8.1) or late this year (Holiday season). To me it dosen't make much sense to have such a big updte to the OS and no hardware to pair it with. I need a new phone now... Please NokiaSoft... Please...

They have not bought nokia ffs stop saying that you fucking retards

Stock market opens in less than 20 minutes. Let it be GREEN!

At this moment it's the even the only one in the green.

Shouldn't have renamed Nokia to Microsoft Mobile

Yup though it was not possible

The King is dead! Long live the King!

Where is my surface phone?

GoodBye Nokia! I've been using your phones since my childhood days! My first smartphone was Nokia Lumia 610! Loved that device! I will miss you very ba..*starts crying*

Thee will not be a Surface Phone. All phones are part of the Microsoft Mobile division. Microsoft just brought a very recognizable brand for there smart phones - Lumia. They will be stupid to change this or have a second line of smart phones named Surface. Posted via the WPC App for Android!

Nokia website already updating to Microsoft Nokia name removed....sigh I ll never say it again I'm having Nokia phone.... Saddest part of my life....

Now, give us our updates! I wonder if the splash screen on Lumia devices will show "Microsoft" instead of "Nokia" starting with Lumia Cyan.

Release the "Kraken". Now lets see if Microsoft will do what Nokia couldn't or wouldn't... Launch a High-end Windows Device on most Major Carriers worldwide simultaneously.

Your suggestion to "Launch a High-end Windows Device on most Major Carriers worldwide simultaneously." is directly at odds with Microsoft's statement to "target the affordable mobile devices market, a $50 billion annual opportunity, delivering the first mobile experience to the next billion people while introducing Microsoft services to new customers around the world."

Proud to see the Nokia name written on my 920.

Same here. Lumia 1020 user here

Same here, Nokia Lumia 1520. Being probably the last Nokia flagship, I feel I own a piece of history now.

Microsoft did wrong things at those times they needed it to be right , like introducing Windows phone 7.X at the very desperate time when android was getting big , after nearly 4 years they have a very competent OS WP 8.1 imagine this OS at that time now see Android is far bigger than any one ever expected it to be.. WP would have had a larger smartphone share by this time ,,, My point is Nokia isn't recognised as windows phones or Lumia's they are just NOKIA MOBILES carrying pride and passion of its massive mobile users whom helped WP to be something in these days. if your going to rename Nokia as Lumia or Microsoft Windows phone 8.1 or even MS suface phones come on you are going to do the same mistake again !

I buy my 1520 because it is Nokia

Question, does Microsoft get access to pure view camera teach?

My greatest fear is that Microsoft has almost nil presence in countries like India. What if their presence remains the same? Plus I am also worried about after sales service. Will Nokia Care take care of Microsoft Mobile devices?

Nokia X goes *poof* in 5..4..3..2...1

Nokia 1100 Nokia 6233 Nokia Lumia 820 ...

I think the reason Lumias don't do well in the US is exactly because of the Nokia branding. I've heard plenty of people say "You have a Nokia?? Lol why don't you get a smartphone?" Or a variation thereof. They're referring to the old Nokia 3000 series.. Somehow they seem to think that Nokia doesn't make smartphones.

Way too intelligent people around you.

world leave Lumia if there is no name of Nokia mostly in india or any asian country not buy Lumia without Nokia label.we hope innovation will continue.

Software services is what I'm talking about. Some of my family in parts of the U.S have no service or limited bordering on pathetic.Does Microsoft need to step it up?Yes.No doubt. I live thirty minutes outside of Los Angeles so no problem with services or Microsoft Stores for me:)

Will the Nokia Lumia 930 change name before it's shipped this summer? Well, I don't mind. I still want it.

Surface Phone to go with my Surface 2 please!!!!!

Guys how about naming the new phone simply like " Microsoft's Nokia Lumia 1030 " or changing Lumia Name..suggestions please..

Microsoft Mobile Oy gevalt. * couldn't resist :-P

This is great news that now software and hardware can be under the roof and I really, really hope being together in that aspect can grow the Lumia devices quicker and make them a whole lot better. But... With that said, if Microsoft goes backwards in anyway in terms of design, branding, or boning people on carrier exclusive features, etc... I'm sad to say ill be turning in my 928 and switching to a different platform... I really love WP, dont get me wrong, but they have one more shot to get this right and I just hope they don't step backwards because all Nokia did was go up...

This is not Good for NOKIA Fans. Bad News for me.NOKIA not change the name.It show unsuccesfull.people will not like new name of nokia.

Farewell Nokia, you will be missed :(

I don't know if the Nokia brand will come back to mobile phones in 2016 (I have my doubts), but with my Nokia Lumia 1520 I feel I own a piece of history being probably the last Nokia flagship ever made. I know I will be using this phone for at least the next 4 years, so I'm looking forward to what the future will hold for us.

Cant wait to see that AWESOME looking Surface phone with a 64gb option with MicroSD....ON VERIZON... I will buy that full retail on release (and I never pay more than 25% of the cost of a phone). I wonder if they still will sell under the Nokia name, or will everything be Microsoft... As when google has Moto, they still were Moto phones, not google phones...

Lol! People on here sound like their pouring out the ashes of their beloved Nokia company. It will be OKAY people. Trust. The name Nokia has a strong enough backing that I feel MS will still use it and also create (maybe) their own Microsoft specific line up as well. Maybe some Surface phones? But, either way you slice this, this was the best move for Nokia. Going towards Android would have killed the company and their services. Google would have quickly taken the place of any HERE maps or services. Samsung would have continued is complete dominance of the market and eventually, everything Nokia even was would have disappeared. In the end, this is the most hopeful outcome. Rarely does MS cough up billions to buy anything so this is definitely something to watch. I'm excited for the future.

--I will actually be more looking forward to Nokia/Jolla in the future (2016??)

No! You IDIOTS! The Nokia brand is what is selling these phones! Microsoft Mobile Oy? WTF! Someone stop them! I bought my 1020 because Nokia (not MS) was known for being dominant in camera phones forever!

I'm excited about this. One of the first things I would love to see is the end of exclusives. I think it hurts WP sales in the long run.

Yes... Finally!!! No more Nokia name in the Windows Phone!!!

I'm surprised HERE wasn't part of the deal.

Finally! Now bring the Lumia 920 to all carriers. Outdated or not, it was the full package compared to most Lumia's today.

I wonder what would of happened if Meego still existed....

Caption This: Stephen Elop: Y'know, I was once rumored to be the front-runner for the CEO position." Satya Nadella: "And now, you're just my bitch. DON'T MAKE EYE CONTACT!"

The game of winning in the windows phone hardware market share is now entirely Microsoft's full control. Good luck Microsoft! I just hope they go with the same strategy as Apple and Google Nexus smartphones and market an unlocked; non exclusive U.S. full LTE bands with all carriers smartphone.

such a sad Day, Bye My Nokia

They should've kept nokia as a brand :|

What will happen to the Nokia care centres/ shops in the UK?

Microsoft should avoid branding the phone. Just call em Lumia and leave that alone. If they decide to brand it as Micorsoft "whatever" watch the market share that Nokia had fall under the Microsoft banner.

Now that Microsoft deals with the Nokia mobile devices, who will take care of the cyan update? Will it be Microsoft or Nokia? Can we expect iphone like update process(without carrier intervention) from Microsoft in future?


Good thing is they are NOT removing the NOKIA brand from Lumias,X Models and Asha for at least 10 years. I'm sure the lease is renewable after those 10 years so I'm happy about that. Honestly having to wait for a Microsoft branded phone was not working for me. At least they were wise enough to appreciate the super powerful brand that is NOKIA. The move to Microsoft is getting mixed reactions but I think for WP Lumia fans it's a good deal. Nokia wanted to bail out of WP. You can tell with their whole courting of Android approach. So this keeps me WP and this keeps me Lumia.

Congrats Nokia and Microsoft. I believe these 2 giants will produce a greater built quality phones and more great improvements on the OS. I'll wait for the very first Microsoft phone. Now just need to update my Lumia 920 to WP 8.1 OS. :D

That picture really does say a thousand words.

A big congratulations to Nokia and Microsoft. Thanks for letting us users to have the best WP8 experience. I will hold this flagship Lumia 920 with me until the WP8.1 is release to Asia and also until the very first Microsoft phone. Lets hope Nokia and Microsoft will produce greater quality phones and bring much greater improvements on the OS.

from here: "and updates both from Nokia as a company and about Nokia-branded devices and services from Microsoft." Its plain to see that the hardware will be Nokia, and branded as such, but the services are Microsoft. See link: http://conversations.nokia.com/2014/04/25/journey-begins-2/

wen will 8.1 officially release??/

What the frig is in Elop's front pockets? It looks like he's got a Costanza wallet in each... :P
Windows Central Newsletter
Thank you for signing up to Windows Central. You will receive a verification email shortly.
There was a problem. Please refresh the page and try again.