Nokia sale to Microsoft expected to close on April 25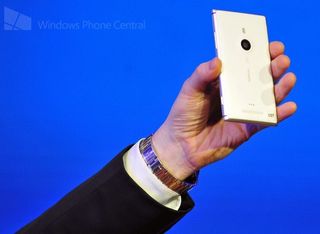 Nokia sale to Microsoft expected to close on April 25
It was nearly eight months ago that Microsoft and Nokia announced a deal to sell Nokia's Devices and Services unit to Microsoft for €5.44 billion (US$7.3 billion), and this week that deal is finally going to close. Friday, April 25th, will see Nokia Devices and Services transferred to Microsoft and renamed as Microsoft Mobile Oy.
The process was expect to take a several months, and unsurprisingly so large of an acquisition of so iconic a company as Nokia ran into some hurdles. But it wasn't the US Department of Justice, the European Commission, or even Nokia shareholders that caused issues — it was a massive tax bill the Indian government claimed Nokia owed that ended with more than half a billion dollars put into an escrow account, as well as concerns raised by Korean manufacturers to the Fair Trade Commission
With all of that out of the way, Nokia anticipates that only "certain customary closing conditions" remain between now and Friday's closing.
Brad Smith, Microsoft General Counsel and EVP Legal & Corporate Affairs, chimed in on the Official Microsoft Blog (opens in new tab):
He noted that adjustments have been made since the announcement of the deal. Microsoft will now be taking over management of Nokia.com and Nokia's social media accounts, Nokia's Chief Technology Office and its 21 employees in China will be joining Microsoft, and Nokia's Korean manufacturing facility with stay with the remnants of Nokia and not become property of Microsoft.
Goodbye, Nokia. Hello, Microsoft Mobile.
Press release:
Nokia expects the sale of substantially all of its Devices & Services business to Microsoft to close on April 25, 2014
Espoo, Finland - Nokia today announced that it expects the transaction whereby the company will sell substantially all of its Devices & Services business to Microsoft to close on April 25, 2014. The transaction is now subject only to certain customary closing conditions.
The transaction was originally announced on September 3, 2013.
FORWARD-LOOKING STATEMENTS
It should be noted that Nokia and its business are exposed to various risks and uncertainties and certain statements herein that are not historical facts are forward-looking statements, including, without limitation, those regarding: A) the planned sale by Nokia of substantially all of Nokia's Devices & Services business, including Smart Devices and Mobile Phones (referred to below as "Sale of the D&S Business") pursuant to the Stock and Asset Purchase Agreement, dated as of September 2, 2013, between Nokia and Microsoft International Holdings B.V.(referred to below as the "Agreement"); B) the closing of the Sale of the D&S Business; C) expectations, plans or benefits related to or caused by the Sale of the D&S Business; D) expectations, plans or benefits related to Nokia's strategies, including plans for Nokia with respect to its continuing businesses that will not be divested in connection with the Sale of the D&S Business; E) expectations, plans or benefits related to changes in leadership and operational structure; F) expectations and targets regarding our operational priorities, financial performance or position, results of operations and use of proceeds from the Sale of the D&S Business; and G) statements preceded by "believe," "expect," "anticipate," "foresee," "sees," "target," "estimate," "designed," "aim", "plans," "intends," "focus," "will" or similar expressions. These statements are based on management's best assumptions and beliefs in light of the information currently available to it. Because they involve risks and uncertainties, actual results may differ materially from the results that we currently expect. Factors, including risks and uncertainties that could cause these differences include, but are not limited to: 1) the inability to close the Sale of the D&S Business in a timely manner, or at all, for instance due to the inability or delays in satisfying closing conditions, or the occurrence of any event, change or other circumstance that could give rise to the termination of the Agreement; 2) the potential adverse effect on the sales of our mobile devices, business relationships, operating results and business generally resulting from the announcement of the Sale of the D&S Business or from the terms that we have agreed for the Sale of the D&S Business; 3) any negative effect from the implementation of the Sale of the D&S Business, as we may forego other competitive alternatives for strategies or partnerships that would benefit our Devices & Services business and if the Sale of the D&S Business is not closed, we may have limited options to continue the Devices & Services business or enter into another transaction on terms favorable to us, or at all; 4) our ability to effectively and smoothly implement planned changes to our leadership and operational structure or maintain an efficient interim governance structure and preserve or hire key personnel; 5) any negative effect from the implementation of the Sale of the D&S Business, including our internal reorganization in connection therewith, which will require significant time, attention and resources of our senior management and others within the company potentially diverting their attention from other aspects of our business; 6) disruption and dissatisfaction among employees caused by the plans and implementation of the Sale of the D&S Business reducing focus and productivity in areas of our business; 7) the amount of the costs, fees, expenses and charges related to or triggered by the Sale of the D&S Business; 8) any impairments or charges to carrying values of assets or liabilities related to or triggered by the Sale of the D&S Business; 9) potential adverse effects on our business, properties or operations caused by us implementing the Sale of the D&S Business; 10) the initiation or outcome of any legal proceedings, regulatory proceedings or enforcement matters that may be instituted against us relating to the Sale of the D&S Business, as well as the risk factors specified on pages 12-47 of Nokia's annual report on Form 20-F for the year ended December 31, 2012 under Item 3D. "Risk Factors." and risks outlined in our fourth quarter and full year 2013 results report available for instance at www.nokia.com/financials. Other unknown or unpredictable factors or underlying assumptions subsequently proving to be incorrect could cause actual results to differ materially from those in the forward-looking statements. Nokia does not undertake any obligation to publicly update or revise forward-looking statements, whether as a result of new information, future events or otherwise, except to the extent legally required.
Source: Nokia, Microsoft (opens in new tab)
Windows Central Newsletter
Get the best of Windows Central in your inbox, every day!
Derek Kessler is Special Projects Manager for Mobile Nations. He's been writing about tech since 2009, has far more phones than is considered humane, still carries a torch for Palm, and got a Tesla because it was the biggest gadget he could find. You can follow him on Twitter at @derekakessler.
Now lets see what they can do.

Wow...this is not an easy process.

I don't like this :(
Why Nokia why. I'm waiting for 2016, I'm sure Nokia will come back. Nokia lumia 930 is last from Nokia or maybe some more. My last Nokia phone will be 930.

Nokia can claim the credit for most MS mobile devices for at least the next 12mth, after that time it's mostly (but not 100%) MS's efforts.

Can we expect updates delivered faster as in iOS? I mean now they owned nokia and manufacturing is all in-house. So after this when Microsoft delivers update such as GDR, does it still require nokia to update it's firmware such as Amber which require more time as now?

OS = windows phone, firmware = nokia OS updated by microsoft, while firmware updated by nokia they are different thing.... OS need to be beta testing before it release

I know, that's why I asked, since now they are going to merge, can we expect faster update deliveries as in iOS? No more firmware release by Nokia, it will be all by Microsoft, ain't it? It will be like Android which is updated faster on their Nexus device compared to other phone manufacturer such as Samsung and Sony (adding their own skin). Can I expect this?

Microsoft Mobile Oy? What's Oy?

It's a Finland term. It's like saying LLC or LTD in America

i actually like the new branding

Yeah, as long as it doesn't appear on devices... Lol!

Nooo, I love Nokia brand I thought they gona use the brand Nokia as it is if they gona change it why did they aqcuire it? it was easier for them to make their own devices unit if so. I think the only benifit of aqcuiring Nokia is to use their brand

They got Lumia.. That is the brand they wanted.

Start of 2nd paragraph :3

Microsoft mobile? Please don't change the brand name, let it be Nokia

It's just a company name, not what you'll see on the phone. Either way, they can't keep the Nokia name since they're not Nokia.

Yeah they have the Lumia brand, not Nokia right?

"...a key step on the journey towards integration." As you can see, they will integrate it with MS, but they want to make it a smooth transition. I'm responding to your thoughts from earlier that they are keeping it separate.

They ARE keeping it separate. My thoughts are based on the legal details of the operation. When they write "integration" they mean "update ex-Nokia employees on the modus operandi of Microsoft and on Microsoft's plans to the division". It means "giving gidelines to the employees and signing new job contracts". On the legal scene, "Microsoft Mobile Ltd" is a separate company from Microsoft.

Journey to integration...is what I meant.

Subsidiary. Big companies do that for tax purposes.

Exactly. It's a separate company even if it's owned exclusively by Microsoft. It's better for taxes and also to not only prevent liability of Microsoft in case things go wrong but to also make it possible to sell without the hassle of taking the division out of the company (as happened now with Nokia's D&S division).

Yes..im agree...im gonna cry

They have too... how does Surface N phone sounds? I wonder... if they will ever bring the Zune branding back... Zune Phone?

I have to agree. For most consumers, the name "Microsoft" = bad. But it could be worse. They could have picked windows and called it "windows mobile" ha ha ha.

How do most consumers View MS as bad?... Are you talking about the average consumer?... Sounds like you're thinking about enthusiast online who aren't the average consumer.

Don't forget only US consumers receive special treatment from Microsoft.

Microsoft.Text = "bad" ; C#

Nokia is licensing the brand to Microsoft for 10 years.

But only to use on phones based on the S30 and S40 series. Which excludes the Lumia (smartphones) line.

MS is choosing to only use it on Asha devices. But if they wanted to, they could use it for smartphones. They just aren't planning to because they think it will be confusing for consumers.

No, they can't use it on any phone that isn't based on series S30 or S40. The deal is pretty clear on that.

Only for the Asha devices....

Should I sell my NOK stock?

I sold mine after the announcement at and put it into msft. Both stocks have since gone up but I see more potential in msft going forward.

I am as soon as the sell goes thru... The stock should have a nice jump, but soon after come back down by %10-15. I plan to sell mine the day after.

Wish I didn't. I'm sure it will continue to grow

I'm sure it will be up for patent sale in a few years so maybe sell it and buy it after it has crashed and hit bottom. surely somebody is going to purchase that company for patents and give stockholders a good deal.

Sell it? I'll buy a 1520 and I wish it lives with me till the end I didn't use a mobile phone device in my life except from Nokia and I don't wanna use anything else

I really hope for a MS phone with no update ties to carriers. Just got back from vacation yesterday and got 8.1 and absolutely love it. I just not convinced that ATT will gimp the RTM. I like Data Sense

Apparently some at&t androids have it. Not sure if it's third party app

I've wondered if att could take data sense away when we get the official update...

I hope for a surface phone too, but data sense is built into my ATT phone since upgrading to 8.1 and this swipe keyboard is sick!

Oh yeah I guess I didn't think about it being built into it.

So we will still get the further Microsoft update in Nokia Lumia device

What a shame for me.. :'/

Me too :''''( I wished they use the brand Nokia.

That's my birthday lol I'll be 26 years old :P

Also my friends birthday.. :v

My birthday is 12 of june :P

lol mine too :) gonna be 22 :)

Good bye legend..hats off to my long term partner...

Well I wish them the best luck going forward. I really hope MS let's them keep pushing the envelope through innovation and being agressive about integrated services/apps With a strong team behind it and MS' R&D, they have a chance to continue the climb that Nokia started. I'm very interested to see the first plan that they execute. I guess that any phone plans Nokia currently has will be used by this new team for at least the first year, depending on how far out Nokia had been planning.

They've had some time to plan so hopefully they start implementing some of it.

Well we know of the 'Goldfinger' phone with 3D gestures that is rumoured to be coming out next year, so perhaps we'll only be seeing anything that's been come up with by Microsoft itself a year after that?

So the Nokia branding is a goodbye? WPC App for Android- Lenovo IdeaTab A3000

Yes. Only dumbphones and Asha phones can use the Nokia brand.

So.... Microsoft+ Phone= MICROPHONE? MICROPHONE LUMIA 1820 WPC App for Android- Lenovo IdeaTab A3000

EXCLUSIVE!!!
MICROPHONE 1820 with a Snapdragon over-9000 coming 2015.

It's Microsoft. They won't pick up a name that short...=P

Yeah, they'll do it like that long name for Cortana, the " Microsoft Windows personal digital assistant Service Pack 1 2014. "
WPC App for Android- Lenovo IdeaTab A3000

So it won't say Nokia on the phone? Well I suppose as long as the style and build quality remain. As pretty and shallow as out sounds I would prefer to keep the Nokia branding however I doubt that will happen. Yes I am a Nokia fanboy so what!

Most of us Windows Phone users are since we own Lumias. Hopefully the quality remains the same

I'm surprised how many people recognize and respect the nokia name. most people who see my 1020 call it the "nokia" phone and absolutely zero say "windows or microsoft" in relation to it. not surprisingly as the later two are pretty much a non event in mobile while nokia, well nokia was mobile.

I think the Lumia name has some recognition though.

Nokia is going to still be around, just without the devices/ services branch, They will still be producing the maps "Here". From what I remember reading the brand Nokia will be licensed by MSFT but only on low end devices. I'm hoping that the Lumia brand sticks around as that brand recognition is growing.

I always hated the 25th of April.

And on that day, DJCBS felt a disturbance in the force. As if thousands of voices cried out in joy, then were welcomed by their new boss at Microsoft

And on that day, DJCBS turned to the Green Side of the Force and became Darth DJCBS.

And you will change your profile?

Why? Nokia will still exist. There's no reason to change it. My profile reads "et nunc et semper Nokia". That's Latin for "Nokia now and forever".

May the force be with you.

I have a question if you don't mind answering. What is your real name? Calling someone DJCBS doesn't sound good.

LOL Those are the initials of my name. You can call me Dave.

Phew! At least that's better. DJCBS sounds like the name of some company. Anyway Dave, hi! :) I would love to own a WP from Sony.

Hahah your introduction "I had a surface. Died already. MS hardware sucks."

You'll like it, and praise the day,, you hear me???... BTW, aren't you going to at least see what devices are like moving forward?.. You're going to give them a chance?... Or are you going to dismiss them no matter how good they are just because they don't say Nokia?

I will dismiss any Microsoft produced phone because I've had terrible experiences with their Surface hardware already. So I won't be burning money on their phones. Out of the question. I don't trust Microsoft as an OEM no matter from where they bought their employees. I will keep with Windows Phone IF they manage to bring Sony in. Sony releases a Z2 Compact with WP and I'll stay with the OS. Otherwise I have no other choice than to leave the OS behind too since Samsung is completely out of the question.

Ok, good luck to you. Have you sold ur surface yet, lol Posted via the WPC App for Android!

Nop. Nokia hasn't made the 2520 widely available in Europe yet.

Man, that sucks that you had to go through issues like that. I would say though, don't just write them off after your bad experience. I mean sure, be very skeptical about a new product and do your research, but if MS puts out a quality product and real people are not running into hardware issues, then why not at least consider them as an option. MS can put out good hardware, you just have wait and see if they do. I didn't run into Surface hardware issues like yourself, so I can't relate to that direct issue, but I have run into such issues in the past with various brands. It sounds like you actually like WP as an OS, you just happen to be passionate about getting problems fixed becuase you are a fan of the OS. I hope Sony does come through for you then, so that you can keep using WP. I would hate to have to move to another os under that situation.

Well, you see, brand-trust is something that is VERY hard to obtain but so very easily lost. And Microsoft's hardware had multiple chances with me. The Surface was just the last drop in the cup that made it spill. I had problems with it, with the type cover 1, with the HD-3000 webcam, etc. The only Microsoft hardware I haven't had problems with is their mouse and keyboard which is from where I'm writing. So, currently, I don't trust Microsoft to provide good hardware. And since smartphones and tablets aren't exactly cheap things to buy to give chances, Microsoft has lost me there already. And it will be very hard for them to regain that trust (just like Samsung never regained my trust, nor did Ericsson before them). As for WP, yes I like it. I'd take it anyday over iOS. And in some aspects, I'd now take WP8.1 over Android 4.4.2 KitKat since Google decided to screw up and remove the saving of apps to the MicroSD cards. So now basically I have an OS which I like without high end hardware to take advantage of it (the Nokia L930's lack of microSD was an immediate deal breaker. And since Nokia's going away...) and then on the other side I have high end quality phones like the Sony Z1 Compact and Z2 with microSD slots but running a version of Android - 4.4.2 - that rendered those slots useless. Which is why I hope Sony releases an equivalent of the Z1 Compact or Z2 Compact running Windows Phone 'cause then I'd have a high end smartphone with a microSD expansion slot and an OS that takes full advantage of it.

That's completely fair. You have to use your own experience as a cautionary tale when you look at anything they are building now. I agree that if you get burned, it can take a long time for a brand to earn that trust again. I have been there too. I really do hope Sony joins the market, becuase they at least try to differentiate themselves when it comes to smartphones and that would be very welcome for WP. The Z1 and Z2 are great examples of that. So for your sake, I hope they do that. MS seems to be doing whatever it can to get more oems on board, so hopefully that entices Sony enough to give it a try. I really feel like there is potential for success from an oem that brings a high end experience with features like an sd card slot that so many others ignore. I'm with you on the sd card stuff, its sad to see the high end models drop that feature. Maybe 8.1 will make WP oems finally commit to that feature more.

Will the research division come along for the ride? Will ms halt all those nokia Lumia updates? Making me nervous.

No, the R&D division remains with Nokia.

Not good, not good at all!

How so? Microsoft's R&D division is pretty kick ass. Just because it's not made by Nokia, doesn't make it any less innovative.

Implementation is what worries me. Just afraid MS won't differentiate. They've proven they are usually in the catch-up business.

How so? They made the surface focus on prodcutivity, and everyone wants to that route. Moreover, you seem to know not much about msft, kinect, surroumdweb. 90% of msft innovation is in the business realm. Naiad, project olso, holograph, cloudos, city next, azure and office 365 in china, no other company has even began that process. And that is just off the top of my head. Do not follow the so-called analysis who only lok at one part of ksft
And technically nokia will be its own separate company after the aquistion. Posted via the WPC App for Android!

Your last sentence gives me some hope.

Nokia will keep developing patents and technologies for mobile use both for licensing and likely for a possible 2016 comeback (they're hiring Android architects to the R&D division too).
So even if Microsoft's R&D division doesn't deliver, which I doubt, they can always turn to Nokia and license more technology from them.

21 employees working on mobile r&d are going to msft, so anything they worked will go to msft. Posted via the WPC App for Android!

Wrong. The product of R&D employees work belongs to Nokia, not to the workers. So even if some R&D employees go to Microsoft, the things they developed stay with Nokia.

They say they are going to continue their work on mobile, so one can assume that the product the worked will go with them. Do you have the term of those 21 employees, that is a new part of the deal? You don't , so stop acting like you do! Posted via the WPC App for Android!

Don't assume I do or don't have access to those legal documents ;) Anyway, as I've said, 21 people isn't a division. Not even half of it.

Microsoft devices are much less pronounced around the world. Surface devices are not available in everywhere. Microsoft stores are only in USA. That's not very helpful.

But the world now's windows. They have to put windows as the name

Every nokian don't like this, 25th April will be a blue day

I bet you anything Nokia will come back to the device business after but with android or sailfish.

In 2016.... Also they'll have to reestablish facilities employees ETC...

I don't believe it. Nokia will start from 0!

From zero? Why? They keep ALL their patents, they keep their R&D division. They're even keeping factories. All that Nokia needs to return is another D&S division, which can be easily accomplished through the purchase of Jolla which they funded. The only thing that may happen is that they'll leave markets where they were never that strong like the US. But since Nokia has reigned without the US before, I don't think it'll be that much of a loss.

Actually 21 employees working on mobile phones from nokia r&d are going to msft, so there goes their r&d for phones. Posted via the WPC App for Android!

Nokia's R&D division is way bigger than that. Also, those 21 employees where probably the ones connected with the development for WP. Which is curious since Nokia is currently looking for Android architects for that same division ;)

what's R&D what's D&S what's Jolla?????

Research & Development, Devices & Services. Jolla is a Finnish OEM that was created by ex-Nokia engineers that left Nokia when Eflop took charge. Google it;)

I agreee. They will come back to the mobile business without the overhead of all the factories. I think they will just keep one of the factories of R&D and use Fox Conn.

From your mouth to Gods' ears.

Yeah guys but I still to believe that this scenario is impossible! So be it Nokia can't give the green light to android. Windows phone became an awesome OS thanks to Nokia it can't change its strategy! All people who know choose to a windows phone device thanks to Nokia.

What will happen to the Nokia stores all over the world?

Business as usual with just the name changed. Well, at least that's what the Nokia employees told me.

Dam, what about Obama maps are they here to stay? My Obama maps been working good! At supporting my ass....

You and obamba got some lovers quarrel going on?

Yeah big time! Michel doesn't even notice the bed rock.( ok just to let you know it's a joke)

Great now it is time for Microsoft to make the surface phone and the surface phone pro.

What about the branding on the devices....will that be Nokia or Microsoft?

No one knows. It won't be Nokia but it might not be Microsoft. Maybe I'll be Xbox Lumia icon"

Microsoft mobile: The title says it all my friend

I'm sadden they chose to resurrect that name, Actually more sickening. It's a death name.

Microsoft Mobile is a new name. You are thinking about Windows Mobile.

Nokia won't be because Microsoft only has the license to brand dumbphones (S30 series) and Asha phones (S40 series) as "Nokia". If it will have the "Microsoft" branding on it...no one knows. If I had to bet, I'd say "no". They'll probably just engrave the Microsoft Imperial Seal on the back of the phone a-la-Apple. They might brand the phones under the Surface name. Or not brand it at all and just use "Lumia"

"expected" they been saying they are to close at the end of the month for the last 3-4 months

Im waiting for Microsoft Lumia 1030

Microsoft mobile? *plays "I will always love you" and cries*

Can't imagine the huge sigh of relief management at both companies will feel once the deal is closed. I imagine there will be lots of celebrating and then back to work on Monday.

It's about time, now maybe they can release the new devices

Microsoft Mobile 1830 Windows Phone lol.. Please don't.. Please

Haha! That's what we're all thinking!

I just hope they keep the Nokia brand on the phones ie the NOKIA

No that is for Nokia to come back... into the smart phones. Only Dumb phone will have nokia coming from MS. All others will be MS branded.

They can't keep the Nokia branding. Nokia is a separate company and will remain so.

I'm hoping once they close on the acquisition... the Surface phone will be announced. I'm dying for an 5 inch / 1080p flagship on AT&T...

Birthday present for me :)

I'm hoping for some new device announcements right after, we need some new hardware!

Prepare for US only phones :D

ha ha. yeah. but to be fair, what I really want is a phone from MSFT which needs a monthly firmware update to solve connetivity issues...you know like my surface pro2 which seems every month (save april) had a wifi firmware update.

Probably a Lumia phone with Microsoft on the back

Hopefully more devices come to more carriers. Waiting for the 1520 to come to Verizon. Posted via the WPC App for Android!

If I saw a device with a Microsoft brand anywhere on it I would smash it up. I hared the surface hardware so much I sold it after 2 weeks of using

Sorry, wanted to post that for the guy brfore you

I'm curious how many OEMs will back windows phone now that they have to compete not just against a 90%+ dominant nokia which had special OS access, but now, they have to compete against MSFT itself. While making windows phone free was a great move, nothing poisons the waters more than MSFT in the water with OEMs. Google learned this lesson and got rid of Motorola Mobility. Now MSFT is begging for support for its ignored platform. Sample Meeting: MSFT: "hey guys, why don't you support windows phone" OEM: "google doesn't compete against us. you do".

I was thinking about that too

Yeah because google does not make cheap high phone for no profit that completes against the oems. Yeah, their is no nexus line:-). Google sold mota becuase it was losing money and the patents were useless. Posted via the WPC App for Android!

I don't think the nexus program falls under the same light. 1) a nexus device is actually made by a 3rd party OEM. The nokia/MSFT devices will be first party. 2) nexus devices are popular but the most popular android devices are by a 3rd party OEM. 3) MSFT is basically begging for support and can't really play hardball. I'd argue google could afford to keep their own 1st party hardware as they basically define mobile for the non apple world. Yet even they, with their vast stablished ecosystem don't want to risk OEM angst...How much less can MSFT, which has basically humbled to near extinction in mobile can start to wage a hardware war with the few remaining WP OEMs? IF MSFT was the great company of old where it could set the direction of an industry that would be one thing. But at this point they are basically begging to not be left behind. It doesn't seem very smart to antagonize OEMs.

Yeah neonsparks, becuase oems only makes windows products. And stop using the same situation with a different paintbrush.
So i am oem and i can use the same hardware as for my android devices for free and i am going to say no way, cause msft makes their devices. Yeah thats is why i see so much other device besides surface on msft ads. Real stupid you are troll. And stop acting like you even own anything from msft. I have to deal with your trolling on most msft articles and every site. Its getting annoying. You need to get etter at trolling Posted via the WPC App for Android!

1) you're using personal insults to drive your point which a) makes your point, pointless, and b) against forum rules. 2) if you dissagree, make a compelling argument instead. Maybe it will be more effective. 3) My list of MSFT devices for you -Samsung Focus
-Lumia 720, 920, 900, 1020
-Zune HD
-XB360, XB1
-Surface RT (x2)
-Surface Pro 2 But to answer the only half baked point in your otherwise bland argument: The reason is that it costs money for an OEM to back WP even if free. did you know this? and if they are dealing with MSFT being entrenched the WP market, then the number of devices they sell must offset the costs which go beyond an OS license. But you didn't think about this did you?

The same way they responded to the Surface is my guess

Clash of clans on WP phone please

I think so. which is why it is troublesome to see this sale happen. I was hoping it would be scrapped. Let nokia go android and WP. It is inevitable. At least it would make the case why WP should matter to other android OEMs looking to diversify and fight the google/samsung aliance.

Perhaps Microsoft is going to do an apple make WP devices exclusive.

And that was one of the main reasons why Bill Gates, Satya Nadella and a bunch of other Microsoft executives were against the deal. But Bald Ballmer had to shouts his whims through. Now it will be on Satya's hands to try and minimize the damages of Ballmers stupid moves next to the other OEMs.

if they gona compete against other OEMs why do they want them to support them?

microsoft is being a fool. How can it attract costumers by changing a well renowned NOKIA name to microsoft? NOKIA is NOKIA after all. Nokia has dignity and reputation of its great services and quality products. Microsoft can't go there where Nokia is now. RIP nokia

That's because to Microsoft it's "US yesterday, US today, US Tomorrow". They completely fail to realize that they have absolutely no brand recognition in the hardware business outside the US. Ballmer failed to understand that it's the "Nokia" brand that sells Lumias and not the OS in them. They'll learn that the hard way, I think, once sales of their WP devices start to sink.

Interesting fact, because my sister had a host of problems with her galaxy s2 when it came time to upgrade she saw the nokia name and jumped at the chance (brand recognition). She had a choice between an Asha phone or a Lumia (the 1320). She chose the 1320 because the description said Windows and that's the same as her laptop so again, brand recognition. She knew absolutely nothing about the phone other than it was a Nokia and it had Windows on it. Suffice to say when I told her it was a six inch phone she was rather surprised, but she is used to the big screen now. It's just interesting how brand names factor into the average consumer's buying habits.

The other issue that no one seems to address - is that the likelihood for SD cards in the upcoming Microsoft Mobile phones is going to go down significantly. The shareholders have been sold on the 'cloud' for almost 5 years now. They're onboard, and they want everything operated through the cloud (hence - office 365. Of course, I'm not going to even mention the PC Jr debacle that IBM had back in the late 80s as to why this isn't the most sound idea.) They've invested millions of dollars into the infrastructure for onedrive, etc. So to Microsoft, it makes sense to not use SD card capable phones - which in turn forces people to the cloud for their storage needs. So I won't be surprised if within a year - only HTC and Samsung are making WP phones with SD cards. "A business starts to meet the needs of its customers. Every action after that, is to satisfy their shareholders."

The final stupid thing for Microsoft to do would be to actually put their name on the phones. I would personally have no problem buying a Windows Phone that said "Microsoft" on it, I've used the OS and found it to be excellent, but unfortunately for the guys in Redmond, many people - rather unfairly in most cases - throw up all over themselves when the name Microsoft is mentioned. Keeping their name off the devices will, I hope, have less of a negative impact upon adoption rates but, as you say, Nokia brand recognition plays a big part in driving sales in alot of places.

Good point, but might have MS logo somewhere on the device, like Surface.

I would agree on only having a Microsoft logo on it with small letters under it saying Microsoft Mobile or just Microsoft on the back of the phone, with Lumia branding on the front. A Surface Phone would actually be interesting too.

I just got my letter from Nokia. Privacy, Data protection and services.

Looking forward to my belated birthday present just 2 days later!

So now it would be Microsoft Lumia 635/630 Microsoft Lumia icon

Nah, according to the documentation any phones currently being worked on will still hold the Nokia name (which seems to be where some of the confusion is coming from) which suggests that even Goldfinger may still retain the Nokia name.

And they will keep producing them?

Yes, because MS will now own all Nokia factories, except the one in India.

But might come with "Microsoft" branding on the device somewhere as well.

Sad day had 3 Nokia phones 1100 6233 and now Lumia 820 all has a place in my heart.. Hope the change is for betterment.. A new Revolution!!!!

I had 3310, another one I don't remember its name, 7230 slide, N97 and lumia 720 and I'm gona buy a 1520 and probably it will stay with me forever I don't want any phones except from Nokia

Btw can't they name there new devices and services branch as NOKIA.

No but they can name it lumia

No, Nokia is as company which they has not bought as whole, but they can call it Lumia as that is a brand name.

So there wont be a Nokia Cyan update. It would also be named something else

Will the old Nokia Lumia device retain their Brand name Nokia or will available in market after 25???

Yes, and yes. The acquisition doesn't affect current phones.

This made me sad. "Goodbye Nokia, hello Microsoft Mobile."

I want to know what kind of after sale services we will get hereafter. What will happen to the Nokia Care centers in different places? Will they still serve Lumia devices and future Microsoft phones?

Does this mean the end of the one carrier exclusives?

Maybe not immediately, I am sure MS has to honour existing contracts in place between carrier and Nokia.

"Now the legend is beginning to fade away". I love Nokia and Microsoft are partners but I hate when Nokia is just a part of Microsoft.

Nokia won't be a part of Microsoft.

Bye bye Nokia, I'll miss you

Soo sad such a gaint mobile company is gone...

And Nokia may probably rename .

At first I was very hesitant on this deal, but now, I look forward to it. Considering how Microsoft bypasses the carriers with the OS updates (via dev preview), I'm wondering if we would also get firmware updates in this manner as well. Posted via the WPC App for Android!

So, we can expect to have DP of Nokia Cyan week after? :D

Too funny is Nokia comes back with Android devices in 2016 or so...they will be paying patent royalties to Microsoft when Windows Phone is FREE for any device with screen smaller than 9 inches.

Unless Microsoft gets and keeps the Nokia X platform in which case they lose the rights for those royalties.

The journey of the new Microsoft begins...

Microsoft Mobile Xbox Surface Lumia Phone One Im looking forward to it :)

Nokia 1100, 3220, 3250, N82 & L925. Hope they don't leave off their smartphone business. :(

Please, answer me. I like the lumia 520 and i will think buy one. But with the nokia adquisition by microsoft, what happend with the nokia lumia support? What ive done? Buy the lumia 520 or wait. Thanks.

Good luck selling "Nokias" as Microsoft Phones.

"NOKIA Lumia 820" sounds better than Microsoft, btw thanks Nokia phones from 1100 till now for your great support

My best guess is that next phones will be called just Lumia xxxxx , Microsoft said something like shortening names for phones, i think that will be it. And also i think ms wont put any branding on phones just windows logo, like home button , that would be great.

what so does that mean no more Noka?

I will miss nokia! I think nokia is still the best phone maker, durability is no question. Its just the OS competition that made them fade..

For better or worse, time will tell. I hope the build quality of phones will not drop till like what Samsung Android phones are currently.

I am glad I purchased the Lumia 1520, the last flagship in history bearing the Nokia brandname. Farewell Nokia :(

I am hope Microsoft will have a big reduction in price for the 930 inventory closeout and make it available at Microsoft Online and at the Microsoft store with all the GSM U.S. bands included and unlocked like a Google Nexus or Apple iPhone. A $150 off would do it for me! That would be around $400! The reason is for the name change since it not a Nokia anymore! And if they could get a Orange and Green added in; I would even buy it at retail unlocked!