European Commission clears deal between Microsoft and Nokia, purchase moves forward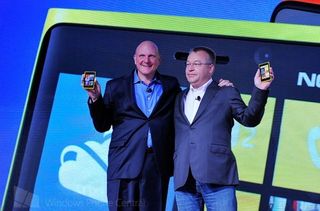 It was just two days ago the U.S. Department of Justice gave the green light for the Microsoft-Nokia deal. As you recall, Microsoft is currently in the process of acquiring Nokia's handset division for 7.2 billion dollars. As part of the deal, they'll also license Nokia patents. One of the remaining hurdles was whether or not the European Commission would allow the sale. The European Commission has now cleared the deal in a press release that just went out. Details below.
A decision from the Commission was expected today and they delivered. The statement says that the proposed acquisition of Nokia's devices and services by Microsoft would not raise any competition concerns. The overlap between the companies is minimal and won't lead to any competitors being shut out of the market. The resulting acquisition will still allow rival like Samsung and Apple to compete with "MicroKia" after the deal is complete.
The Commission reached three conclusions that led to them clearing the deal between Microsoft and Nokia. They are:
Microsoft is unlikely to restrict the supply of its Windows OSs for smart mobile devices to third party manufacturers after the transaction
Microsoft is unlikely to restrict the supply of its mobile apps, such as its Office suite apps and its communication app Skype, to competing providers of smart mobile devices.
Microsoft would not have the ability to restrict the interoperability of competing smart mobile devices with Exchange Server, Microsoft's enterprise mail server software, because of the contractual terms of their current licenses to Microsoft patents covering the communication protocol that manages synchronization of email, calendar and contacts between smart mobile devices and Microsoft Exchange
The theme between the three justifications provided by the Commission center around the low market share of Windows Phone. Which is entirely true. While Windows Phone is currently the mobile operating system in third place, it's a very distant third place when compared to iOS and Android. Depending on which market report you go off of, Windows Phone was only on 10% of devices sold this last quarter in 2013. This low market share helped relieve the concerns of the European Commission.
Source: European Commission, Via: ZDNet
Get the Windows Central Newsletter
All the latest news, reviews, and guides for Windows and Xbox diehards.