Nokia profits still dipping despite strong Lumia sales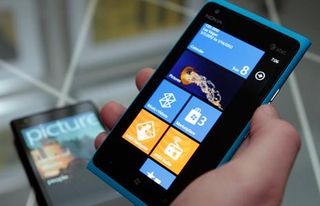 On April 19, Nokia is expected to release their Q1 results. As a precursor, they put out some initial figures, showing that despite relatively strong sales, their profits continue to shrink. Nokia totaled €4.2 billion in phone sales, the bulk of which consisted of 71 million feature phones, Nokia's one-time bread and butter, bringing in around €2.3 billion. Smart devices earned them about €1.7 billion. And even though these seem like pretty big numbers, they are not enough to cover the cost of moving over to the Windows Phone platform in an attempt to gain a foothold in the smartphone arena. The expected result is a first quarter finish 3 percent below the break-even mark.
But this doesn't mean all doom and gloom for Nokia. Sales of Nokia's Lumia line of phones has been solid and continue to increase. The Lumia 900 has gotten off to a quick start and doesn't show any signs of slowing yet. And neither does Nokia CEO, Stephen Elop. He says that he and his crew continue "to increase the clock speed of the company" and that "the change is tangible." Considering that they scrapped their previous operating system in favor of Microsoft's just under a year ago, and that their first devices just hit the market last quarter, it's hard to call a 3 percent loss a failure.
Read the presser after the break.
Source: Nokia
Nokia lowers Devices & Services first quarter 2012 outlook and provides second quarter 2012 outlook
Difficult financial performance reflects company in transition
Positive early momentum in Lumia smartphone strategy
Nokia Corporation
Stock exchange release
April 11, 2012 at 15.00 (CET+1)
Espoo, Finland - Nokia today provided preliminary information on certain aspects of its first quarter 2012 financial performance, including a lowered first quarter 2012 outlook for Devices & Services. During the first quarter 2012, multiple factors negatively affected Nokia's Devices & Services business to a greater extent than previously expected. These factors included:
- Competitive industry dynamics, which negatively affected net sales in the Mobile Phones and Smart Devices business units, particularly in India, the Middle East and Africa and China; and
- Gross margin declines, particularly in the Smart Devices business unit.
The impact of these factors on the non-IFRS Devices & Services operating margin in the first quarter 2012 was partially offset by a significant benefit from lower warranty costs.
Updated outlook for Devices & Services for the first quarter 2012:
Nokia currently estimates that its non-IFRS Devices & Services operating margin in the first quarter 2012 was approximately negative 3 percent, compared to the previously expected range of "around breakeven, ranging either above or below by approximately 2 percentage points" primarily due to the factors noted above.
Outlook for Devices & Services for the second quarter 2012:
Nokia expects its non-IFRS Devices & Services operating margin in the second quarter 2012 to be similar to or below the first quarter 2012 level. This outlook reflects that the first quarter 2012 benefit related to lower warranty costs is expected to be non-recurring, as well as expectations regarding a number of factors including:
- competitive industry dynamics continuing to negatively affect the Smart Devices and Mobile Phones business units;
- timing, ramp-up, and consumer demand related to new products; and
- the macroeconomic environment.
"Our disappointing Devices & Services first quarter 2012 financial results and outlook for the second quarter 2012 illustrates that our Devices & Services business continues to be in the midst of transition," said Stephen Elop, President and CEO of Nokia. "Within our Smart Devices business unit, we have established early momentum with Lumia, and we are increasing our investments in Lumia to achieve market success. Our operator and distributor partners are providing solid support for Windows Phone as a third ecosystem, as evidenced most recently by the launch of the Lumia 900 by AT&T in the United States."
Additional commentary on the first quarter 2012 for Devices & Services and Nokia:
Nokia currently estimates that Devices & Services net sales in the first quarter 2012 were EUR 4.2 billion, comprised of Mobile Phones net sales of EUR 2.3 billion (71 million units), Smart Devices net sales of EUR 1.7 billion (12 million units), and Devices & Services Other net sales of EUR 0.2 billion. Based on the preliminary view, Nokia ended the first quarter 2012 around the high end of our normal 4 to 6 week channel inventory range, but on an absolute unit basis, channel inventories declined sequentially.
Nokia currently estimates that Devices & Services gross margin (including Devices & Services Other) for the first quarter 2012 was approximately 25%, with Mobile Phones gross margin of approximately 26% and Smart Devices gross margin of approximately 16%.
In the first quarter 2012, Nokia sold more than 2 million Lumia devices at an average selling price of approximately EUR 220 (reported within the Smart Devices business unit). Furthermore, Nokia has seen sequential growth in Lumia device activations every month since starting sales of Lumia devices in November 2011. Lumia has gained market share with both distribution partners and consumers. The Windows Phone ecosystem is also attracting developers and has expanded rapidly with more than 80,000 applications available.
Nokia currently estimates that at the end of the first quarter 2012, the company's gross cash and other liquid assets were approximately EUR 9.8 billion, and Nokia's net cash and other liquid assets were approximately EUR 4.9 billion. The sequential decline in net cash and other liquid assets was driven by Devices & Services, which experienced unfavorable and mostly non-recurring net working capital changes as well as operating losses. Nokia Siemens Networks contributed positively to Nokia's cash flow in the first quarter 2012 due to net working capital improvements. This was despite Nokia Siemens Networks having a preliminarily estimated non-IFRS operating margin of approximately negative 5 percent in the first quarter 2012, in line with the previously provided outlook.
Actions to Address Competitive Industry Dynamics Affecting Devices & Services
Nokia is quickly taking action. Nokia will continue to increase its focus on accelerating Lumia sales, as well as on lowering the company's cost structure, improving cash flow and maintaining a strong financial position.
- In the Smart Devices business unit, Nokia is increasing investments in Lumia to bring more products to more consumers in more markets.
- In the Mobile Phones business unit, Nokia is taking tactical pricing actions in the near term and plans to bring new products to market in the second quarter 2012.
- Nokia will accelerate planned cost reductions and will pursue additional significant structural actions if and when necessary.
"We are continuing to increase the clock speed of the company," said Stephen Elop, President and CEO of Nokia. "The change is tangible, and we are proud of the way Nokia employees are quickly responding to the needs of consumers and partners."
Nokia will provide full first quarter results and more details when it reports its first quarter 2012 results on April 19, 2012.
Nokia will be hosting a conference call today at 13:30 UK time (8:30 EST). The dial-in number for media (listen only - the question and answer session will be limited to financial analysts and investors only) is +1 706 634 5012. Conference ID: 67681834.
The dial-in number for financial analysts and investors is US: +1 888 636 1561. Conference ID: 67681834. UK: +44 1452 560 299. Conference ID: 67997871.
A replay of the call will be available soon after the call completion. The replay number is US: +1 800 585 8367. Conference ID: 67681834. UK: +44 1452 55 0000. Conference ID: 67997871.
About NokiaNokia is a global leader in mobile communications whose products have become an integral part of the lives of people around the world. Every day, more than 1.3 billion people use their Nokia to capture and share experiences, access information, find their way or simply to speak to one another. Nokia's technological and design innovations have made its brand one of the most recognized in the world. For more information, visit http://www.nokia.com/about-nokia
Nokia
Communications
Tel. +358 7180 34900
Email: press.services@nokia.com
Investor Relations Europe:
Tel. +358 7180 34927
Investor Relations US:
Tel. +1 914 282 0145
www.nokia.com
It is definitely not going to stay this way. They're having so much success right now a will continue to I'm sure

Need to compare with last figures but off the top of my head it clearly shows again they are on the road to recovery.

Gartner said they did 111 million handsets last quarter. Approximately 17 million were Symbian, throw in another million for WP7 and you have 18 million smartphones, leaving 93 million dumphones. Today's figures are a big drop from those numbers - and Nokia warned that next quarter may be worse.

http://www.gartner.com/it/page.jsp?id=1924314

Just in comparison Nokia sold 28 million smartphones in ONE quarter back in 2008.

This result is horrible and melted 2.2 billion euros of Nokia's value today in stock market.

Lumia 900 just release into Northern America markets, and by the end of June, available in most of the countries. Let focus on overall year report instead of just 1Q

Record profits don't come overnight. If I was a stockholder I'd be happy with their efforts so far to become relevant again in the smartphone space.

Stock is at bottom....buy now.

Nokia is not a RIM. They have a plan that doesn't include being scared shitless.

I bought about 6 months ago. Waiting patiently , as this is a long term play

Everybody starts some wer I'm doing what I can to get people to switch to windows lumia r just windows .

Strangely you missed that their results said that 2m Lumia devices were sold in Q1. It's not huge anyway (for comparision sake, 37m iPhones were shipped last quarter) but baby steps for WP and Nokia. Hopefully it could gather mass as it rolls.

I think when windows 8 comes out well definitely see a huge increase in market share. Due to the part that Windows 8 tablets and the ecosystem playing a massive role. Apps will be readily available. 2012 is the year that windows phone gets recognized and takes steps in the right direction. But Q4 2012 and beyond is where the growth will begin to rapidly accelerate. Major apps will be available due to pretty much everyone developing for windows 8. The shared marketplace across windows devices will be a very good thing. The Nokia windows 8 tablets will not only rival but in my opinion surpass iPad design and windows 8 will surpass iPad functionality. 2013 will be the year Windows as a whole ecosystem will penetrate mass market

I'm really not sure about this. Has anyone from Microsoft confirmed that apps will be inter operable? Even if they share let's say 75% of the code, UI should be developed separately for both formats by the developers. Also in current format, there are some restrictions for WP (like cannot have any browsing engine other than IE etc.) but Windows 8 don't have these restrictions but its own restrictions(Firefox is developing a metro version of its engine) . So are they planning to revamp the restrictions on phones? I'm disappointed that Microsoft has been purposefully not clear on how the whole integration thing is going to work. I'm very sure WP8 will not be just a straight Windows 8 port and applications will not be straight away interoperable. You will need to buy apps for your phone and then again for your tablet/PC. That is where I see this thing going.

Gotta spend money to make money!

But still, only 2 million Lumias in three months. Me worry.

I am not sure it's cause to worry. The 800 roll out didn't occur overnight. I'd be more worried if after Q2 there weren't 8 million or more sold. They keep growing their markets. The china results will be more interesting than the Americas I think

8 million is ambitious but quite achievable if they do well in US and China.

Only 2 million in non US markets. By comparison, apple and google sell 50-60% of their smartphones in the US. If Lumia were in the US, I would think the number would be closer to 4-5 million.

"apple and google sell 50-60% of their smartphones in the US"

Your estimate for the US market as a percentage of sales are way to high. Even last quarter with a high profile iPhone 4S launch that started in the US Apple's iPhone sales in the US were less than 33% of the total. That said, Apple and Samsung do seem to have a stranglehold on US smartphone sales.

Possibly...I know it was 50-60% a year ago--maybe its less now. Anyway, the point remains the same--Apple and Google are selling devices in many more markets than Nokia. Not just more markets, but more carriers in those markets. If you wanted to do an apples to apples comparison (I know there is a joke about apple there somewhere...) it should be offered to the same number of people. For example, I would be first in line to buy a Lumia if Verizon offered one. And I am sure there are many other people that feel that way. Point is, 2 million could easily be 4 or 5 million if offered to the same group. and 4-5 million aint bad given the uphill battle that is faced by Lumia.

Not sure this article is entirely correct. It was not stated there entire earnings would come in 3% short of breakeven. It was stated there devices and services division would come in short. I do not beleive this includes smartphones. Only feature phones.
With good Lumia sales they may still come in with a profit for the qtr.

Go read the full announcement - the 3% is for all their earnings. Dumbphone and smartphone sales are below expectations (Lumia is growing but Symbian is falling faster than expected). Most stories about the stock today are using terms like "nosedive" and "hammered."

Well, here is the link to the press release directly from Nokia. It only mentions devices and services. I'm not really seeing any of the things you are mentioning.
http://press.nokia.com/2011/05/31/nokia-lowers-devices-services-second-quarter-2011-outlook-and-updates-full-year-2011-outlook/

Devices and services is over half of their revenue. Last quarter the rest of the business wasn't able to make them profitable and this quarter Devices and Services have worsened (i.e. more of a drag). If they couldn't make money last quarter and the biggest part of their business is now worse it doesn't look good.
Here is a link to the correct press release:
http://press.nokia.com/2012/04/11/nokia-lowers-devices-services-first-qu...

I don't think anyone expected them to make a profit right away. This is something they need to ride out.

I bought at 5.56 per just bought some more at 4.79 per go nokia

This is what I've been waiting for. Gotta grab some shares...

Of course the profit is going down. Look at the humongus marketing events they're doing for the Lumia phones. That takes a whole bunch of moneys, even if Microsoft helps.

whats the price on nokia shares? if low enough imma grab some....

$4.27.....I bought more today!!!

We can thank the perpetrators of the data "bug" for the stock sip. I have 4 lumias, non had the data "issue". Elaborate hoax if you ask me...

Transitions are never easy. But I'll bet my money on Nokia at $4.24 a share for the long term. Why? There are many positives coming down the line; successful North American re-entry with Lumia 900, low cost Lumia 610 devices, Pureview camera technology, Windows 8 tablets, Windows Phone 8 high end devices. I can't say whether Nokia will return to its former glory, but it's not a $4.24 stock...Even if absolute disaster hits Nokia this year, MS would buy it.
Windows Central Newsletter
Thank you for signing up to Windows Central. You will receive a verification email shortly.
There was a problem. Please refresh the page and try again.