Nokia rising: stock breaks through $4 a share upon news of strong demand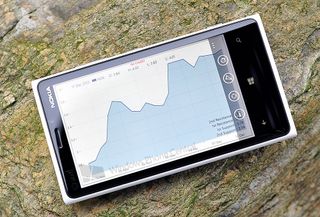 For the first since mid April, Nokia's stock has bounced nearly 5% on the day to put it at $4 a share. The news appears to be due in part to a report from Liberum Capital (reported by the Economy News) that the Lumia 920 is still selling well and what's more, that it's coming back in stock.
We reported yesterday that Amazon Wireless and even AT&T stores were now stocking the white, matte black and glossy red Lumia 920s for immediate purchase. The timing is crucial as we head into the last two weeks of the sales quarter and of course the holiday shopping season, as this gives Nokia an opportunity to try and meet presumed demand for their flagship phone.
Nokia's stock took a hit this year, reaching a low of $1.63 back in July. Upon release of Windows Phone 8 though and some cautious optimism, the price has steadily crept back up especially in the last few days.
It's still trading below its 52 week high of $5.87 a share but Nokia may be on the verge of turning things around. Between positive reports of the Lumia 920, restructuring of the company and its leasing of its headquarters, investors are now seeing an opportunity with the Finnish company.
Of course the real day of reckoning will be when Nokia reports its 4th quarter results January 24th as that is when solid sales figures are expected to be revealed. Liberum Capital estimates that their sales report will be positive:
Do you think Nokia has finally righted the ship and is back on track? Let us know in comments.
Daniel Rubino is the Executive Editor of Windows Central, head reviewer, podcast co-host, and analyst. He has been covering Microsoft here since 2007, back when this site was called WMExperts (and later Windows Phone Central). His interests include Windows, Microsoft Surface, laptops, next-gen computing, and arguing with people on the internet.
Bought at $2, no complains here, if it reaches $25, I am buying a new house.

Bought at $2.57. Already told my boss I'm fixin' to retire! ;)

bought at $1.75, then at $3.30, and then again $3.80 haha.

LOL, my friend sold all his mac toys, cinema displays, iphone4s, migrated to 920 and bought stock for the rest of the $.
Funny enough, I was consdering HTC 8S for my mom but then thought: hell no, I bought NOK stock, so I shoukld buy her something frmo Nokia, got Lumia 920.
My friend considered HTC 8S, bought L800 after investing to Nokia. Funny how it goes

Hah, that is exactly what I did (except not the 920, but a 610 - her first smartphone and all).
But I thought just like you, why support the rivals, when I own stock in NOK.
Long Nokia - in 20 USD 18 months?

Love my job, since I've been bringing in $5600… I sit at home, music playing while I work in front of my new iMac that I got now that I'm making it online(Click on menu Home) https://goo.gl/YXS9i

Bought at 2.74 and am happy to hold it for a few quarters.

Before someoen asks, app name: Markets & Me
Bought a paid version in hopes that it will beb enough to force developer to update the app for WP8 with crisp tiles, etc

Loving the Bloomberg app, but the stocks I pinned to start do not update....even when I open them :(


MyStocks Portfolio is my favorite - I use it several times a day (checking stocks, accessing news, etc). It has already been updated for WP8 resolutions and the live tiles work great. Great features and a developer who responds to feedback and cranks out frequent updates. There's a free ad-supported version and a paid one. He's working on a Windows 8 app, too.

What size do you have it at? I find that only the medium and large ones update. If I make it tiny it does not work.

I use My Stocks Portfolio. Looks great on the start screen, never have a problem with the tiles freezing. Very detailed small tile. Very happy with it.

WP8 update coming very soon ...

Are you the developer?
Can you please add horizontal lines in + version in charts? Also, ability to hide "support and resistance" text? It seems to overlay the chart of Nokia stock when viewing 5 year chart and isn't useful, at least for me,.
Also, having some sort of padding-right:10px: for the chart would be great so the last day's close is not touching the wall on the right side. Sort of like MetaTrader4 does
http://i.imgur.com/VKzD2.png
Also, it would be awesome to have wide tile for latest 2-3 headlines for pinned stock (with no flip as it wastes time).

Hope Nokia fixes the heating problem with the top of the 920. Everything else on the phone is great

that's a price for playing great looking games, it does not heat up during reading RSS does it? ;)

Maybe I should buy some shares as well...

How can I get started with buying shares?

etrade.com, scottrade.com or open investing account with your bank

etrade is the only one with an app. I use Scottrade, and i can only keep wishing

Well if you are a long term investor app is irrelevant as it's one time purchase

Thanks guys. I'll look into it.

I bought mine through sharebuilder.com

Send it to me and I'll take care of it for you

I'm in @ 2.65 .... Might get in again!

yay! My Lumia added .000000000001% of that rise!

got @ 2.50, not as many as I should have though I think.

Yeah, I think it might be time to invest!

I also think it's great that Nokia is doing BETTER than anticipated. The real test will be how things are after the holidays, but with 3 million sold and 2 million more on the way, that's not a bad job at all for a 50-day selling period. Not iPhone levels yet, but nothing to frown about either.

I wonder how HTC is doing with 8X... wouldn't it be great if Microsoft can say 10 million devices sold in 60 days? I know Samsung is kinda busy with the whole GS3 thing, but they missed the boat on the ATIV.

I was at the new Microsoft / Intel store in Stockholm, Sweden to check out Windows 8 laptops, tablets, etc... very impressive products I must say.. didn't see mobile phones so I asked for them. It turns out that the store has the phones behind the counter.. I had Lumia 920, 820, HTC 8x and Samsung Ativ on hands... The Lumia 920, 820 and HTC 8x are very beautiful.. However, the Ativ didn't look anywhere as impressive... One person works there told me that they will have Microsoft Surface on view next week. I look forward to seeing the Surface.
By the way, I am also long Nokia... Love their products, so beautiful and innovative... I believe Nokia will make it.

I bought only 3 @ 3.27 I believe it was, but about to buy more today lol...

I wish I had bought some when it hit low...I really do hope they are on the way back...I personally think they are best handset makers and with WP8/7x they seem to be hitting their stride. Nokia FTW :)

I bought some on the Helsinki exchange. Bought at €2.10. Currently at €2.97. Looking forward to quarterly report. During the last report my shares went up 10%, then someone leaked googles poor financial performance and dragged them back down 10% lol

Nice to see a positive for Nokia..been with them for long time..to me, they still make the best out there...always have,.always will!!!!

Bought in at avg $2.50 on speculation that Nokia would hit this out of the park! Only hope they can meet demand. It helps that APPL has received some timely bad press.

Loving the 2k shares I bought at $2.16!

APPL down 27% since just before launch of iPhone 5. Muhahaha

I just want a Nokia flagship to land on T-Mobile.

Kudos to Nokia hard work pays off. I would like to see a flood of Nokia Win8 GPS enabled tablets next year ranging on all different price points. Better 920 carrier availablity and a new wave of new phones that can be easily purchased.

My Amazon Cyan 920 is still no where to be seen.

About 4 months ago I bought nokia and apple stock... Thank god NOK is up because apple is in the hole :o) Which is how I prefer it, because I like WP8, despite having an iphone 5 instead of a nokia phone.

Nokia is gonna grow alot in India and China

The reports of my death are greatly exaggerated.

Nokia is starting to get back on track. Nokia knows what its doing. Now all we have to do is wait for those "Nokia make a Android" idiots to eat their own words in their own stupidity.

So now would be the time to start speculation on the next Nokia phone? I'm ready for a 5 inch screen monster late next year.

Shit I should've bought em couple of months before...not late I'll buy em today.. Way 2 go Nokia

in order to thank everyone, characteristic, novel style, varieties, low price and good quality, and the low sale price. Thank everyone http://gg.gg/11qu http://gg.gg/11qu http://gg.gg/11qu http://gg.gg/11qu │\_╭╭╭╭╭_/│    │         │\|/    │ ●     ● │—☆—    │○ ╰┬┬┬╯ ○│/|\    │   ╰—╯   /    ╰—┬○————┬○╯     ╭│     │╮     ╰┴—————┴╯

I bought my shares right after the 920 was announced and the value plummeted. It is now $4.22 per share and I'm going to make at least $2000, if not more. It doesn't sound like much, but for my family, that's a lot. It was a big gamble for us, but I'm glad I did it.

Have 13k shares total, bought in beginning as high as 5, as low as 1.80, then again as high as 3.20. No more shares for me. Hoping Nokia buys me a new condo in a couple years.

i like play love games mario games at nokia

Thank you, I have recently been searching for information about this topic for a while and yours is the best I've found out so far. But, cmp asli, jual cmp what concerning the conclusion? Are you positive in regards to the source?
Windows Central Newsletter
Get the best of Windows Central in in your inbox, every day!
Thank you for signing up to Windows Central. You will receive a verification email shortly.
There was a problem. Please refresh the page and try again.