Nokia is teasing us with an image of a box, with a reveal coming tomorrow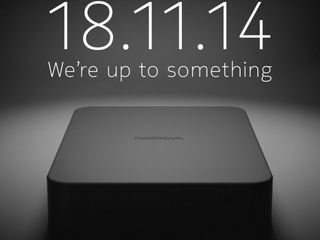 Nokia has officially reclaimed its social media accounts from Microsoft and now it is using them to offer a teaser for an upcoming product. Specifically, its Twitter and Facebook pages both posted an image earlier today of some kind of box with the company's logo on top, with a full reveal planned for tomorrow, November 18.
The image was accompanied by the statement, "Guess what? We're up to something.", with a couple of hashtags: "#thinkingahead" and "#Slush14". That last one is a reference to a tech conference called Slush that's being held in Finland on Tuesday, where Sebastian Nyström, the Head of Product Business at Nokia Technologies, is scheduled to speak later that day.
So what does Nokia have in mind for this product reveal? The case looks like a set-top TV box so it's possible that Nokia is making an Android TV device, but it's also possible that this could be some kind of Windows desktop design. It might be a Chromebox, or something with Nokia's own set-top software, or just a media streamer. What do you think this mysterious product might be?
Source: Nokia (Twitter), (Facebook)
Get the Windows Central Newsletter
All the latest news, reviews, and guides for Windows and Xbox diehards.
It can blow up your entire business! :D

What if it was literally just a box to place your phone in? Lol

You got me smiling, that's a good one!

Oh I know, it's a bento box

select silver stage.... http://highway.slush.org/live/ if you want to watch the live event of nokia

black box for boeing with Here maps.

Except the black boxes are actually orange lol

Yeah, that was the most ludicrous thing about that joke. The colour.

It would be about time to introduce some new colors for those. Nokia Black Box with Here Drive+ for Boeing (BB-777). Available now in yellow, cyan, green, black, white and orange. :)

Haha! If such a product was as accurate as HERE Drive+, planes would be trying to land on the wrong runway and would be flying miles in the wrong direction just so the mapping software can complete its own ludicrous idea of a perfect turning circle. It's better than Google Maps but no where near as accurate as my trusty Melways!

When is it coming to India? XD

Maybe when they decide to send to India with Briyani inside xD

LOL, I'm sure it's not a lunch box.

Lol, my family name is Bawa, so I got a good laugh from that.

Seriously....black box for Boeing. Hahaha!!

Yup! I thought so in first place.

U mean like the mac mini? I don't think Nokia can invest in big and risky business like this. It would be safer for them to make headphones, wireless chargers, battery packs etc.

Nokia's Windows Box - built in Windows TV, will release at Q2 2015

This is the old Nokia now, so it will be announced tomorrow, and we might see it in 2016.

Don't think its that. If it was a windows device we would have heard some news about it in the past. Could be android.

Its Nokia's 'The Internet' a la IT Crowd

Did the elders of the internet grant nokia to present it?

whats in da box? whats in da box? ?
? I tell ya, dats the f***ing Nokia 3310 - 2014 gold edition for 1200 bucks! Now ya know, tell the homies in da hood!

Its an urn with their ashes for putting on our fireplace mantels :(

Lets hope it can stream Xbox games

It's a crap android or rather turdroid tablet

Nokia n1 tablet...i am sure of it

Hope is not something like that movie "Seven"

I hope there is not a hole in the box...

With something Elop gave them

It's the paper version of Here maps inside!

When will that vlc player is gone release...

Now he will never comment

Haha.. I wish Daniel would rip him one. That'll be apt. I swear its a handful of people (like OP) that makes the entirety of us look bad.

It is a handful of people (like you) that makes the entirety of us look bad.
Take your own words for thought and please reply with proper netiquette.

Dude, your picture looks like too much like the nazi flag. I hope you are not doing this on popuse.

Your mind is doing it on purpose.

Your VLC is inside the box!!! Look deeper *BAM!* xD

Seems fas.. I mean interesting

Looks like an Android TV box kinda thing.

Hopes many Android boxes are there going to be? Hopefully it is something more interesting.

I'm leaning towards it being that boring.

It has a disc tray, on a photo editor increase contrast and brightness and you'll see it ;)

It does!! I just did that actually

Nokia isn't the best with names.

Pretty sure its gonna have an ugly name plus a # to follow up. "BOX 490 by Nokia"

I hope there is no Pinhead :) "The Box, you opened it, we came."

One thing for sure. It is not a Lumia phone running Windows.

Hope not! That would make for an ugly looking phone!

It could be made for an ugly successor of 1320.

I doubt it will be anything running Windows or even related to Windows.

I doubt it will be anything related to phones.

I doubt it will be anything

A hand-free voice-activated auto restocking sandwich maker...

An arcade token to play TRON!

A solid iron block that Nokia will use to smash all Windows Phones in their sight

If it has anything to do with Google they are dead to me.

Exactly what I was thinking

Remember the time when Nokia was left abandoned just as a company with nothing but HERE services? I wish this thing is Android related. I just wish! Nokia needs a mighty comeback. MS is fine by its own and now Nokia can jolly well shift towards Android. MS might own Nokia's products but Nokia's got good ol' history. Posted via the Windows Central App for Android

*shrugs* So long as Here Maps stays on WP then it's all good. That's all I really expect from Nokia now.

Nokia has already been dead to me lol. Microsoft has Lumia now :P

My hope is a home automation hub/media console

That Nokia name design looks like multimedia...

This! And this has appears in that conference befor :)

I think after the whole Microsoft and Windows Phone relationship, I doubt it'll have to do with anything Windows related.

I wouldn't say the relationship was bad. Nokia, owning manufacturing hurt, but that's in them

They're not dead!
They just won't release anything running Windows Phone anymore!

They won't release anything with a cellphone chip running anything.

No, the will release cellphones.
After the Microsoft split Nokia said the will continue releasing normal cellphones like Asha and maybe their own Android but no WP!

They can't sold any phone at all for 10 years.

Lol.. Get your facts corrected dude. Nokia doesn't have any plans for a smartphone in a while. They officially said that. So leave away that android thing you mentioned. And the Ashas too are under Microsoft now. Thus they don't have any cell making division right now.

Why is MS killing the Asha? They could at least rebrand the Asha with Windows.

Asha is its own software. Too much headache. Same goes for Series 30/40 and the crazy Nokia X line.

They cannot sell smartphones for 2 years and feature phones for 10 years

No. Nokia's entire handset division has been sold off. Nokia can, however, get back into the market after 2 years. They won't have the Asha brand (that belongs to Microsoft, and they in turn killed it) or the Lumia brand.

Nokia vs. Cisco systems!!!!!!

Finally a comment that makes sense.

Yeah. Then CCNA will be useless. Then we gotta take NCNA.

I was thinking the same! It's about time they focus on that division!

Maybe it can't be opened ?

Maybe a genie? Just kidding!

Probably something running android. Why would they bother building for MS?

This! I think that if Nokia ever comes back, it will be something running Android, or a new OS, but they'd stay away from Microsoft, that's my bet I'm afraid

Whatever it is, I'll be swiping down on Windows Central all day tomorrow. :3

What does that :3 mean? Looks like titties to me.

It's a Peter Griffin butt chin

Use facebook and you'll know :P its an emoji.

But what does it mean? Sarcastic laugh, etc.

A pair of boots? They have done those before. ;)

Yeah ... Just read the tom Warren's article on the verge

Yeah a 365,809mah power bank!

either a tv box or a mini pc.

Stop watching porn for awhile.

No can dosville baby doll

Wrong shape unless your a hobbit.

Nokia gamebox. Competitor to ps4 and Xbox one.

Yes, with java platform. Lol.

Don't underestimate them. Nokia might just expertise us all. Remember that their Ngage platform was a great one with so much potentials had Nokia not lost focus on that one.

Fingers crossed! The n-gage was a roaring success after all.

It'll be named the Nbox, and will be way cheaper than the Xbox

Hahaha.. Microsoft's Xbox and Nokia's Nbox.

No! Its an Nstation obviously.

You win my respect. + over 9000

I'll be getting me one without hesitation if it's the Nbox or Nconsole or Ngage box or whatever. I can hesitate before getting a Play Station, or Xbox or even Sega
but Nokia, I wouldn't hesitate unless it's proven to be a below-par device to other competition.

Its a new streaming device.

Damn, I miss the Nokia Pure font!

That's just it. It's a box. Nokia is going into the Box Making Business.
That way you don't have to worry about the market evolving and being left behind.

Yeah gonna cost cheaper than DHL

Doesn't look interesting to me.

Nokia Player running Lolipop lol :D

Mmmmm... The fact that Windows Central has posted the article about this in the "Microsoft News" section, might be a subtle hint....

This has absolutely nothing to do with Microsoft - actually I'm wondering why WPCentral is even making news of this :)

Habit from being Nokia Lumia for so long?

Well, they do cover Verizon and T-Mobile, so why not Nokia?

True, could it be running Microsoft software?

WPCentral isnt. But WindowsCentral is...

I really doubt it's related to Microsoft in any way.

I would buy one so fast....

That the router will seem slower.

Haha I guess its to beg to join Microsoft

If it is another me-too streaming device I will be disappointed. The world doesn't need any more of those. Hopefully, it is something new and innovative.

Looks more like a media player or a media streamer...

Probably a wireless memory device...you can carry all your valuable stuff wherever you go..!!

Its good to hear that nokia is doing something new ... !!

It's the new Dacia Sandero!

I laughed so hard. Thank you.

SLUSH IS PROBABLY THE BEST RUN TECH CONFERENCE I'VE EVER ATTENDED. – J. J. Colao, Forbes Magazine

Hmmmm, let me guess, it's a wireless router? Would fall in line with the companies main business.

While there are a million cheap routers to choose from, that does fall in line with their networking refocus. Will be fun to hear what it is. I think the home TV box still has massive untapped potential so my bet would be more on that. While we have Android boxes and Rokus and the likes, I don't feel anyone has quite got it right. Hopefully it will be neither and be something more revolutionary that we didn't know we needed until we saw it. Those are the best.

Streaming device is my thought

The most interesting news of the day..
Will be exciting tomorrow..;)

First, Windows Central promise us to cover each and every news about Nokia no matter what it does.

Everything else is second. :p

F*ck that. They need to STOP covering Nokia. It's no longer Windows OR Microsoft related anymore so why should they continue covering it? How about just follow Nokia's Facebook/Twitter for "official" announcements.

I do follow those pages. But I would still like to see Nokia on my favourite news website. Otherwise it'll very difficult to spot the news about Nokia in my already cluttered News Feed.

Or just search Nokia in the search bar on Facebook every once in awhile and look at their page...no excuses.

I would like to hear that from Windows Central ;P

It's HM-068!! A set-top box service brought by Nokia powered by Microsoft kinda thing shall be my guess..

I hope it's a Microsoft running fitness band. Ala the Microsoft Band only this time, better aesthetically and ergonomically designed. Like Nokia always does. :)

I bet it was wireless microwave oven.

If Nokia does android that would be cool. They no longer with Microsoft

O, wait. Wireless charger for 830 and 735.

They've already got a few. c:

Maybe something like mac mini

A Mac mini-like computer, or a TV box...

If Mac mini, then goodbye, my mac mini!

majority of general people will get confused. Recently Microsoft bought Nokia. Now Nokia is releasing there own product.

not another settop box. too late.

Its the burning platform that elop referenced back during the early days of windows phone, except it's not burning anymore.

The Nokia "Soft-Chrome 5500" set-top box. Marketing phrase.....You saw us fail with Smart Phones, now watch us fail again, and again, in slow motion.

I don't think Microsoft buys "failing" companies. They buy them and THEN they fail.

I know it, It's a router!!!! hhhhhh

Maybe Nokia Mix Radio streamer?

Or then it's just a box and what's inside has nothing to do with Android TV, Windows or Chromebox ;)

I hope it's boots they're making, my old pair of nokias are pretty much done in.

Wireless router , Maybe !!

Why couldn't it be headphones or a headset? That's not part of what they sold to MS, right?

Correct. Both Nokia's imaging and sound R&D teams remained at Nokia.

The 1030... er, probably not ;-) Since it looks like a device for streaming, I'd have to say my interest level is near 0%.

maybe another overpriced phone ;)

Monolith for Odyssey 2015.

If it's not Microsoft related I hope not to see anything more about it on this site. This is Windows Central and Nokia no longer means Windows, so forget about covering Nokia.

Chill pill or the "Testy" pill?

I agree 100%. It's time to move away from Nokia. If people want to follow them then they need to follow their Facebook/Twitter accounts and Nokia's website.

It's an external hard drive

Considering how most hard drives are fragile and Nokia has a reputation for being indestructible. That would actually be pretty badass.

a bluetooth paperweight? maybe a doorstop? Actually looks like it could be a nfc coaster.

That, Jen, is the internet!

You beat me to it! I was just about to write that! :)

Guys, it's a wireless router for capturing internet signals from unused TV band...as experimented by microsoft in India.

This has nothing to do with Microsoft. Nothing that Nokia does has anything to do with Microsoft anymore.

Why not? They are not enemies.

They're not but after the Windows Phone flop, Nokia would have to be crazy to waste more time with Microsoft's mobile platform. Even Microsoft doesn't seem to want to waste time on it. (and now infants, click that down arrow that makes you feel so good)

That actually would be interesting.

My guess is 1030 quad core 4.1 with some monster camera.

It should be a xbox box, not sure why they would expand a phone brand to a tv box :/

Will there be a online live streaming of this event?

Yeah! Nokia external USB hard drives!!!

Silly Fins, there's only 12 months in a year!

I think in Europe, they have the day and month swapped in that notation.

Yes of course. Mexico too.

Silly 'muricans that insist in the format Month-Day-Year instead of the normal, logical formats Year-Month-Day or Day-Month-Year! =P

+920. I hate seeing that silly format ever since I changed my phone region to the US, just because I was trying to woo Cortana. I hope she's worth it though.

Elop locked inside that forever

Maybe they're announcing someone else's product since they have nothing good anymore.

Definitely it is not a phone...

What about a computer box? Was always wondering why they never tried to make another netbook/laptop or now a hybrid. Would be awesome!

They should just make a Windows 10 tablet/hybrid. I'll definitely buy that. Something like the Nokia 2520 form factor running 10 and with the bad-ass battery back-up and rugeddity.

Omg. People take a look at Jolla website. Something big is coming. The marketing looks the exact same. Identical actually.. Jolla also announcing something big late tomorrow. it possible ???? Tell me what you think guys

Jolla device has a screen. But the timings around the same..

The marketing is so similar but.

of course it is a TV box like fire tv. DOA.

A cat and some cyanide. Is the cat dead our alive...?

We'll never know until we open it.

Another box ?? O.o n maybe another . .

From my sources in Nokia: Its a 3D printer

That is rubbish my friend.Whoever told you that?
I believe its something to do with Jolla

It's Dr. anon and Mr. burpmaster.

Omg. People take a look at Jolla website. Something big is coming. The marketing looks the exact same. Identical actually.. Jolla also announcing something big late tomorrow. it possible ???? Tell me what you think guys

Jolla sucks, and is DOA. Nobody wants Jolla, as it's OS has issues and virtually no developer support whatsoever.

So also was windows phone OS and google android during their debut.

If its a phone, lol that would be one huge slap in Microsoft's face. Though they can't compete legally in the smartphone arena until Q4 2016??
I guess the way around that is to partner with Jolla and have Jolla sell the phones with their branding until then.

Well I was thinking that when I first heard of the buy out. . Yah never no

Nokia can't use or lend their names to smartphones until 31st December 2015 (though apparently it was extended until end of Q3 2016). So even if they do a partnership with Jolla (or just buy them back into Nokia), the phones can not be Nokia-branded. HOWEVER...if they use something like, say, Nokia imaging or audio tech, they could use a Nokia logo in relation to that. At any rate, I don't think it's likely that the announcements are related to one another. I think it will take a bit more time until Nokia swallows Jolla back into the company.

Nokia branded paperweight!

Nokia is not in the greatest financial condition, and they don't have a ton of money, aside from the money they got from selling their phone division to Microsoft. The last thing they need is to do hardware, which costs a ton of money. If that kind of stuff doesn't succeed, they can put themselves out of business.

If it is a set top box, the cheapest way to get into h/w would be a rebranded set top box from a ODM. Besides they have alot of other businesses not just Here.

1 - You must have missed last quarter's results. 2 - Nokia doesn't need to manufacture things any more. That's what outsourcing is for. They can build a prototype in Espoo and then have some factory in China produce the hardware for them, thus cutting the costs they used to have with their own factories.

it a set up box, for sure...... trying to challenge apple tv, googlechrome and roku!!
i hope it is a setupbox, would b good if it windows....but android is fune by me.

Streaming device, or a probably a wireless music adapter, a computer.

http://www.engadget.com/2014/10/03/nokias-here-auto-tries-to-predict-you... ? this?

Some of the people above are right...its something to do with Jolla

Jolla computer? A candy box with jolla beans?

Let the speculations begin!

im gonna guess a fitness band, or some sort of wearable.

Wireless headphones a la The Dash bundled with a smartwatch with Nokias own UI and designed in collaboration with Tag Heur. Wishing...!

IT DOESN'T MATTER WHAT YOU "THINK"!!!

Whatever it is I hope that it skyrocket Nokia's stock to the moon! Lol! I still have stock with them for some reason, I guess holding on to hope..

Me too, only mine is up 10% at present - hoping for more, of course...!

Yeah, here's to hope.. Keep the faith. :)

They are back to their original business... Pair of nicely designed rubber boots. :)

I don't know what it is, but I know I can't live without it!

Nokia 5G router incoming!!!! /s

Could this be related to the announcement Jolla mentioned in their website? Hmmm....

Or it could be a tank because the old Nokia 3310 is too mainstream

nokia 3310 with windows 8.1 OS

Yes, yes. And this time I hope it seems faster.

Might be Just a brick... For a solid construction!

This box better be a flagship box. No midlevel cardboard, we better be talking laminated with decals.

Here's another thought. Perhaps MS and Nokia were working on a fittness product before the MS takeover, and Nokia is now lisencing its name to a 3rd party manufacturer to produce it and launch it in the US (as per the Nokia job posting some months back that said the person would work on a "stealth product launch in the US before Xmas" or something like that. :) Other possibilities include Jolla (see their announcement coming up this week), some cooperation with Suunto or Polar, some other health industry related device.. Or announcement that they are thinking of announcing some products maybe perhaps.. that would be the most likely scenarion, given how Nokia likes to hype up nothing. :)

Confused, this is Windows central?

And you know this has nothing to do with Windows how...?

I'm going with a Nokia wireless network router.

Hopefully they aren't using Google's crap for software.

Still dreaming with an Nokia smartwatch. Who knows...

Yeah, that would be sweet! Their own OS and UI, but compatible with all 4 smartphone OS's...

Nokias own gaming console

I thought Windows Central was about Microsoft. Why the fck is there a story about Nokia? Chances are this will probably have nothing to do with Microsoft

+11112222333344445555666677778888999910

Nokia just releashed a couple of devices a couple of months ago in the 830 and 730 and pushed the most wp devices of all time and you upset about they report news about nokia! Seriously?

Uuuuuuuuhhh yeah.. Problem?

Introducing our new robot CEO... eLop.

"Step 1, cut a hole in the box..."

Step 2, put yo dick in that box!

IT IS THIS DEVICE FROM MICROSOFT AND NOKIA HAS GOT THIS IN THE DEAL WITH MICROSOFT JUST THE NOKIA VERSION WELCOME TO THE FUTURE https://games.onlive.com/about_device

Bah, it's just another time machine...

Nokia will try to surpass other in this new field They already signed over there smartphone product to Microsoft

I'm more curious as to what lies ahead with the Lumia line.

Bet it's some kind of licensed product, maybe they just licensed the brand...

Finally someone says this! Been waiting all morning!

Well what prevented you from saying it? :) first thing that came to my mind...

I was just waiting to see if there was someone as cool as me on here for once ;)

Yeah even nokia india updates a status yesterday stating Nokia is going to start a new chapter :)

Wekia. This is gonna make 'em to be more considerate of our likes and needed features when next they launch new devices.

Well, I hope there's a smartwatch in there ;-)

Something like xbox one or PS4??

Well, jolla is showing something "BIG" tomorrow too... Posted via the Windows Phone Central App for Android

IT MIGHT BE A WIFI, HIFI OR SET TOP BOX, GAMING CONSOL OR MUSIC SYSTEM WHICH CARRIES HEAFTY PRICE POINT

A streaming box runing Simbian OS

http://jolla.com/in-en/ ! Any relation? Both are from Finland though! Just a thought!

Both have Nokia employees.

Wristband or a smartwatch

Its a top Nokia smartphone with Android. Just to make MS gets crazy lol

I'd be pissed. So so pissed if that was to happen.

A backcover for jolla phone, with some interesting features.

Windows PC maybe? Or some kind of tv box maybe. Looking forward to see what it is really! :)

I am pretty sure that @Nokia is officially into the PC market and the picture is showing a mini pc like the intel one and macmini. BUT it can be a tv box as well! Looking forward for tomorrow!

New smaller tablet with windows 10 :)

Maybe its a Windows 8 device, with low power CPU. Since there are a plethora of android streaming boxes, why bother with that platform if you have nothing new to offer.

It's Nokia brick which can be used to build safe house it will protect from any natural disasters

Or to hurl at those that insult Lumia

I bet its something map related.

I'm for anything as long as it isn't yet another low or mid level phone.

Whatever it is, T-Mobile will get it last--if ever.

Painful to realize it's definitely not going to be a phone.

Indeed. Maybe its not even a box....... Maybe that's the device itself. Hmmm???

You reviewers speculate the weirdest crap lol...

My first thought seeing the pic is something tv related. But a 5.2" WP for all carriers would be nice lmao

Since Microsoft bought the Lumia brand, is it possible that it could be Nokia's new hardware for windows based phone??

When Nokia returns to phones, they won't be Windows based, you can be sure of that.

Hmmm intersting. Maybe a mobile WiFI device.

If Nokia goes to android, for me is dead.

Maybe they finally have a bunch of DT-903's that are actually available to buy!

I"m guess it's some kind of a wireless small cell, perhaps designed to connect to an LTE network with mesh backhaul, like a hotspot on steroids.

I don't know what it is.... But I want it badly.... Its gonna suck MS completely....lol

It could be a SmartWatch! The Box Fairly looks square and looks like a box a watch would come in. Well, my bets are on the first Nokia or Microsoft ( Whatever! ) smartwatch. ;)

Does anyone remeber that black box fron the Nokia n900 ? http://www.engadget.com/2009/12/21/nokia-n900-and-the-case-of-the-best-u...

Maybe its a video game console that plays one of those Atari games they recovered in the landfill. They are selling like hot cakes and mind boggling prices.

Nokia Band anybody? Has anybody wondered how MS got a wearable out so quickly and then sold it in limited numbers only? I say it's a Nokia Band.

The teaser is extreamely good. One of the hashtags #Thinkingahead is very telling. Here are my theories. The first one is that it is indeed a fitness band, the first one from a third party to tie into the new Health platform from MS. Which would make sence in terms of thinking ahead, because they would have been the closest partner of MS for a while to know in advance all kinds of details about the platform. Then, the MS band is released, but they state that is just a reference device, and it is out in limited quantities, in other words it looks like it is opening the air for the next arrival. Second (unlikely). The Nokia brand is back to its original owners (in social media) and this has been happening over time, but it seems like this very important task that MS was doing had sort of a deadline. Get rid of all Nokia related branding in your devices, because something else is coming out in November and we don't want any more confusion. Now, what could cause more confusion than a phone? Nothing. But Daniel explained very convincingly that Nokia is not returning to the phones business, or is it?. Several people here have mentioned the Jolla anouncement that is remarkably similar. However that would not make sense since they cannot put the name NOKIA on phones for at least 2 more years.

Whatever it is, I wish it isn't something Android related. For some reason, I can't tolerate Android and Nokia together.

ill be too busy playing gta5

Im hopping MS cancelled the McLaren project as that wasn't part of the Nokia purchase deal and that somehow Nokia just finished it and its ready for sale. Yeah. Just a dream I know.

The caption 'we are on to something '....hmmmm...a grounded statement after a long time from all those companies. Otherwise it's like ' the future is here ' sort of high octane stuff.

It's a radio!! So that people can finally have Nokia MixRadio without buying a Windows Phone :P :P

I think it's a Nokia toiletries box

What of it is related to Microsoft? Just wait and then complain.

Wifi Router or This device http://en.wikipedia.org/wiki/Femtocell

Maybe Anti-EBOLA device lol

If it's a TV / media device it'll only pick up terrestrial / freeview channels, come with 256 mb of storage space and stream content at a maximum of 480p. Aren't Nokia only catering for the lower end market these days? Sorry, I didn't mean that... I'm still a bit bitter after the dissapointing reveal of the 535. But it is branded Nokia and didn't Microsoft say that they were keeping the Nokia brand name for their lower end stuff?

Have you seen the countdown on jolla.com?

Latex gloves/glasses inside?

It's my d*ck in a box! It's my d*ck in a box, girl... :)

It's probably a useless crappy device that nobody will care about. or just Map apps for iOS and Android. if it's a tv device, what would they do? give it for free so people don't use the million of alternatives available? waste of time. Nokia is not anymore part of Windows Phone, so I don't know why we are reading this. I hope it's a box with a paper in it saying "we are closing our company, because we sucked making good business in past, but remember us please"

And?!?
Nokia ain't down with us no more...

Nokia is up to somthing on 18.11 ,jolla is up to something big on 19.11 .. Something is fishy here.

Agreed. It seems indeed like a weird conincidence if it really is one. Maybe an announcement that Nokia is working with jolla tomorrow and the fist Nokia/jolla hardware running the jolla OS the day after? Not sure how that would make sense though, but you never know.

IT IS THIS DEVICE FROM MICROSOFT AND NOKIA HAS GOT THIS IN THE DEAL WITH MICROSOFT JUST THE NOKIA VERSION WELCOME TO THE FUTURE https://games.onlive.com/about_device

Meh something I may not need

Its a Nokia tablet made by Jolla and it has sailfish os. Nokia can license their products already.

If it's sold at Verizon, you'll only be able to get exclusive outdated Verizon channels until the next one comes out.

Streaming media box is my guess.

A Nokia chrome box? Really?

I think it's a navigator, working with Here Maps/Drive.

This will not be a Windows device. This may be an Android device set top box. My guess is the OS will be proprietary, but anything can happen

Microsoft gave them back their social accounts because it has Microsoft inside. However its windows phone software to run on your TV, all those apps and all those games on your TV plus mirroring and remote by your phone. So sayeth guru Terry.

A new Nokia line of vibrators, of course this is just the box. Watch out Hitachi!! XD

Jolla and Nokia announcing something on the same day? Posted via the Windows Central App for Android

Here's my wish. I want it to be a device that slips under your car seat and feeds your phone and compatible car displays with HERE maps, music streaming services, notifications, etc. It also contains local storage for cloud synced music and detailed maps. It will let consumers choose what integrated services they want in their car--not Apple, Google, or the car companies.

The long-rumored Smartwatch?
A console?
A Set Top Box?
A streaming Box?
A wireless router?
A Virtual Reality Device?
A Mini PC?
A DSLR?
A printer?
A 5k TV?
Anything can be possible. Well is already 18 here.

It's Nokia's very first Switch and Storage for home cloud!!!

Wait, what? No dickriders now that they aren't making Windows phones? Shocking. Y'all are pathetic.

to those who want to watch the nokia event here is the link .. select silver stage.... http://highway.slush.org/live/

Could even be a wearable!

Ah, it's an Android tablet.

Actually it's Android-tablet.

So, it's a Android tablet.

It's the Nokia n1 tablet, I guess