Official Facebook app for Windows Phone getting huge update today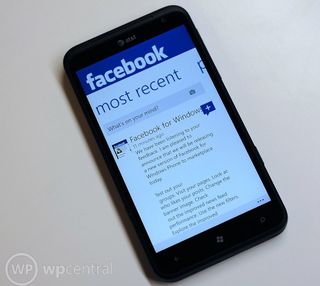 Good news for you Facebook users out there not yet content with the official app, today you should be receiving an update to version 2.3 which from the looks of it is quite significant. From the Facebook page:
News feed performance improvements
New panorama design
New profile design.
Banner Images
Improved navigation
Pages
Groups
View "likes"
Feed filters
Posting privacy
Bug fixing
We're not big Facebook users but even we recognize that a lot of those are things many of you have been asking to be added. And new panorama design? Yes, please!
We just did the Marketplace check and saw v2.2 was still listed, so you may want to go in and check on a regular basis. Remember, you can watch our video tutorial on how to "force the update" when it does become available instead of waiting for the notification.
Pick up the official Facebook app here in the Marketplace.
Source: Facebook; Thanks, Cyruss89, for the tip
Daniel Rubino is the Editor-in-chief of Windows Central, head reviewer, podcast co-host, and analyst. He has been here covering Microsoft since 2007 when this site was called WMExperts (and later Windows Phone Central). His interests include Windows, Microsoft Surface, laptops, next-gen computing, and for some reason, watches. Before all this tech stuff, he worked on a Ph.D. in linguistics and ran the projectors at movie theaters, which has done absolutely nothing for his career.
Hurrah! Hurrah! Hurrah!! Welcome to 2012 Facebook app. :D

Just realised Facebook is rated very poorly, at least in the Australian marketplace.
I suppose it's rather barebones in functionality, but I reckon it's pretty great. Could do with performance improvements, but I'm fairly happy with the inbox features (other basic tasks are integrated.
Pinch to zoom is awfully bad, I'll admit.

Finally, can you like peoples comments on status' yet because it annoys me when i can only like the whole post (this goes for the native support on the phone as well :( )

and on another note htc hub has been updated but can't see any differences

I really hope so. It's been annoying not being able to do that.

Unfortunately that is not listed in the new features. Since that is one of the most requested features, I think there is some reason the Facebook apps simply cannot do it, otherwise they would have put it in.

@joebelfiore: Yep, it's true! Facebook is one of our #WP7 sweethearts-- watch Marketplace soon for a heart-swelling update of the #WP Facebook app! "I hope this means Facebook has been given greater native implementation. If it's the current FB situation and improvements, Eh."

Confirmed...can't like a comment within a thread.

This totally sucks! I wish we could, this is one feature I wanted to the most besides the bug fixes :(

About time, good news!
Any word on the weather app update?

Great! I'm not much for Facebook, but when I am on it's almost always via the app. Thanks for the force notification tip!

Great!!
Recently Ive been satisfied with the WP integration but this is really good improvments, cant wait to try it out.

Any news on Weather and Ask Ziggy update?

Between the People Hub and Facebook app, browsing Facebook from Windows Phone is generally one of the best FB experiences I've had just because of the lack of ads and apps and general annoyances of the actual site, but indeed, it has lacked a lot of features too. I've hated not being able to like individual posts or delete/filter things from my wall/news feeds. Nice to see we're FINALLY getting an update, but I'm slightly annoyed that it's taken so long. This is an app that really deserves frequent updates.

Hopefully they fixed the scrolling bug

I know, right? Crossing my fingers, here.

I could almost not care about any new features or improvements, if an update fixed and only fixed the scrolling issue!! I'd be a very happy camper!

Ah, at last! An update for Facebook I been waiting for this for such a long time. I hope the UI look amazing and good features to satisfy the users needs.

Joe Belfiore just tweeted that it's coming soon.

So, Facebook has an app? I thought it was part of the OS? :|

It is part of People Hub and generally works well. I've used it in the past when the Facebook app's glitches were too much to bear. However, the biggest drawback is that it's considered a third party app and requires access to Facebook Platform. This means those who have maximized their privacy settings by disabling access to Platform won't appear in your People Hub updates. It also means if you need to integrate it into your People Hub, you need to enable Platform.
I prefer having a standalone app because it serves as a one-stop for everything I want to do on Facebook.

The People hub is my biggest disappointment with this OS. For all the advertised integration, it's rendered almost useless due to the issues you stated. Also it doesn't display if your post is liked in the main view, it only shows if there are comments. I have to laugh everytime I hear them talk about the People hub during keynote speeches now.

About time. The official app has been damn near unusable up until now. The news feed was just goo slow. It was painful really. I'd always open up the app wait for it to load for 10 -15 seconds then just quit and go back to my peoples hub.

Hah "goo" slow. I guess that works too

I wish there was more uproar from the community about the people hub not being treated as a first party app. Shouldn't need the crap fb app anyway.

It has a fair amount of votes on the WP feature suggestion site, but not nearly enough. When I read reviews of the phone touting how great the People hub is, I just know they haven't realized that they aren't getting 100% of their feed yet. Once they do, it's bye bye People hub.

You mean to tell me that I haven't been seeing *all* pictures of what people I knew 20 years ago are eating for dinner?! How have I been able to survive through it?!

Well for me it's not about the people I knew 20 years ago; my own wife's posts don't show up in the people hub.

That is becaue of the privacy settings your wife has. It will only work with an official facebook app, or the one you use with your internet explorer (safari, IE9, Firefox..ect)
When a 3rd party application tries to gather your wife's post, Facebook will not let it. Unfortuately the People Hub is concidered a 3rd party Application but the Facebook App for Windows Phone is 1st Party... Kind of funny because Microsoft is the Publisher of the app.

I'm aware of the reason for it. It's also the reason I don't use the people hub.

Yeah, I was just being goofy. Facebook has lost its appeal for me, but I realize it's still very popular for others.

Why I do NOT use the integrated FB feature of People Hub: all your contacts are sent to Facebook. That is just plane wrong.

The iOS app sends all your contacts to facebook to match the data and download only the contacts you have on your phone.

The WP People Hub downloads ALL your FB contacts, whether you have their phone number or not, and then either links them to a contact locally or you can link them manually if the names don't match exactly.

Great news, can't wait for the update...

Is anyone else having problems with Marketplace updates lately? For the last week, it's always saying I have to updates available on the live tile, but none in the marketplace itself. This morning, it's now up to three... Oh, and I still get real updates, so if there is one real update, it'll write four instead of one...

Oh, and by "to updates" I meant "two updates"...

me too. Marketplace showed 2 just now, but no updates. I thought FB was ready!

My focus has been doing the same thing all last month?!


Really like the new look.


IT'S LIVE IN THE MARKET NOW!


wow this app is now great...

It's live in the Marketplace now! I really like this updated version. Compared to the previous versions, it's a new app altogether (in terms of performance, looks, and features). This is what we were waiting for all along!

Just updated, looks great! One problem though, can't revert back to the original banner image

Not sure if this is the same thing you're referring to - go to Settings and uncheck "Turn on banner image".

Just installed. They did a great job reworking this app. Really nice.

Just updated a few minutes ago!

So there was the Halloween update, and now V-Day. I'll expect another one on April Fool's right? All the popular, non-federal holidays, right?

I had to reboot the phone to get the update. After doing the force update and pressing the update and allow buttons, it says "No download in progress. So, I uninstalled the app to see if that would do it. Nope. It installed the old version. So then I rebooted the phone, and the update notifications showed up on the Marketplace live tile. It seems now that those "phantom update notification" will show after a phone reboot. That is very annoying.

I didn't have that problem... Installed just fine. No reboot needed...

The reboot also showed me two other apps that needed updates. Coincidence? Your guess is as good as mine, but I will be rebooting the phone from now on each time I get those "phantom update notifications".

I am really loving the new update! I like the banner feature!

The banner feature is definitely cool.

It still has yet to notify me. :(

Did you do the force update?

Uninstall/reinstall if you can't wait for the update check.

Do the force update procedure outlined in the link above.

It is awesome! I did not have an update notification so I went into the marketplace and searched for Facebook. Then it had an update button and away I go.

GROUPS!!!!! Thank god it was getting pretty rediculous having to use the mobile page just for groups.


New update is pretty nice. Love the banners too but still trying to figure out if we can post pics to friends walls yet?

Just got the update... I still think the mobile version of the Facebook page (m.facebook.com) is much faster and practical... At least if the app would notify you right away when you receive an offline message instead of every 30 minutes or more...

Not as pleased as I'd like to be. The banner, while pretty, takes up too much space. Also, I still can't Like individual comments on a post. Does seem faster though, so it's better. Just not where I want it to be yet.

Why couldn't we have our cover image instead of three random pictures that we don't get to choose? Much needed update, but still a lot to fix (individual comment liking for example)

I wish that Events would show up. I Have a wedding in August and we have used the Facebook Application for information regarding our wedding.... it seems broken, the rest of the app is awesome!

Yeah, I'm disappointed about Events as well. Hopefully, it's fixed sooner rather than later.

Its here! And looks amazing I must say!

Love the new update. Welcome to 2012 Facebook =)

Great article! Just manually updated the app with that trick! I've wondered how to do that for months lol. Any chance is there a similar way to do that with podcasts on Zune? Always feel like they don't download for a few days late.

Is there a way to gid rid of the huge blue banner at the top of the screen? It wastes a lot of screen space...

The new update is amazing. It actually looks like an appealing app. This is what it should have been from Day 1.

Wow HUGE improvement! I will actually use it more of now....... Nice work.

Love it! What a superb redesign!
Windows Central Newsletter
Thank you for signing up to Windows Central. You will receive a verification email shortly.
There was a problem. Please refresh the page and try again.