PSA: Official Twitter app crashing on viewing Tweets for Windows Phone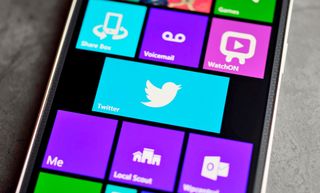 Something has changed today on Twitter's backend, and it's causing some issues for Windows Phone users. We have received numerous complaints that when you press on an individual tweet to view it, the app will crash. Just browsing the Twitter stream and posting still work, but if you tap a tweet to bring up the details page, your app may suddenly close out.
We've tested the scenario on various devices and have been able to replicate it. It occurs on Windows Phone 8.0 and 8.1 devices using the public Twitter app. Tapping on three or more tweets seems to initiate the crashing, though it seems random on various devices. Interestingly, the beta version for Windows Phone 8.1 that leaked a few weeks ago has no such issue that we've encountered.
We're reaching out to Microsoft and Twitter about the problem.
For now, you'd best be served by long-pressing on an individual tweet to bring up the quick-action menu for reply, retweet, favorite or copy tweet. Unfortunately, more advanced sharing options will not be accessible if you're experiencing this bug.
Since this is a backend change for Twitter, presumably they could reverse or fix it on their end, meaning an app update may not be needed. Users have complained on other platforms about similar issues, so this may not be a specific Windows Phone problem per se. Sit tight.
Are you experiencing this app crash? Let us know in comments.
Windows Central Newsletter
Get the best of Windows Central in in your inbox, every day!
Daniel Rubino is the Editor-in-chief of Windows Central, head reviewer, podcast co-host, and analyst. He has been covering Microsoft since 2007 when this site was called WMExperts (and later Windows Phone Central). His interests include Windows, laptops, next-gen computing, and for some reason, watches. Before all this tech stuff, he worked on a Ph.D. in linguistics, watched people sleep (for medical purposes!), and ran the projectors at movie theaters because it was fun.
Yes, it crashes on my Lumia 1520 when I try to view tweets. Hope they'll fix it. The app needs update anyway.

Hope its something related to app overhaul. Our app needs to be inline with the others on other OSs.

On that same topic - does anyone have a list of apps especially social and news apps - that are updated to use WP8.1 functionalities? I don't see any apps other than Facebook, WPCentral and 6xxxx apps updated. Think official notification centre scenario isn't any different to Liquid Daffodil's attempt last year - apps still need to opt-in/update to use it. Worse, they need to update to appear in "share" list.

No, apps don't need to update to use it, only if they want to customize how it's used for their app. For example, the worst windows phone app/game every, words with friends, which never gets updated works with the notification center

To make full use of the notification centre they do need to add code. ie, queing notifications, removing them, grouping them etc... But you're right though otherwise basic toast notifications from wp8 apps do end up in there.

Exactly - toasts are collected. But that isn't how app should work. Look at messaging and calling - if you swipe right, you can also clear live tile. So a fully updated app should do the same.

Hmm not sure about that. That's not part of the SDK as far as I can tell.

No all of my social apps works with the 8.1 developer preview update.

Difference between "works" and has all the functionalities of WP8.1

Yeah and the notification center is different than the Liquid...

Mehdoh for twitter has just been updated for 8.1.

They haven't used all WP8.1 APIs to take advantage. The reason was they would lose soundcloud - no?

Glad my twitter beta still works

Yes and it's annoying me. A LOT

I still cant get to know the wisdom behind Twitter... Why do people use it... I find my self using Facebook and as it one place for family and friends... How is twitter useful?

I had the same questions as you, until I created an account and started using it.

Even I have an account... All I see is people connect to celebrities through it...literally beg them to retweet their msg... I dunno what they get out of it... Its my bday plz retweet xyz... I m like wtf... Nothing to do with family and friends... Facebook of 3 years back was good... Ppl actually used to update with what's happening in their life... Now a days its just sharing memes pictures and marketing shite...

Quick, short, real-time updates about people/things who matter to u. - that's what twitter is all about. And I dont use fb because well I didnt see the use for it. I Use whatsapp for family and friends. Had an FB account before but deleted it.

I'm the exact opposite. I find it to be much easier to custom taylor the content I'm interested in on Twitter than Facebook. Facebook to me is just a never ending scrolling list of pictures I don't care to see or memes that I saw weeks ago on reddit. If anything, I've only been using Facebook as a universal login service. I think it's good to have both though as social networking seems to be a useful tool for marketing not only brands, but the user themselves.

I was exactly the same for ages...could never quite get into it...now it's my favourite social app. I think of it like this: Facebook is for staying in touch with my family & friends and Twitter is for following things I'm interested in (like bands, news, celebs, companies etc). It's often the best place to hear the latest news of anything you're interested in. For example, i following a few of the WPCentral team, various official Nokia and MS bods, a couple of my favourite artists, various non-mainstream news sources etc.. I guarantee you'll hear about stuff in twitter long before it gets written up and published.... If you want an idea, feel free to look up who i follow - I'm @originalflaps :-)

we're using twitter mostly for communication in turkey.because the media is with goverment and full of lies.
if u are living in a country like turkey, where there's so much protests and corruption, you'll need twitter. because you can't trust anyone but your friends.
if theres some injured protester by police and doctor is needed, we just tweet it and everyone retweets. you got the volunteer doctor where u want :)

Definitely experiencing this!
It was ok early this morning, but now I have the same symptoms you describe. Glad its not just me I guess...

Tried accessing the notifications tab on web gives error we are fixing something.
On android also it doesn't load up

Might be due to the addition of new mute feature which will allow us to hide particular users tweets and all activities on twitter.

How do we get our hands on said Twitter Beta? I'm experiencing the same with 8.1 only 1520

It was leaked accidentally, I have the link, but they are blocking the download option.
http://www.windowsphone.com/s?appid=00465c6f-96c2-44c3-8711-826ef1c5e2b5

Please, please AN UPDATE with some of the excellent things of Android and IOS!

iOS version maybe, but not the Android one ... I hear a lot of complains about it.

Such as? I'm honestly having a hard time finding things I can do in the browser Twitter that I can't do on Windows Phone...

Yup I was sleeping during the beta release and missed it :(, they need to update this its my slowest app

I uninstall it weekly to get pics to load faster. Smh

When I first installed the 8.1 beta it was great as when you trapped on a tweet with a photo, it actually loaded quickly into the tweet... But now its back to either waiting an age or clicking the link instead

Not affected since I use the beta app even if I am not a beta tester of some sort. They disabled it last time but somehow I manage to make it work again :)

I don't have this issue. Go figure.

Crashed to Start screen on the first tweet I clicked on.

Yup, crashing when I view any tweet on my Lumia Icon. Thought maybe there was an update or something, so I restarted my phone, thinking that would fix it, but nope.

This might be a good time for them to release an update anyway. It has been too long.

Only seems to happen on my 625 when loading a tweet with a picture in. Been happening since about 1400 bst.

Yep. Also the 'mentions' (@ tab) no longer updates for me.

The Beta doesn't have any problem.

My Lumin 822 crashed this morning.

Thank god I'm running the beta app.

Hey guys it's smoothly working for me on my Lumia 820

Actually it's not just Windows Phone. iOS users are experincing the issue too based on tweets I see to @mobilesupport.

I'm pretty sure I said that.

I know, but many of the the other commenters are acting like it's only WP. Maybe update the title say "Windows Phone and other phones"

I noticed this yesterday. Thought it was my phone but it still crashed after a restart. I hope the beta is going well.

Got rid of the app a couple of weeks ago ... It kept getting fatter & fatter. They really need to add a "Clear Cache" button, It reached 140mb before I got rid of it.

The app is crashing on me everytime I try to open someone's tweet that includes a photo in it. First try. However the Beta version is working fine which may be indication that the update has been submited to the Store.

Yep, crashing. Twitter needs to fix it, and update the app while they're at it!

Lol thank you for this Daniel... I started to think I was alone lol

Yep! L1020 in Costa Rica.

Its been like this for a couple days

So glad I am not the only one! People are saying they are having issues on the website as well, so I don't think an App for Windows Phone is coming yet.

Another annoying thing is, when pressing a tweet to view an image, it takes forever to load. (The embedded vines load faster)

Been experiencing this for about a week or so, luckily enough, I also use the liquid Daffodil app, gleek, no problems with that app

I noticed it yesterday afternoon. Annoying.
+Icon

Thought it was me doing something wrong...

I thought I was the only one... Phew

Mine says connectivity issues and if I trap on home, it crashes.

Ya its happening to me on Nokia Lumia 625 just if I view any tweet

When will twitter updates its app for windows phone?

Oh? I just experienced it like an hour ago only.. Been alright the past few days though. - Singapore

Yes, it's been crashing for the past hour or so.

Started last night on my 1020

Has anyone else not been removed from the twitter beta app/

Yeah its crashing on my Lumia 520 please do you guys have any idea when it'll be fixed

Mehdoh (Twitter client) is working fine, incuding new function Mute.

Mehdoh is good. But sometimes it is very slow, often crashes, so uninstalled. Using MeTweets and Twitter now

Have you tried the version for wp8.1? Updated today. Should be more stable, and faster (assuming you're using the 8.1 dev preview)

This. I updated yesterday and its 10x better than the previous version.

Yes, I'm using the Mehdoh version for WP8.1 in a Lumia 920
It's more stable and faster really

Yup it's crashing on Lumia 820 as well. See this is what happens when developers don't update apps on the regular. Serves them right ! You better fix this **** now !

Devs watch out.. Better fix this shit or else Adrian Gx over here is gonna comment again in Bold.

I've been having this problem since yesterday :(

Same problem on Lumia 800 (wp7.8) Will Twiiter update the app as well?

Nothing to report on my side, Twitter and Twitter Beta both work flawlessly. My 1020 must be Ballmer edition.

I can confirm, it crashes. I feel scroogled.

When is Flipboard coming to windows phone?

My 920 crashing also on twitter

Now they'll be forced to update!

yep just tried it and its crashing when you view individual tweets :|

Tweetdeck for windows is having issues with the notifications only.

Guess that's what happens when they haven't pushed a update in five months.

Yup it crashes on 2 of 4 of My Lumia phones that don't have the twitter beta on it. They should have kept the beta open with allot of people having 8.1 now. For those who know to keep the beta working. They are fine. PS I've found a fix for the Calendar problem if someone needs it. Cortana can send alerts from calendar again. What is helpful allot in my case.

I'm having this issue with the 7-Eleven app.

The problem seems to be occured when the app tries to load how many retweets and favorites the tweet has got.

Yes on mine 625 windows 8.1 preview

it also crashes in my omnia w..after clicking retweet it automatically closes d app

Same here 625 8.1 crashes

Yep. Crashed twice when tried to view Gizmodo retweet. 925

Yep...crashing here...8.1 preview. HTC 8X

No problems until this afternoon when problems started as described. Very frustrating!! Reinstallation doesn't help. Using Lumia 925.

Started last night for me

8.1 Dev Preview on Lumia 925 Official app crashing Not crashing using Gleek which I normally use anyway for Twitter.

It's so awesome that Microsoft is removing deep OS integration and going with the social extension framework! /s Seriously though, this will show us how swiftly problems can get resolved. If we lag behind other OS's on this fix, it'll prove I'm right in not trusting MS on the de-integration plans.

Yes its crash like hell. If I want to see the last 100 tweets it crashes 20 times.

And also after the background task is allowed there is no notifications

Wow. I'm glad I was able to get the beta when it leaked.

Using an 8XT and stock Windows Phone 8.0 (update 3), I do not experience this problem.

What does the PSA stand for? Thanks.

Public Service Announcement.

Same here. Twitter crashes and I had my podcasts and calendar do the same thing until I restarted!

It crashes on my Lumia 800

Mine crashes too. 1520, 8.1.

Is there another twitter app? Like a non-official one that you can recommend?

And it crashes on my Ascend W1.

I thought I was alone! Thank God!!

Honestly I have no clue how to use twitter. Can someone help explain.

Create an account. Follow people who interest you. Use hashtags to find subjects you like. Play the hashtag games. If you're artistic, write jokes or are creative. Reply to people who interest you, comment on their tweets, engage with people. I've gone from 50 followers to nearly 600 this year. I love the creativity of it and the instantaneous feel of it. The shut side of it are teens and vacuous should who crave celebrity attention. Ignore all them. @drofidnas.

Faced the same problem. After finding this at least I'm relieved, that it isn't my individual problem. Hope it will be resolved soon.

No crashing here on the Beta but @ pivot hasn't refreshed for 9 hours and won't manually.

Crashing stopped for me after the 8.1 preview update.

Earlier on lumia 800 app was crashing Now its fine

Yup, crashes often, Tweet It! does too. I knew I'd find an answer here in reliable wpcentral :)

Crashed before 8.1 v2 OS fix. Seems ok after the update..

Yes it crashes - more than before. Because it did crash already, only that now it's more frequent.

Seems buggier, force closes when I try to reply on certain tweets. Posting is still okay.

I'm on the BETA and it's fine.

I still have the Twitter Beta and it's working for me.

It doesn't crashes but is slow little bit needs regular updates. It has not been updated since ages

I have a Lumia 720, and had this problem yesterday. I do feel though the app does need an update anyway.

Twitter has abandoned Microsoft. Their Windows 8 app is collecting cobwebs too.

Will Twitter ever update on the window phone? Twitter on WP look so boring.
Windows Central Newsletter
Thank you for signing up to Windows Central. You will receive a verification email shortly.
There was a problem. Please refresh the page and try again.