Twitter for Windows Phone 8.1 leaks, brings native sharing back, Photos hub integration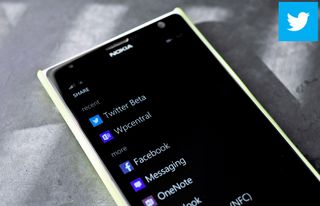 Update 7:45 PM ET: As predicted, the beta app has now been unpublished from the Store
After the dust has settled with the Preview of Windows Phone 8.1, early adopters are noticing quite a few changes, some of which are causing some speed bumps. For instance, Twitter. The app works quite well on 8.1, but the ability to Share to the app has disappeared and it doesn't fully leverage the capabilities of the 8.1 operating system.
The beta build of the app is circulating in an open beta, though it's sure to be closed now that it has leaked publicly. Regardless, here's what to expect in Twitter for Windows Phone 8.1...
Twitter for Windows Phone 8.1 (build 3.2.2.0)
'Share to' fixed, allowing 3rd party apps to access Twitter for link sharing
Photos Hub integration to see and access photos posted to Twitter
Me Tile integration, where posting a status update will launch the Twitter compose window
Mentions auto-scroll to latest mention with auto-refresh
Performance improvements
Unfortunately, the Live Tile is not transparent, yet, though there's still time before release where that can be added. There's no word on when the next version of Twitter for Windows Phone 8.1 will go live, but this build looks pretty polished.
You can find the link to the Store for the beta here, though we imagine that the beta will go private once this news gets out. [App is no longer available]
Via: NokiaNewsIreland
Windows Central Newsletter
Get the best of Windows Central in your inbox, every day!
Daniel Rubino is the Editor-in-chief of Windows Central, head reviewer, podcast co-host, and analyst. He has been covering Microsoft since 2007 when this site was called WMExperts (and later Windows Phone Central). His interests include Windows, laptops, next-gen computing, and for some reason, watches. Before all this tech stuff, he worked on a Ph.D. in linguistics, watched people sleep (for medical purposes!), and ran the projectors at movie theaters because it was fun.
Just grabbed the download and it let me install. Dint see any other reason it wouldn't work.

Seems to work fine, glad I was able to grab it before it went private. Hopefully they have some good updates up their sleeves.

Now all well known apps like WhatsApp,fb,ucbrowser need to be updated for new feature

What's app sucks.... They haven't released a public update from along time.... While android and Ios has these features from along time

now i am feeling ignored with this windows phone !
e1 whatsapp not caring about wp8 users!
on +820 for 1.5 yrs now!
n wat u got till date is 100`s of weather apps!
:P

If it goes private, will I still be able to use it?

No? How come then those who grabbed the Whatsapp Beta when it was open still get updates today? Did that change with 8.1 ?

i think he meant if the app goes private then you can't get that particular update until it becomes public again

@astroXP The people who grabbed the WhatsApp Beta when it was "open" absolutely 100% did not continue to get updates. That's impossible because the next day the Store link changed. Unless the dev team had your email address, you wouldn't know that or the new, now Private, Store link.

Interesting… so that means a couple of people, including you, were added by the Whatsapp developers. No surprise there but I have seen average-Joes mention they have gotten update for Whatsapp. Hmmm.

I never got an update after I grabbed that WhatsApp beta

How is the battery drain please answer me :)

BUUUURRRRRN!!!!! *Kelso Voice*

Good. The correct term is speedier.

I wish WhatsApp would do People integration!

Like I said, I wish they would do!

Y are facebook delaying watsapp update.

Is that a legit question? "Y are facebook delaying watsapp update." *SLAP*

iPhone has way better UIs for their twitter app. Windows Phone's twitter app lacks.

NOT SURE IF SERIOUS OR...
The UI for Twitter is awesome on WP compared to iOS and Android. Troll face is sad now.

Compared to Android maybe, but not iOS. You have to be blind to not see.

Daniel, do you really think that is possible that such big apps like Instagram, FB, Skype, Here and Twitter will make their so traditional color theme app transparent??

Up to the developers of they want to, but I'm hoping as much as you are.

I think yes because of the fact that people are unpinning some tiles to make the home all transparente

Transparency Tiles App do that for Facebook ,Twitter ,Here and some others apps

Yeah, but it's dumb that we have to download yet another app for something that all devs should include already into their apps.

and we lost the LIVE in it. not nice. i'm ultra thankful for Transparency Tiles App tho <3

Downloaded, pictures are loading a lot faster now!

Sweet! That's my main gripe with the current one..

I installed it but it seems "disabled" for some reason. Can't run and the tile on my home screen is dimmed. Do you think they could "deactivate" it somehow? Never seen this behaviour in another app.

Yeah, can't launch it. Weird.

I had to uninstall regular Twitter and the Beta and then reinstall the Beta when I was having this issue.

That worked for me! Thanx!

Mine did that at first, but after I reinstalled it, it worked fine. Oddly enough, clicking on my twitter live tile brings up the option to bring up both.

Same here. Uninstalled Twitter, reinstalled Twitter Beta and it's ok now. :)

How do I uninstall twitter?

Go to the Twitter app in the app list and long press it... then click uninstall. Not on your Start screen, but the app list.

I am unable to uninstall Twitter in the app list. There is not Uninstall. This is bloatware

The Twitter app uses very low RAM according to Batter Saver and is just 4MB, how is it bloatware?

Apparently it's too damn hard to ask for a Twitter app that'll keep it's position when I hit the button to load more tweets. I've only ever seen rowi do that, but it started being kinda weird for me not too long after they had to drop support.

Hey, thanks for the tip. Its working on my phone and was able to post an update via the me tile (of course it opens the twitter beta app when i chose it) However, i notice something i have been truly wanting from the people hub.... it now allows you to show only those contacts with phone numbers! Oh God it's a joy!!!!!

Still doesn't have in line photos. Even my old iPhone 3GS can do that...

Hardware has nothing to do. It's because of software and it's iPhone...

But the photos are inline in the People Hub which is pretty sweet. I was a little worried about the People Hub but with the new integration options in the API, I think the People Hub could be pretty incredible. I was pretty excited when I opened the Photos Hub and saw Twitter as an option but it only shows your own pictures which I find pretty useless. It would be amazing if it showed all the pictures of the people that you follow and the ones posted on your timeline.

Since when did it need to sync to the People Hub? I've already got Twitter linked to my Microsoft account and syncing. Pretty sure I don't need Twitter updating the hub too, right? EDIT: Wait... It's removed Twitter from my accounts list?!

I guess it needs to connect so you can see you twitter updates in the hub. Been very bare before i installed the app. now i see twitter feeds

8.1 removed that integration in favor of API integration like this. This way will allow more services to integrate and update faster.

Faster is relative, imho. I think this needs to be an option.. Allow the API integration INTO the unified messaging and unified notifications, while also allowing you to go the other way if you like. Non-threaded msgs are annoying and disjointed. Yah the notification center is nice, but why should we be forced into the specific app? If its a matter of the infrastructure required to access and serve up to the phone, then let the app take that place and feed unified hub if the user wants. I just don't see a downside or limitation.

There's a new setting in the app, did you try it?

Installed but wont open on my phone, bummer.

Had the same thing. Someone above proposed the solution. In involves uninstalling the regular Twitter and then installing the Beta.

Maybe, but I was running both to compare. Had no issues. Something else is going on, though I'm not sure what.

So I need to have twitter installed so that I can share now? I'm not sure yet but I'm pretty sure I liked how the hub worked before better. Especially with the me hub having everything I wanted to see in one place. And being able to comment on my posts it reply without launching an app.

Why should the tile be transparent? I think its nice that there is variety to the tiles, otherwise the start screen would be boring.


Agree with this. I would hate it if every developer jumped on the bandwagon and starts making their tiles transparent. I'm ok if they make it optional, but don't force it on us. I doubt these big companies will just forget about their branding though. Besides, there are always third party apps that can fill this gap.

It's a simple toggle switch for an option, nothing the Twitter team couldn't deliver.

+925 on the toggle switch, please!

Well it installed but it doesn't run at all.

Great to see the new WP8.1 integration but the app itself isn't improved at all. In fact, with the header bar now as a constant it's actually a worse in-app experience... Hopefully this is just a stop gap until a new, more modern, (with iOS and Android feature parity) universal app for W8.1/WP8.1 is released in the near future... Also, it's taken almost ten minutes to "update people hub". Hmmm.

Should mention it integrates with People hub and replaces the stock Twitter sync. Meaning images posted to twitter will load in the app instead of IE, which I think is a real improvement.

Huge Improvement. This is the one thing that I hated about the previous integration. When it opened up in IE, you had to zoom in and it was not a very good expereince. This is MUCH better

Mmm, just installed it, but the tile got dark and the app doesn't start.

The solution has been posted a few times above.

This app sucks. Just like FB, now we need to open the app to reply, instead of directly doing so from within the people hub.... I really hate the new way WP works with social networks.... (unless I'm missing something...)

I dislike having to go to an app as well. But, unfortunately, it had to go in order to accommodate more apps and faster updates. At least it's still somewhat more centralized than the other platforms...

Agree but it would be nice to respond directly in the People Hub

Yeah... I really don't believe this at all anymore.

No I disagree that it has to be this way for faster updates etc. The API could still function the same way. Obviously the apps are feeding the notification center. It didn't bother me too much that the integration was basic - that's all it had to be. It could still be rich integration as well - just give the option to open in app just like notification center does now.

Hate is a mild word for how I feel about it. The rapid, seamless sharing was what Microsoft promoted hugely about Windows Phone, and was a pleasure to use. Tap boom, that photo flew up off the screen and you were done, with people tagged just as quickly. This is nothing more than what Android or iOS do. Big freakin deal, and thanks for nothing.

Yeah, wasn't that the whole point of the field test they did with Ben the PC guy? About how fast WP is ?

Wow, I forgot these challenges with Ben the pc guy... Couldn't work right now, Wp8.1 should lost all battlez

Let's see what he comes up with now…

I'm trying to figure out a way to rollback to 8.0 but sadly there isn't. The lack of social integration just makes it another iphone but worse. I'm disappointed in 8.1.

If you don't like the new ppl hub integration then just turn it off in the app settings. You can then add / sync the twitter account via OS settings.

Oddly, I was able to download and install, but the app just won't open. I've restarted my phone as well to no avail.

I guess the hub concept is not that dead. In fact, it is much better since any third party apps can essentail access the hub. I mean people and picture integration is seamingly accessble. I guess I will just hope that the hub is actuallh prettier. I think I do like where this is going .

Could you imagine if Instagram or Whats App could be integrated to the people hub ? :-O

It easily could be with the new API's

The hub concept is not dead, it just smells funny.

Indeed. Although I like the functionaly of the new hub. I still prefer the design and layout of the old Hub. Yes, it would be great if whatsapp and other apps could be integrated in the people hub.

You have to consider not everyone likes transparant tiles. The WPC staff talks as if every dev out there is going for transparancy asap. Choice is best but I van understand hoe devs want to keep the identity of the service clear by defaulting the app's signature style in the tile.

Well, location never did work for me: HTC 8X The Netherlands T-Mobile WP8.

Can't post to both twitter and facebook at the same time anymore? I love a lot of things about Windows Phone 8.1 but several things seem like steps backward

Hopefully they also Cortanify it and we can finally send tweets via voice natively.

You can say "Twitter Beta New Tweet" and Cortana will open the app and then listen for your spoken tweet. It's not exactly seamless but it works

You could say "twitter beta new tweet hello hashtag win" all in one go. This was in the //build keynote.

But will this show updates to the me tile when someone mentions you?

I don't think so. You have the app for thay, maybe they have upgraded their own live tile (Twitter beta one)

I just saw this and nabbed it. They might as well make it pubic considering the size of the Windows Phone crowd that reads this site!

How do I uninstall Twitter? I am unable to uninstall Twitter in the app list. There is no Uninstall when I press hold the app. This is bloatware

Has this fixed the notification bug on the live tile? It only ever showed 1.

Nope. Live tile still sticks at 1. Pathetic. Not that its really needed now with the notification centre.

Go to People, tap on you then pin.

So I guess this officially means no more deep integration and we actually have to go through an extra app/tap to post updates/etc? kind of lame :/

Um, I don't think that's correct at all. Let's see It ties into the Photos Hub for direct sharing of images into other apps It ties into People Hub with the new Connect feature It ties into Me Tile for direct posting It will be optimized for Notification Center It has official Share status, not open to third party apps Sounds pretty deep to me. Difference is, it's an app, not built into the OS. That's fine, means dynamic updates and more features.

I said extra app/tap, which still stands in 8.1 unfortunately. there is no direct posting and it goes against the whole smoked by windows phone campaign, (which was a great selling point). now it's no faster than the other platforms at doing the same

With 8.0 when I wanted to "like" or comment on facebook\reply to tweet etc. I could do it from within the feed. I can't find a way to do so on 8.1... Am I missing something ? For me, its a step backwards.

+920 opening the app to view is fine with me and it happens very quick. Acts very seamless.

I typically agree with you Maletesta but I can't ride with you on this one. Having it built into the OS made it fast and easy to use. Relying on an app, an app they have no control over when it gets updated & usually gets updated months later than other OS's, is not a good strategy to me. It also completely breaks the OS UX and kills the consistency with Windows 8 where I can still post to FB and Twitter from the people app without going to another app.

I agree 100% here. I thought and was hoping it would remain because you can still do everything from the people hub on W8.1. Losing the integration bugs me... brings WP down to where other OS's are IMO.

How is there an extra tap? Hit Post an update and twitter opens at new tweet. Same as the old hub. It's quicker than firing up twitter itself because you then have to hit new tweet.

I can't see the difference between this and the current one... I'll keep the beta just for the updates.

You won't get any updates since it's removed from the store now. Unless the devs have your email and can let you in on the private updates.

I think he means notifications. But this is better than the original in that it integrates with the Me hub.

Oh yeah... Forgot about that little detail.

Use transparency tiles for twitter and it will launch twitter beta :D

Looks the same. Is it faster?

Download link still working. +521

I hope if they do offer a transparent tile, that's its optional. I like the color tiles that break the photo background up a bit.

Installed. This will hold me over until the official one is updated.

I really like that it brings in line images to the people hub!

Reinstalled it once more and now its working. Seems faster than the other one..

Yup, Transparency Tiles opens Twitter Beta

Missed the MS Store (beta link-closed-not available).. However, have Transparency Tiles app--->Is the Twitter Beta app (ver:3.1.0.0)-->Transparency Tiles app lauched this..Oh well..lol Twitter for Windows Phone 8.1 (build 3.2.2.0)---->Beta

Bugs that still haven't been fixed: * If I reply to a tweet and it contains text and a picture, only the picture shows up. * When editing anything in the profile, the box where the text is changed disappears beneath the keyboard when I start typing. * If I delete a Tweet, it doesn't disappear from my feed after I refresh it. * When I'm viewing a picture, the bottom part of it is covered up by the text even if I try to move it up. * Loading pictures takes so god damn long. And I can assure you that it's not something wrong with my Wi-Fi or LTE. * Only one notification shows up.

Wait, i have already updated to 8.1 but it said i can't download it :(. I guess i'm too late

Once i uninstalled the beta APP , seems to be it has killed my twitter integration from Hub .. :|

It switched to the 'improved' one. You can restore it by removing the app.

Its gone , like i was able to install 5 mins ago lol

Still miss the multiple post to both Facebook and twitter in Me hub. An option to do it without leaving the hub would be welcomed!

Phew! I thought I was the only one missing that! I always used my phone for updates since the W8 people tile doesn't have unified posting either

Oh man, still the same UI. I was hoping they'd change it for 8.1. Maybe I should be a bit more optimistic, though.

Looks like its been pulled as I have L928 with 8.1DP and can't install it. Oh well.

Still no list management. Cmon twitter. You call this a official app

This desperately needs to be added

I know. I cannot believe its not baked in the official app.

Sharing to Facebook has been removed as well and although i have Facebook Beta installed this doesnt work either.

There is an official non-beta that does tie in, but it does not have the deep integration that it used to

You need to have the nonbeta facebook app ;) Also, is it me, or now the facebook app really is faster? it certainly seems like it. Another thing i noticed, when i click "see more" on a long post, it opens it InApp, unlike before where it would awfully take you to IE. The other thing happened just an hour or so ago, a Toast Notification came quicker than the Desktop Internet Browser notification. That was quite unthinkable before.

http://www.windowsphone.com/en-us/store/app/twitter-beta/00465c6f-96c2-44c3-8711-826ef1c5e2b5

Not available in Philippines...

Twitters shit anyways I don't see the point of it

While we wait for Twitter to come out of beta, here's a very simple app that'll let you share to Twitter: http://www.windowsphone.com/s?appid=ce0fe27f-7bd2-4d47-bb5f-d626f15e101d. Sorry it isn't pretty. Just trying to fill a need :)

Fffffffff! I missed it before it went private! Dang!

You know who's missing a MAJOR revamp? Twitter for W8 ;)

ok. about this transparency tile sh*t. it should be optional. I'm currently using it to to have black tiles by setting a solid color as the background iamge, but I don't want every tile to be black. the pops of color are important. I really hope devs realize that there is major value in an app promoting its own color branding. people have pointed out that Xbox Music and other MS apps like OneDrive don't support transparency. well, that's because they've never supported theme colors. now that people are raving about transparency, it could benefit devs to make their apps support themes & transparency, but I hope apps will allow users to disable transparency and themes

i cant get twitter beta ??? how to get it ???

Really hope they get rid of the MASSIVE header navigation in the new one. Wastes so much space

Not available for 822"???????

Finally, no more t.co shortlinks!

"...posting a status will open the Twitter app..." NOPE, NOPE, NOPE!!! Do NOT want. They already took easy FB posting from me, don't take easy Twitter posting from me too.

Good to see that Twitter is finally working on an update after five months but the UI is soooooo dated!!! iOS, Android and the website itself have long replaced the @ with a bell with black nowhere to be seen. Hopefully the full release will have the refreshed UI, surely it can't be too difficult!!!

For real! The UI is very dated or needs to catch up. Poor Windows Phone support needs to fade away in a couple years.

Am I the only one missing simultaneous FB and Twitr updates via the me tile??

I never cared to use that feature.

you're not the only one - I'm missing it badly. I thought one of the killer features of WP was the social integration in to the OS. I also hate that all FB notifications show up (invites etc) instead of just wall posts...miss the old Me - Notification Center

No you're not. I used it all the time.

Boy am I had I got this. New ways of interacting: Touch the text to see the tweet and decide from twitter app how to interact, touch the picture to see the picture directly in the Twitter app, or touch the reply button to go directly to responding to the twitter handles in the tweet

can anyone tell me how to get this app because it says its not available for my country which suck im USA.

I don't want all the app become transparant..

They should add a message hub like those on IOS and Android

Iconic notification tile please, today's tile look ugly

It's the little things that I miss. Like being able to share items to facebook and have them actually parse links correctly. Or having to reinstall the original fb app. Glad there is time in beta for everything to catch up.

Tried to install in my Lumia 720, it's saying this app is not available for my device!!!

This is kind of related, so Dan please don't delete me. Anybody noticed on the Me Tile the Twitter image is higher quality than Facebook one? Well my Facebook one switches between high quality and low. Didn't bag the Twitter beta so don't know if it would have suffered too.

Anyone know a way to get hold of this since it has gone private now? :(

Come on, I so want this !

What't up ?
How can I download with Lumia720, os 8.1, region Uk

somebody have the .appx? i want to deploy.

It's not a .appx, it's a XAP. And yes, I would love to get a copy to check this out.

Haven't tried installing it yet since I don't have a 64-bit Windows 8 computer to install the dev tools, but if you go here: http://www.windowsphone.com/en-gb/store/app/twitter-beta/00465c6f-96c2-4... Then you scroll down and click on "download and install manually" and it'll let you download the XAP.

Will the official Twitter app ever do a better job saving your current location in the feed, right now it does a horrible job. If you hit load more you lose your spot

Isn't this the same for iOS?

I have a Twitter Beta XAP with me and also a dev unlocked device. Still I am unable to install this xap. I even tried putting it on my sd card and installing it via Store (Install local apps), it remains darkened and cannot be selected.

They need make changes to the user interface and not leave it as is, its slow and inefficient.

Any words on when this is going to be available to download?

Still wondering if/when Twitter will be updated. All recent comments on this site are so disheartening. Microsoft is bleeding, hemorraging, its Windows Phone enthusiasts. Apparently I'm not the only 920 user scanning the horizon for my next flagship who is starting to wonder whether it will ever come. Maybe Twitter knows something about the platform that we don't? I've been the tech pariah among my peers for years now, and I'm starting to wonder if I'm about to become the tech martyr.