onePlayer - App Spotlight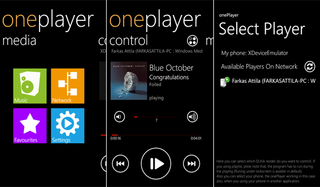 A good number of households have a media server, whether it be a small setup with Windows Media Center on a desktop or a small dedicated server. The average user enjoys streaming movies, music and photos. Windows 7 performs well with the Xbox 360, but what about Windows Phone 7? This is where onePlayer comes in.
onePlayer allows the user to stream content (DLNA) to and from their Windows Phone, whether it be to a compatible TV, home server, media centre, etc. The app sports directory browsing, playlist creation and device discovery on the WiFi network.
Some highlighted features:
Stream pictures to the TV or PC.
Stream music (MP3) to your home stereo.
Stream and control video to the TV.
Listen your music on your windows phone, supporting background streaming.
Browse DLNA servers.
Mango/7.5 compatible
You can download onePlayer (opens in new tab) from the Marketplace for $1.99 (£1.49) with a free trial.
Rich Edmonds is Senior Editor of PC hardware at Windows Central, covering everything related to PC components and NAS. He's been involved in technology for more than a decade and knows a thing or two about the magic inside a PC chassis. You can follow him over on Twitter at @RichEdmonds.
Just what I've been looking for! If this works I'm buying it for sure.

Looks really nice for about two seconds then crashes on my Mango-fied Focus (no SD card installed, so that's not the problem). Uninstalled, re-installed, re-booted, and the same thing.

I get exactly the same issue on my Samsung Omina 7, it did initially find the DLNA server (a TwonkyMedia server) but now crashes as per above :-(

I am running it now (Mango HD7) and it seems to be working. I think it is building a database of music from my media server right now although the interface does not give much feedback as to what is going on. If it works as desired I will be happy. It may need to give a little more feedback to the user when it is working on something, e.g. a progress bar.

How on earth did you get it setup?I cant seem to get it to see my Win7 PC?I believe I have done everything to enable my Win7 PC to share etc, but still nothing...

Okay, the Blue October screen-cap got my attention so I'll definitely have to check this app out....Is that seat taken?

this look interesting app for sure

So a fairly disappointing experience. It just never seems to pull anything from my media server. It doesn't crash, but it also doesn't seem to do anything. Hopefully there is an update in the works.

Dear all,I would like to thank for all who tried our onePlayer. I collected all review-s and comments, and I created new fix for these problems. I hope you will enyoj that.ver1.1:- fixed startup problem- compatibility improved for dlna devices- information message when playlist, favourites list changed- bugfix in playlist handling- small bugfixesThis Update already uploaded to market, few days and you will recevie...regads:Attila Farkas

Good to hear there's an update since I had the problem with it crashing on start. I'll be sure to try it again when the update comes through. Do you have a feedback site for any future problems?

HiI get a crash log. Now I get another bug, some device didnt support icon, or the url is not valid. So I tried to fix it. But this fix will be availbe in 1.02. Another bug, is some device have not correct device discription xml. Example de control url, is not in that format, what was declared by upnp.org...regardsAttila Farkas

Will you be adding Video playback capability as well?

We will plan to play video, and also a imageviewer. But as you know mkv, and many other video format is not playable by windows phone.

Just a note to the bloggers. Now that the new web store is in place its nicer to just give a link to that instead of the zune link. For example: http://www.windowsphone.com/en-US/apps/7f89bfa5-4b18-4c2f-acc3-6fa3be125df5That way you can install it directly from the web (just tried it works great!)

Best to give both, just to give the option for those who may prefer the Zune link.

It looks good on paper, but it crashes on my Windows Phone. So until it's fixed, I'm certainly NOT buying it.
Windows Central Newsletter
Thank you for signing up to Windows Central. You will receive a verification email shortly.
There was a problem. Please refresh the page and try again.