OnePlus reportedly considering a Windows Phone smartphone [Update: not really]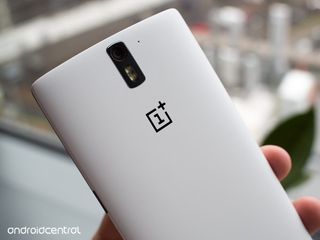 Update: The Economic Times is now stating that the statements regarding the launch of a Windows Phone device were miscommunicated, and that OnePlus is not considering a Windows Phone handset after all.
Original story follows.
The Windows Phone platform has seen the addition of several handset vendors this year, and it look like one more manufacturer is interested in launching a device on the platform. In a recent interview with Economic Times, director of OnePlus Carl Pei stated that the manufacturer is considering a Windows Phone device.
OnePlus has managed to attract a lot of attention with the OnePlus One, a $349 smartphone that offers specs often found in devices twice as expensive. At this stage, it is not known whether manufacturer is looking to offer the OnePlus One with Windows Phone (much like HTC has done with the One M8 for Windows) or whether an entirely new handset is in the works.
Would you guys be interested in a Windows Phone smartphone manufactured by OnePlus?
Source: Economic Times
Get the Windows Central Newsletter
All the latest news, reviews, and guides for Windows and Xbox diehards.
Harish Jonnalagadda is a Senior Editor overseeing Asia for Android Central, Windows Central's sister site. When not reviewing phones, he's testing PC hardware, including video cards, motherboards, gaming accessories, and keyboards.
It's great to see so many manufacturers joining the WP platform, it really is. And I know that these mid-range phones are just what WP needs. However, I'd really like to see a real flagship asap! Something that will come with a bang and set the bar high for the others to follow.

Is OnePlus a mid-range???

Just the price is... Posted via the Windows Phone Central App for Android

If Lumia830 with same price tag is mid-range than definitly Oneplus is also mid-range

Wow that's a really retarded statement. The OnePlus has better specs than the 1520 yet costs as much as the 830. It's as high end as it gets right now.

Now hold your horses there buddy... 3GB of ram is about the only thing it has better than the 1520,other than the price. Spec wise,it has better specs than the 830. Ok... Carry on.

You might want to re-check regarding the specs of each phone: http://versus.com/en/oneplus-one-vs-nokia-lumia-1520

I don't like comparing things using versus because people write utter crap on it like "good design" no - reason: doesn't look like an iPhone, or stuff like that.

I thought that there was some bogus stuff in the comparison as well. I'd still pit my 1520 against it any day.

I put my 1520 against it too about a month or so ago. The 1520 is amazing, daylight readability, etc. The OnePLus is "android" so you already know what you're getting there. The flip side is that OnePlus' battery life is "almost" as good as the 1520 was for me. That is, battery life is about 2 days of average use for me whereas the 1520 was 3+. Everything else on the OnePlus (hardware wise) is, as you can expect, fantastic. In the end it was a no brainer for me, I sold my 1520 because I need two or three apps that don't exist on WP, and third party solutions in these two cases are very sub par. I use my OnePlus with all of my microsoft accounts and largely shun google stuff. It really is a nice device.

If you only use it to compare hardware specs, it's valid. Some of the "reasons" are pretty stupid... For example, OBVIOUSLY a phone with a 5" display is going to be significantly narrower than one with a 6" display with the same aspect ratio. And OBVIOUSLY a *Windows Phone* is not going to run Android Kit Kat. And is being open source inherently an advantage? Not to the vast majority of smartphone users who won't be modding their OS and just want it to work. If OnePlus decides to make a WP certain version of their flagship (AND make it widely available) I'm likely to buy one. It's a fantastic hardware set for an even better price.

Now the areas where the 1520 wins: far superior rear camera (the most important camera IMO, though no HD supported), SD expandability, better battery life, Display may be lower PPI but it has clearblack, etc. Lovely display on the 1520.

Yep true! One Plus One specs are better than Lumia 1520. If I were to get an Android phone, choices are HTC One M8 or One Plus One or the coming Nexus 6. But still a no for me as I prefer WP 8.1 home screen :D

Well, OnePlus runs NO Windows....let it run first and then we can see if it will be better. WP OS is the fastest mobile OS and doesn't need any high specs. It's silly to claim of the slightly higher specs as a number one criterion, since 1520 has WP OS that takes over any android, when it comes to same specs. On the other hand, yes i would like to see it with windows on since it's a quite pretty device, big and qualitative.

But their specs are in a totally different league. The One+ has an 801 SoC, 3GB of RAM, 1080p screen, etc. And it costs just as much (if not less) than an 830. Now, which do you think is a better bang your buck?

Brilliant specs yes, then again nokias warranty is VASTLY superior to Oneplus, not to mention the support around it either. If you focus on only delivering a device to market and nothing else then you can cut costs by alot.

Dunno about you but I'm buying from Microsoft store and pay $99 for 2-year damage and defect warranty. Haven't had to upgrade to a new phone with contract in years. The One+ is a phone with allure. Whether or not the company brings it over as-is or with new hardware doesn't matter so much to me as long as they bring it. Need quality flagship devices under WP more than ever.

All depends on what manufactures they source from ie. Ram, camers soc, storage nand,etc, etc.

WP8.1 doesn't even know HOW to leverage 3 GB of ram. It's currently only optimized to leverage 512 MB, 1 GB and 2 GB devices.

Nope, this phone is as high as a high-end phone, even then some, but with a mid range price. Only problem is, it's invite only. ;)

Show me facts, show me the availability - OnePlus One is only speculated as a WP device at the moment. By the time it's confirmed as a WP device, if ever, it will be yesterday news and OnePlus Two will be selling headlines instead. It's an interesting phone and sure, the price and specs for Android are amazing - it's headline-grabbing because of its price-tag... BUT it's headline-grabbing as an Android device. All the other comapnies that have announced their first WP devices in the past year are all focusing on low to mid-range, and, again, I think it's great. All that is needed now is a device that will make other flagships look pale, something that McLaren was meant to do before getting the chop. I just hope something of a similar magnitude will come sooner rather than later. Personally, I can't wait till Spring to see what comes with Windows 10 and how it will influence the availability of apps. At the same time, I have a feeling that there's even a longer wait for the 1520's successor. Well, it's going to be a looong winter ;)

Completely agree I'm starting to feel like WP is consigned to become a budget product for the low-end and developing markets. WP needs desirable, brand-shaping products and it needs them quickly.

Hold your horses buddy. Microsoft has made it very clear that they are not going to stop releasing flagship devices. Sure its taking longer tha, we would like, but I'm pretty confident that by the end of the year there will be something at least announced if not already on sale.

It cost me $370 and is better than a 64gb $850 iPhone 6+ Posted via Windows Phone Central App

He's not talking about this specific device..

No it's not mid-range very high end. Their One+ One is using a CyanogenMod version on the phone and it's outstanding especially at the price point. I would welcome their phoneas a WP and would consider a purchase.

There are not so many manufactures , its only 1-2 making those phones, yes there are many companies re-badging those phones selling them. eg all those phones lauched recently karbon, lava, blue , many others. they all made by same chinese manufacturer , they just changing the shell and badges for different companies.

Not so its more than htc and the Lumia line there are a whole lot more OEMs are you reading wpcentral daily

Guys, defining a smartphone as flagship or mid -range involves both the specs and the price. L830 is amongst the top of mid-rangers, but it is a mid-ranger nonetheless. The 1+1 is definitely a flagship, even though he has a low price tag, due to his really high specs. Srsly, look them up. That little thing is a monster compared to any mid range out there

True.... Posted via the Windows Phone Central App for Android

As far as I am concerned, any Windows Phone is good. We've been starved for so long.

I'm starved for the next major update! I want to see what else my 1520 can do!

Same here !
Wanna see how the snapping of apps will look like

I'm hoping windows multitasking features make it to windows phone. Heard rumors of dual windows may make it to the 1520. I've been sending feedback complaints regarding the lack of "phablet" on a phablet phone.

No, i would not be interested and the one reason for it is the non-existent support & warranty's of oneplus, you will be hard pressed to find worse.

Are you just making this stuff up? Microsoft and OnePlus both offer a 1-year warranty.

Ok, well thats just wrong, nokia has 24 months of factory warranty on the phone itself but besides that minor difference the terms of said warranty is far better then Oneplus's, with Nokia i can hand my phone in pretty much anywhere or just send it in to the regional repairshop, with oneplus im forced to send it back to the factory, that is a massive difference, especially since the cost of sending a device in a trackable package from Sweden back to Oneplus can set you back 65-100€, money you are not getting back from Oneplus. And then lets not go into the support of said products... In short dont tell me Oneplus has the same warranty and support as nokia, they bloody don't.

The warranty is 1 year, not 2. http://www.microsoft.com/en-us/mobile/support/manufacturers-limited-warranty/ I've had issues with Nokia service before. I had a 920 and a 928 both lock up. Hard resets did nothing. This was before they released the recovery tool, which would likely have fixed the problem. The 920 was on AT&T and they took the phone off my hands and gave me a refurbished unit same day. The 928 was on Verizon, whose customer service absolutely sucks, and they wanted me to send it in to them, at which point they'd send me a refurbished one and be without a phone for several days. I tried getting Nokia involved (this was before Microsoft bought them) and they did nothing to help me at all. They just said to contact my carrier (Verizon). I then ditched my Nokias for a Samsung Galaxy S4 because I was so frustrated with the poor support. I ended up buying a Nokia Icon (which I still use) after Nokia released the recovery tool, as I think the whole problem could have been avoided if I could have recovered the phone myself. Needless to say, I haven't seen the great support you speak of.

Right, what we have here is the failure to think it might be different in other parts of the world (on my part aswell), in the EU there is a mandatory 2 year warranty, this is adhered to by all major manufacturers, including microsoft/nokia. However since Oneplus only resides in China (and soon india as 2nd country) they do not adhere to any of our customer right laws, at all. They do however sell to the entire world, see the problem? Also MS/Nokia has local, i say again, local support for their products, guess where Oneplus offers it, yep, China. http://www.nokia.com/se-sv/support/tillverkarens-begransade-garanti/ As you can understand this is not in english but its still the warranty as is from nokia. So can we for once just acknowledge that Oneplus does not offer the same warranty and support.

No we can not ackowledge that. OnePlus offers a 2-year warranty in the EU. They also say they ship from 3 different continents, not just China. Anything else I missed? http://oneplus.net/support/answer/what-is-your-warranty-return-policy

They may well ship from 3 continents UK being the primary source in EU, that does not change the fact you need to send it to China when trouble arrives. And yes you are correct, they do adhere to the 2 year law now, they did not do so previously, atleast that is something good for a change when Oneplus is concerned The warranty is 2 years now but it still dosent change the fact that they do not have local support in any other country besides China (India will get it soon) and they still behave very badly towards customers who have issues, there is no shortage of people selling their faulty 1+1 2nd hand here. This remains the main issue, if you have any trouble with the phone you will have to get it back to the factory, this is not the same as any of the other manufacturers. And Anyone buying a Oneplus device is saying it's ok.

Omg yes Posted via Windows Phone Central App

I would love to see a 'new' handset personally. However, they better not have that invite system like they do with their Android handset. Totally ruins everything.

This invite system has got to be the worst idea ever. And if it was hard enough to get the One through it, imagine if it comes to WP.

That's because they're new. They're opening up an ordering system this month I think.

It was not an idea, more of an issue of them being new and not being able to make enough supply for the demand. In the future we should see this change.

OT: guys read here if want to read some news about next version reddit[dot]com/r/windowsphone/comments/2j7c1s/new_whatsapp_very_soon_in_wp_store/

Just copy what he has on his comment, paste it in your browser and replace the " [dot]" with an actual dot.

http://www.reddit.com/r/windowsphone/comments/2j7c1s/new_whatsapp_very_s...

If only there was the updated Kik and Instagram app, WP will sore along the skies!!! (and the Cloud ☁)

i am not very optimistic about it but i would be awesome if it happened

Can't wait until advan xiaomi Mito cross whatever those cheap phone vendor gave up to android and join us. It's definitely boost market share

Advan have Windows 8 tablets, but yes no WP.

Yes, it would definately create a buzz. If the Android fans praise the OnePlus so much, and they would make a Windows Phone device, then Windows Phone can't be that bad. It would definately be a good argument why Windows Phone is becoming a respectable OS.

Plot twist, Microsoft purchases Oneplus.

Might just happen they are so cheap right now , although the internet will go wild on Microsoft ;)

Google tried to buy them recently for a billion dollars, but Cyanogen Mod Team declined thankfully. Looks like Google is worried ;3

Google tried to buy Cyanogen not OnePlus. Posted via the Windows Phone Central App for Android

No sht Sherlock. I didn't need you to retell what I just said :v

You said 'them' implying oneplus which is incorrect...read your comment...messed up...:/

It seems that Legoboyii cannot distinguish the difference between Oneplus and Cyanogen...at all.

Your post, when read indicates that google tried to buy "them" but this thread is about OnePLus not Cyanogenmod. If you don't understand how to write a complete thought, at least have a little common decency when people correct you on it.

For the love of Holy Microsoft, I would love to see this. Microsoft is love, Microsoft is life.

Specs : 3 gigs of ram
-------- 16/46 gigs of memory(no sd slot )
-------- nano sim
-------- 13 mp f rear camera witch doesn't work that good ... And 5mp fromtfacing
-------- 5,5" display
-------- 3100 mAh
-------- snapdragon 801
-------- and it just support older LTE (800er bandwidth) ( o2 and t-mobile wont have lte )

16/64GB not 16/46
Micro-sim not nano
It does support LTE on T-Mobile. Posted via the Windows Phone Central App for Android

I own two, they work fine on t-mo LTE, as well as Metro and AT&T LTE.

DO WANT, but they are GSM only though....

Pretty excited to hear this news! Had been looking into the One Plus One handset a couple days ago and thought it would be cool to see a Windows flavored version.

They have a lot quality issues with their phones, right? I remember they also made fun of Windows phone for having no apps. https://twitter.com/echoblue7/status/440856155653275648

I don't know about a "lot" of quality issues, but there appears to be some yellow banding across the bottom of some screens. Don't know about any other topics but both of mine work very well. My gripe is: 1)Android and 2) encryption does not work (can't encrypt my phone).

I would like to buy that but basically, it has no presence here in Philippines.

The Cyanogen Mod team considering a WP flagship. Interesting. Looks like Nadella did indeed have something in mind when he went to speak with them. And I would consider buying a WP OnePlus One as a secondary device. Better yet if it could use Lumia apps (which I doubt). I wonder what pricing we will see too. Undoubtedly good, its android counterpart is 350$ for the 64 GB flagship model.

Cyanogen isn't part of OnePlus, they just male the software. Posted via the Windows Phone Central App for Android

Just a little clarification, CM is not OnePlus. OnePlus is considering a WP, CM is still doing CM. Pricing would be the same, as MS has dropped licensing fees for WP.

Loving all the new support from manufacturers. My only concern is that, despite a flood of new devices, things will go down hill in the sense of the OEMs not properly optimizing their devices to make a compelling experience, and by not providing updates to their older devices (ala: Samsung), and end up degrading the quality of the WP platform. After all, part of what's made WP great has been Nokia's amazing support.

Maybe on the support side, yes but in terms of optimization; its irrelevant to the article because the OnePlus One is a high end device and will perform smoothly regardless.

It's still not good for WP as a whole, Oneplus has a less then stellar reputation due to its crap support of the One, and there is alot of people having issues with their One only to be told that they either need to live with the errors or pay for shipping to asia & pay for repair (yellow banding on screen as an example, there is more)

Nice, like the high specs android infected devices don't lag out of the box

If one can maintain a phone it would not lag even an Android & talking about specs what games & apps does wp have to take advantage of high end specs on Lumia 1520,930 ot htc one m8 ? Not much I'd say.

No s***! Go One Plus GO!!!

They could call it the OnePlus 10 (if it comes out with Win10). Or, since it's a Microsoft OnePlus, they could call it the OneOnePlus.

The same was said about Sony, back in the day

Ofc i will get one , high specs with low prices !

Nope. Their stupid invite only system is absolutely horrible.

Yes! This would be an amazing alternative and we'd have a real flagship from someone other than Nokia/Microsoft. I really hope that they decide to do this.

Shut up and take my money

The missing player... great hardware at great prices. Bring it...

Absolutely but I would prefer a brand new device not a clone of the OnePlus one Android version...I would be the first to pre order today if they do...

Keep em coming. Hope they make high end phones, along with mid, & low range.

Specs aren't everything. After sales support is key and they apparently don't have it. Lumia or nothing for me.

I'd like something to rival the droid turbo that's about to be released. None of the current wp phones from any of the makers address battery life.
I know that wp is easy on the battery so why not make a phone that lasts a few days.. Not the 1520 as its to big..

That's the device that'll save Windows Phone.

Oneplus using windows?it's very good news

Can OnePlus even get a phone to the market without silly contests and invitations? They seem to have very little volume.

I wish HTC Desire Eye will have a windows version too. Also waiting for LG phone. Can't imagine the LG G3 for windows lol.

Lg ain't retarded to launch Lg G3 for windows considering the fact there is no content to serve for a phone with high specs & a industry leading software wp8.1

Definitely would be interested.

That would be cool. That's an awesome android phone.

I would definitely love to see something like the OnePlus One on WP if only to create more competition in the mid range. The 830 looks create but the internals are that of a phone that's more than half the price.

Yup. It's farcical. The pureview tech is not justification.

OnePlus One is a flagship device, check out the specs yourself. Snapdragon 801, 3 gigs of ram, 64 GB internal (350$ model).

I meant mid range in terms of pricing, thus the comparison with the 830. The 830 is let down by the internals. The 820 was practically the same as the 920 when it came to specs but the 830 is bottom range with the same specs as the 630 but just with 1 gig of RAM.

I am very much interested in such a device actually until recently Windows phone does not have a very good midrange device in terms of pricing and this can fill the void along with Lumia 830.

OnePlus One is a flagship device, check out the specs yourself. Snapdragon 801, 3 gigs of ram, 64 GB internal (350$ model)

As long as the device is supported fully and I'm a timely manner. If this device I'd proceeded right it will only be good for WP. And it'll also see msft bring the prices of their devices down to a more appropriate level.

Would be great to see another OEM. More OEMs equal more handsets. More handsets equals more customers.... Right?

More handsets means more customer's I'd say Nah atleast in wp ecosystem because everyone knows how great wp's are.

Great that they are planning a WP, here's hoping that they will release something with a manageable screen size (the one plus one looks too large for me)

Its still smaller than a 1520 :v

He didn't say the 1520 is good for him

If OnePlus can come out with a phone next year based on the new Windows Phone 10, or whatever they call it, then I'm definitely buying it!!! OnePlus Win10!!

Yes please but don't make it a phablet

I hope more follow htc's lead with the m(8)

I love my Oneplus One! I wonder with all of these phones bring available for android and windows if you could dual boot them? Has any developer figured this out Posted via Windows Phone Central App

Yes Yes Yes!!! I would definitely purchase one, the specs are mind blowing
WP10 would run like water flowing from a tap! Lol
Build one pleaseeee!!!

High-End specs on a Mid-Range price? Now that's what I meant of affordable High-End! :D Seriously though, they should not resort to invite system like they did on their current Android device, it turns off many.

Would love to see One plus in wp ecosystem but again "The software turns off the fun" Same as earlier why to remain on wp waiting for apps & games to release when they are present on Android & wp8.1 is just fuckin Unstable Android 4.4 is way better do the fuck you want & it really is legit on Stock Android phones Motorola's,One plus & other OEM's with light skins Except Samsung's,LG's.

Sounds intersting I'd definatley look into it

A workmate got the OnePlus One. I was quite envious apart from the fact that it ran Android. Would love a Windows version.

This is nice to hear but... spending the same money for the same device with WP instead of Android I don't think it's worth it. In fact I'd switch to Android if I ever get the chance of deciding between buying a One. First, even if I love our O.S, I still think Android is better ON HIGH END devices, and takes all the juice out of them and all the specs. If there is a WP i'd buy having the chance would be L735/830, but when it comes to high end, if I ever get that money to spend I'm not going to buy a Windows Phone, I think it's the perfect OS for low and mid range devices, and that's why I loved it so far. Also, even if OnePlus has a GREAT camera, is not Nokia so... it'd be silly. For those ever dying WP users this is something great, good news but for most people... I don't think it'll get the attention.

I would definitely be interested in a OnePlus

I have the OnePlus One, the android version. Great piece of hardware. Using it along with my L920 and I must say, matchmade in heaven!!!!

Don't want to spoil the party guys but be wary of the One plus company!! They have lots of broken promises and seek promotion daily. Wouldn't surprise me if they have just said this as another stunt. Even if it's true it's likely at least a year away minimum. Just take a look at there forums, they play lots of smoke & mirror games and there's still little availability of their Android device 6 months after release.

There is still little availability because the wanted to have it like that. They have this weird invitation system remember? It seems like they want to have this exclusivity with the one plus...

Main reason they have availabillity issues is that they can't produce enough phones fast enough, the scale of the manufacturing is very small compared to the bigger companys and they have said so themselfs. As i have stated earlier, the only reason they can deliver a phone like this to it's price is having no support and shit warranty, personally i cannot recommend anyone a phone from Oneplus until they sort out their support and warranty.

No. Why buy the WP when you can have the Android one and have every app you wand and in high quality? It's the same with the HTC One M8 for Windows...why pay the same for a version with less apps and usability? If it was substantially cheaper then yes fair enough

I'd love to see the one plus with Windows phone!

They should wait for win10. And then release it with a big bang

Yeah...and what would be needed to buy one? On Android it's hard to get an invitation...to get a WP version I guess you'd need written consent from the Pope... Posted via the Windows Phone Central App for Android

I have two of them, and I gave away 3 invites to folks who asked me about them. I didn't think to inquire in WPC to see if anyone wanted an Android device, because I didn't think anyone here would care to leave WP. But next time I'll come here and get a lashing for offering.

I want it so I can retire my 920 to a nice quiet home, where it can wait to be abused when I go on festivals and dubious adventures...

Lol, I can't believe people are comparing this with nokias based on the warranty and customer support XD. I dont care how it runs. Just get me a phone with a bamboo back already!

I think it's a good idea. I think the phone has a good price and specs. The possible issues are: The invite system limits the wide availability,the warranty and the possibility of an Android clone. Having a phone just like it's Android counterpart would be ok,but it needs to be the successor to the 1+1,not the 1+1 while Android get's the latest and greatest. Take care of those things and it has great potential.

I have a OnePlus One and it's amazing. But part of what makes it amazing is Cyanogen and the ability you get to customize your phone, settings, permissions, etc. Still the hardware and price point would be huge selling points if it ran Windows.

Is there an official website where they take suggestions? We should all suggest they go with Windows Phone.

You could try their forums. That's generally where they take consumer feedback.

Please please please please please please please please please please please please please please please please please

I had the OnePlus. Worst device I tested. So many bugs especially synaptics issue. Hope they sort that out.

I have been asking these guys for a Windows Phone ROM for my OnePlus, it would be fantastic if I could slap that on my One.

Cool news. The more, the merrier!

I know this is off topic but I read and article over on weave app about a new Lumia devices showing up to FCC according to the listing its RTM Lumia 1090 sounds like the 1030 successor I think the original source of the story what wmpoweruser.com

I would definetly be interested.

Really interesting as more and more vendors are making their steps in WP..

Give me that! One+One for Windows... Yum yum..

Definitely! Hope they do release a windows phone version of the oneplusone or another model.

Im really excited for this.

I would buy this in a second. Much better than what's been announced so far.

I would prefer to see a few new high end Lumias come to market, but if it is going to be a while then a OnePlus Windows would be a great high-end option. And for the price I think I can overlook the lack of Glance or Qi charging; certainly a device I could be happy with for a year or two.

What I know is that my Lumia 928's screen is tool small for my aging eyes and isn't getting an update from Veizon to WP 8.1. The 928 battery life is pathetic for my heavy business needs. LTE/bluetooth Remote desktop, browsing, heavy call usage. I would welcome a 5.5" screen phone or larger running WP with a removable battery or a 3rd party accessory battery case. No such animal in the WP ecosystem. I have my entire business and family on Verizon. Several lines are not under contract so am free to go anywhere. Really love the WP interface better than Android and IOS.
The lack of selection of a successor to my 928 is making me consider alternatives such as the 1520 on ATT and then the IPhone 6+ on Verizon. Neither of which have an extended battery case yet. I really wish there was WP choic on Verizon of some removable battery phones in the 5.5" size or with an extended battery case option.

I want to see unique hardware come to windows phone that's what is going to bring ppl over

How about Microsoft release a flagship equivalent to the OnePlus One so I can still know that I'm going to get support from my manufacturer. A device like this from Microsoft would be amazing and I'd spend the extra money just to have it come from them. I just want a WP8.1 device with: 64gb internal SD, 2 or 3 gb RAM, 1080p 4.7-5 inch supersensitive scratch resistant screen, Glance, Qi charging, NFC, 801 snapdragon, Adreno 330 (or better) GPU, Pureview 20 MP, 5 MP FFC, Miracast. And can it please be WATERPROOF! (end hopeless rant)

Because OnePlus and Microsoft have two completely different business strategies. The phone you're talking about would cost $900.

I don't think so. I'm pretty much wanting a slightly updated 1520.3, with a smaller screen, that's waterproof. I'd also take 32 GB with expandable SD or 64 GB without (heavy app and game user). And a 10-16 MP PureView would work for me as well. It could be reasonably priced ab the same as the 1520's MSRP when it first came out and I would buy it. That's probably

I want a non-phablet that upgrades every aspect I already enjoy on my Lumia 920.

They should call it OnePlus 10. or OnePlus 8, if they wish to use current winphoOS.

Yep! It's gonna be perfect product, i promise.

looks like they are backtracking now. http://www.phonearena.com/news/OnePlus-NOT-considering-Windows-Phone-han...

Invite only. Not Interested AT ALL. Nokia / Microsoft will make superior devices in the coming years. This company will no longer be relevant anyway. Invite only.. who the fuck do they think they are? lol..

Wow, asshole much? They're a very small company that has only been around for a very short time and their supply chain is very small. They sell their phones at cost, which gives them Lumia 930 features (plus a lot more) for Lumia 830 prices. It's one of the most highly reviewed devices and has got more press coverage than every Windows Phone combined. Who the fuck do you think YOU are? Lol

If there was a one plus one with windows phone out right now, id be all over it at the same price point! I hope they offer it, will be my next flagship as soon as it comes out!

This is what WP needs. A real flagship with an awesome price. I've tried the 1P1 and, apart from Android, it's perfect. Wonderful display, sexy and thin design, infinite battery life. I would like to see a new Lumia 930 with micro SD and a real battery. In other words, a real 5" flaghip from Microsoft, but as far as I see they are only focused on low-to-mid range devices. That's sad (even though I like Lumia 735 sooooo much!)

I hope talks go well because this is exactly what WP8 needs right now, another high-end device that you can use on any carrier (except Verizon). This would join the Icon (RIP), 930, ATIV SE and M8 as a 2014 flagship. The more the merrier.

Honestly after their marketing campaign back fired twice (The sexist one and the destroy your flagship phone one as well) I don't think I'll be interested in buying a OnePlus device. It's like the company is being runned by 20 year olds who have no experience what so ever in the industry and decided to act hip by making these campaigns. I mean I could be missing out on a great device but honestly, get the marketing department out of their asses.

If it's true, competitively priced, and does have the weird quirks of BLU line, I'd be interested.

uhhhh, yeah. I'd pre-order one for sure.

Fuck this, I'd drop my money on both an android version and a Windows phone version. Just for shits and giggles. Still love my 1520 tho

this would be an amazing phone to own. i hope they're seriously considering making it.

MS need to camp in for some time in China and third world countries.....sit with all these OEM and tell them WP is free!!! Convince, Cajole or even subsidize those OEM's.....and let likes of Xiaomi, Oppo, Gionee make WP phones with Top of the Specs at cheap prices just like their Android offerings (between 200-300$) even if that cannibalizes their own offerings but will serve well in Third Wold Nations........Just Do It, please.

A friend of mine has a OnePlus One, and it is a seriously gorgeous bit of kit. Windows Phone would gain some serious hardware cred with its one OnePlus One model! It would show OPO fans that the platform is of interest to groups other than the remnants of Nokia and budget-handset manufacturers.

OnePlus One, such a weird name for a manufacturer...

That is a GREAT looking phone, and I've never heard of it. This will be something to consider if MS doesn't put out a new 5.5" flagship early next year.

It's a shame this was miscommunicated. I would love to see a OnePlus One for Windows

Nope, not interested in Chinese nonsense.