Open and edit RAW image files with Rawer for Windows Phone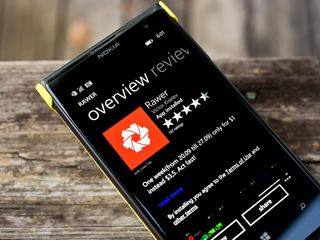 Rawer is an image editor for your Windows Phone. While many will shrug their shoulders and mutter, "Ugh, another photo editor!?" what sets this image editor apart from other editors is its ability to open and edit RAW image files.
Rawer will not only open and edit RAW (DNG) images captured by a Lumia 1020, 1520, 930 or Icon but the app can also open RAW files from several DSLR cameras. The app has OneDrive support and has the ability to check the image EXIF information.
Rawer is a Windows Phone photography app that definitely has a certain level of appeal for those who like to dabble with RAW image files.
For those not familiar, in the simplest sense, RAW image files are much like a film negative while JPEG images would be similar to Polaroid photos. JPEG images receive post processing adjustments within the camera and the output a "ready to go" image. Much like your Polaroid image is.
RAW files receive no post processing in-camera, are larger uncompressed files and relies on the user to make any adjustments in a photo editor before saving the image in JPEG, TIF or other image formats. Much like your film negative is dependent on a darkroom to produce an image.
What Rawer does is allows you to open a RAW image file while making minor adjustments during processing, allows you to fine-tune things through an editor and then save the final product as a JPEG image. Much like you would process a RAW file in Photoshop.
No Nonsense Layout
When you first launch Rawer, the app searches your Windows Phone for any DNG files (Lumia's RAW file format) and populates a gallery with JPEG thumbnails of each. Beneath the three-dot menu on the main gallery you will find options to open a file, view the about screen and access the app's settings.
Rawer's settings afford you the option to:
Use the White Balance settings from the image
Turn on or off the Auto Brightness
Half-size the image for quicker processing
Turn on/off noise reduction
Rawer is available for low-memory devices but with the smaller memory size, the app can be a little on the slow side. To help speed things up, you can turn off the noise reduction and open the image at half its original size.
The Open File command opens up your file sources to OneDrive and microSD cards (if available). The app will not edit JPEG images and while Rawer does support many DSLR RAW formats, manufacturers often tweak their RAW files with each camera model. Don't be shocked if your Canon .CR2 RAW from some camera models will not open. It's my understanding the developer is building up the list of compatible cameras slowly but surely.
Editing your RAW files
Depending on the app settings, don't be surprised if it takes a few seconds to open an image with Rawer. The image will eventually appear full screen with options to share, save, edit and view the EXIF information.
Before we go too far, Rawer is a free Windows Phone app but you will need to unlock the editing tools through an in-app purchase. This normally runs $3.50 but for this week, the developer has dropped the IAP price to $.99.
Editing tools include the ability to adjust the following:
Contrast
Exposure
Brightness
Saturation
Sharpness
Hue
The only tool I see missing is a crop tool. The editor does include a before/after feature that will split your image in half, showing the unedited image on one side and the edited image on the other side.
Once you are done fine-tuning the image you can save it to your Pictures Hub as a JPEG image. Images from the Lumia 1020 are saved at a resolution of 2176 x 3864 pixels at 72 dpi. In comparison, the JPEG created from within your Lumia Windows Phone from the DNG file has a resolution of 1728 x 3072 pixels.
Overall Impression
While Rawer comes across as a very simple, basic Windows Phone image editor the app is much more than that. It allows Windows Phone users to open, edit and save their DNG RAW files then save them as JPEG images.
This may not sound like a break through to many but it puts more control into the hands of the photographer in how their RAW images are processed. It also helps reduce any image degradation by working with the full image file (41MB+ in size). Rawer isn't as feature rich as what you'll find with a desktop editors RAW converter but it's a nice start.
The app is laid out nicely, has the essential adjustment tools and saves your final image at a slightly larger resolution than what your Lumia Windows Phone does. While I wouldn't mind seeing a cropping tool, its absence isn't a deal breaker.
Rawer will work on any Windows Phone 8.x device but remember, only a few Lumia Windows Phones have the ability to capture images in DNG RAW format. The app isn't going to be a Windows Phone photography app for everyone. However, if you like to dabble with the DNG RAW files from the Lumia Windows Phone or need a mobile app to handle DSLR Raw files, I can see the appeal.
Again, the core app is free which will open your RAW files and then save them in JPEG format. The editing tools require an in-app purchase, which is on sale this week for $.99 (normally $3.50).
*Only the PureView Lumia phones, including the Lumia 830, Lumia 930/Icon, Lumia 1020 and Lumia 1520 can shoot in RAW/DNG.
Rawer - Windows Phone 8.x - 4MB - Free - Store Link
Windows Central Newsletter
Get the best of Windows Central in in your inbox, every day!
George is the Reviews Editor at Windows Central, concentrating on Windows 10 PC and Mobile apps. He's been a supporter of the platform since the days of Windows CE and uses his current Windows 10 Mobile phone daily to keep up with life and enjoy a game during down time.
Seems useful. I'll download it to try it out.

As a photographer, I love the idea

As do I. Now I can edit more files for my apps. Glad this was released before I made my app downloadable.

What is raw files? Please explain me anyone??

It is explained in the article, 4th paragraph.

i Read the article, yet not understand what photos our 520 shoots, raw?

"Rawer will not only open and edit RAW (DNG) images captured by a Lumia 1020, 1520, 930 or Icon"

Lumia 520 does not shoot in RAW. Only PureView cameras.

So this app obviously has nothing we can do with on our lumia 520, right?

No, if you put RAW images on your storage card from a DSLR camera, you can use this app to manipulate those into Jpegs.

Wow. You are a patient man. Either that or you are in a very good mood.

Not all pureview cameras....920 does not save raw format if I'm right.

520 captures images in JPEG format. Only the 1020, 1520, 930 and Icon currently have the ability to capture images in RAW format (listed as DNG on those phones).

No... Not RAW, L520 shoots in a format known as RIPE!

Also from the article, Rawer can edit photos from your dslr loaded from OneDrive. That's why it can be installed on other wp's besides the pureview lumias

Oooh this is a must have for me!!!

No, no, see my original story on AAWP: http://allaboutwindowsphone.com/reviews/item/20125_Rawer_on-device_RAW_editing_on.php - Rawer does save full resolution images - you're using the 'Half size' setting, almost certainly. Also, note that the 1020 is VERY slow at handling RAW files like this. Rawer is only really for the 1520, Icon and 930, with faster chipset and smaller sensors. Steve

Our story does not contradict anything you just said.

I was just pointing out that it gives the impression that saved JPGs end up at smaller resolution. I do agree the default of 'half size' turned ON is confusing.

the 1020 is slow with jpgs let alone raw :(

1020 opens full resolution dngs in about 30 second. Since its a raw editor I don't mind spending extra few seconds..

Which one produces better image? Automatic 5mp by camera app or edited 8mp by rawr?

Depends on if you are better at editing the image than the default phone settings.

I'm guessing since you control everything edited in Rawr the final output will depend on how good your are at it.

That depends on how you want you image to look like. RAW (not rawr as this the sound a tiger makes) Format gives you literally full control over the image, as explained in the article. The processed JPEG Image not so much.

Raw is much better, but have a lot of noise.

As somebody who routinely deals with 36.3MP RAW data from professional nikon cameras, this isn't really editing beyond a basic adjustments. So what's the point?. You're not going to really do anything useful on a phone other than maybe do a white blance correction and then you're trusting your phone's screen which is as color accurate as a color blind person. Single exposure HDR maybe? But the latitude of the RAWs of a phone are a joke, just barrely over jpg. NR? adobe's algorithms work so well and the downscaling of 40-20MP images to web resolutions remove whatever noise you care for in the jpg. Finally overall sharpness isn't really helped because the DNG output of the lumias is ruined due to the craptastic optics they use. You can tell the sensors are pretty good but the 1020's frame edges are so soft they aren't even acceptable in RAW or JPG. So as much as I routinely work with RAWs, I can't help but wonder if workign them on a phone is the way to go. But ok, I'll admit one thing: WP is so far behind apps that yes, thank you for we got a check box checked (can edit raws)

This is what I immediately thought when I read your comment; http://www.youtube.com/watch?v=4a-dR2V1-0Y

I dont know about Android Store or iOS but is there any app than can at least open RAW files? Or are there any camera of iOS device or Android device than can capture RAW image? If yes, then WP store has now the same. At least be happy. Nobody said this is everything about RAW on the phone.

Exactly my sentiment... I shoot NEF files too, and I can't imagine working with raw files on my Lumia 930. It's the same like wanting to work with raw files on the DSLR camera.

Did you try the app? Even without any treatment, DNG pics are MUCH better. And with half of resolution, the nois problem is gone..

Downloading just in case I upgrade my phone to high end in future.. :)

Very cool, for those really pushing the capabilities of the Lumia cameras this will be a great addition. I, on the otherhand, use my Lumia camera as a P&S so I'd rather not deal with RAW files.

Speaking of RAW,have anyone seen the new RedBull BMX pictures captured by 1020??
God dammit no one will ever believe it is captured by 1020!

Yes awesome video.
Hopefully Microsoft makes a 1030 model with upgraded processor and screen.

Processor is not only the main thing.
If by processor you mean that with it,the 1030 or whatever that is,will be faster in taking pics. Your wrong
It needs a DEDICATED IMAGING CHIP for processing.
The 808 had a single core processer and 512 MB OF RAM and taking pics was a blink of an eye. Reason? A Broadcom imaging chip.
Sure the new phone will have a new processer but it also should come with a imaging chip too.
There's a reason why the 4 MPX on HTC one m8 uses a imaging chip too.

Quick! Get a bucket!!! The 808 PureView's Amazing Sauce is overflowing onto the floor!!!!!

Amazing app. Upgraded for support and editing, would like more editing tools, white balance, highlights, blacks and other usually found stuff. Overall, Wow.

Raaweeer!! Raawrrr!! Rooowwrr!! Roaarrrr!!!

Raw materials should be handled carefully... :D #downloading

So what's that police box supposed to do?

I haven't dabbled in RAW files yet, but there's no time like the present :)

Don't know if I will need this app, but purchased to support the creator. We need people to stay interested in programming for WP and keep improving the app library. Thumbs up.

This is awesome......but i still dont understand why i am locked into saving multiple files - I just want DNG (16MP), or JPEG (16MP), not both a 5mp + 16mp file (DNG or JPEG)..........it makes no sense whatsoever why I have to go through my phone, and transfer the higher resolution images to my PC.

What exactly is raw image?

It would be nice if the app supported at least curves. Not using it anyway since I have a 620 but when we go RAW this kind of control would be nice.

Awesome! Will try it on my 1020

L920 has a PureView camera, right?

Yes it does but it doesn't shoot raw/dng images. Only the device listed do this.

So isn't "all" pureview phones.

Finally, being able to edit RAW (.dng) file in the phone without having to use the computer.

well I don't have Lumia 1020, 1520, 930 or Icon so this app's probably useless

I read this comment just after I posted mine :D

So its only useful on a 1520 | 1020 and a 930 ?

The app can open about 600 raw formats. If you have DSLR camera (Canon, Nikon and etc) this app can be very usefull.

It supports a range of raw files from CRW for canon, NEX for Nikon and PEF for pentax, so when you use wifly card to access photos on your camera from mobile, you can now process your DSLR raw files on your mobile phone. And of course it works with Lumia DNG files too. How's that for you?

Any other suggestions for windows 8 tools to edit the raw images from my 1020? I tried gimp, it gave an error, but seemed to open the file. The color didn't look right however. Any alternatives to PhotoShop?

I dont usually use photoshop when editing raw files. Id better pick lightroom instead.

To answer my question, UFRaw appears to be a pretty good free app for Windows, Mac, and *nix. I'm playing around with it on my Windows 8.1 PC.

you're scared of the big bad wolf , aren't you George?

People complain about everything.... RAW files in Photoshop takes long time to open (on a PC) ... And you expect a phone to open it in what, one millisecond???? You got the only phones that shot in RAW, now the only app that opens and edits RAW ... Stop complaining and be happy!

Why 920 don't have option to raw...?

I tried it with Lumia1020 DNG. It works with full size file jpeg outputs, even offering an option to make half-size 20mpix photos faster than full resolution jpegs of 38.2 mp. Very good work and it's free tool.
Windows Central Newsletter
Thank you for signing up to Windows Central. You will receive a verification email shortly.
There was a problem. Please refresh the page and try again.