Opera Mini browser beta for Windows Phone now available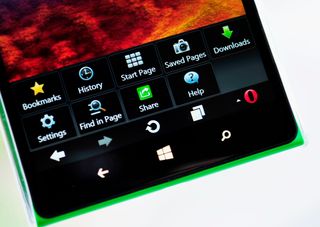 Opera has now launched its first beta of its Opera Mini web browser for Windows Phone, a few days after it started taking email signups to try out the beta release.
Even though Opera seemed to suggest that only people who signed up for the beta test would have access to this early release, this first version is available for anyone to download. Keep in mind that this is a beta release, so there are bound to be some bugs and issues.
Here's a quick list of the Opera Mini's features:
Speed Dial - Set all your favorite websites on the home screen of the browser. Add as many entries as you like!
Smart Page - Smart Page gives you instant updates from all your social sites on one screen.
Tabs – Have more webpages open at the same time, allowing you to switch quickly between them while browsing.
Save pages - Save pages you like for later reading, or for times you're not connected to the internet.
What do you think of this early public version of Opera Mini for Windows Phone? Thanks to Tommy and others for the tips!
Windows Central Newsletter
Get the best of Windows Central in your inbox, every day!
Hahaha(evil laugh) m gonna test it nw..!!! ;)

Yeyyyy... Can download music from sites...

Really? YouTube and everything?

UC browser is able to do that since long

Yep, but uc lacks smoothness, i often read comics online and uc doesnt perform well opening web with many pictures in it.

I don't think so, UC browser preview is very smooth.
BTW, Opera UI is so ugly, but why?

Wondering my self the same thing. Opera Mini never was the best good looking browser out there but the actual design looks so out of it's place on WP... But it's faster than UC Browser for me. Just hoping they would take note of user feedback.

Hi Bogdan, your feedback is important to us, and we have created a discussion thread on our Opera Forum. So please add your comment to the string (http://opr.as/q0m) and our developers will collect your feedback. /Espen

Its not opening in my Lumia 1520

The same on my 1020. It opens and then closes straight away.

You can also do this natively on WP8.1. :/

Thusharya , downloading. Mp3 files and mp4 was available since WP 8.1 is out , I've downloaded multiple. Mp3 songs , works perfect

I'm going to try it, downloading music would be awesome ... uc browser is okay but performs bad on a lot of sites I go to

Wpcentral website doesn't load up properly on opera mini

Hi Pierrerv, this is a beta version of Opera Mini and we are collecting all the user-feedback on the Opera Forums. So please join the discussions here http://opr.as/q0m and we have a look at it. /Espen

Doesn't work.... I'm using WP 8.1 HTC 8x in Romania. It's stuck on the loading screen

You have to wait for the progress bar on the bottom to fill up...

It doesn't fill up for me Reinstalled it from SD to my phone memory, that didn't help. Also, why is there arabic text? Using Google translate, I worked out, it says something about Loading or Downloading (duh :D), but why in arabic?

Same thing as I got, with Arabic..not working

It tries to open but crashes, i've uninstalled, restarted phone, re-installed and no dice. 1020 on WP8.1 Cyan.

Yep, keeps crashing on my Nokia Lumia 920 with Cyan installed.

+1 on the crashing. I use Lumia 925 on T-Mo.

Hi MorbidFun, We're sorry about the crashes, but a fix is now being implemented and it should be fixed soon. /Espen

Mine too starts up then crashes, 920 WP 8.1 Cyan

Hi Tom! Thanks for letting us know. Our developers are working on the crash-issue right now, and a fix should be available soon. /Espen :-)

Mine worked earlier but now its crashing and doesn't open :(

My app was updated this morning, but it is still crashing

Yup, we're onto it :-) A fix will be available soon. /Espen

does this have anything to do with ppl that arent using english language as default on the phone... it wont work... i used finnish lang and when i open it, it stucks on the loading screen and under it its written arabic language wors that i dont even understand, but when i change to english language it almost open the browser but it crashes at the same time wont open it at all :/ goes back to the app list i havent tried to change my country on my phone.... wonder what would happen after i do it

Hi TuanLVT, it seems that the crashes is not related to the language settings. Our developers will release a new build of the beta that should solve the issues. Sorry about this, but you'll soon be able to browse on the awesome Opera Mini ;-) /Espen

I just got new update today and it still does the same thing

Keeps crashing on my 8X (WP 8.1 DP).

Hi Petr2 we're currently working on fixing the issues with crashes, and a fix will be availble soon. Thanks for letting us know! /Espen

Hi redmisfitx, thanks for your feedback. Our developers are now onto the bug, and a fix should be available soon. /Espen

Same for me. I am using Lumia 920 Netherland CV, WP 8.1. IN Romania also...

Thanks for the feedback Paul. Our developers are working on a fix right now, and a fix will be available soon. Hang in there :-) /Espen

Same problem here with Lumia 1020, stuck on the progress bar

Hi Christian, thanks for your feedback. We reallly would apreciate if you give add this to our Forum and we've have a look at it right away. http://opr.as/q0m /Espen

first though once I open this app is that this is a ported app. well, I would expect some MetroUI integration like UC did , its kinda cool an soft on my eyes

Me too...this was my go to app on my N8! Shame you still can't set a default browser of your choice though :/

mine is stuck on loading screen

They should bring Regular opera.

They can't, the only rendering engine allowed on Windows Phone is Trident.

As you can see Opera Mini is using Presto. So, I guess you can do whatever you want.

You really have no idea how Opera Mini works do you? If you did then you would know that it renders the web page on a server using Presto and then sends it to the phone. You're thinking of Opera Mobile which renders pages using Presto on the device it's installed on rather than a server.

Where did they ever state that Trident was the only rendering engine allowed? To me, it seems more like other browser makers just can't be bothered with the effort required to port their browsers to Windows Phone.

Totally disappointed, not impressive. Old school version.

Hi Vicky, please send us your thoughts on our forum (http://opr.as/q0m) and we'll have a look at them :-) But, remember Opera Mini gives you really fast surfing and saves you a ton of data - not too bad either. Link to the Opera forum http://opr.as/q0m /Espen

Sorry to hear Vicky, please give us your feedback in this post on the Opera Forum (http://opr.as/q0m). We're collecting feedback from the users, so we can make the product even more awesome. Best, Espen

Crashing before even start on Lumia 920

Hi, that's not how it supposed to be. Please send us some more info about your experiences and our developers will have a look at it. The WP version, which device you're using and what sites you try to open is useful info to us. Give us feedback here http://opr.as/q0m Best,
Espen

Crashes on my L920 running DP 8.10.14157.200 and Black firmware. I have English as my primary language but also the language pack and keyboard for Thai installed.

Hope you like it Dhruv, and please let us know how you experience the beta of Opera Mini for WP. We've created a thread on the Opera Forums for user-feedback http://opr.as/q0m Happy surfing! Espen

everything is ok... But can't play YouTube video...

My tube, metro tube, toib are the options.

i am not asking for other options... Just telling that cant play youtube videos on operamini

Yeah, he's reporting a bug in the beta browser not looking for alternatives though.

You can't play YouTube videos??? Wtf? For real??

Remember thIs is the first public release BETA.... It's gunna have some bugs...

its not a bug..its a limitation...so we need enhancement for the next version. It is working fine but if you can't play videos then it is crippled IMHO

It might just be me, but I hate that ie now plays videos in-page instead of in a separate window. I struggle to move it around to find the full-screen button. Besides it was awesome when I could choose to launch it in mytube.

Just flip it on its side and hit the Expand button. I prefer the way it does it now, since a lot of the videos I watch I just do it for the audio.

I just love how IE is now showing YouTube videos! Just awesome!

This is for metro tube but it works well. You might find this a decent solution. http://m.youtube.com/watch?v=FMNNbNOyNRQ

If you tap the video area twice it goes full-screen :)

Ive been using opera and opera mini since i had treo and windows mobile devices and opera mini has never been able to play videos and this continues to be true even on android. You guys will have to wait for opera mobile. The purpose of opera mini was always to be fast while saving you huge amounts of data. Everything else that you get is icing.

So I saves data like Nokia xpress browser does? Better, worse? Is out feasible to be used daily? It tops ie in other words?

It's not a bug, it's a feature.

I don't think it is a bug. It is Opera mini for a reason. All it carries is bare essentials required for browsing. Video watching I would presume it would come out on a full blown Opera browser whenever it launches.

It crashes on loading it's own welcome page for me. 925 with 8.1.1.

Hi Susmit257 That's not how it's supposed to be. Please add a comment in our Opera Forums http://opr.as/q0m so our developers can have a look at it right away. It's a beta version and all the user feedback is of importance, Espen

Hi Susmit257, thanks for letting us know. We're working on fixing the issue about playing video on YouTube right now. The fix should solve this problem soon. Please let us know if you discover any other bugs or have any other requests - we're collecting user feedback here http://opr.as/q0m Best, Espen

who needs chrome we got IE and Opera (UC tooo) lol, holy crap did any one figure how to set bing as a default search engine

Firefox to come soon then. But will wait for IE 12 as Microsoft is merging all their things. Btw the msn web site is fucking great.

FireFox? Mozilla announced they killed the metro version of FireFox a while back due to lack of interest. I doubt they will invest in WP.

Yeah, that's pretty sad, as Firefox is my favorite browser

You should give Opera Mini a try ;-) /Espen

Haha, they released a really rubbish 'beta' and then cancelled it because no one was using it. No one used it because it was so bad, not because of lack of interest.

Kind of right and kind of wrong. The beta might have been rubbish..... but by definition beta's are filled with bugs. It was also a gen 1 release so it wasn't meant to come out the gate with the same features as it's bigger better Win32 application. But they never had more then a 1000 users beta testing it concurrently. That is a serious lack of interest.

That's the wrong definition of Beta. Everyone forgets because devs keep reading buggy Betas, but a Beta is meant to be the final step before release. Buggy, in-progress software is Alpha. Firefox Metro was barely Alpha material, so no wonder it got a bad response when it was touted as being Beta.

Kind of depends. You are correct, again but a lot of developers are using beta testing as a way of testing (potentially) bug filled code with the application being feature complete. Even MS does this. Internal testing (alpha). Developer Preview, external Beta testing. (Obviously Geared to Devs)
Consumer Preview, further Beta testing. (Geared more towards the OS itself)
Release Preview, Near RTM but further test out the OS(Yup, further beta testing). Soooo. Yes you are right, I don't disagree with you except the Beta Definition is changing wether we like it or not. Bugs should be expected and app shouldn't suck when they are released in beta but somtimes they are.

Hi Nik We've have not cancelled anything, but launching a beta version of Opera Mini for Windows Phone. We're now collecting user-feedback so we can make it more stable and better. Please let us know what to improve in our Opera Forum thread http://opr.as/q0m. I guess downloading a browser that helps you save up to 90% data on the Internet isn't too bad ;-) /Espen

Haha .. They are talking bout Firefox metro beta . Lol

All good, I was referring to Firefox for Windows Store, not Opera Mini :) I will file a bug report though as its crashing on load for me. Thanks for the link!

Yes it's awesome and I love MS services showing up at the top! http://preview.msn.com

Tell me about it. I love how the MSN site integrates all the services. Little touches like the Outlook drop down are awesome. And the news is all relevant to me as well.

Go to Opreas add on center and install bing from there. Worked for me

i didnt get you...friend.. plz if u elaborate. wer is add on center and how to install bing.. but can we make it default browser in wp??

Click on the search box, click on the small drop down next to the default Google Icon, click on "Manage Search Engines", Click on ebay (or amazon or wikipedia), Title = Bing, Address = http://www.bing.com/search?q=%s Save Or try Opera Link from PC

what if i have already deleted wiki,ebay and amozon search engines ...it does not show how to add one search engine

Go to any search site. Do a long press on the search box. Choose 'Add Search Engine'. Set the name as you would like it to appear, hit enter. That's it. It's not very intuitive, I had to Bing it to find out how to do it.

I didn't see an option for bing..only options are amazon, wiki, google and one more..

I hope they will adapt a Modern UI eventually. Mini 8 looks terrific on iOS for example.

Yeah feels like one on nokia asha phone one :P.. Well the UC Browser prev. Is so awesome give it a try ..!

Uc preview telling me to login to Facebook every time I open it.. That sucks!

You're right! Opera Mini for iPhone looks beautiful.

It's disgusting. I won't install it until they make a proper metro ui.

I never found it disgusting though it is dated. Theyve been using it since the days of windows mobile. Great for me as i dontbhave to learn an entirely new ui

Yeah, looks like they made it 20 years ago, it's pretty terrible and doesn't fit at all on a Windows Phone. Looks like a cheap Android app.

Yup my feelings also.. Its UI feels so ancient

I'll forgive the hideousness as it's only in beta. But, the UI needs to improve. Adapt the design language or make it beautiful

Opera Mini 7.6.8. At least it's totally smooth.

Exactly..maybe they just wanted our email addresses. :p

I thought the devs would send everyone who signed up an email with a download link in it? :P UPDATE: Sticking with IE11. Opera imo it looks like something from android. Its a beta, but it still looks old.

Imho, it looks ok, but man, for a beta, I haven't been having crashes. Uc browser crashed like statue of liberty on every alien attack movie on me

I agree. It's better than UC browser. Not better than IE11.

Here's a crash for you -- it won't even start for me. Crashes on loading it's own welcome page. 925 with 8.1.1.

Since windows mobile actually. Most of you guys are pretty new to mobile since so many of you have never seen this UI and arent used to it

Im not new to mobile, and I've seen this UI types before. So im used to it. This still doesn't change my opinion. And yes I know its a beta. I just expected to be more Windows phone less android.

No, that statement proves that you are new. "...I just expected to be more Windows phone less android..." Opera has been using this UX since before they made a browser for Android. Once again, they've been using this since Windows Mobile which predates Android. I think there might even be treo versions of this app that looks similar, though I'm not really sure anymore.

My opinion is based on what is promised. They failed to do so. It has nothing to do being new to mobile or not. Yes opera has used the view allot. WP asks for a different appealing approach to lure people away from the best IE11 or UC browser. And I don't see that happen even if this goes out of beta.

Yes I saw it and looks just like opera mini 5 on my Treo pro

That UI is pretty horrible. But it is a beta so I will not make too much noise about that.

Remember their endless promises for the WM app which never got updated. IE works well enough for me so I'll pass.

Everything okay but,
Uc browser preview for the win!

Man, the browser is butt ugly

In surfing yes but needs ui changes.

Ahh, I remember that UI on my N900.

Terrible scrolling as always in third party apps on Lumia 1520. Getting tiresome...

My sync still workssssssss. From 2007!

Me too, awww, ancient porn!

WPCentral site can't be properly displayed with it. But I guess it's more like your problem than theirs.

It's Opera's. It's light. It doesn't support that many HTML standards. What do you expect ?

A redirection to the earlier and simple version but that's just me.

For ALL the support! (╯°□°)╯︵ ┻━┻

Scores 53 out of 555 on html5test.com

what is the point of another browser when we have IE and UC?

Options, its better to gave more choice.

UC Is just Explorer under a skin, Opera is a new web engine.

Opera is actually an old rendering engine, but I get your point.

Are you seriously asking that❓

Hi wps81 I guess there's a lot of good reasons for downloading Opera Mini :-) It uses up to 90% less data than other browser and giving you faster and cheaper internet (which is a good thing). And ofcourse a lot of other nice features. /Espen

The app is pretty fast but is ugly!

Pretty fast? It is obviously slower than IE.

agree. IE on WP 8.1 update 1 (dp) on my 520 is surprisingly fast, i mean seriously fast...

I also find IE on my 930 is much faster than Opera.

Not gonna lie, its crap..
UI needs a metro touch and the browser seems, 2007ish..
Remember rendering for those old blackberries? Yeah that's it

It's ugly indeed but you know it's only a beta so it (should) get better.

Rendering is not in beta (it's handled on the cloud using their existing Mini service) so that is unlikely to change.

Doesnt work in Finland ;L

I am using Opera on my desk top at home so far knocking on wood I am not having the issues I had with Chrome which only started the last 2 weeks. No more freezing no more issues what so ever. Oh and the same issues were happening with IE 11 ran a virus scan everything good so no idea why the issues. Probably going to put it on the phone too

Check your ADD-ON's and remove any crappy ones

It's just me or that browser doesn't feel like a native WP8 app?

Google the only search engine available?? No thanks Opera.

You can also add the popular search engines "eBay", "Amazon" and "Wikipedia"

For Wikipedia there's a Rudy Huyn which so good

Next up Google Chrome - Never

I used to love this on Symbian

I did to, back on my Nokia N95 and I feel like I've just time-travelled back to 2006. The UI completely rails against the modern UI language, it's not even pleasant to operate, the address bar too small, the search bar is pretty much edundant.

......and it's not loading for me for some reason

Same for me too. What phone do you have?

Crashes instantly on my 925 too :/

It doesn't crash for me, it doesn't do anything

The same here, nokia 920, 8.1 devs preview, not cyan

Works fine for me in my L520 dev preview 8.1 GDR Update 1

Same here, 925 with Cyan 8.1.1 on DP.

For me is except the YouTube bug it works smooth and perfect. It loads in a split of a second. In matter of fact i am writing you this comment from Opera Mini :)))). Oh, if this somehow matters, I am on Samsung ATIV S i8750 (WP8 GDR3)

Same for me on L1020 8.1 preview with cyan

Wouldn't load on Lumia 520

Woa! Opera Mini from Symbian!!!

Opera loaded me the god-awful primitive non-touch mobile version of facebook. Hope this changes on final release...

Hey, I love that version of FB. It isn't choppy at all on my phone, where as the new one used to be.

Does it work together with data sense?

No, as that is native access. But Opera does its own 'data sense' compression. Notice the screenshot above with the Opera IP address.

In addition to what Daniel said: Opera Mini - Uses Opera's own servers for compressing web sites and give you compressed pages on your browser. That's how they save you data. Nothing happens inside Opera Mini app, the pages are rendered on their own servers and just download it on your phone. Opera Mobile - Pages are rendered inside the app, no servers involved here (just like IE on WP)

You can check your saved data in "O" -> Help -> Data Usage

There was probably so many people that signed up, Opera said screw it. They realized they had a market

Of the 5+ sites I have tested so far pages load very slow and render pretty badly

Give'em some slack as this is still in beta. But I do hope the final version should be able to beat UC Browser which is also in beta but have better UI

I hope they plan to adapt the UI to Windows Phone. It looks like the old JavaME app..

It still doesnt have the windows phone like interface

It's Opera MINI. It's not a full browser. It wont load all those sites will all their fancy graphic elements and whatnot. It's not supposed to.

I would up vote your comment but I can't goddamit.

Last time I used opera was on my original touch pro in 2009, was never as good as rendering pages like IEM6 was. So I'll pass.

So smooth, I cant believe this is a beta

It's okay. For those that want a quick Google search this should help. You can't change the default search engine to Bing - in fact, you can't add any new search engines as far as I can tell. The UI is below par functionaly (tiny buttons, tiny everything) and stylistically it is not exactly ModernUI. It's in beta so who knows, hopefully this will change. I ditched Opera Desktop when they switched to Chrome. I had nothing against that move on the whole but they also ditched everything that made Opera great (mouse gestures, IRC, a decent RSS reader, built-in mail client, etc...). A shame, as the Opera link feature would have been useful.

I share your opinion, but new Opera based on chromium engine got even better than Chrome itself. However, I still use Opera 12.17 as my default browser. Guess i am nostalgic for the glory days of Presto Engine :)

There are still mouse gestures. I'm using Opera 24

I stuck with opera 12. typing this on it right now. the new chrome version is garbage. Google everything with no option to change, loss of opera sync, no torrenting, etc. the list goes on. it was a major step back in everyway.


Opera 12 was too slow, and it often rendered pages incorrectly. Although that wasn't Operas fault. The Presto engine requres web pages to follow standarts more strictly than other engines. A lot of web developers don't follow the standarts, or even make adjustments for pages to better work on Webkit. Yes, Opera did lost a lot of functions, but they had to switch the engine to keep up with times. Also, have you tried Maxthon? It has a lot of customisability. I feel it's like a spiritual successor to the old Opera :D

I think Maxthon was described as light version of IE. Or in some circles it was called like "An IE as it should be in a first place" :) Maxthon were using optimized IE engine, I don't know if they switch to Webkit like many other browsers did, including Opera from version 15 and above :) And about Presto Engine on old Opera, you are right. Presto was a power house in its time, but as you said developers didn't follow the standard rules in web developing, so they indirectly killed Presto. :)

Yeah but it loads too much info at a single go. Plus, it crashes.

You can add it. Open some search engine page. for ex. www.bing.com. Long tap on search field and choose "Add search engine". Unfortunately you can't change default search engine. However you can select different search engine and untill you won't close application it will be default for this session.

Yay!!! That UI though.... It needs improvement , to be more modern.

I have an error who sad I can't connect to inthernet

Youtube services i really miss them on windows phone :( besides i use mytube which adds some awesome feature while playing videos....Opera Mini is working fine still found some bug while opening new tab..Keep Working team

That's an ugly ui and is it doesn't render web pages well on my 820

Downloaded content by opera doesn't appear anywhere in phone

Already rocking it on my phone..... Loving it to have on WP too... Was missing it....

doesnt work for me, i didnt sign up, i downloaded directly from the store , it just opens the loading start-up screen and then it stuck. using HTC 8X Win 8.1.0
edit- re-installing

I reinstalled it, nothing changed, still stuck on loading screen

That good ol' days on Symbian..

not working allways keep loading what is this ?

'Not working' isn't Beta, it's Alpha. People are too forgiving of Betas nowadays.

My Symbian memories are coming back

What there is a home page? Lack of a home page and the favorites list irks the crap out of me in IE on WP.

Welcome OPERA :) People, its finally here, it's BETA, stop complaining. If you are not previous Opera Desktop (or Mobile) user like I am with years back, then you don't understand Opera's way of doing things. They release BETA's and then wait for users feedback and fix bugs or adding additional things to it. That's what makes Opera "users first" product. They actually listen to their users. Go to Opera forums, they have active people there explaining whatever question users have. One of the best organized forums on internet. Opera is here to stay, from now on it can only get better, have a patience :) Instead of criticized new comers in the WP world, we should try to encourage them. Opera crew is heavily dependand on their users feedback. Instead of getting angry why some options is not there, try to send feedback to Opera team and let them know. They read every feedback and fix bugs very fast (in few days) :)

Exactly! I've been a user since the Samsung Flip Phone I had. It turned me into an Opera Desktop User. Give them time! It's Beta people!

Exactly what I wanted to say

Didn't Opera switch over to Webkit recently? Did they carry that over for WP?

No, Opera Mini uses their Presto engine, rendered in the cloud.

After a (long) raise to power infinity time..... Thanks opera really :)

Resuming is very fast, uc browser takes time to resume

No Arabic language support !!!!

And yet the loading screen has arabic text on it :D

really stable and smooth for beta.....loved it....but page rendering is god damn awful...

This makes me appreciate the address bar at the bottom.

Tried it. Looks like an Android or IOS port. Why is Google the only search option? Why are there no do not track options? No InPrivate mode? Meh.

Oh wow beta or not this has to be the worst browser I've used on windows phone. The UI butt ugly and it cant even load this site properly. Absolutely pathetic.

It is in beta simply ... :) U know what is the meaning of beta right?! :P

I doubt that they will change much. In fact, fixing the mess they just released, would require them to rewrite from scratch. Opera Mini 7.6 has a VERY OUTDATED render engine (realy out-dated). IE from Windows Phone 7.0 is a better browser for todays web. And the interface is just horrible too. Not to mention a lot of missing options. And the fact that other platforms are on Opera Mini 8.

Do you? Beta is something that's almost finished. Like Windows developer preview. Something that's still quite buggy should be Alpha. Don't become accepting of Betas not working just because developers are mis-using the term.

Finally was hell tired of waiting

It doesn't work for me. It just stays on the loading screen with some arabic (or similar) text under it

Oops YouTube is not working on opera when click to watch video....

Wtf...... . The browser just show me the wap site of webpages . Like s40 @@

Doesn't display facebook for me!!! So I am gonna download UC preview ;)

WTF!! There is no windows feel in the UI!! The same boring UI..

They have made the mini version of opera for WP not the opera browser which Androids have.

That's the distinction between Opera Mini and Opera Mobile. This is Opera Mini, with simplified rendering done on the cloud. Opera Mobile has a full rendering engine on the phone.

Faster than ie, i love it

I thought we were getting opera mini 8 with the new white UI.

I'm a big fan of Opera Mini from my Android days and so happy to see this on the WP platform.
I've found a bug in that my Opera Link doesn't login, at all! Love the negativity from the UI 'ra ra' brigade, it's an alpha for crying out loud.
Aesthetics come later...................................

Well the effort is good but few draw backs like swiping of pages not supported, wpcentral website doesn't load fully, but hey at least they delivered it in time I guess

What about vlc player for windows

Nice browsers are now there in Windows phone nice work

WTF with UI I was expecting modern UI at least they should have made ui look like iOS or Android this UI if from stone age.
Hoping that they will change the UI before final release.

I don't know if anybody else is having this problem, but the browser is not working for me. I mean I just get the home page. I can't search the web or open a single website. Anybody else having this problem?

Looks for Android like... Very ugly. :/

Actually it looks like Opera. It looks just like it did on WM6 and also my Samsung flip phone from WAAAAAAY back int he day.

Opera they announced free days back and they released beta version vlc player they announced free months back and still it is not released

wont start on my Lumia 920 with PfD Update 1... just hang on start white screen of Opera Mini...

In my region stucked on loading screen.. EASY TO FIX !! JUST SET YOUR REGION INTO US-ENG (like you are using Cortana )

It doesn't happen that often that I come across such an ugly Windows Phone app. And its render engine is crap too.

No one noticed. No Transparent tile. It's so common problem nowadays. And yes guys like me who are so obsessed of setting up start screen definitely needs a transparent tile.

Seriously? You are expecting transparent tile in its first beta release? Just give them some time eventually they will enable transparent tile.

Not a "common" problem. I like the mix of transparent and non transparent. It gives the phone more character IMO. I don't want a full Transparent Start screen.

Uc preview ahoy ! The 4.0 update for UC is gonna crush opera mini :)

I honestly don't like it, all the websites are old format google looks hideous and so does Facebook Posted via the Windows Phone Central App for Android

And ui should be more beautiful. Waiting for the final product.

Now MS needs to give us the option to choose our default browser

UC browser preview version is damn cool. And way better than this. Do give it a try.

Finally! Opera Mini! Nostalgia :)

Like the layout, but pulls up pages very slowly. Perhaps once the pages are cached it will be better, but time will tell. This could be my new go to browser.

ok, could be.. switching tabs fast and no reloading missing Opera Turbo (or no option to turn off) a little slow rendering

at least we're actually getting Opera haha :)

Really sucks. can't play YouTube videos :|

It's a web browser for smartphones but folks at opera posted a feature phone browser App in windows store. I think so.

First impression after all of 2 minutes of using it is that it's GREAT. Will see how it is later on though. :)

After a few more minutes... it sucks. LOL. No Bing search by default, FB renders in the old stripped down mobile version and I can't find a way to change it... plus it doesn't use ANY of the WP design language. Also, the URL field should be on the bottom.

It desperately needs a setting to move the address bar down at the bottom of the screen. I can't figure out why other OSes havent adopted this. It's a no-brainer. I feel like I'm in the dark ages of mobile browsing having to reach to the top to enter a search or address,

I'm not using my WP today. Does it render websites better than IE? Posted via Windows Phone Central App

Wow. Really loving this web browser. Already it has made such a good impression that I am thinking about using it regularly. It is fast and responsive with some good settings. However, there are a few things I have noticed. One is just an annoyance, the other is a bug. 1. It seems like most sites want to load into their 'desktop' modes, which for some sites is fine and even preferred. But on my Lumia 635's 4.5" screen, it is no bueno for most sites. I cannot for the life of me find a setting with which to toggle between mobile and desktop site modes. 2. While there should be a more intuitive way to add search engines like Bing than the method currently in play, there is a slight bug associated with choosing a search engine in landscape mode. On a small screen like mine, landscape mode is a must when viewing some websites. However, when I am in landscape mode I cannot choose a different search engine. When I click the arrow to change, the UI shows only the search engine currently selected and I cannot scroll up or down and select another. I am sure there are more bugs and kinks to work out but so far I am very impressed. The layout is genuinely intuitive. Every function is easy to find and just a few taps away (no settings are buried two or three menus deep). The browser is fast, responsive and loads web pages in a snap (definitely faster than IE11 Mobile). Great stuff.

I'm failing to find a need for Opera Mini right now. Speed-wise, it's on pace or slower than IE. Because of limited HTML standards, a number of sites that I visit do not load properly. It's not pretty by any means. I know it's still in beta, but they've got their work cut out for them. I see no reason to switch from IE.

What are some of the more intensive sites you have visited that have loaded slowly? Are you sure it's an Opera problem and not a network problem? I only ask because I have purposely visited some graphics-intensive sites and they have loaded in a flash. However, on T-Mobile's network I am also getting speeds of 30-35mbps down.

@Anthony112409p, I've tried it and it's loading any page slower than IE. and it's nothing to do with reception. Try to load wpcentral.com and see how you'll enjoy the experience

@percistratus, I guess I see what you're saying, at least with the wpcentral site. Took about 9 seconds for the mobile site to load satisfactorily, and about 13 seconds to fully load. The ui is also awful-looking in Opera Mini. Good thing there's an app! Winbeta.org, on the other hand, took only about 3-4 seconds to fully load. Cnet.com was slightly strange. It took an amazingly fast 3-4 seconds to load all of the graphical elements, but a whopping 30 seconds to load the page fully. Filmtracks.com, a slightly dated but still insanely graphically intensive site, took about 3 seconds to load all of the graphical elements, and about 9 seconds to fully load. So I guess it is a mix. Most sites load into usability within seconds, but waiting for the site to load fully can be a problem.

@Anthony112409p, I think potential is there, only problem is web standards are either changing very quickly or most websites trade standards for quality. As a result well meaning browsers like Opera Mini are rendered obsolete. That's why IE11 had to start dancing to the Webkit tune. However, I love Opera work ethics. They put people first and listen a lot, so we should see a much more improved product eventually

It needs a major update. Lacks in lots of useful things.

Somehow good for a beta , it shows non-sorted alphabets in words !

WAIT I CAN'T SELECT BING AS SEARCH ENGINE??? OK, uninstalled. I don't care what else it does.

I think the platform will benefit from having another choice for a browser. For desktop Opera users, they will take a second look at WP on this alone. This is good news.

Rendering wpcentral and a few other websites real funny. I think IE is one of the best mobile web browsers out there. You can even save data using Data Sense settings. Up to now I haven't found a reason for a 3rd party alternative

IE crashes a LOT on my Lumia Icon after the latest update. That's my main complaint (and it's a rather important one). Also, it uses a TON of battery. I can barely browse it at all without the battery use shooting up to 25-30%.

@MikeSo, I feel you bro. Nothing annoys more than a crashing app. However, I haven't had that experience before. I've moved from Samsung Focus to Lumia 920 to Lumia 1520, and never once had IE crashed.

Is there an android interface? It would be dreadfully! Posted via the Windows Phone Central App for Android

After using Android and iOS for a while a came to a conclusion that IE on Windows Phone 8 is a lot better than the equivalents mobile browsers. Safari crashes a lot altough performs really well and efficiently detects when to go mobile or not. Chrome in the other hand is not good. Performance wise is good but sometimes it really get me on my nervers when you try to go mobile or desktop mode and it doesn't switch even forcing.

IMO #1 Safari, #2 IE, #3 everything else and it doesn't matter. IE in wp8.1 us a lot more functional and you can only hope for better

He don't work to me. It is stuck in loading screen :/

I love Opera and its my dafault browser on laptop, but that UI.!!!!!!! How could Opera port an iOS UI without thinking.. It looks bad and horrible. They atleast work on bringing native a native app. I dont care about transperent tile at the momoent but a freaking port instead of an native UI ????? Why OPERA why??

Hm it says I'm not connected. I tried over WiFi and 4G...

Ugliest app in store... Pass...

What are the main advantages of uc or opera mini over internet explorer?

fast switching tabs without reloading, forward and back without reloading.. key for me

Hmmm the UI must redesigned.....

I didn't think other browsers were allowed to use any engine other than the IE engine? Is this the case with Opera, or have they managed a way around that?

Wrap text setting does nothing. This was the one thing I was waiting for. Obiously impossible to implement in WP. Gues I'll have to contiune scrolling back and forth when zooming, retarded!

there is an option, obviously not working... but maybe in future

This browser SUCKS so much, I was waiting for this browser BC I thought it will have Windows Phone design like the other apps but it just sucks in everything (design and preformance), uc browser is AWESOME and the new version (4.0) is way more AWESOME than the current one, the new design is AMAZING.

To add search engines, press and hold on the search bar. A context menu will open offering to add the search engine. Example. Open Bing.com press on the search bar then add the search engine via the context menu.

We should NOT have to manually add Bing as a search engine in Windows Phone. It should be the default.

It renders websites horribly, such as Gmail, and it looks like a (bad) direct port of the (old) Android version. Disappointing.

It's a beta of Opera Mini 7.2, don't complain, use it review it and opera will work from there.

still missing some functions such as NO FILTERING (SAFESEARCH), and EXIT button. But its worth the wait... Posted via Windows Phone Central App

Everything seems faster lol

its 99% the same (except the rendering engine) that we had on WM 6.5.X and unlocked WP7 devices. LOL.

Why do some devs insist on not following the UI guidelines for their respective OS's? This looks ugly as sin for a WP app.

Maybe one day regular opera mobile will also make it, bur for that mini needs to be a hit or opera may give up on windows phone. :P

Opera mini sucks UC browser for WP is far Mach better than that even the v 3.6 is better not to mention v4.0

Stop complaining LOL xD
Yes I'm aware UC Browser is better, but it's been with windows phone alot longer, Opera Mini is a new comer, give it time.

How can I find my downloaded stuff on opera mini.....i doesn't shows anywhere?

So, how did Microsoft allow a non-IE based browser on the WP Store, other than negotiations?

Mini runs from the Opera Mini compresser servers technically. Or whatever they're called.

But how does it display websites? Or is it just streamed to the phone? I'm going to turn on airplane mode right quick to test that. Edit: It opens without a connection, so it can't be using streaming from a server. Another edit: I can't connect to opera:about without some sort of Internet connection. I thought I could at least do that on other browsers, or maybe I'm mistaken.

app looks disgusting.. whats so metro/modern UI about this app? from which angle?

I wish it was opera mobile instead of mini, but well, what can be done...

It's new to windows phone kiddo, give it time! I'll bet UC Browser wasn't all that good starting out either.

Not able to play YouTube videos.

Great but I'm totally satisfied with IE

Not working on proxy network. Others browsers are working fine :(

This won't be a good idea unless and until Windows phone provides the option to choose default browser

Looks exactly like the version I got in my old Nokia feature phone, many years ago. Opera was so useful back then, but now with UC Browser and IE, it feels so old. I was curious about it, now uninstalling.

My god, the UI is horrific and google is plastered all over it. Can't really say there's much use for this now that IE is quite excellent.

Already downloaded!!
Has that Symbian feel to be honest. :-S

Ah rubbish... Keeps closing the app when I open it

It's boring. IE is still the best. UC comes next. Esp the beta.

Only has google search... That sucks. Sorry but I just can't do anything google. It does have some good options in it though. I pinned Bing to the quick pages and the Bing page doesn't show up. Just a little bar for search and a big empty page. Don't care for that either. Will keep trying it but for me it's not leaning on the good side.

Probably just a skin on top of trident as Microsoft unfortunately doesn't allow appropriate API access to the OS. Just like with windows RT.

No, not a skin. Opera mini uses its cloud layout engine Presto. Nothing is rendered on your phone

finally its here.. its smoother and faster than uc.. i am happy....

Cant play YouTube videos WHATT!!! And IE loads pages faster than this. I know its a beta app but just saying... Has potential tho... Hope the official version will have good performance.

Seems faster.......wait don't down rank or ban me! The Scrolling on this thing is real smooth and seems to render fast. I did have a crash already though. :(
Another thing it didn't seem to like my corporate WIFI. I had to disable WIFI before I could get it to work. YUP I know Beta! ;)

In Romania,don't works!!!No open... It's a big problem!

Does Opera Mini (or Maxthon, or any of the others) support ad blocking? That would be nice.

Ok seriously, where is the smart page? There is no smart page in my phone in opera. And I think that there are a lots of limitations in the first version.

Nokia series 40 UI.
hating it.
Hoping for the improvement in the future

True.... I believe the worst score for a modern day's browser

UI looks very old but its quite well working

Opened the app and tried a Google search. Awful. Looks like the old school Google. And to make matters worse the default zoom is set to 250% because half of the websites don't work... Tried going to aol.reader.com and it doesn't work either. Ugly app as well. I'll stick to IE and UC Browser.

Good thing they brought the save pages option. A very nice addition carried over from old days

Where are my downloads going ?
Because I can't see my music downloads in Xbox music

I have downloaded it.but unable to find it in phone or application list.plz someone tell me what to do?I m using Lumia 625.

ER... Does anyone else notice that Facebook and YouTube look weird?

Opera Mini... Good old times. Like Symbian never died.

Yeah like Symbian never died

For a beta product I wud say very good..more option for wp and its opera mini not opera mobile..its use for a different purpose compared to opera mobile .. Lets cut dem some slacks though we still want the modern ui

IE feels faster, at least for me!!!

Works much better than IE for accessing eBay. IE always goes to a mobile site and the app sucks for sellers.

Today the browser won't even open... So much for that.

Wow, why did they even bother releasing it is beyond my comprehension...

Terrible. A blast from the past in why I never warmed to Opera in my Windows Mobile. No thanks. Uninstalled.

I don't see the Smart Screen..

Doesnt work in finland :-(

Is folder in files ( app) are showing after downloading ??

Can u tell me why its not visible in my phone application list after downloaded n installed.is there any restrictions for 512mb device.

This was the best browser for BlackBerry Curve; However, I am a Microsoft faithful now... So I think I'll pass. Again, it's reputation is solid in my book.

Ability to save pages is awesome...
i use to use it on my Nokia5130..
Still a basic version but better

Hmm fine, but please redesign the UI, for wp :)

It's time to delete Xpress browser :p

It's just me or they think that Windows Phone is like Symbian!? .-.

It's a piece of junk, that's what it is. It loads all the pages in mobile version and can't even play YouTube videos. Reminds me of the X2-01 I used to fool around with the time when Java used to rule the world.

At last. I last tried Opera mini on my Symbian.

That speed scrolling option is awesome!

This is the worst browser one can ever see on windows phone!! Kudos to opera for this crap...! Now I feel IE11 on my phone is 100 times better!!!

Opera mini nice app but it has some downloading problems.
Problems should be solved in an update

Tries to load, then just crashes on my AT&T L920 with 8.1

Hi, thanks for letting us know. We're onto it and should have a fix ready soon. /Espen :-)

Cool, my Lumia looks like my wife's Galaxy Ace from 2010 with this... Not redesigned, not even a little? Uninstalling asap. Lazy devs or they don't care about WP

it keeps crashing ... WTF... i am on windows phone 8.1.1 dev +925

Hi, we're so sorry about that. Our developers are working on it right now and a fix should be availble soon. Thansk for letting us know. /Espen :-)

Just got the update ...... still crashing though :(..........

Crashing all the time on my Lumia 1020 wp8.1.1 DP ! India

Hi, thanks for telling us. We are working on the issue and the "crash issue" should be fixed soon. /Espen :-)

Passing the loading screen would be an achievement for me on my prev for devs Lumia 620.

Yuck, this is so ugly and that too google as it's search engine. No thank you. Don't need it.

Loved Opera Mini on my old N8 so I'm willing to give this try.

Instacrash on ATIV-S with latest WP8.1

Hi, our developers are working on a fix right now, and the issue with crashing should be solved soon. Thanks for letting us know. We've created this developers string on the Opera Forums to answer questions that you have about this beta http://opr.as/q0m Best, Espen

It's incredible how shockingly unstable this app is. I can't even use the Google search or type in the URL to a website without the app shutting down.

Hi We would like to be better. Please add your feedback to our developers in the Opera Forum. Your opinions are important to us. http://opr.as/q0m /Espen

Browser actually is not that great. I still like IE11 better.

Just enter about:config for more setting

Crashing on start wp8.1 cyan with DP Update 1 on lumia 920
Done restart with no avail

Same here, crashes on Lumia 920, dissapoinded, uninstalling right now

It's not visible on my Lumia 625 on developer's preview 8.1 update 1. Although I have downloaded it.how to uninstall it.

Tap and hold on the app in your app list. Then tap delete when the sub menu pops up.

Opera mini is not visible in my application list.how to find out where it is?

Hi Oussi, we're working on the issue, and we expect to have a fix ready pretty soon. Thanks for letting us know. If you have more feedback on Opera Mini, please send us a note in this thread on the Opera Forum http://opr.as/q0m Best, Espen

...and finally we're on Windows Phone. Glad you like it :-) /Espen

Crash when I start it... :-o

Sorry about that, but a fix is coming to the rescue soon. Hang in there :-) /Espen

As per first public beta... it is good. it is smooth than UC... switch between sites and pages is smooth. loads pretty quick... tested on a lumia 1320 wp8.1 cyan and 720 wp8.1 cyan with 2G,3G,wifi.... impressed. way to go :-)

Yup I felt the same.. Well I guess needs to be more faster in loading heavy pages... Well I still doubt on browser securities, but overall its good but I will stick to IE for now

Crashes each time I try to open it

Hi Tchaikie. We're sorry for the crashes that some of you experiences to the beta. A fix will soon ready and hopefully solve the problem. Thanks for letting us know. /Espen

It sure is good :-) Happy Opera Mini surfing!

At home using opera mini, managed to open Nokiapoweruser and wmpoweruser. It has just beaten ie hands down. Can force the pictures not to appear, yeyi!

Yep, worked good for me a few times...and now crashes everytime I try to open it.

Crashes every time I open it. Pathetic development by the Opera team !

Edit: Yeah it crashed a lottttt

Hi Lance, We're sorry that some experience crashes. We are on to the problem and a fix should be implemented real soon. Solving this issue. We've also created a discussion string on the Opera Forum where everyone can report bugs and request directly to our developers http://opr.as/q0m Sorry about the crashes, but a fix is coming to the rescue real soon. /Espen

App is crashing alot!!!, :(

crush at start on lumia 920 with cyan and wp8.1.

Same to my lumia 925 WP8.1 CYAN GDR1 DPreview.

Nah it doesn't crashes on mine 620 WP 8.1 dp!

YES YES YES Finally a browser that supports ports in the address. Now I can view my CCTV from mobile browser :)

The UI looks absolutely terrible. If they release it like that, I'm going to stay with IE.

Can't even open it on HTC 8x

Crashes on my 1020 Lumia cyan 8.1.1

connection failed when you open the app yay

it crashes when it opens on my 920 8.1.1 . un/reinstalling and rebooting did nothing. i really would like to try this browser as i use opera as my main browser on my comp

Horribly slow, no pinch to zoom, no double tap to zoom, default font rendering is pixelated, needs heavy work

Will try it. I like the interface of UC Browser but I also like Internet Explorer... maybe this one is a mix between the two?

The app is not open (Lumia 630)

Crashes instantly on my 920 :(

920 with P4D WP 8.1U1.... Doesn't work for me. Crashes repeatedly. Power cycled phone, still crashes. Never successfully launches.

Crashing in load screen for me. Uninstall, reinstall, same story.

Hi Barry, sorry about the crashes. Our developers are on it right and a fix will be pushed to the Windows store soon. /Espen

Ah, is this why it has been removed from the store? Glad to see you're pushing updates nice and quick! :) EDIT: Just updated, I'm facing the crashing issue same as before I'm afraid.

Crushing for me as well on load screen on my 1320

925 Cyan here , crashes ...:-(

I used Opera with the same UI on my bada OS a few years ago. Nothing changed.

Doesn't work for me keeps crashing on start up.

it's great to see Opera coming to our party.

I tired to send a bug report but there was an error message that bug report cannot be sent. please open a opera windows phone forum in the opera forums

opera thanks for coming to windows phone family

Bring google chrome to WP............. Said no one ever. :P

Me too, never successfully launched on my Lumia 920 (8.1.) Considering the fact that I've been waiting for it for such a long time, it's really disappointing.

Starts directly in CRASH mode .. Lumia 920

Crashes on my 1020 8.1.1. Good start, not being able to use it and all.

Doesn't work. It wont stay open.

Does Firefox work on Windows Phone smartphones?

Firstly, its a Beta its not supposed to be amazing. Two, search engines must be added manually (comes with google as default like old opera browsers, to add new engines goto the main page of the website *bing.com youtube.com etc* press and hold the search bar and "add search engine") Three, downloads store to the browser, goto downloads, hit your saved file to download to your phone internal or SD card. Four, it doesn't use the IE engine, the website is compressed in the cloud then streamed to your phone *auto blocks ads* (hence the small delay then the lightning load).

While opera mini was downloading I uninstalled uc browser. Plz don't defend uc browser. It does not compare to opera mini. Thanx

Now downloading BRENT CORRIGAN videos...............

I am using on Lumia 930 in uk but when search for things progress does not move and says problem with network my WiFi is okay

Crashing when loading any site on Lumia 925 8.1.1

I like it but its too Android-like

Oh wow, it scored 53 points on the HTML5 test. I'm so... impressed?

It crash all the time on my 1020 wp8.1 cyan update plzzz fix the beta tester

I tried to open it many times shortly after downloaded but it always jump back to the home screen.

Crashes on start on American English HTC 8x 8.1, uninstalled, reinstalled, rebooted, crashes every time. Uninstalled.

Hmm. Well, it crashes. I have a Nokia Lumia 1020 with DP8.1.1 and the lastest pre-Cyan updates.

My Lumia 925 Wp8.1 cyan gdr1 DP unable to open this app. Crashes n auto exit.

It tries to open but crashes, i've uninstalled, restarted phone, re-installed and no good. 1020 on WP8.1 Cyan.

Worked a few times...but now crashes every time I try to open it.

Malísima, it doesn't load

It surely is a lot faster then uc browser but some of the pages don't load up and most importantly no video playback!

I suppose it's just a matter of time before they fix this. Bet we'll have an update before the week ends. I have high hopes for this browser :)

Crash !!!!!! Cant open it n till now UC preview is the best

On my 920, Opera crashes at start up. I guess I'll be waiting for the update to the beta.

There is no private navigation?

Worked for me... And now it doesn't work at all... Crashes so often.. 8.1

Crashing....trying an uninstall re install...lets see

Can anyone tell me if opera mini on other os still use presto engine?, or they are now using webkit?, since i was checking the html5 test and it score really poor

Still not working for me...does not load keeps on crashing Lumia 1320 user here does any one know what could be causing this

Finaly one year waiting is now ended ...........

Thank you Bro ...it works ...

ITS NOT PLAYING VIDEOS (*^^^&%&^****^^#^#$)

Not able to access youtube videos on Opera Mini. when i click on some video to play, it says you need to install an app for this task and when i click yes it says no app available.

An update available already!

An update is available already

An update is available already!

It's simply not fitting into the WP design. Looks like an object from another world

Hey wpcentral and its members . Please help me.
" how to find downloaded apps/softwares via Opera mini beta for WP 8.1 "
I am not able to find it in any folder after downloading even its mention location folder even searching via different file manager like Aerize explorer Pro , metro file manager , Files etc.
Please do help me ....

Hey wpcentral and its members . Please help me.
" how to find downloaded apps/softwares via Opera mini beta for WP 8.1 "
I am not able to find it in any folder after downloading even its mention location folder even searching via different file manager like Aerize explorer Pro , metro file manager , Files etc.
Please do help me

Updated...maybe to fix yhe crashes..haven't check it yet.. Updating

Hi opera software. I downloaded the browser, but still I can't see how it will look like as it is giving me an error message for connectivity failure. Please do something. I am in my Lumia number 720 with DP update 1.

Duckduckgo and many other sites doesn't load properly.. And sometimes can't view downloaded images, it says search an app in the store to view it. Also sometimes app crashes when you try to enter a web address. Since its in beta I hope opera guys will fix this.

Hi all! Today we've launched the beta version of Opera Mini for Windows Phone. The build runs on Windows Phone 8 and 8.1 and since it's a beta, we really would appreciate your feedback. That's why we have created a thread on our Opera forums so you can discuss and report bugs directly to our developers! Your feedback is important and will help us make Opera Mini for Windows Phone even better. Link to the forum http://opr.as/q0m /Espen

Unable to load,crashes everytime in 920

Force closes on Lumia 928.

Mine too. It starts up, then crashes, 925 WP 8.1 Cyan

I guess for the prevs,it crashes

It wont even open on my 920

Not Even Opening On My Lumia 520.... Closing Automatically On Startup.... Crashing Crashing Crashing.... Plz Fix.... :(

Updated just now and the app. Crashed and take me back to my home screen.

I just installed in on my Lumia 925 running 8.1, the moment I start the app a loader starts spinning in the upper left corner for several seconds before the app closes itself. Anyone else experiencing this?

Hi, the application crashes whenever I'm using my data. It works fine when I'm on Wi-Fi but not when I'm using 3G. The application exits and closes. Can't post bug either using it so I'll post it get it here. I'm rocking a Lumia 1520 with Windows phone 8.1 from the Philippines!

Now Microsoft should think how to make IE11 home page awesome by adding Bing image to it, n recent tabs or bookmarks.

It's crashing on windows phone 8.1 . :( so sad

It's not working on LUMIA 1520

Does not work! When the app is opened it closes again.

crash confirmed on L920 Cyan... appreciate the quick response Opera official are giving... hope u guys come up with a quick fix :)

As at today the update still does not open...it forcefully closes while loading to open! What a disappointment!

Doesnt work on 1520 and m8. lol

Immediately closes on my 920 running DP 8.1 (no Cyan). Guess I'll wait until the beta is over.

Like IE better, its faster..

ive signed up for the beta test and downloaded the link above from the store...when i opened it, it crashes back to my start screen =/

I can't open it on my phone....is it because I have windows 8.1 update 1?

After updating on 11th sep 2014 update The CRASHING or EXITING Problems Is STILL THERE :
(1) CRASHING/EXITS atomatically but crashing problem has been minimized in comparison to 10 sep update.
(2) Connection problem is still there i.e. Always says " oops Failed to parse client request. Transcoder: a20-10-06 Client: Opera Mini/7.6.8/hifi/elm".
(3) While SCROLLING the PAGE UP/DOWN IT LAGS OR HITCH IN EVERY 1-2 SEC Interval.
(4) The top search & url and bottom navigation bars r more then enough THICK and the BUTTONS r more then enough BIG.Making screen size small in lumia 630 WP 8.1 where we cant hide our phone navigation bar. OPERA IS THE BEST BROWSER IN MY VIEW FOR MOBILE DEVICES.EVEN I M SO CRAZY ABOUT OPERA THAT I WAS SEARCHING FOR IT DAILY ONTO THE STORE EVEN I M THE FIRST ONE TO DOWNLOAD THIS BETA VERSION.
BUT PLEASE CONSIDER THESE POINTS AND THE REST IS AWESOME SPECIALLY THE SMOOTH LAYOUT.
opera mini i love U.
Simply WOW,Thanks To Opera software And Microsoft.

couldn't find downloaded pdf files in my mobile's phone storage & SD card too. I prefer document as well as other folder option for save destination suggested by Opera mini beta browser. Those files can't seen on computer too. What to do ??

How do I set the speed dial as the home/start page. It always opens to the last window I had open. Where is the option to select?

Is Opera Sync working in beta? My lumia 521 seems to be struggling with this feature. Hope it gets sorted out in final release.

pinch zoom not working on Lumia 521... in case anyone is listening