Opera's browser now comes with a free VPN service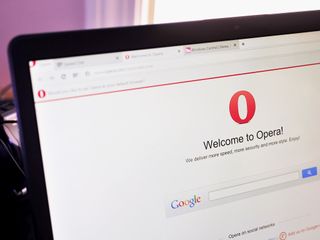 Opera is rolling out an update to its desktop browser that adds a major feature. The browser now features an integrated VPN service that can be accessed by a single click through a toggle in the address bar.
The announcement post (opens in new tab) states that the VPN service will not have any data limitations:
That doesn't mean that the VPN will be limited in functionality, as Opera mentions that it will have features that are normally restricted to paid VPN services, including 256-bit encryption of all traffic:
Hide your IP address – Opera will replace your IP address with a virtual IP address, so it's harder for sites to track your location and identify your computer. This means you can browse the web more privately.
Unblocking of firewalls and websites – Many countries, schools and workplaces block video-streaming sites, social networks and other services. By using a VPN you can access your favorite content, no matter where you are.
Public Wi-Fi security – When you're surfing the web on public Wi-Fi, intruders can easily sniff data. By using a VPN, you can improve the security of your personal information.
A VPN allows you to access region-locked content, which comes in handy when browsing streaming video sites. Opera's VPN allows you to set your location to Canada, Germany, and the U.S., with more countries to be added shortly. The feature is now available in the developer build of the Opera browser. Interested? Download the browser from the link below:
Download Opera browser (opens in new tab)
If only MS moved forward on integrating live Wi-Fi center

I'd seen their VPN offering before, but when it wasn't integrated into the browser. Interesting approach, I use Opera every now and again on my PC. It will be interesting to see how many people use it, since people complain about Windows 10 Telemetry sometimes, yet they are happy to send all their data through a third party VPN - Sure you can probably trust them, but you can probably trust Microsoft just as much.

I've found the setting to turn on, but not how to specify a country so far. One good thing is it's a simple tickbox and no need to sign up to their VPN service (Surf Easy). Looks like data will most likely go through Canada by default based on SurfEasy being based there

Okay found it. Once on you get an orange vpn icon in the address bar. Just click it to see options. Looks like VPN doesn't currently work with Private Browsing windows for some reason

Well... TouchVPN is the best app on windows 10 (both mobile & desktop). You can enable VPN with a touch... no registration required and no dependacy on your browser. It works even when the app is closed on mobile https://www.microsoft.com/en-us/store/apps/touchvpn/9nblggh5gb3f

I second this. I use it on desktop to watch MLB games subject to blackout and it works better than paid services. Surprised and happy.

Question, why on earth someone create a free vpn service like touch? No ads, no revenue, nothing?

Question why do people make free web browsers? Posted via the Windows Central App for Android

AnchorFree Inc. do have a paid service.. the Hotspot Shield VPN. If you think the free "lastpass" password manager is to steal your passwords, better stay away!

I have the paid version of last pass...thanks for you though

Yah but with the browser only the particular tab goes through vpn. So if you want US netflix etc.. You don't have to send all your traffic through it. These guys essentially can collect EVERYTHING. Maybe she's born with it, maybe it's Lumia 950xl

How is MS slurping data by default related to opt-in use of VPN?

It's not directly related really. I think there's 2 groups, people who don't want that Telemetry collection "on principle" (But realise it's anonymous data, they just don't like that they weren't asked or that it could use a small amount of their data allowance) and those that think it's an invasion of their privacy and have built up a notion that MS are "spying on them". The ones who don't like it on principal, that's fair enough and they have to decide what to do (turn it off, disable it through tools, or accept it) There are some people that think it has something to do with invasion of their privacy though, and any unencrypted web requests you make, although encrypted between yourself and the VPN provider, could in theory be read or stored by that provider - So you still have to trust somebody somewhere. Although they aren't directly related, if you don't trust Microsoft or Google or others why would you trust Opera any more? Sent from Microsoft Band

How do you post comments from your Microsoft Band?

Probably voice dictation. He used the microphone. Windows Central for Windows 10-Microsoft Lumia 640

Or his signature is a LIE *gasp* Windows Central for Windows 10-Microsoft Lumia 640

Yeah it's not serious. There's no MS Band app to let you post on WC

I wasn't certain since I figured you could respond to notifications at least via the microphone.

P.S I tried out the VPN today, I'm not personally worried about what Opera can theoretically do with the data they might store, if we worried too much we would still be using feature phones with any data services turned off.

You can switch off the telemetry built into Windows by running Anti Beacon from Spybot... https://www.safer-networking.org/spybot-anti-beacon/

Lol so far hurricane electric's ipv6 tunnel works fine with Netflix(came across this after my father tried to redeem a cdn. gift card for the service). Funny enough I don't think even using static routing of those hardcoded ipv4 dns addresses work anymore

Hey Guys at Opera !
C'mon take a look at Windows Mobile.
You *******.

Is that kind of immature behaviour really necessary?

Terry said loud and clear that targeting Windows Mobile is a bad idea. Can't blame Opera listening what Windows boss advises.

Wow this great..time to install opera on my laptop now

Can it help me watch vidoes that are country specific?

Theoretically it should.. I'm curious if anyone has tried.

I tried, it worked. FIA WRX 2016 was livestreamed and archived through youtube this year and wasn't available in Latvia and a whole bunch of other countrys. Tried out the VPN, set to Germany and was able to watch that video. Without VPN that video doesn't even show up in WRX channel's video list. This video, btw - https://www.youtube.com/watch?v=rzxVFu2h5hQ

So I can finally start using Bing Rewards although I don't live in the US? :P

Ok, sadly doesn't work for me :(

Depends on the country u r living in.

Using Bing and Xbox Rewards just fine and I am "tumbleweeding" around the Europe and Asia. Never applied to physical rewards though as I won't be able to pick em up.

I'm in India I can use bing rewards

Interesting.. I am currently in the Netherlands and (even with VPN) I get the generic "Can't create a Bing rewards account right now" error when I try to join. However, the credit counter is shown on bing.com and the number of credits increases with every bing search. Yet when I click it it says my account is not a Bing rewards account. Weird.

Sorry, I didn't mention that I have US account.

Maybe has something to do with ur windows default language setting? I can use bing rewards on my laptop and venue 8 pro. Win10 US version

I am in africa and I use bing reward. Problem is I can't do anything with the points I earn...

Borderlinx they have a discount on the yearly fee if your a visa user. Personally they've screwed up to many times shipping to Canada that ive dropped them & went with myus

You can use it but cannot redeem it. Tried and failed, got blacklisted/blocked from bing rewards. I'm from India. You'll need a US phone to confirm and redeem.

Can't you bypass it by ordering a prepaid SIM from the US? I know it is somewhat complicated, just looking at different options...

I am in India...i was invited to join bing rewards...and now i am using bing rewards...its called bing rewards beta currently in India...i have already redeemed many freecharge coupons

Can you send me your referral link to join?
I want to join in Bing Rewards

Until they plan on mailing a battery extender to their users, Opera is not going anywhere near my devices. I advise everyone on battery-powered devices to do the same. Every Chromium-based browser obliterates the battery, and Google has shown no intentions of fixing it. So, really, no Opera/Vivaldi for me until they either fix that themselves or drop Chromium (more specifically the JS engine). Sent from Bikini Bottom via my Shell iVenue Pro 8"

Hey.
Do u know how to fresh install win10 on venue 8 pro??

Either in-place upgrade if you have enough space and then reset, or you take the hardcore fresh-install way, in which you have to include the drivers for Wi-Fi and the touchscreen in the installation image.

I have upgraded to win10 using a usb. What I want to know is, how do I get to that option where I choose boot devices if I want to do fresh/clean install?

There is a Win+Power or some other key key combo you press during boot to get the boot option menu. Posted from Bikini Bottom via my Shell XPS 13

My DV8P came with an adapter.

Well thats great, but these days nothing is free Posted from Windows 10 Lumia 640 XL

this is great!!! my gov blocked a lot of site like vimeo, reddit, and tumblr.. now I can stop using hotspot shield

Well.. you can use TouchVPN by the same anchorfree.... The app helps you connect to VPN with a single touch. You don't need to rely on a single browser. You'll also be able to use all your apps and other browsers on your windows 10 desktop & mobile. https://www.microsoft.com/en-us/store/apps/touchvpn/9nblggh5gb3f

I'll be honest, I wouldn't trust it. Better to subscribe to a standalone VPN service with a decent privacy statement, no logs policy and hosted in a country with strong privacy laws

Servers blocked by major sites in 3 2 1...

I use Opera as my primary browser since it launches Chromium version. It's absolutely better than Chrome, especially lightness of browser.

From the Opera forum: "The VPN is still leaking real IP through the well known WebRTC issue. Just test here"
https://ipleak.net/

Nice :) Posted via the Windows Central App for Android

What, exactly, are your concerns? What is the worst that could happen and how likely is it, that anything would?

YEEEEEEESS! I am f***ing getting it right now!!

My lumia 730 on build 10586.204 has a problem...apps like edge and windows central sometimes distorts the pages when scrolling making it impossible to read. I have tried hard resetting it many times and also switching between 8.1 and 10 through recovery tool but i haven't be able to solve the particular problem and the feedbacks dont really help much too
Someone please help...anyone else facing the issue??

Seems that it also moves your comments to totally irrelevant posts

Im sorry but had to ask somewhere:)

Question forum in wc forums

That's really huge... Whoaa.

Torrents question mark. Torrent extension question mark.

Hmm, what's the catch? There is always a catch or cost. Nothing is truly free lol, it either costs time, effort, money or an exchange of something of value.

To be perfectly honest I didn't even know what VPN was just a little while ago but this seems like a great feature. I wonder if Edge would ever get anything like this.
What does the VPN toggle in the Windows 10 Action Center do? Windows Central for Windows 10-Microsoft Lumia 640

W10 native VPN support is pretty poor.

Edge please follow suite with VPN.

I doubt very much Microsoft would setup and operate VPN services for free. In the datacenter, VPN isn't cheap. Free to the general public? Opera has to be paying for this somehow...

MS would be well suited due having huge underutilized Azure data centers around the world. Yet NadellaSofts business plan in consumer space is same as Google's so anything giving users more privacy would be against that.

I downloaded and checked updates but dont see the vpn toggle switch!!!

Go to your settings or preferences and then go security and privacy and you should be able to enable the VPN service

OK. I as a Chinese cannot use it anyway... Posted from Windows Central for Windows 10 on Unsupported Phone.

This is amazing impressive, I'm definitely reinstalling opera, I hope they come back to developing for windows 10 mobile and include this feature.

I just hope this is not a 9-day wonder. Cos this feature is reaaaaaallllly awesome

It is not really a VPN service. VPN would need to run in the system, not from within the browser...
Windows Central Newsletter
Thank you for signing up to Windows Central. You will receive a verification email shortly.
There was a problem. Please refresh the page and try again.