Orange UK rolling out Windows Phone 8107 update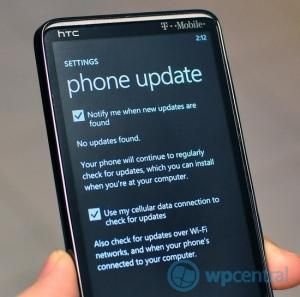 We've just received confirmation that Orange UK is rolling out the Windows Phone 8107 update (for the Lumia 800 anyway). The update addresses the pesky disappearing keyboard bug among other issues. Should you be on the network, and are waiting for the notification, be sure to regularly check Zune when plugged in.
Let us know in the comments should you have the update on the carrier, or are still waiting.
Thanks James for the heads up!
Rich Edmonds is Senior Editor of PC hardware at Windows Central, covering everything related to PC components and NAS. He's been involved in technology for more than a decade and knows a thing or two about the magic inside a PC chassis. You can follow him over on Twitter at @RichEdmonds.
I'm on Orange in the UK, still nothing.. HTC HD7

My HD7 from T-Mobile US is still in 7720 :(
No news of update so far

Also on Orange in the UK and just tried on my Omnia 7 - Still nothing oh well!

Orange HTC Mozart no update "YET"

Yep, it's the US carriers who are horrible at giving updates.

How are they so bad at it?

My Lumia 800 is on Orange UK, and received the 7.10.8107.79 OS update back in January when it was released... why is this news now...?

That's really interesting, I'm on Orange with an Omnia 7, three of my friends are on Orange with Lumia 800. None of us have had this update yet and I've been bothering Orange for weeks about it. Would be interesting to know if anybody else on Orange/T-Mobile with Lumia 800's has had it too.

I too have had the update but I got my phone from Phones4U so mine might be network unlocked and unbranded.

Same here Daedalus_x304.
Had the update since January, and I too had my phone from phones4u (unbranded / unlocked).
Just wanting the new firmware now :)

T-Mobile UK got it too, naturally, since Orange & T-Mobile are pretty much one and the same.

Waiting for Orange France now... I haven't been on their network in over a year, but since I bought it from them, I have to wait for them, right?

I have also been running this version for many weeks now on my Orange UK Lumia 800. Bizarre.

On tmo UK and still waiting

Only got this update this week. I hope Orange speed it up in future. Anyone had the new Lumia firmware yet?

Got it on t-mobile last night :)

No new firmware for me, im on 11500, can I force update? (lumia 800)

Confirmation that Orange 8107 update came down the pipe a minute ago for my mate using a Lumia 800, still nothing on my Omnia 7 but will wait and see.

About bloody time!! This severe delay has put me off going to Orange in the future.

I'm on Orange UK with a HTC Titan and I've had this version since the 07th January. It has been out officially through Orange UK since the 05th January! Why are you guys just hearing/getting this update?

Or, why didn't Orange just tell me that instead of insisting that their developers are looking in to it. They have been taking a kicking on Twitter etc about this because almost all Orange WP users have not had this update. It's a big concern that some have had it, and as far as I know, only the Lumia's are getting it now.

Nokia Lumia 800 on Orange UK - was notified about, and then later installed the Update yesterday.
Better late than never!

As mentioned in a thread in the 800 area I go the TMO update last night for 8107.

As a HTC Mozart owner i may appear biased but i find it a discrace that orange only appear to be rolling it out to the "golden boy"
It's mainly bug fixes, why arent we all getting it?

Got it on my Lumia 800 last night.

Still nothing HTC Mozart on Orange.

Nothing on Omnia7 here either. I can't see them prioritising a device who's cycle is coming to an end. Despite seeing an article this morning about apollo maybe making its way to 1st gen devices - I think the carriers will have the final say. I can see the story ends here for the Omnia7 on Tango.

I am on orange and had a notification on weds 7th march telling me an update was available. I connected via Zune and updated but the firmware was only updated to: 1600.2483.8106.11500. So either Zune has not been updated with the latest firmware yet, or the news about this most battery fix update is incorrect. I'm v interested to hear of other people's experience or if there is another way for me to get the 8107 firmware update. Thanks.

still havent got it. @orangehelpers still have the 'no information' they have had for 3 months
Windows Central Newsletter
Thank you for signing up to Windows Central. You will receive a verification email shortly.
There was a problem. Please refresh the page and try again.