New Windows Phone OS update rolling out. Addresses disappearing keyboard and more.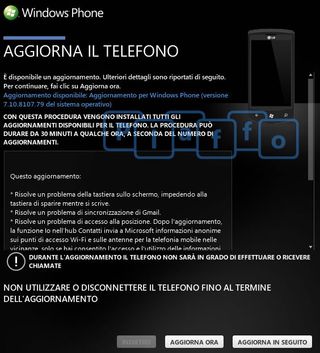 Just a few hours ago we just posted on the 810x builds of Windows Phone and now Italian site Plaffo is noting that their LG Optimus 7 just received the very same update: OS build 8107. More exciting is the news that it came with a list of changes, most of which will make most folks very happy:
It solves a problem of the keyboard on the screen, preventing the keyboard to disappear while typing
Resolves an issue with syncing Gmail
It solves a problem of access to the location. After the upgrade, the function IO hub sends to Microsoft anonymous information contact the Wi-Fi access points and antennas for mobile phones in the vicinity, only if you have allowed access to and use of location information from part of the "I'm here."
Revocation of certificates issued by DigiCert Sdn Bhd to solve a problem of encryption
Fixes a problem with the e-mail related to Microsoft Exchange Server 2003. When you reply to or forward an email, the original message is now included in the response.
Fixes an issue of notification of voicemail
As you can see, this is a maintenance build, addressing many ongoing bugs and issues including the troublesome "disappearing keyboard" which plagues all Windows Phone Mango devices. That keyboard problem occurs when the on-screen keyboard will suddenly disappear when typing, due to certain background tasks "stealing" the focus, resulting in much user frustration. What is not clear, however, is what are the plans for Microsoft and the carriers for rolling this out. This looks to augment the 7740 OS package with even more fixes (if users don't have 7740, this new OS update will add those changes). Since US carriers skipped the 7740 build, they would seem obligated to roll this out to their customers.
In addition, since the Nokia Lumia 710 and 800 are running that update too, users of those devices should expect to see an update as well.
Once again, we expect more info about this OS build next week at CES but perhaps Microsoft will chime in on their blog before then with more details.
Update (6:08PM MST): Microsoft has sent us a statement:
We're told the history page is lagging behind a bit but should reflect changes soon.
Update II: No shocker here, but the update doesn't fix the "SMS bug" according to Tom Warren who tested it. That's expected as it is not listed in the changelog.
Source: Plaffo
Daniel Rubino is the Executive Editor of Windows Central, head reviewer, podcast co-host, and analyst. He has been covering Microsoft here since 2007, back when this site was called WMExperts (and later Windows Phone Central). His interests include Windows, Microsoft Surface, laptops, next-gen computing, and arguing with people on the internet.
Anybody know if this is rolling out worldwide, or just on unbranded devices at the moment?

The update has rolled out to us here in Japan on the Toshiba IS12T. I'm not sure how worldwide, but I suspect that it is releasing in phases.

Not there yet on my Vodafone branded LG Optimus 7 - Germany.

Not on unbranded HTC Titan in Norway either, running 7740 - N Telenor.

With 7740 & now 8710, I'm actually starting to think MS actually cares about us...

Hope to solve the Wi-Fi issue. I can't connect to my router after last update!! [HTC Mozart]

I have issues on my Optimus 7 too.
Try turning off mobile data on WiFi, helps for me.

Does anyone know exactly what the gmail sync problem is/was?

It syncs read mails pretty slow, but this has always been the case, could be a bit slower since Mango or 7740, but I'm not 100% on this.
Not sure if this is ment though.

Yeah, that's exactly why I asked; it's always been the case. I wasn't sure therefore if that was the problem they addressed or not.

I thought the Gmail problem was that server search is broken.
There is another problem with mail that whenever you read messages using another device, the phone plays the "unread mail" sound every time the unread count decrements. Very irritating.

Looks like they should be updating the "Where's my phone update?"site. Or are these not "official" updates? Just curious.

I've noticed that, too, and would like these updates to be listed as well.

I hope this fixes the issues I've had with my Focus and Focus S where the back button and/or the home button get stuck when I hit them once.

Blame Samsung. A lot of my replacement Nexus S devices did this with their capacitive buttons (sticking), and all the Samsung Windows Phone devices are recycled designs and same bodies as Android devices. Samsung just makes cheap devices with good internals lol.

It would be nice if we actually got this update in the US. I own a Titan and so far WP7 updates don't seem any better than the Android phone I came from. The international Titan has been running a newer build for quite a while now.

Seems like the US characters have elected to skip some of the minor updates (7392, 7740) and wait for the larger ones. Hopefully they consider the keyboard fix big enough to push out.

Hop over to XDA and use the cab sender + official update cab combo. It's not as elegant (or official) as Zune but it's just as easy. I've been running 7740 on my Quantum since that update was first released.

Pretty sure that only works on first gen devices, but I would love to be wrong.

wow Microsoft cares lol...
I pray this actually works AND fixes the accuracy issues. I also hope that the GMail sync issue it is referring to is where you try to search for more e-mail in GMail and it comes back with an error.
I'm just glad to see a bug fix rolling out finally. I can wait....it's just good to hear that something is being/has been done

That can't be fixed since Google doesn't give us proper Exchange compatibility. It doesn't work neither on WinMo, nor WinPho, nor iOS. Just on Android since they are using their proprietary protocol.

I thought this as well until I searched for more mail beyond what was displayed in my inbox on my iPod Touch. It brought back search results....

Nothing here, ATT US Samsung Focus 1.3.

Does this fix the sms hack/bug?

Any news about fixing the alleged "SMS of death"?

I'm not even worried about that because it appears to be something that would like...never happen....as opposed to the disappearing keyboard.

I read somewhere on another WP site that it DOES fix it

To be honest, Gmail has been near instantaneous for me. When i have my gmail open in my desktop PC, the email shows up first in my phone even before the desktop web. Usually it's 10 seconds after recieving it in phone when i see it in browser unless i manually refresh.

Same here, never had a problem with GMail. The problem I have is syncing emails with Exchange. When I read an email in Outlook, it doesn't automatically mark it as read on the device. It's a bit annoying when you have to manually refresh the device to mark them as read.

I hate how the phone caches marking messages as read or deleted, such that if you read a message on the phone and delete it, it will not mark the message read. Instead you will archive the message, but it will remain unread in Gmail. With Exchange and Hotmail, your Deleted Items folder will fill up with unread messages.

All I know with my gmail on my Titan (7720, btw), is it doesn't sync when I read a message, and there is "marked as read." I have to manually sync it just for it to update at gmail. Or else I will have a bunch of "unread" messages that I now have to sort through as to which ones I read on my phone vs. others I haven't yet. I hope thats the issue it fixes. But, considering I'm with AT&T US, I haven't even gotten 7740 yet, I probably won't see this update until a month or two from now.....if ever.

Isn't DigiCert Sdn Bhd a Malaysian company?

Has anyone else come across a bug with Zune on the HD7?
Since the Mango update, if I have the phone charging as well as having headphones in, and I'm listening to Zune, I've noticed over time it takes more time to switch tracks before eventually it stops playing music altogether. To add to that, if you're controlling Zune from the lock screen, once the music stops playing, and you go to skip to the next track, the screen freezes and becomes unresponsive. The only way I know to come out of this is to take the battery out. :S Dont' know if this is a bug with Zune, Mango, or just a one-off with the HD7 after the Mango update.

The update is rolling out to Japanese customers on AU using the Toshiba IS12T. I did a software check this morning, and Zune saw and installed the update.

update not yet found for htc arrive in US

Arrive, no 7740 with the important Exchange 2003 fix, no tethering update even though many other HTC phones got one, probably not going to see this update either. Sprint and/or HTC do not care much about us Arrive owners.
The SMS bug where you can't send after exceeding the character limit is still present. My 5 year old phone knows to split the message into two. Why can't WP7?

So I read this thinking 'what disappearing keyboard' and since then my keyboard has disappeared 3 times! Lol oh that was a ms issue, not me trying to figure out this damn phone LOL

Not seeing the update here, yet, either. AT&T Focus v1.3. I even tried the Zune trick, but still says I'm up to date. =(

AT&T Samsung Focus v1.3 here also. Nothing yet. I'm worried that AT&T will shaft us like they did with the previous minor update.

Carriers are only supposed to be allowed to skip one update. Since AT&T took a pass on 7740, I'm thinking we should get this one. Anybody ready for a Focus 1.4 fiasco again?

I've had 7740.16 on my HTC 7 Pro for quite some time now. I was shocked to see the update wasn't pushed to all devices. Glad to see my carrier (US Cellular) hasn't decided to block any of the updates.

Does anyone know if the MAC changing problem on the HTC devices is fixed? It's really annoying if your network has a Mac filter.

I still don't understand why some updates roll out for branded devices befor unbranded. I have an open market Optimus 7 and there's no update for me.

None of these fixes will provide any benefit to me, but I'm glad it'll help a lot of you. I think I'll turn off my check for updates settings and wait for the next one. New features is what I'm hoping for!

My girlfriend has an issue with her HD7. She cant sync with Gmail is contact is selected. If contects isnt selecter the email works fine.
I googled this and there is no real awnser as to they it happends, but it is a problem for some people. Some say its due to the coments field on gamail.
I hope this gets fixed and most of her contact are on Gmail. If anyone cant help I'd be greatful.

With the previous updates I never got a notification on my TITAN that an update was available, I just read about it here and hooked up my phone to the Zune software :). Is this because I have an international/unlocked version? This specific update is not available for me in Belgium right now so I don't know if it will be the same or not, but I'll continue to check over the next few days.

What about the battery issue for Lumia 800.
Or is this a Nokia thing? Sorry if I'm missing anything but I really need it coz it's annoying.

There is a Nokia update for that on the 16th or 18th. :)

According to a XDA user, the exact changelog list for this update is: Updated the Carrier data configuration database Updated Radio Interface Layer, SMS & SIM drivers SMS & Contacts "bug" fixed Updated the Updater Service Updated the Internet Sharing Security Policy Updated the HowTo Application Fixed the Location bug where it shares your information without your knowledge in certain core apps. Updates to Zune & the Pictures Hub Updates to the Default Zune Tuner configuration TCP IP stack updates Updates to the MSHTML parser for IE9 Updates to the Maps & Search functions Updates to UI framework driving the phone (Splash or UIX as some call it)

Updated via the CabSender tool which can be found on the XDA forum. Keyboard bug is squashed! Jeej!

I am really looking for the OS update that will provide the real VOIP experience, i.e. have a background service that will allow access to telephony for VOIP applications. Something similar to background audio service that allows 3rd party applications to hook on and stay alive in the background. Currently the VOIP solutions like Tango cannot run in the background, meaning you cannot recieve a call from anyone unless you have the application open and running, this is a major disappointment on a otherwise real cool operating system.
Does anyone know if microsoft have any plans for this scenario. Skype has not come not come out yet, but i beleive it will perform the same way as Tango because of operating system limitations.


No update yet for my HTC Radar.

Do they plan to roll out an update for audio fix(for lumia 800) ??? The audio quality is disastorous !!!
Windows Central Newsletter
Get the best of Windows Central in in your inbox, every day!
Thank you for signing up to Windows Central. You will receive a verification email shortly.
There was a problem. Please refresh the page and try again.