Our top three Windows Phone companion apps for Indian Railways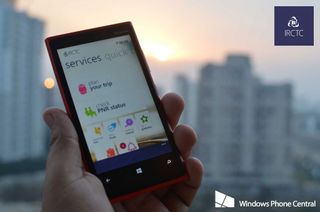 Indian Railways, the state-owned enterprise operated by the Government of India through the Ministry of Railways, is one of the world's largest railway networks and transports over 25 million passengers daily. To tap the huge scope and potential, several hobbyist developers as well as developer studios have developed mobile apps to provide a variety of functionality to train commuters.
There are a zillion such apps on the Windows Phone Store – some very useful, and some me-too solutions. In this post I pick three of my favorite Windows Phone apps that are a must have on your device if you frequently travel by trains or are travelling to India.
IRCTC
Indian Railway (IRCTC) is the official agency of Ministry of Railways that facilitates train reservations and is one of the top online services in India. The official IRCTC app is a Windows exclusive available only for Windows Phone and Windows 8 devices.
The app allows booking tickets, and checking reservation status, train schedules, train routes, availability of tickets, cancellation, and booking history. The app is beautifully designed, and integrates modern design elements for an intuitive experience. The feature to pin tickets as a Live Tile on your Start screen is a neat addition.
There are a couple of issues as well. One, the app does not work from 8am – 12pm, a limitation enforced to reduce server load during the peak hours. Also, while the booking history syncs across multiple devices, it does not pick bookings made on irctc.co.in.
Download the IRCTC app free for Windows Phone 7.x and Windows Phone 8 devices from the Windows Phone Store.
eRail
The official app for eRail.in, a third-party service that maintains the largest and most updated database of Indian railways, provides easy access to train information like trains running between two stations, train routes, seat availability, fare information, running status and PNR lookup.
The eRail app works offline for most things like train information that don't require live data. Download it free for Windows Phone 7.x and Windows Phone 8 devices from the Windows Phone Store.
RailYatri
While RailYatri also offers information on train schedule, list of trains between stations, PNR status, and trains scheduled at a station in the next 2 hours, it brings in a couple of neat additions.
Firstly, you can use the 'nearby stations' feature to view nearby railway stations based on your location, so that you can check the trains scheduled in your vicinity. Unfortunately, the app does not provide the running status of trains.
Second, once you mark a train as favorite, the app will program itself to push important alerts about events affecting train travel including disruptions (cancellations, route change, delayed start), hotspots (accident sites, fog, places experiencing heavy rush), and others to your Windows Phone.
Download RailYatri for free for Windows Phone 7.x and Windows Phone 8 devices from the Windows Phone Store.
So, there you go. These are the three top apps for train commuters according to me. What are other apps for Indian Railways that you've installed on your phone? Tell us in the comments!
Windows Central Newsletter
Get the best of Windows Central in in your inbox, every day!
via IRCTC, we can't book tickets from 8 to 12. What about other two apps? Can we?

No. Only irctc web bookings are allowed. No apps and third parties are allowed till 12pm

If it's so, IRCTC is the app for railways. Well designed and quick response

IRCTC servers are down during that period. Same issue when you're trying to book online and not a shortcomings of the app.

I use the 2 apps below. They are the best available in my honest opinon. IRCTC (Ticket Booking): http://www.windowsphone.com/en-in/store/app/irctc/df6203c2-1f03-4854-b74... IndianRail (Railway details & Info): http://www.windowsphone.com/en-us/store/app/indianrail/75cee69a-2fb4-479...

Same here. Both are very good.

Plus one for this one. It really deserves to be on this list IndianRail" for Windows Phone http://www.windowsphone.com/s?appid=75cee69a-2fb4-4791-a9a2-000ee1780880

The m indicator isnt updated since ages. Theres no problem in the app but could be more smooth

There is no problem with m-indicator ???? Excuse me.....It crashes all the time when you search. The devs suck big time ! Even after emailing them and several members complaining all along they have never updated it. I reported the app to Microsoft. I definitely agree its one of the best apps out there but with the crash bug its a total waste.

It works fine for me but the only big I found that its not that smooth.

Go to Bus, try searching a bus with the bus number, for example 296 - and then from the menu that appears, select 296. I'll give away my Lumia to u if it doesn't crash. Make sure to record a video showing that it doesn't crash. ;)

E rail badly needs update.and rail yatri app on windows platform is useless when you compare it with android app.irctc is okay.

Irctc all the way. Very stable, minus the weird booking times.

Although ticket booking facility through app is not available in IndianRail, for else it is best.

IRCTC India rail.beat apps.irctc is exclusive :P only some apps are :D

My comment was deleted. Oh well its is/was a great article.

Do not unnecessarily patronize a writer. Every article I see this happening to Abby.

M-indicator for Mumbai local train

Try this one too: http://www.windowsphone.com/s?appid=75cee69a-2fb4-4791-a9a2-000ee1780880

Indian Rail is also a very good application for details regarding Indian Railways.

IndianRail definitely deserves to be on that list, it has the most number of reviews too: http://www.windowsphone.com/en-in/store/app/indianrail/75cee69a-2fb4-479...

when will be citibank india app coming.. in which year 201*

These types of apps are crucial to the continued growth of Windows Phone. My brother in DC will not leave his iPhone ever, because it has an app that tells him exactly how long until the next train arrives, and is updated instantly with delays. These specific apps are what will win people over. We just need to continue the momentum.

These apps are very good, hope there will be an app mmts and metro trains

Wellll....at least we have the "official" app for irctc....hahahahaha

Rail buddy India is a number 1 third party app for pnr check

Agreed.. though not a great app, the developer is very co-operative. He is ready to take suggestions and pushes updates frequently with new features

Erail looks nice. Also no ads. So better than Indian Rail app.

IRCTC app is excellent. Beautifully designed and smooth.

Indiarail should have been mentioned. It is very good app and also fast. Only con is booking. I always use this to check train availability and seat availability. Use IRCTC for booking.

And what about IndianRail app....

Most railway users have the IndianRail app.... but the ads are really annoying and the developer is not ready to remove the ads at a cost. I've email him few times to have an option to remove ads at a cost but never got a response.

Great apps. But Apps are well quite useful for booking normal tickets. But for tatkal booking only through irctc website can be done.. This site helps me a lot in tatkal booking IRCTC LOGIN AND PNR STATUS

new app is now available for windows phone for getting offline timetable, schedule, train between station etc information app named Offline Railway try it, its amazing https://www.microsoft.com/en-in/store/apps/offline-railway/9nblggh69g0b

To download & experience the RailYatri App on Window phones, Visit: https://www.microsoft.com/en-in/store/apps/railyatri/9nblggh6h2mq on Apple phone, Click: https://itunes.apple.com/app/id1052177547 on Android phone, Click: https://play.google.com/store/apps/details?id=com.railyatri.in.mobile
Windows Central Newsletter
Thank you for signing up to Windows Central. You will receive a verification email shortly.
There was a problem. Please refresh the page and try again.