Papyrus on Windows tablets gains some fun pen tricks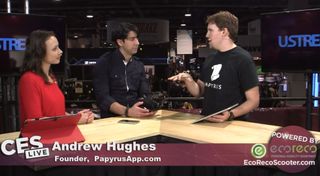 Using your pen stylus to grab notes in Windows is already a great experience, but anyone who has used Papyrus on smartphones knows that the tablet version of the app was really going to drive things home. At CES this week we were able to spend a few minutes with Andrew Hughes to talk about the changes that had to happen for tablet support. It's mostly the same Papyrus you already know and love, with multiple journal styles and a visually pleasing experience, but with tablet support comes pen support.
Since not all Windows pen devices are created equally, this means your experience is built to your specific device and follows the rules that are already in place for your pen.
Papyrus has been a part of most "must have" lists for a while now, but in tablet form you can really enjoy sitting down and comfortably writing for hours.
Get the Windows Central Newsletter
All the latest news, reviews, and guides for Windows and Xbox diehards.
Russell is a tech nerd who chases the best of everything, from phones to game consoles to laptops and everything glowing or beeping. He's the Managing Editor of gaming content for Mobile Nations and can be found contributing to all of the Mobile Nations sites. Reach out on Twitter!
Do I suppose to imagine now ??

Video link is available for those who choose to look.

It's my bad .. I didn't notice !!sorry

No worries, you probably weren't the only one...

THAT is a cool app. Nice features. Surprised I haven't downloaded it to my Surface Pro 3 yet. Cortana will remind me as soon as I get home.

OneNote is better in my opinion

not directly comparable i like the idea of vector based objects you've hand drawn

That search feature is fast. I like that.

I am curious what the advantage of for this over oneNote... But i am happy to see a quality pen app on the market.
Edit: After looking at some of the features on their app page, I may have to give this a go and see if it dethrones OneNote as my defacto now take. OneNote syncs so easily between all my services though...

i had the same questin. OneNote s also vector based and you can resize using the select tool as well.

I see Papyrus as a complement to OneNote. I use OneNote and it's great for note taking, organizing and inserting other media into your notes. The one area for me where OneNote lacks is the ability to use it as a paper replacement. For instance, when I am showing a student how to solve a mathematics or science question, also if you want to show someone a quick sketch of a logo design. Currently, I use Bambo Paper for these situations, however I like what I see in Papyrus and I going to give it a try. I will be most interested in the apps ability to allow me to use it with the SP3 connected to a smartboard, where I can project and write answers on an inserted math worksheet.

Someone is happy about this being unavailable on Ios......:)

Lmao, Daniel couldn't help himself. It's refreshing to see a huge supporter of the Windows platform. The weird thing is that I had the same exact reaction. I'm always anticipating an advantage for Windows! My favorite part of the video for sure!

Apple can't do anything that has to do with handwriting. They failed massively with their handwriting software on their Newton tablet way back in the 1980s and have kept out of this sector ever since. I'm probably the number 1 user of OneNote. I love it's sync features. For example, when I'm at a conference or in a meeting I take handwritten notes on my Surface OneNote. If I need to drop a picture in, I open the same synced Notebook on my Lumia 1520 and use the phone to take a picture. While it's syncing the picture - which usually takes only a few seconds - I can keep writing on my Surface. This is the seamless way all software should work these days. I've downloaded Papyrus and will give it a go, but it will only be a front-end for OneNote if it workds.

He took the words right out of my mouth!

Hi Daniel! I just want you to notice that this article is missing the Papyrus tag...

I'm in pretty deep with OneNote already; how does this compare?

One of the nicer things is the selecting a page size, as opposed to always infinite paper (which is available), and exporting to pdf. If you are taking notes that you know you will want to print or send to someone, this could be a very good option.

wow, a lot of attention from windows central on the stylus. Nice! First Antwrite from Lenovo, then papyrus, and also toshiba is showing some stylus loving features in the windows OS on some of their tablet lines. I love the stylus. I think it's been missing out a lot. As for me I still want to see inking improved. It's still a powerful tool for education, business, health and hospitals and emerging economys. The thing I'm missing the most as pointed out in this video, is that the function of ink-to-text recognition finally needs to get recognition and implementation. Windows is the perfect OS for this. Ink to text recognition needs to be an inline feature, not via the restraining pop-up keyboard thingamagic.

it is kinda neat. but i don't know if i want to ditch OneNote yet. especially i need pay for cloud service and pdf import on papyrus, i stick to OneNote where i can get both for free.

how can you import pdf on onenote ???

"Print" to oneNote. i just realize there are two version one note can run on Surface pro x. i was talking the destop version. not the metro/modernUI version

How about some links to the items discussed.

Was this the woman's first on-camera appearance?
She seemed kind of nervous.

No, she's an internet techie geek babe from way back. But I think the live aspect may have bothered her a bit. Either that or she had too much caffeine before the show. ​

Without any integration into OneNote,or OneDrive, I think I'll stay with OneNote.

OneNote's already integrated with everything, so I have a hard time seeing myself switch. That said, calligraphic pens might lure me away if they support those. OneNote still doesn't have them, even though a basic one would just require them to implement a dark, thinner highlighter with the nib rotated 45 degrees. That really shouldn't be that hard; I'm not asking for adobe illustrator levels of customization. So I'd move away from OneNote for notetaking if Papyrus could do more things like that.

The cali-pen you describe was a feature of early versions of OneNote and then mysteriously vanished with Windows 8. After trying Papyrus out I'd say it has a poorly designed used interface. For example, it uses your finger as an eraser. This means you can't use your finger to scroll, an essential feature of any note-taking app. I'll pass.

I've only used the Android version of Papyrus, but on there you can use two fingers to scroll and you can change what one finger does in the settings.