Pebble Time Manager 10 now lets you sync notifications to your Windows 10 Mobile device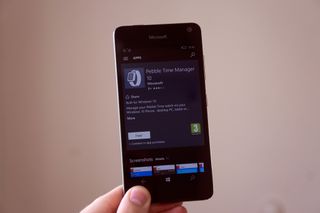 This is a fine day for Pebble and Windows 10 Mobile phone owners. Should you have both at hand, be sure to give the latest release of Pebble Time Manager 10 a look since the app now lets you sync notifications to the watch in the background. According to those who have given it a go on Reddit, there doesn't appear to be support for incoming calls as-of-yet, but support for other entries in the notification center is present.
This latest release of the app also unlocks experimental support for Pebble Health functions. Those unfamiliar with Pebble Time Manager 10, it's an unofficial app that lets you connect your Pebble smartwatch to a Windows 10 Mobile device to change faces, load apps, back up to OneDrive, and more.
Rich Edmonds is Senior Editor of PC hardware at Windows Central, covering everything related to PC components and NAS. He's been involved in technology for more than a decade and knows a thing or two about the magic inside a PC chassis. You can follow him over on Twitter at @RichEdmonds.
Is Pebble still a decent/sufficient offer as a smartwatch for W10 Mobile anyone?

Me too wanna now, was considering a vector smartwatch , but I don't think it has any health feature, can someone chime in?

But really is there any better reason apart from battery life not to take a Microsoft band over pebble considering the amount of features on the former

Thing with me is that I want a smartwatch, something the band ain't. I would love to get one but 1st. I don't think that I'm gonna squeeze it's potential and 2nd. Because of all the band and other issues that plagued it from day one. Considering the 3rd gen though, hence the reason I haven't gotten anything yet. :-)

MS Band is horrible to use outside. The Pebble (or better, the Vector Watch) works great even in sunlight.

That's what I though, but here are a bunch of loser fanboys (like the ones down voting) too busy sucking ms d!ck and can't see a flawed product even when slapping them in the face with it. I love ms products, the ones that work correctly and as intended!

"Resorts to petty insults and vulgarity because his preferences in technology differ from others" "Calls other people fanboys" I think you need a reality check mate...

I'm the one commenting here, if you don't like what I wrote, just keep browsing the next comment and continue your life, not step in without understanding even my point. But hey, don't worry! Here, I'll show you how it's done. ;)

jes1888 gets up voted from me for speaking the TRUTH! The TRUTH around here gets instant down votes. You know when you see the truth posted, it will have downvotes!

Thanks my friend! Hope these people understand one day that products sometimes can have problems or not be the same experience for everyone! People here gets flamed nor get respect for not thinking like them. So much for free way of thinking... Microsoft is an awesome company, but if someone here thinks they haven't done a flawed product or taken weird a$$ decisions sometimes well, good luck in life fan boy.

I realize that everyone's experiences are valid, but I had yet to have a problem reading the display outside in the sun. Perhaps I am lucky.

As someone who is forced to take a break from the Band 2 for two weeks, because it irritates the skin, yes.

I can confirm the Vector Watch is awesome, but I haven't used it on Windows Mobile in a few months

Is pebble supporting windows phone now? If so do we have full support like on android and IOS

No, this is a third party

No support, just thrid party hackjob app. As soon as MS gets wind of this, there will be an update to windows10mobile to block the app from running correctly. NO DOUBT.

I'm glad this support is here and it is nice getting notifications now :) the only problems is it crashes quite a bit (usually after dl/installing a few apps) and doesn't connect via the Bluetooth low energy connection. But it's a great start and is a good sign for other wearables

What's this crap doing here in a "professional" site. I feel like I just entered a porn webpage, just ads, ads, ads...

Glad they removed the user!

We need more support for hardware. Maybe Microsoft could integrate support for third-party hardware at some point, in their health app? Sort of how Windows has basic support for graphics cards, network cards, etc, bundled with every Windows release. Then, the hardware company can make official apps to offer more features.

Well, the ceo of pebble hates Microsoft (has said so himself). So not sure for that will help in case of Pebble. But maybe others.

I love that this finally is solved! Kudos to the developer! That being said, I won't go back to Pebble after trying the Vector Watch. It's just better looking, works like a watch should, and has an insanely good battery life. Pebble opened my eyes for smart watches, but the torch is passed.

Do you have one? Does it has any fitness features? Or just watch and notifications? Thanks in advance for the input!

Lemme go check this Vector watch out now.....

I just ordered a Pebble Time... Nice...

Waiting for the time 2. Waterproof with a heartrate sensor and I'm in. Band 1 owner. Skipped the band 2 waiting for the band 3. I have a couple aw watches i wore as dailies, until I bought this 950xl last week. Really hoping for more sw options on wm. This news makes me very happy. Been interested in pebble for a while.

I had a Pebble and still have my Pebble steel. I moved to a band 1...then a 2.... now back on my Pebble Steel, and just ordered the gold with red band Pebble Time (referbed on ebay for $119). A really nice looking smartwatch that could be a little dressy and still look good. http://www.ebay.com/itm/131804826139 The fitness things are not a huge deal to me(nice to have but, not a deal killer) but, notifications ARE. The band requires to be charged every other day, Notifications are limited on the band 2 because of the small screen size. The Pebble Steel has a larger display, shows more data on Notifications and the battery lasts 5-7 days. So I charge on a Sunday and I worry about it the following weekend...even when it goes dead, it still works as a watch for about 2-3 days after (low power mode). The pebble time offers some fitness features The Steel time offers up to 10 days battery vs. the Time overs 5-7 days... Odds are VERY high when the Time 2 Steel hits with a really nice looking smartwatch, I WILL buy it.. Is this an offical app, or a 3rd party app ?

Will there be a Time 2 Steel, though? I feel like the recently-Kickstarted Time 2 - with its stainless steel build - sorta occupies the spot as the Pebble Steel's direct successor. I was tempted to jump on that Kickstarter, but the Time's designs never captured the same industrial looks I like on the Pebble Steel.

*direct successor to the Pebble Steel ​and ​Time Steel, I meant. I'm having a hard time (hah) differentiating between the Time Steel and the Time 2.

What about Garmin Vivosmart? is it any good?
As per spec sheet goes, it has all of my need... pedometer, sleep monitor, notifications... all the basics... the heart rate monitor is a bonus to me To buy the Microsoft Band (either version) seems too expensive for me... the fact that its not available in my country does not help either

Is this an offical app ? If not any chance for that ? Oh, wait this is WIndows Phone....sigh..

DavidinCT, prepare for downvotes.
Windows Central Newsletter
Thank you for signing up to Windows Central. You will receive a verification email shortly.
There was a problem. Please refresh the page and try again.