Perfect Tube – A terrific YouTube client for Windows Phone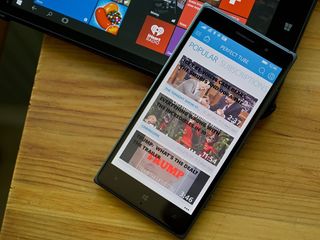 Perfect Tube is one of the most recent offerings from the Windows Phone developer Perfect Thumb. It is a YouTube app that hopes to rise above the other third-party apps (or at least join them at the summit) with its easy to use interface.
Perfect Tube relies on gesture-based controls to navigate you through the app and supports 240p to 1080p video playback. You even have a mini-player to let you watch a video while you browse the other offerings.
In using Perfect Tube over the past few days, it comes across as a solid Windows Phone app.
Your main pages for Perfect Tube include a page to highlight the popular videos currently running on YouTube and a page to highlight videos from your subscriptions and a third for preloaded videos. A hamburger menu sits in the upper left corner to navigate around the various video categories and a profile button sits in the top right corner to allow you to log into your YouTube account. You will also find a home and search button at the top of Perfect Tube's pages.
Wrapping up the layout of Perfect Tube, you will find a three-dot menu at the bottom of the main pages. This menu will give you access to the app's settings, tips on using Perfect Tube, a link to more apps from Perfect Thumb and access to the About screen. Settings will provide options to set your default video quality, language and region. You can also choose a particular color theme or rely on the system color.
Some of the major features for Perfect Tube include:
Video quality support for 240p, 360p, 480p, 720p and 1080p videos with full-screen mode of landscape and portrait playback
View and post comments on videos
Upload your new videos
Manage your YouTube subscriptions
Live Tile support to pin individual videos to your Windows Phone Start Screen
Thumbnail previews of the video will have the title, YouTube channel, length of the video, views and upload time displayed. Pages for individual videos have a summary page with the video displayed at the top (automatically starts playing) and pages to view comments and suggested videos. Videos can be shared, pinned, added to a playlist, marked as a favorite or saved to watch later.
Playback controls will appear when you tap on the video and offer your customary controls (play, pause, forward, reverse, etc.) along with video quality settings and the option to go full-screen.
When you need to return to Perfect Tube's main pages, just hit the Home button at the top of the screen or the Back button on your Windows Phone. The video you backed out of will appear at the bottom of the main page in thumbnail form and will continue to play (unless you have paused it). Tapping the thumbnail will return you to that particular video's page. If you want to exit the video entirely, slide the thumbnail to the left.
Overall Impressions
Perfect Tube is a fantastic option to consider if you are looking for a YouTube client for your Windows Phone. The navigation is simple and the app just looks good. The design delivers a lot of features and videos to your Windows Phone without being overwhelming or cluttered in appearance.
Playback was smooth and the only hiccups with streaming videos occurred when my signal began to fade into the abyss. I did like the thumbnail playback feature to allow you to continue watching a video while you browse for another selection. However, I wouldn't mind having the option to turn this feature off or a confirmation to use this feature. I can be a little tedious to close out the thumbnail every time you return to the main pages.
Additionally, I wouldn't mind seeing an option to turn off the automatic playback when you visit a video's page. You may want to read up on the video before it starts playing or just need to be a little discrete in your video viewing.
While there is some room for improvement, overall, Perfect Tube is a very impressive YouTube app for Windows Phone. It is a great addition to the Perfect Thumb lineup and easily one of the best third-party YouTube apps in the Windows Phone Store.
Download Perfect Tube for Windows Phone (Free)
George is the Reviews Editor at Windows Central, concentrating on Windows 10 PC and Mobile apps. He's been a supporter of the platform since the days of Windows CE and uses his current Windows 10 Mobile phone daily to keep up with life and enjoy a game during down time.
More like terrifying, mytube ftw

You can't upload videos with mytube...

Dev asked if this was a feature users would like on future update, plus other features users Joe g for.

I need stream to smart tv. Like the youtube webpage or tubecast.

+1 for Tubecast. I was looking to see where Perfect Tube differentiated or provided added value and I didn't see it (unless I missed something.) Tubecast already has the option to either turn on or off autoplay. It also has the thumbnail-viewing while navigating with an easy hold for a second to close it. I'll stick with Tubecast for now.

I'm really enjoying PerfectTubes UI

Plz review "vdownloader" also, it's also a new but fantastic youtube client...

I love Perfect Tube. I agree with all of your points, George. Great review. I would also like to add that IMO, the gesture-based controls can get kind of "in the way". I have a habit of wiping my screen with my thumb to remove any dirt, gunk, etc. When I do that, the video changes volume or skips forward/back in the video because the app is responding to my "gestures".

You know u could lock your screen before wiping for dirt right?

Doesn't sort the videos of subscribed channels..... UC Browser is best way to access YouTube... Always downloading and giving likes to videos if impressed with content

UC Browser doesn't download videos from VEVO. And also the video quality is not so good. You cant download 1080p videos.

Doesn't give you the latest videos of your subscriptions.

Same here and wont launch you tube videos from windows central app

I recommend this app. It's great and my main YouTube app now.

Tried it but prefer the layout of Metrotube. And the gesture controls drove me mad

Wait for few updates and it will ads supported that eat ⅓ of your screen.

I will opt to pay them , if they do that... It's just masterpiece app.... Perfect Thumb doesn't have any paid apps... But I like their apps a lot and their screentracker is too good and I got it as myAppFree deal

Anyone using a video of wheelchair boobytraps for marketing makes me want to avoid their app, regardless of how good it is.

Like a few have said, it needs latest subscriptions in chronological order. Once that's sorted it will be my primary youtube app

I want to be able to watch video and read comments at the same time, something i can do with metrotube

Or you see the video first, Or you read the comments first. But you can't do both things at the same time :P

WinXM won't allow it to install on my 1520. Perfect Tube wants to install on the phone and not my SD card. Even when I set everything to install to the phone, it still gives this error 0x80073D01 error.

Perfect Tube displays an error when I try to upload a video. I hope the developer to solve that problem soon

I still think tubecast is the best :)

Tubecast cannot save videos on the SD, Mytube yes. Tubecast can not upload videos, Perfect Tube yes. Tubecast the best? Hahahaha

Perfect developers for perfect apps

Ok...how do I install this thing over the browser with the new app store? I dont think theres a way to do it?

Nope theres not a way to do that atm

Can you save videos like myTube?
That s a great feature on myTube

Ugly and cluttered design. No thanks

Chất lượng chưa được tốt cho lắm . Tôi thấy Metrotube vẫn là ứng dụng xem YouTube tốt nhất trên Windows Phone . Sau đó đến Tubecast :)

Preload not working in perfect tube

No way to download 1080p videos.. Still mytube rocks

Nice but lacks background play which I use very often

Native advertising spotted.

Ok guys, how about ... just how about for once when someone reviews a new app, you talk or comment about THE APP and not what you think is better than the reviewed app? We all know myTube, Metrotube, Tubecast, Tube HD, etc. and we all know how great they are. Perfect Tube is a new app (i think it is few weeks old), so, How about you download the app, try it for a few days and give an honest review based on your open mind notes? Something like: "Ok, this and this and this are fine. This is also fine but I suggest to be done like that. This is not fine because of this and that." My point is to do a honest review which will be a honest feedback for the developer so that way he can know what his users want. Is that so frikin' hard to do it? No it is not, but you'd rather bash a new app because it can't do this and that just because previous popular apps are doing it. That kind of behavior is not helping anyone. It will just show how low and ignorant you are and will certainly not help the developer to know what to change, fix or add to the app. And then you come around and complain how developers are not trying enough about our beloved platform! Well, this kind of behavior is the reason why. If you don't like something - Write to the developer. If you want something to change or fix - Write to the developer. If there is something you like - Write to the developer. It's easy, right? Now, about Perfect Tube. Perfect Thumb is known for his beautiful, minimalistic and precise design of his apps. He is one of the most user and OS dedicated developers i ever known. Whatever you write to him, he respond within hours (not days or weeks). He listens to his fans (or users) and meets their needs. For that, he have my full respect. Perfect Tube is a new app (I think it is few weeks, if i am not mistaken). And for a brand new app it contain Perfect Thumb's known design language. I will not review the app now, but I will say this: "Everything what George Ponder said, I stay behind it!" I use several of Perfect Thumb's apps and i just love them. Screen Tracker and Perfect Clock are my highlights. I encourage Perfect Thumb to continue his beautifully crafted apps and make them better and better. P.S. You can reply to me and "teaching" me stuff how i don't know what I am talking, that this app is better than this, cuz of reasons known only to YOU, but it will just reveal your level of intelligence. Now go ahead, do your best! :)

Sounds reasonable to me. But these are the privileged class. They only know what they know.

I don't know about others but perfect tube UI lag like hell on my Lumia 535

That is strange, my sister have Lumia 535 (ex iCrap user btw) and Perfect Tube works perfectly on her phone, no lag whatsoever. Try this: Uninstall the app, restart the phone, install it again, restart again. See what happens.

Can i download youtube videos with this app?

Badly placed controls at the top, hamburger menu and wireframe icons. Yep, Windows 10 Mobile design at it's finest.

What is preload in that app?
And also I didn't notified of anyone replied to my comments here in Windows central app!!
How to fix it?

Perfectube sounds like one of those porn sites to be honest......redtube, perfectube.....
Windows Central Newsletter
Thank you for signing up to Windows Central. You will receive a verification email shortly.
There was a problem. Please refresh the page and try again.