Peter Chou steps down as HTC CEO, Chairwoman Cher Wang to take over
HTC chairwoman Cher Wang has replaced Peter Chou as CEO of the company. Chou will remain at HTC but will lead the company's Future Development Lab.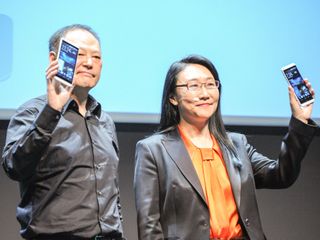 Chou has overseen both the good and the bad time at HTC, having been at the Taiwanese manufacturer since its founding. Not only was the former CEO leading the company through the purchase and subsequent sale of Beats Electronics, but was also considered partially responsible for HTC lacking a solution to counter the threat from the likes of Xiaomi and Samsung.
While HTC has been making strides on its road to recovery, there have been several high-profile exits over the course of the year. Little is known about what Chou will be managing at the Future Development Lab, with HTC only stating that he will be "instrumental in identifying future growth opportunities for the Company."
In an official statement, Cher Wang said that she was looking forward to new opportunities in her role as CEO:
Source: HTC (opens in new tab)
Windows Central Newsletter
Get the best of Windows Central in your inbox, every day!
Rich Edmonds was formerly a Senior Editor of PC hardware at Windows Central, covering everything related to PC components and NAS. He's been involved in technology for more than a decade and knows a thing or two about the magic inside a PC chassis. You can follow him on Twitter at @RichEdmonds.
Good luck to her and I hope she has a positive attitude towards windows phones

so that should be totaling to HTC M10 with W10.. :D

Yeah it would be nice.... But Microsoft is working with a custom ROM which can run Windows 10 in Droids....

I think you may be mistaken based on response from CEO of ZTE in response to a deluge of comments from people to the news of Microsoft testing Windows 10 on ZTE devices

Not ZTE, Xiaomi. Posted via the Windows Central App for Android

Whatever are you referring to? I replied abhishek and I suppose you didn't read about Windows 10 on select model of ZTE, at least judging by your response.

I'm correcting you because it's NOT on ZTE phones. The Windows Mobile 10 Android ROM is for the Mi4 from Xiaomi. NOT for a ZTE phone. http://www.windowscentral.com/xiaomi-says-windows-10-rom-project-mi-4-ex...

There is a flagship phone from ZTE that is suppose to launch with Windows 10, but the program you're thinking of is for Xiaomi.

I admired Peter Chou a lot.

You still can. He isn't dead.

I have a feeling that the only reason HTC made a Windows Phone version of their M8 was because either Microsoft cut the price they had to pay for royalties or paid them. Given that the company is in a rough patch and has been for quite a while adopting Windows Phone may not be as good of a decision as some make it out to be. One of the biggest goal of the CEO is to maximise profit, so unless Microsoft gives HTC some incentive I don't think the new CEO will make a decision that will likely only make less than 5% of their customers happy. And I say 5% to be safe, I don't think htc sales or loyal fans from Windows Phone even contribute to 1%. But I could be wrong. Posted via the Windows Central App for Android

Erm...Are you sure? I thought it was because HTC and MS have a very close partnership. At least thats what i heard from twitwindowsweekly and various news sources in the past.

Yes they have a very close relationship but the M8 for windows was made cause the device was already there and I believe Microsoft didn't charge them for the software.

microsoft isn't charging anyone for the software anymore. they made wp free a while ago.

Actually the M8 was made because of several factors and one of the main one is that Microsoft changed the hardware requirements for Windows phone.

HTC didn't make a Windows Phone because the requirements were changed, that is stupid. If that was so why didn't any other OEM also make phones because of the same reason? Posted via the Windows Central App for Android

"Then why didn't any other OEM also make phones because of the same reason?" They did. About 60 of them actually. Where have you been?

His argument was that the hardware requirements changed, and that is why HTC made a Windows Phone. How could that be true? Because the last time the requirements changed was way back in October 2013 when support for 1080p displays and quad core processors was added and the Android variant of the One M8 launched on March 25 2014. When did the Windows Phone version release? On August 18, 2014, about five months after the release of the Android variant. Keep in mind that during this period the requirements for high end Windows Phone remained unchanged, and phones like the Lumia 1520 with identical hardware had already been released. If HTC had wanted to release a Windows Phone variant of their phone just because there was a change in the hardware requirements, they would have done it with the release of their Android device or maybe even a few weeks later. But they waited months. Which is why I think Microsoft gave them some incentive to do so, like reducing the cost they had to pay for royalties.

"Because the last time requirements changed was way back in October 2013"
Incorrect, Windows Phone 8.1 changed the physical camera and the capacitive button requirement. Windows Phone 8.1.1 added the ability for HTC's Dot View to work and for support for Snapdragon 801 processors.
Prior to those changes, the One M8 for Windows could not have happened. While you may be right in that Microsoft reduced the royalties for them (althought you're probably wrong), you're incorrect in stating that hardware requirements haven't changed in 1 1/2 years.

When I was talking about hardware requirements I was talking about the CPU, GPU and RAM, not the rest of the cover support, however one thing you are right about is the fact that Windows Phone didn't support on-screen buttons before(that is a valid reason). However I highly doubt that support for Snapdragon 801 needs to be added, because it is near identical to the Snapdragon 800(albeit a higher clock on both CPU and GPU side). But if HTC really wanted to make a device because requirements change, why did they not wait for them to advance even more? I mean there is a ton of functionality that the Windows Phone variant still doesn't have, for example extended gestures from the lockscreen to voice search, or holding down the volume button to open camera, or HTC Sense, or even support for a notification light, and that isn't even everything! There are still quite a few Windows Phone hardware requirements that need to change to make the M8 for Windows as functional as the Android version, but HTC still released a phone, did it not? Also the chances of HTC having made a phone because of a reduction in royalty fees by Microsoft, is likely higher than anything else, because do you really think anyone in their right mind thought that it would be a good business decision to make the Windows Phone variant?

Many Android OEMs pay Microsoft for royalties, Microsoft could have reduced the royalties HTC had to pay in return for making a Windows Phone. They did this with Samsung too. Posted via the Windows Central App for Android

Nokia was in a rough patch before adopting Windows Phone. Turned out well for them.

No, it didn't. Nokia had internal conflicts with some people in the company suggesting they go for Symbian and some said Meego after the release of the iPhone. I don't remember the whole details but ColdFusTion on YouTube has a really amazing video on Nokia's life and death. If internal conflicts weren't enough they made an even bigger mistake, they adopted Windows Phone, had they adopted Android they could possibly still be alive and profitable. The fact that they had to be bought out is clear evidence about the fact that Windows Phone didn't work well for them. I mean the Nokia that is left recently (with Foxconn) released an Android tablet and it sold thousands of units within a few minutes of being put on sale. Could you imagine that happening when Nokia was making Lumias? Nokia's adoption of Windows Phone got the platform to where it is today and more competition is always a good thing, which is why the creation of Windows Phone has really benefitted consumers, even those using Android and iOS devices. So for consumers Windows Phone is a win win, but for Nokia it was likely one of the most terrible business decisions ever. Posted via the Windows Central App for Android

Going Android is no guarantee of success. Who is profitable besides Samsung? HTC certainly hasn't been doing great. This "Android would have cured all of Nokia's problems" mantra is oft repeated, loose logic.

Samsung? You think Samsung is now making money? No they are losing money. LG is making money on android and other companies as well.

and Samsung keeps wanting to work on their own OS, differentiation is needed.

Wut... Samsung profits are slipping, but they aren't going negative. Samsung still draws in an impressive amount of cash, and that's igoring the conglomerate's other fields. It takes a simple google search to find this.

Did I claim that going Android was a guarantee of success? Because I don't think so and if I did I apologize. My point was that the chances of success for an OEM were higher when it went with Android rather than Windows Phone. Remember the statement of Huawei's CEO when he claimed "no one" had ever made any money from Windows Phone? Also HTC did finally turn a profit, and no, it wasn't because of the M8 for Windows: http://pocketnow.com/2015/02/06/htc-q4-2014 Also me saying that Nokia would have been successful can't obviously be a hundred percent correct, as none of us can accurately predict what never happened. However I would imagine my assumption of Nokia having been successful had it adopted Android isn't completely wrong. I've basically seen more of those terrible Nokia X out in my country than I have Nokia Lumia devices, even though Nokia Lumia devices are put on display in almost *every* phone retailer, there are often several and a ton of advertisement about Windows Phones as well, but *no one* buys them here. In many of the developing countries the Nokia name made a name for itself, people would buy it because they had a good past experience with it, or knew it was durable, but that software experience is what let people down(mainly the apps). Now the Nokia(or whatever is left of it) basically proves how successful they could have been had they adopted Android, the Nokia N1 tablet sold out four times in less than 10 minutes in flash sales: http://www.phonearena.com/news/Nokia-N1-has-sold-out-in-four-consecutive... All this links back to my original post, the new CEO of htc could start making Windows Phone, maybe even start making Windows Phone exclusively, and I'm sure it would make the 3% of Windows Phone owners in the world or they could start making their Android devices better and make the employees of the company, the shareholders, and the loyal Android fans happy. In the end, all upto them. I want Windows Phone to succeed, more competition means better operating systems, but I won't sit here thinking that adopting Windows Phone exclusively(or maybe even otherwise) is a good idea for any OEM unless they want to go bankrupt and be bought by Microsoft. ;)

Every body Wang Chao tonight!

Phones don't look too hot...they are displaying different times!

Wow would have never saw that

It's symbolic for the fact that the new CEO lives in the future while the old one was stuck in the past. /s

If you want a droid with good specs on a budget then yes it's actually good Posted via the Windows Central App for Android

Not sure how but MS must find a way to convince at least of the big boys (Samsung, Sony, LG, HTC) to start launching W10 phones at same time as Android.
----
It can be done since MS is holding so many patents. That must be done outside USA!!!
EUROPE or other markets where WP is relatively popular (10% ish) have to be the starting point.

They have different release cycles, Microsoft usually release major WP updates around October (8.1 the only exception I think of) while HTC & Samsung release their main flagships around March.
It would take a huge compromise between both sides to do that & I'm not sure they are willing to take such a risk ... Plus, people around here won't take it lightly if Microsoft postponed W10 release...

Or in the country with the most users.

Maybe her English sounds nicer?

Lol yea that guy's English was hilarious.

None of us here have ever heard you two utter a word, maybe you sound terrible too? Just please try to be considerate with people who have English as their second language, which is 95% of the World.

You're absolutely right. But before, you know, going up to a bunch of people, maybe he should polish his English beforehand? I still respect him just because he has the courage to.

A CEO who gets millions of dollars can't follow a proper English course? You are crazy man. It is hilarious. Even average jobs that pay 1000 dollars a month ask for better English skills.

Xbox One should make hololens an exclusive but embrace VR from outside, making them compatible for games and such, such as the HTC Vive. This way, MS won't have to deal with forming and dedicating a new team for VR.

I'm glad I'm not the only immature enough to laugh at her name, which is basically is Share Wang.

What about his girlfriend, Steve Ballmer?

HTC didn't get a lot of coverage by the media since everybody was talking about the Galaxy S6. Their new M9 doesn't seem that interesting either.....

The M9 seems like a great device. I would never carry android, but... The M9 is a very nice refinement of the M8. They tweaked everything people didn't like about the M8.

If they put Qi on the M9 I'll ditch my L920 :-)

Samsung Galaxy S6 Edge brought something new to the table. Reviews of the camera on the S6 are at par or better than the iPhone 6 in some areas. What has HTC done other than iterate on the design of the One M7? On the other hand if the design leaked by evleaks had come to fruition, would have been a totally different thing.

That's cool, I love the build of HTC. Piddles to anyone who says they all look the same, that's the point.

Also I hope she does really well, a positive role model for women is desperately needed in this industry.

Agreed! I too hope she does! Maybe a fresh pair of eyes from a different perspective is just what HTC need to revitalise their brand, products and corporate culture. :)

What positive role model? Using your Multi-Billionaire daddy's money to start a company and running it into ground? She was already the Chairman/chairwoman, now she we will be all-in-one dictator with Owner, Chairwoman and CEO posts.

MRA much? Chill out dude.

The positive role model that Cher Wang and Mary Barra share. It's a role that shows that women can not only surive, but shine in a world that is dominated by men. I'll agree with Tan Tran here. MRA much?

LOL look at these pussies trying to project the richest people on earth who have inherited their Billions as some kind of role models. And regarding your gender issues, Feminazi much?

The firm is in good hands with Cher, her & Peter started the firm together, she will take care of it & keep pushing forward.
Kinda sad to hear about Peter stepping down though (he has been the CEO since the get go), but at least he is staying in the firm & they didn't bring an outsider to run HTC. Much respect to both Cher & Peter. Good luck to all of em ... Looking forward to see what they come up with next year.

Seems to me that 'profit' may be better maximized if HTC dips into both markets: ANDROID & WINDOWS phones ESPECIALLY in light of the savings brought about by not having to essentially design 2 different models but rather just design 1(ONE) and port in the OS versions into this ONE (design). In my humble opinion, their error was launching the ONE M8 as an exclusive to Verizon... Colossally Stupid as it limited their exposure terribly. GONE are the times when Manufacturers (other than Apple & Blackberry) need to remain. Loyal to either. Android or Windows Phone exclusively. They can see the bright future prospects of Windows Phone from the investment commitment in Windows 10 by Microsoft

How do you maximize profits by doing so? I hate to say it, but if anything you're "wasting" away good hardware making a Windows version --- has a better chance of selling as an Android device, sadly. Being that the Lumia brands dominates a significant chunk (I think over 70%) of the WP market. So tell me, where's the "profit" in less than 30% of an OS that holds 3% of the global smartphone OS market? I personally never cared for the Windows on the HTC One M8, and I love my HTC One M7, the 8 & 9 are nice as well. But Sense 6 makes for a beautiful Android experience. Something that's taken away runnning Windows. I prefer Lumia for Windows devices.

With the greatest of respect what you and I prefer doesn't enter into the equation. Think of it this way: You're selling French Fries in a marketplace where many others are also selling French Fries, would you not be likely to sell more French Fries if you place your product in the marketplace where more customers have the option of choosing your Fries over the other Competing Brands of French Fries?

How many of those French fries won't sell because you used a seasoning that only 3% of the market likes. Now you've just wasted some of your product assuming you've produced to many of those oddly seasoned fries.

HTC shot there load and will never be a major player anymore. Unfortunately for them, but they have really made anything super innovative in a long time.

The same prediction was said of Apple before Jobs came back. They were begging Sony to make VAIO Mac laptops. Releasing mediocre products for years. Look where they are now.

Women always are the worst in that kind of jobs.
I give her 10 months

Her & Peter started the company together btw

In your dreams, she owns HTC, started it with the help of her Multi-Billionaire Daddy and now she herself is a Multi-Billionaire.

Man. You just jelly you aren't the daughter of a billionaire. Peter Chou did little to stop HTC's downward spiral, and yet you and Double M seem focused on slamming a woman who just took the helm.

Not very surprised to see misguided souls licking the boots of Billionaire's, she won't give you even one buck even if you are a jobless Single Mom with two kids and here you are licking her boots just because of her genitals. This is the finest example of dumbing down the masses. Wang was already controlling much of the company via her ownership and Chairman role, now this moves gives her the all-in-one dictatoriol role, the major impact on htc is that most of their excellent phone designers have left the company and they don't have the marketing budget of Samsung, Wang can't do anything about it, Chou is just a fall guy for her taking all the power.

HTC doesn't plan on manking more Windows Phone, so......WHO CARES!?

And don't forget last time Cher Wang got caught buying iphone and ipad in an Apple Store in California........

She was only Windows shopping according to all the articles I just read on this.

Nope, she was already waiting in line to pay.

Changing the name from HTC to Cher Wang phones.


I don't know Cher Wang, but I know Cher's daughter (Chaz) wishes she had a wang.

Now Only Stephen Elop can save HTC like he save Nokia,, but this time what would be memo ? Windows doesn't work for us or Androind ?

If by save Nokia you mean blow a marjority marketshare, and sell the hardware division to Microsoft... sure.

"Cher Wang!" - Wayne Campbell