Pixl is a beautiful Flickr app for Windows Phone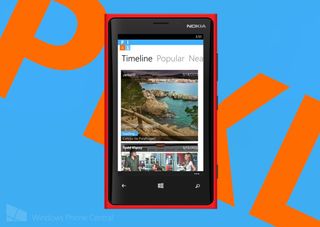 Odds are you have a 500px or Flickr account if you enjoy photography. Doesn't matter if the shots are coming from a DSLR or Micro Four Thirds camera, most photogs are part of some online community. Flickr is arguably the most well-known of those online communities, and while it may have grown stale in features the past few years, it's still on top for most people. If you're among those heavy Flickr users, you might want to check out Pixl for Windows Phone.
Pixl is an app for Windows Phone 7.x and 8 that allows you to browse Flickr in a beautiful interface. After you download the app and launch it, you'll be presented to either sign in with your Flickr account or just start browsing. I recommend signing in if you happen to have a Flickr account, the personalization makes it worth it.
Once you're inside the app you'll notice a panorama that gives you: timeline, popular, nearby, notifications, and profile. Under the timeline you'll see recent pictures of people you follow on Flickr. Popular is a collection of images that are currently the queen at the ball on Flickr. Nearby pulls up images chronologically taken in your area if you give the app permission to use location services. Notifications and profile are self-explanatory.
The app has a beautiful interface that echoes the feel of Instagram on iOS and Android. Speaking of those other operating systems, Pixl was first developed for Windows Phone with future plans for iOS and Android. It's interesting to note that the team chose to target developing for Windows Phone first, the current underdog with smaller marketshare.
You can also upload pictures from your Windows Phone to your Flickr account. You can set privacy settings while uploading too, making it private, friends only, or public. A future update will add filters to the mix, allowing you to make your caffè latte art look like you took it with a Polaroid from 1972. Speaking of future updates, this is version 1.0 of Pixl and the developers have some features coming soon. Notably Live Tiles and Push Notifications. Those are two things I would like to have seen now, but it's hard to complain when you're using a free app with no ads in sight. Hey devs, I'd like to add double-wide live tiles and lockscreen support to that list.
Either way, download Pixl if you're a Flickr user and want to use a beautiful app for Windows Phone that allows you to like and comment images.
Pixl is free in the Windows Phone Store here, by using the QR code below, or swiping right in our Windows Phone Central app.
Windows Central Newsletter
Get the best of Windows Central in in your inbox, every day!
Looks like a certain mobile OS is gaining traction in the apps department, got a feeling there's a few more surpises coming shortly.. ;)


I also noticed the same thing. WP7 got us the numbers, WP8 will probably get us more numbers but it is really bringing quality to the Windows Phone platform. I'm looking forward to my first WP8 device.

Yup. Here are some examples lol

Wow! Who'd a thunk it! Art on coffee! Thanks for the link.

It's just called latte art, not "caffe latte art." Free pour is the toughest and the mark of a good barista. Etching- drawing designs from a blob of foam- is easy and doesn't require properly micfoamed milk (or "latte") and the toughest one to pull off is latte art in a tiny 3 oz macchiato.

It won't let me log in. Just like the yahoo march madness app wpcentral touted

You'll be able to in a few years time when Yahoo goes arse up due to the fact it offers nothing and Microsoft or Google buy Flickr.

I had to exit and try again after logging in.

Looks good but the pivot titles need to be lowercase (like every other apps).

Am I crazy or is there no search functionality? Pretty much a necessity, without it a Flickr app is useless. I hope I just missed it somewhere...

The official Flickr app is definitely in need of an upgrade.

I love this app! If only it had Live tile :)

Well you see, by using official flickr app i can get holiday gift. Not that it matters, i'll just use both. Flickr.com/photos/daiax :)

Why is the status bar black? Such a small detail but bugs me, just like with the SkyDrive app.

Hello everyone,

I am the guy behind Pixl. I am very much thankful for the positive response from you guys. Rest assured the experience will improve in every new version of Pixl, because I am by professional a User Experience Designer/Strategist, and I love to make things simple, and to the point, keeping the mess out from complicated process. You guys will be amazed to see my secret of building an app, check out the video here: http://vimeo.com/19738421 . This is my open secret for making things simple, and easy!

The Search Functionality, Filters, Live Tiles, Push Notifications, and other naunces that are already now coming in our inbox as a feedback are on the Pixl Roadmap. Pixl loves you a lot! I will do my best to make the Pixl a superb Flickr experience beyond the official Flickr app on iPhone, Android and Windows Phone, that's my plan. Hope you will follow along :) Thank you once again to Sam, WPCentral and all Pixl Fans for great response and encouragement. Just keep an eye out on our website that is http://www.tappixl.com, follow us on Twitter http://www.twitter.com/tappixl and be the our fan on our Facebook fan page http://www.facebook.com/tappixl

Mudassir
http://www.twitter.com/mmudassir :D

Awesome, always great to see developer interaction.
It's a beautiful app, for me search would make it perfect!

Awesome. Thank you for putting this app together Mudassir. Not sure if this is your issue or Yahoo but it won't accept my yahoo login. I'm getting this Unable to Process (error 999) when I try. So I can only browse but I can't log in. But thanks for this app.

Hey there, this is the Yahoo issue. Here is what I found out in non techy lingo: "The 999 error is caused by unusually high activity from either your computer or your IP address to a specific page or pages within Yahoo!. While this type of error is usually temporary, there are troubleshooting steps you can take if you continue to experience this issue" see link for more detail for resolution: http://help.yahoo.com/kb/index?locale=en_US&page=content&y=PROD_MAIL_MOB...

I guess the reason is right. I don't use my yahoo account much and I had a time recovering my login password. I'll try again today.

I'm unable to view my photostream. Everything works fine except for that one.

Possibly Flickr API issue, I would suggest to restart the App. Also try to use Pixl over WiFi? Flickr APIs freaked-out over slow network speed over Mobile Carrier ,and we are pulling bit large images on our Timeline view. We will try to improve it in our upcoming releases. Thanks for the feedback!
Windows Central Newsletter
Thank you for signing up to Windows Central. You will receive a verification email shortly.
There was a problem. Please refresh the page and try again.