Pixl is a beautiful Flickr app for Windows Phone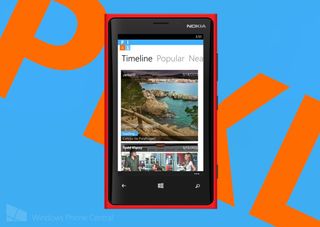 Odds are you have a 500px or Flickr account if you enjoy photography. Doesn't matter if the shots are coming from a DSLR or Micro Four Thirds camera, most photogs are part of some online community. Flickr is arguably the most well-known of those online communities, and while it may have grown stale in features the past few years, it's still on top for most people. If you're among those heavy Flickr users, you might want to check out Pixl for Windows Phone.
Pixl is an app for Windows Phone 7.x and 8 that allows you to browse Flickr in a beautiful interface. After you download the app and launch it, you'll be presented to either sign in with your Flickr account or just start browsing. I recommend signing in if you happen to have a Flickr account, the personalization makes it worth it.
Once you're inside the app you'll notice a panorama that gives you: timeline, popular, nearby, notifications, and profile. Under the timeline you'll see recent pictures of people you follow on Flickr. Popular is a collection of images that are currently the queen at the ball on Flickr. Nearby pulls up images chronologically taken in your area if you give the app permission to use location services. Notifications and profile are self-explanatory.
The app has a beautiful interface that echoes the feel of Instagram on iOS and Android. Speaking of those other operating systems, Pixl was first developed for Windows Phone with future plans for iOS and Android. It's interesting to note that the team chose to target developing for Windows Phone first, the current underdog with smaller marketshare.
You can also upload pictures from your Windows Phone to your Flickr account. You can set privacy settings while uploading too, making it private, friends only, or public. A future update will add filters to the mix, allowing you to make your caffè latte art look like you took it with a Polaroid from 1972. Speaking of future updates, this is version 1.0 of Pixl and the developers have some features coming soon. Notably Live Tiles and Push Notifications. Those are two things I would like to have seen now, but it's hard to complain when you're using a free app with no ads in sight. Hey devs, I'd like to add double-wide live tiles and lockscreen support to that list.
Either way, download Pixl if you're a Flickr user and want to use a beautiful app for Windows Phone that allows you to like and comment images.
Pixl is free in the Windows Phone Store here, by using the QR code below, or swiping right in our Windows Phone Central app.
Get the Windows Central Newsletter
All the latest news, reviews, and guides for Windows and Xbox diehards.