Would you buy the NuAns NEO phone with Windows 10 Mobile?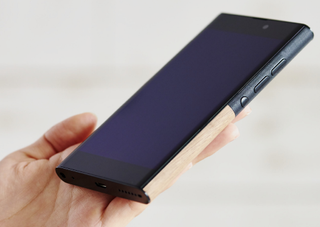 Yesterday, the NuAns NEO phone with Windows 10 Mobile went up for pre-order for a January release. The phone itself features unique "TWOTONE" interchangeable covers that provide a more organic feel due to their more texturized materials. The result is a phone with up to 64 different combinations of style giving a personalized look to the device.
There is one problem. The NuAns NEO is only available in Japan and nowhere else. So, simple question: If the NuAns NEO were to go global for EU and US markets (and elsewhere), would you consider buying one?
The company is interested in such feedback and if there is enough interest they could be swayed. However, we do not want a company taking such a risk if there is only a half-hearted response.
There is nothing amazing about the NEO's internal hardware, but it does bring some of that distinctive and exciting design elements we used to see from Nokia back in the day. To recap the NEO's specs:
NuAns NEO Specs
Windows 10 Mobile
5-inch 1280x720 display
1.5 GHz Snapdragon 617 processor
2GB of RAM
16GB of storage with microSD expansion
13 MP rear camera; 5MP front-facing camera
3,350 mAh battery
USB Type-C connector with Qualcomm Quick Charge 2.0
NuAns is evidently also exploring Continuum support as well.
Without having seen the NEO is person its strong points appear to be distinguishing design, affordable pricing and outstanding battery life. Indeed, the battery in the NEO rivals that of the Lumia 950 XL, but with a smaller, lower resolution display and a more power-friendly processor. My guess is this phone will go two days with usage.
Without all of that out of the way take our poll using Straw and let us know what you think! You can also share the poll using this link for social: strw.pl/NuAns-Neo and find out more about the NuAns NEO from their site neo.nuans.jp.
Remember, you can always download the Straw app for Windows Phone here in the Store too and vote that way (or create your own polls!).
Daniel Rubino is the Editor-in-chief of Windows Central, head reviewer, podcast co-host, and analyst. He has been here covering Microsoft since 2007 when this site was called WMExperts (and later Windows Phone Central). His interests include Windows, Microsoft Surface, laptops, next-gen computing, and for some reason, watches. Before all this tech stuff, he worked on a Ph.D. in linguistics and ran the projectors at movie theaters, which has done absolutely nothing for his career.
Looks like a 920...... It does.

It does look like a 920. Posted via the Windows Central App for Android

I dont get it why it looks like 920. This got different overall shape and entirely different aesthetic which is awesome too. This looks nothing like the Fabula design of Lumia, this phone have its own unique looks.

Looks more like a 800 then 920 :))

That's exactly what I was thinking. But that's not a bad thing if they are able to get the weight down.

it has its own appeal ..no comparison to Lumias.

Yup.. at 2.5x the price of L550, it better be

but what amazing battery life could be expected with those specs ;-)

Very interesting concept for the design. That is unique and I like the options here - but, I would like to see better specs and perhaps a thinner and less bezel model.

Yes bezel and better specs could be a huge benefit! I love my 1520 for up to 5 days use, yes I said 5 days! Depends if I want to sync Facebook etc, use as a normal phone and text. I average 3 days with Facebook.

I get 2 weeks just have to turn off everything and not use it If you get 5 days you clearly should just get a feature phone because that's all your doing with it.

They gotta change that name. It makes me think it says something else.

Design is cool, but the specs are decent too! Cannot ignore them. ;)

Nah...I would prefer a Lumia 950 more than this phone...

It was rumored that it's kept under Elop's pillow with Windows Phone 9 on it.

Hey, I would. As a matter of fact, I might be moving to Japan next year so if things work out then it'll be in my possession!

The Lumia 640 is the last low-Mid range phone I'll ever buy for a daily driver. Flagships or s810 processor or higher from now on

For specs alone, no. For design, hell yes. It's a bit bulky though

Can you imagine the "problems" having a phone called "NuAns" would cause around here? Ahahahah
"Bom dia, por acaso tem um NuAns?" Posted via the Windows Central App for Android

I don't speak Portuguese(I think its Portuguese) but wouldn't the joke be lost in translation anyway.

There's no point, Rod. The joke, as NM_N said, would be lost in translation ;)

I think the bulkiness is because of the bigger battery and having a customizable backs that requires thicker plates to retain good build quality, no one wants phone that bends.

This phone main looking at it, is lovely....pls send to west African

Looks like lumia 920 design.

That's exactly what I said.

Hum 617 that pretty good if 300 to 350 I buy it

HD screen resolution would make this a perfect premium mid-range device.

The screen is HD. Just not "Full HD" (1080p). Is not bad at all though. Can confirm with my 830 that 720p looks pretty good for what it is.

I have the feeling that it is thick and bulky

I'm more interested in the new poll design than this phone :)

Hell yeah! It would be a good midranger.

I'd be tempted, if it remained a 'budget' device in the UK, but then again it'll get doubled! I did tip WC about another device floating around on twitter #windowsinsider. Whether it was a scam or not, I don't know, but there were renderings and a few specs. The most notable point was it didn't run W10M. It ran the real thing! Allegedly available 1st Q 2016.

Check Nurve Technologies Synchphone

Retails at the equivalent of $350 USD but currently only suited for Australia, Hong Kong and other selected Asian Countries using similar 4G radio frequencies

Does it have glance or notification light?

Seems I'm the odd one here, but I personally think that thing is horribly ugly.

Same really. I wish that there was a "No" option just for design alone. I wouldn't pass it up because it's not a Lumia, only because of the look.

You could use a matching combinations of backs to beautify it

I would be interested, depends on the price. Any estimate?

If it had continuum and a good camera, would be interesting as nothing is in that space.

It supposedly has a 28mm sensor, which shouldn't even be possible. We're talking almost 3 times bigger than the 950. If that were true, it should get amazing snaps. Though I personally think it's just a typo.
As for continuum, it supposedly delivers

I can't say I would. I'm not big on mid-range phones. A 600-series SoC and 720p display turn me off. If they got it to a 1080p screen and SD808 SoC with Continuum, I would look at it for the massive battery and Microsoft-topping customization. Even then, I'd have to see that the camera is more than just a megapixel checkbox, and I'd want to get a feel for and peek at the design in-person. Given how MS skimped on features with these new Lumias, this is the first time I can say third-party OEMs could potentially get my attention.

What featureS did they skimp on with the 950s?
They gave QHD screens, best Qualcomm processors, 3 gigs of RAM, great cameras, 3000+ mAh batteries, 32 GB storage, microSD card support, USB Type C with USB 3.1, removable backs and batteries. I can't possibly think of ONE feature that they left out of these phones. And yes, metal is not a feature.

Adding fast charging and wireless charging to the list. Even Dual SIM option for the XL.

Also, I don't like metal for my phone back--it's too slick, and light metal isn't visually attractive to me. Some of it is as much about putting in minimal effort as it is missing features, too. The camera is really nice, don't get me wrong, but the improvements from competing OEMs are much greater, to where 20 MP and OIS reads like a standstill, compared to the 950 (even though the software and deeper internals are better, like OIS and Rich Capture). I really think they should have pushed for a higher-MP camera, just to make sure these things screamed "elite camera." LG and others are now pushing things like laser auto-focus, which I guess is nice (I've not used it). They didn't give us the typical option of colors that Nokia devices usually allow, either--I'd have LOVED to get a 950 in orange. Then, they paired with Mozo for accessories, and what we got (so far) was $50+ for a replaceable back that offers no additional protection and is very limited in its options. The offerings from Mozo are both overpriced and completely uninteresting to me, as I don't want one of 4 boring colors (black, white, brown, red) or a leather back. I'd much prefer to see the loud, vibrant colors of Nokias past (orange, green, blue, yellow, gray), and I'd like to see iti n polycarbonate. But as to real, tangible features, super-sensitive touch is gone. Using your phone with gloves on? Not anymore. Double-tap to wake isn't around, and I freely admit that I still occasionally find myself tapping at the screen and wondering why it's not unlocking. The audio quality is all-around worse as well. The rear speaker sounds cheap when listening to music. I do this because I'm not far from getting a new car, and putting money into upgrading the audio setup in my car to work with my phone isn't worth it. Listening to music, I often find it has this rise and fall of loudness. It'll play at the 25 volume level I set it to, then after a couple of minutes, it'll sound like it's been dropped to about 15, before finally coming back up to a proper volume level. This is across several different tracks. With headphones on, it similarly doesn't sound as good. Granted, I don't have a fancy-pants set of earphones/headphones, but when I can notice the difference in quality on a cheap set, that kind of says something about the fall-off in audio quality. Oh, and don't get me started on how bad Groove Music is as an application. There's no true companion app for these phone and Windows 10, either. Everything but photos is drag-and-drop, and it DESTROYS my music library. A whole lot of what I synced on the old Windows Phone app lost its artist and album art on Windows 10 and Mobile, and playlists are annoying to manage. Music is probably the #1 thing I use my phone for, and the experience is severely hampered now. But, again, it's as much about minimizing effort as flat-out losing things. They didn't finish the OS before putting it out there, and now there are widespread bugs, Islandwood isn't out to help with apps, and the ecosystem as a whole looks like a lazy effort. I'm still really happy with my 950, I don't regret the purchase at all, but it's still got a lot of holes, in regards to features and polish.

How are other OEMs doing more interesting designs than Microsoft? And yes, a definite buy.

Awful charting service or embedding. Unable to see legend or it is too short and in fe lines. Device seems interesting and I hope they it will be very popular, but I want to play with continuum :)

As a first-time Straw user, the app worked great for me. I wasn't sure which poll link to choose in the WC app, but the second one seemed correct and it was. W10M on L925

If it had a 1080p screen, 100% yes. It's interesting, and the battery must be astronomically long.

If its on Verizon and it's the only windows phone available yes but its going to need more internal memory

It won't ever be on Verizon, Verizon isn't interested in serving customer's who want niche devices, they want mass appeal like iPhone and Galaxy S, and exclusives like Moto Droids.

hmm... looks like a 735 with a bulky back cover

I will buy this phone IF there are any service centers in India. I don't want to send it for service for Japan for a broken screen and get it back after 2 months. My only suggestion is that if they are to expand their markets for sales, they should expand their service centres too.

Yes especially since I've just been to the Microsoft event in Soho and wasn't impressed with the 950/XL at all (continuum is good, but I don't need it, yet at least) they were selling the 950/XL on site for full price, this phone would have been an easier sale due to the reasonable price

Yes! I was looking at it, but unfortunately it looks like it can't access 4G in the US.

I voted no I'll stick with Lumias - but it hurt to do so. The reason is I live and die by the camera function. I even gave up Windows Phone for a bit to go to the 808 PureView Symbian Belle as it was the best option to finally bury my point-n-click camera. Even given the LG G4 which is a fantastic option and with others narrowing the gap with better cameras as well, to me, the Lumia camera is still by far the best out there. If Nuans ever puts some effort into their camera, then yeah, I would very much like to buy theirs. I think after the 920 for WP and LG G4 for Android, the form factor in most candy bar phones is dull at best. I think my favorite form factor of any phone I loved the best was the old Nokia N8; my favorite form factor of anything I have owned is the Lumia 900; I also like the 930, but the 900 just had a nice feel about it with the glass shape and the polycarbonate blue body. NuAns Neo by far represents the most effort I have seen any manufacturer put into candy bar design - and the modular function giving the customer flexibility to change is a fantastic feature. Overall I love the phone; even if I wouldn't buy it myself yet, I really wish they would expand this to the USA.

I just bought a 950XL so I can't say I'd happily buy another phone right away but it would be nice if there were other options for Windows available in the US.

If the price would be right, I would maybe get this for my gf.. and get a 950 for myself haha

Not fan of two-tones. Japanese designs/thinking can be quite intriguing. See phone at end of this commercial http://m.youtube.com/watch?v=c84C6YZirzE

I never did mind the bulkiness of the Lumia 920 at all but this phone looks like a "brick." I don't know if its the design that makes it seem thicker than it really is but after looking on their website more closely, that is one hideous looking phone. Specs of the phone seem to be just fine, its actually nice to see the snapdragon 617 series processor being used in a mid range device but that design is just awful! Posted via the Windows Central App for Android

Could make a great midranger. specs are awesome.

When reading the branding on the back, I first see "anus" and not "NuAns". Is this my dyslexia or is this happening to anyone else! But if it was say $249 - yea bring it to the states. $299 for 4G and full HD screen.

Assuming other characteristics of the display were appealing, I'd be totally down with 720p and great battery life in a 5 inch device. The current 550+ ppi arms race in phones is ridiculous to be honest.

I would love to get any good phone with W10M.

And what was the price of that phone?

It's rather thick and looks a big clunky. Not for me but the more the merrier.

Yes! Nice design, front almost same as my 735(read beautiful) nice hardware, good Sony cameras, great battery life and so on. Ofc, when price drops. :D

I would, if I had the cash

I vote no for myself as an owner of a 950, Windows Hello and Continuum are a must for my next personal Windows 10 Mobile phones. The abscence of those two features make all of my other Windows 10 phones seem like..well, just phones. The Snapdragon 617 is an octocore processor with external display support and the only thing making it midranged is the weaker Adreno 405 GPU. https://www.qualcomm.com/products/snapdragon/processors/617 Interestingly, the specs only list USB 2.0.

No Snapdragon processors support USB 3.1 till now, not even Snapdragon 820.

How on earth is the 950 using a Usb 3.1 connector, then?

I wouldn't buy it, simply because I like the high-end phones. I can see it would appeal to some people though. But with a low WM share I doubt they'd sell more than a couple hundred in the UK.

Yes, I have always wanted an Anus phone.

I would buy one in a heartbeat.

I would buy if... It has a spectacular camera. It has good drivers with a promise to update.

I'd be interested in using as a second phone for sure. I use icon and HTC m8 wp currently and soon I'll get the 950xl so that'd be a great addition.

Before you all would buy it please consider no Here Drive or Maps, no Mixradio, Glance, double touch to wake. WP outside Lumia is even worst. Believe me, crushed L830 to BLU Win HD jumper :-(

Glance is the only one I would miss. That would be a bummer.

Why no MixRadio? It's no longer a Nokia, HERE or MS product.

the Here applications are available to all WP devices.

Here services, MixRadio, and double-tap-to-wake aren't Lumia exclusives. The services are opened up to Windows and Android users and the Double-tap feature is hardware based.

I already checked their site to see if they shipped to Europe! I didn't see a HELL YEAH vote button though!

Dat wood top n bottom. What's the price!

I said yes, but I mean only that I would seriously consider it - not that I'm 100% sold right now. I love the look they have acheived and solid battery life is great. I'm also really happy with my L950 right now. But, I would consider it for the kids or other family is the camera is good. The other concern I see from the pictures is that it looks kind of fat.

I would buy it. For sure.. Cause no mid range lumia available as of now except 640,, so this is a good time if they wanna sell. Curved screen looks amazing!

The 640 is a low range device.

Most definitely. I like the overall design aesthetic and am not a fan of super thin devices as they're less comfortable to hold. Replacing the 920 with a 950 is on hold. Camera quality will likely be the determining factor.

I would if they released a version that had LTE bands that worked in Canada.

I bought the 950 XL last week, I'm not in the market for any more phones.

I like the idea of the different colour combinations. It'll be nice if Microsoft do the same with their Lumia/Surface line in the future.

O, yes. I will buy this phone! I like the specs. Much stronger then my 640xl. Actually, Microsoft, I will buy Lumia with this specs at reasonable price! Give us Lumia 650xl. Now! 350 euro? Please. :-)

You mean 750. These specs are what a Lumia 750 would look like. An 850 would feature a full hd display and a better camera
And a 650 would have a weaker processor - SD420

Looks weird but i will be buying it instead of lumia 950 with such unreasonable price in India!! And please if you want some sales please launch it in India as well.

Indeed, though for India, I think MSFT would start supporting mediatek processors. That alone would bring down the prices while retaining the 'octacore' spec that Indians seem to love.

That phone needs to be thinner desperately.

Although its 1 meter thick , I'd like to pick one up

Rather than importing the phone why don't they get the templates for the windows mobile devices here, make the same back cover combinations and sell those here?

Good point. One could use similar covers for a 950 and still get a thinner phone

What does sql have to do with this phone

Continuum for $350? Yes I would.

It's not that bad looking actually. Yea I would ten to one it would be exclusive, so one could own a wp10 device and not be on at&t Posted via the Windows Central App for Android

i would love a better midrange phone than my 640. I would prefer 1080p, otherwise, It has everything I want in a phone... assuming the price is right. I would pay $300+ for this.

The 640 is low range, not midrange.

Definitely, we only have 950 here, so an alternative W10M would be welcomed. This Nu Ans model is very unique-looking that I'm sure people would buy it just for the looks.

Important that phones are getting manufactured in Japan. Japanese carriers refuse to support devices not bearing the symbol they are passed in Japan. Generally told that means manufactured in Japan. Come on Microsoft. The android market here is terribly fragmented. iPhone rules. There is room here for you to slide the Lumia line in.

Wait, the iPhone are manufactured in Japan?

My 930 is way better than my old 820 but my 820 is more tactile, I reckon once you've handled one of these you'll see (or feel) the attraction.
But either way it's interesting.

Love the design! plus uber battery with a HD display seem a smart move, it should last at least a couple of days with moderate usage.

It's reminiscent of my Nokia N9. Nokia's move to Windows Phone got me here to Windows Phone (was an Android fan before that) but I always have had a soft spot for my N9 still. This phone seems to extend the design/idea of the N9, so I would definitely be intrigued by it. For that price tag though, I'd want to know that it has Continuum compatibility, confirm the build quality, and have to see the camera's results. The thinness trend will need to chill out of batteries and processors can't catch up, so they're onto something.

If this phone can support continuum, will 640XL support continuum? Or Xiaomi Mi 4?

Xiaomi mi4, yes.
640xl, no. That phone is low range with a weak processor.

It weights 150 grams -- just like the 950 -- and is 141 × 74.2 × 11.3mm -- that's 3.1mm thicker than a 950. Its even thicker than the 10.7mm of the 920. Since the screen is 0.2" smaller than the 950's 5.2" screen, it should be 4.8mm shorter -- it comes close to that, being 4.0mm shorter. The smaller screen means that this should be 2.7mm narrower than a 950, but it's actually 1mm wider -- those rounded sides are costing 3.7mm. Full specs at http://neo.nuans.jp/spec/.

Does it come with 4G/LTE?

Mid range....
SD617 should allow passive voice and there is talk of Continuum on it.
USB-C with quick charge is definite plus
Overall design is good
Camera is unknown, I've seen plenty of crappy ones.

Were it thinner, higher specced and with a bigger screen that's a definite yes. It definitely has unique styling that I like.

What's the point of another phone if they can't get the OS together?

It is together. More so than the last major version. Just because it's constantly updated, doesn't mean it's half baked.

Looks fat and provided the spec and if pricing is on point will sure love to try it.

Better design... But it all depends on MS. They have to improve OS, like background tasking, Bluetooth received folder, apps and games up to date with ios ... So it's not that simple...

I wouldn't because nobody supports their devices after purchase as well as Microsoft.

Its more look like a fabula designed one just like my 730.