Pool Live Tour lets you battle with Facebook friends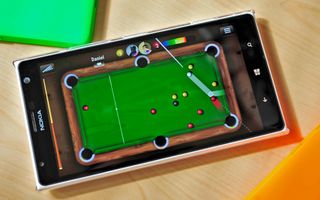 Popular Facebook game Pool Live Tour is now available as an app for Windows Phone, bringing with it live pool competition with real players. The game boasts 2.5 million players every day so you'll always find a worthy opponent. And with Facebook integration, you can even invite friends for an instant tournament with someone you know.
And for those who are shy and don't want a live opponent, you can also play on your own with a bot. Our own Daniel Rubino took it for a spin and notes that the graphics are smooth and mechanics are good.
The best part is that the game works on devices with 512 MB of RAM as well.
Have you given this a shot? How are you enjoying the competition with Pool Live Tour?
Thanks, Sudipto B., for the tip!
Chuong's passion for gadgets began with the humble PDA. Since then, he has covered a range of consumer and enterprise devices, raning from smartphones to tablets, laptops to desktops and everything in between for publications like Pocketnow, Digital Trends, Wareable, Paste Magazine, and TechRadar in the past before joining the awesome team at Windows Central. Based in the San Francisco Bay Area, when not working, he likes exploring the diverse and eclectic food scene, taking short jaunts to wine country, soaking in the sun along California's coast, consuming news, and finding new hiking trails. For news tips or to connect, please message him on the Signal messaging app at +1 (424) 666-7438.
"The best part is that the game works on devices with 512 MB of RAM as well." +520

Yeah Lumia 720, just waiting for 8.1 so I can move games as well as music & pics on my Micro SD card.

Yes. Trust me, you'll have a different feeling for your device once you upgrade to 8.1. If you ask me, the budget devices will benefit the most from it, right, the SD card expansion for games and apps. I've been using WP8.1 Developer Preview since it was released and excluding few bugs, I'm really satisfied!

What's the voice search engine like? Cortana? Thank you for your sensible answer, & information. So many different talking heads around, it's difficult to know what is & isn't correct.

Almost! In fact, Cortana for WP8.1 is much more than a search engine and a mobile voice navigator. "She" can do a lot of things for you. A lot. You might as well want to check out the app I've created called "Cortana's Guide" in the store (link below) for your 720. It helps out beginners who are new to Cortana. This app is FREE in India, US and other select regions (the developing and economically backward countries basically). You may switch your phone region to United States in case it's paid in your country to get it for free.
Yeah I know, some just come here to troll all around (ignore them!) but you'll find some good people here as well. It's a big community ;)
http://www.windowsphone.com/s?appid=3947a1b6-23fa-4ed0-9131-70df566ab2f0

Omg omg omg...! w8ing from long time ;)

Where is candy crush saga "????

I've heard never, but I've got a sort of the same game, which I got free too cause it was on a Free 24hrs thing. It's called 'Fruit Frenzy' so give it a go, it's about as close as we've got on WP. I do prefer it now.

There's also Frozen free fall (which i love) and maleficient's free fall.

Where are you in frozen free fall now? I'm only in level 27... It's a really nice game but I'm not sure if I can complete it without any IAP... LOL

Level 83, not one IAP, i don't think i have used the free power UPS either. I have been stuck sometimes too, just keep on trying. Actually this 83 level is kind of difficult. Xox

Wow! You've travelled a long way! I think I'm not that good in match the three games but yeah I agree I need to keep trying... :)

This isn't bad just took forever to download.

This actually came out over the weekend, but no one at WPC was able to download it. They finally fixed that, thankfully. Fun little game.

8 ball pool by miniclip, candy crush and stick cricket... My WP ecosystem is complete... I will feel no app gap... I so miss these games... I m planning to buy Nokia X2 when it comes as a secondary phone just to play these games...

That would be a really idiot move to put this game only for 1 gb ram

Awesome! I loved playing yahoo pool a long time ago, but now I can play on the go :)

Cant download here in Brazil. Ah, of course, isnt available here. ;(

Greetings to Brazil, we have removed all the country restrictions recently and are testing Pool Live Tour world wide. You should be able to download PLT in Brazil today already. We are currently fixing some issues including Play with a Friend feature and plan to launch a global campaign during the next week. Kind Regards Honza
Geewa team

Hey. Thanks a lot for responding me! Tried now and the game still is not available here. Did you upload some certificate (PEGI/ESRB) in the place of the brazilian one (DJCTQ)? You have to upload one of these and select an age rate that matches the certificate you used.
You can instantly get a PEGI certificate here: https://wp-rating.pegi.eu/Games/Submit


I'm unable to play with my Facebook friends.. Can only play against random people.. Am I doing something wrong?

After I logged into facebook the app goes crazy on my 928 icant play

Ohh no!! That is terrible I tell ya

My fave. The game that will never be deleted. Ever.

anyone else unable to start a game with a facebook friend?

not able to play with after login with fb i get a option to play with frnds but not able to click on it

Hello, Thank you very much for your feedback. Our team is working hard to fix this and we believe to see results of their work within a few days. See you at the pool table :)

Hello Pool Fans, thank you for playing Pool Live Tour! We're currently in the early release stage and will welcome all the feedback and suggestions from you. Feel free to get in touch with us using the in-game contact form with anything you have on mind. Looking forward to hearing from you! Honza Geewa team

Still unable to play with my friends..i see the option but when I click it nothing happens?

Windows please make available 8 ball miniclip game to our platform.. And its not my opinion my many friends are talking about this so please think on this..

Plz plz plz plz plz plz plz plz plz
Give us 8 ball pool miniclip
Catapult king give it free
Windows Central Newsletter
Get the best of Windows Central in in your inbox, every day!
Thank you for signing up to Windows Central. You will receive a verification email shortly.
There was a problem. Please refresh the page and try again.