Popular messaging apps WhatsApp and Facebook Messenger get bugfix updates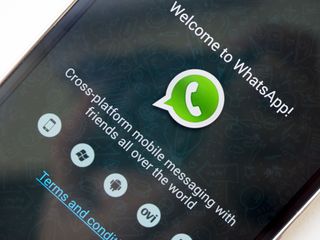 Both Facebook Messenger and WhatsApp have just received updates in the Windows Phone Store, but unfortunately neither one tells us what's new. Without having a proper change log knowing exactly what has been updated is impossible, but it is safe to say some bugs have been fixed.
If you happen to notice any big changes, or if anything is broken for you be sure to sound off in the comments below!
Thanks to everyone who sent this in!
Windows Central Newsletter
Get the best of Windows Central in your inbox, every day!
Jared started off writing about mobile phones back when BlackBerry ruled the market, and Windows Mobile was kinda cool. Now, with a family, mortgage and other responsibilities he has no choice but to look for the best deals, and he's here to share them with you.
WhatsApp calling feature???

No ...i think we'll get that feature in the upcoming two or three months lol :P

And I don't thi k that would be as great as the quality of Skype calling. WhatsApp really degrades the quality of images and videos to be sent. I think more the features WhatsApp will implement mote it will get buggy.

I heard that WhatsApp is working with a new UI designed based on wp10 for wp :)

Where..?
Source..?
Link..?

Don't just post it without any proof.

Ya. And Google is going to have an official YouTube app for wp10 for wp as well :)

When I saw the picture of whatsapp, the first thing that came to my mind was: They are retiring whatsapp from WP!! Phew...

That would be horrific to say the least... If that happens even I would be looking at moving me and my family to another platform!

Nice double whammy updates!!!

Hopefully these don't get pulled too *wipes tears

WhatsApp opens/loads faster.
Messenger fixes a bug which won't let us use the Up-Key (shift or the Capital making key).

On Facebook Messenger they also fixed the layout on my 1520. Before, when the keyboard came up there was a big black bar above the predictions. It is now gone.

Good news, just updated on my 1520 and same result

the "Meep" sticker also fixed (finally)! XD

Also, on Messenger we can now add people who are not friends to the conversation. I was literally thinking about this today and a couple of times before. Finally! :)

Actually we could do that even before. This feature had come in an update before the latest one. :)

I got it, in messenger "Like button" increase I means you can now send infinite like before update it was finite

Thank god these guys don't give up on Windows Phone...

I swear, when I read the first part of the title I thought it was being pulled.

I felt the same way. I hate having the feeling that more apps are going to be pulled. I use to believe that the next version of Windows for the phone was going to change the game by sending lots of folks Windows way but I don't see it happening. I'm so please that Microsoft's services are running on iOS and Android. If push comes to shove, I'd still have my xbox music, outlook, office, one drive, one note and soon cortana. At the end of the day, if I have those, I'm good.

Agreed, maybe someday WhatsApp will giving up for Windows

Whatsapp & Facebook for Android devices has already started the calling feature... Which is still missing in Windows version... What the fu...!!!

this update could possibly be a preparation update for the next update which could include the call feat

Well... There is still no official facebook app.. Microsoft write the WP one. facebook messenger is Facebook though right!!

If Facebook ran our App, we would probably get less support than now. There's nothing majorly wrong with our FB App. It's imperfect on all platforms. Read reviews on other platforms for proof.

Agreed. Ours is really better than the droids if not the iOS'.

Sadly nope. There are cases when it brings me to browsers instead of opening the posts in the app itself. Also, almost every taps need full refreshing. We still cannot like comments replies in posts. The overall responsiveness of the Facebook app is not as good as Android / iOS.

I miss the "Windows Phone", that used to appear when I made any posts, could've helped advertising WP... just sayin

JDB for Facebook can help:)

I'd have to disagree with that. Not talking about bugs. But FB Android and IOS apps have way more features than our vanilla FB app.

Microsoft wrote it but it's official.

The Facebook app is supported by Facebook officially though. Surprisingly, the Facebook app on PC is way more featured than the one on phone. Hope they make the PC app universal and get all those things on Phone too.

Feels good when u get updates...

How did ye post an emoti..?

Only those with great heart can do this! You must go to Tibet if you want to reach a new level for your soul!

Can't be done with the app for sure. Maybe an option in the formats of the desktop version.

I did it through the app. There is an exception for this particular emoticon I guess. :P Give it a try buddy ;)

Did it on his behalf only. Nice friend.

Damn that guy is famous for his emoticons alone ;) hope the future of MS holds a better marketing, just for his sake :)

Yeah how did that work??? :S

How did u do that wc app prevents me from posting emojis!!!

❤ I think the conversation has just changed from bug removal to "❤" this :P

Hmm...i see....❤ cool....❤ ...so this is how it works...❤❗❕ heh heh :P

Seems like an Easter egg to me...❕❤ :P

Both apps are a lot faster specially messenger which was very slow...huge improvement i would say on speed...even thou some features are still missing i think that would come too...patience...

If I could list all the missing functionalities on the WP app as compared to the android one, im going to start dreading why I switched to WP
----
Let me just turn a blind eye and ignore

Just a question... I have friends with iPhones that use imessage and it takes forever to receive messages and also I cant get content when they send files. Would whatsapp fix that? Sorry not much or a texter....

Yes, Whatsapp is a very good option for multi-platform texts, image and video messaging. imessage is shite and only useful for apple to apple transmission which makes it basically useless.

Maybe its got something to do with the updated policies on sharing of selective nudity

WhatsApp is frickin fast right now when loading lines, butterly smooth in scrolling!

we neither save audio files nor send it.

We just need Cortana support from WhatsApp. And it would really helpful for zuckerburg to collaborate with Microsoft

Windows 10 has this feature uf u set ur keyboard language to English US then the Speech to text feature button appears along with the paste button in prediction column of keyboard......even I spoke in Hindi and many times it wrote it in hindi (Hinglish) correctly.....

Maybe that's because those Hinglish words were already added in suggestion by you.

BUG FIX UPDATES? After 3 MONTHS they only fix bugs? Are they kidding me? ( I am talking about Messenger ) EDIT: Noticed the first change, they added "you:" in main menu when youre looking at your messages so you can see if the last message showing is yours or theirs.

According to this logic, then calling features going to come after 2-3 years xD (I'm talking about messenger)

The way so many apps are unpublishing from the store it looks like after 2-3years it will be be vanished too(i am talking about messenger)

Hey Jared! Are you a new guy?

My thoughts as well. Anyways, welcome to the community Jared :)

Next week, they'll probably be pulled from the app store. I'm honestly more surprised when Devs DON'T drop support for their apps at this point.

Well, you say that now...

Dude I'm terrified!! Just hoping they won't :(

Without having a proper change log u just write "seems faster" Jared :P

Facebook now shows (in list of conversations) who sent last message, it says "You: hey buddy....." and plain message if last was from other side. No black bar above keyboard. Doesn't seem faster. But it really needs to be rewritten comletely, can't stand the fact that it downloads the message when it is shown in notification, then when you open the notification you have to wait till it downloads conversation. When I'm on EDGE I have to wait sometimes like whole eternity till it download message again. Don't see change in Whatsapp yet, but it is fast like, like...Dodge Charger?

No, wait, Whatsapp really seems faster!

Super bug fixed ! Lumia Camera finally show vertical picture correctly ! It was Messenger problem, not Lumia Camera. Thanks god !

Even we don't have call feature in fb messenger.. And y do windows cant have a floating bubble like on Android??

Because its windows phone and not android.... ;) windows ❤

Whatsapp for android & IOS gets voice call option

Chatting is enough. No need to talk again. Lol

It's an option available now for other platforms , why not on WP . Options availability is good to meet all users needs.

No bro I have IOS and yes for sure it isn't available still on IOS....so don't get annoyed

Aaaaannnd the feature in droid sucks too bad. I always heard echos. Not just echos, echo echos :P

Hopefully the Facebook messenger update fixes my double notification problem (every message I receive gives two toast notifications and is listed twice in the notification center).

I had a same issue. Reinstall ;)

Messenger please just add theme support :(

Messenger please just add theme support :(

The black bar above the keyboard on my 1520 is gone :D

WhatsApp quick status notifications aren't showing up on the lock screen for me anymore, not a big deal but slightly annoying

Big black strip in facebook messenger is gone...nice.

Windows 10 is my only and last hope on windows phone , if things went wrong Then ill get an iPhone for sure :D I love Windows phone so much but I can't live with the situation of the apps , that's shit :'(

Did they fix fb messenger so it won't eat all my battery? If so I may install it now.

Messenger could start to work when connection to internet is off

Bored of bugfixes. Need a major update now. Been waiting too long

I have call option in menu at watsapp chat.
E: Newer mind it's for regular phone call

WhatsApp update is here.. Where is hike update?

what about whats app lock??? hope it will in next update..

Nothing new here...
Move on..

When will they add the calling feature to the messenger

bro my whatsapp is very slow, and open and back too long time taken. what to do....

Whatsapp is very fast since many months now, Uninstalling and the installing the app again will remove any problem you have with the app.

Just a little change in account settings..

I swear older versions of WhatsApp used to have a search function for messages, but now it's just for the groups names. how can i search for something within a chat ?

WhatsApp changes the chat color if you change the accent color from settings while app is running (you no longer have to restart the app) and now you can accidentally send likes to the people who you were the last one to text. The like button only,worked for replying to someone, it now works anyway

I was talking about Messenger there

Facebook messenger better renders for higher res, in my Lumia 1520 now there are no black bars (neither above the keyboard nor below the screen)

In Facebook messenger they restored the chat on the default messaging app as it was once on Windows Phone 7. To me this is a great feature lost in Windows Phone 8 and final y back!

Windows should take a step lead for WhatsApp, at least the voice call feature come up on WP.

Shame, all Android got voice call since Friday I think and we are still having bug fixing update, we will always be the least???

Just wonder which part takes care about the emoji...

Hope this fixes the lag/delayed message sending I've been experiencing on Messenger

I think the current update version(2.11.680) of WhatsApp is ahead of the beta version number(2.11.678)... And how come public release is ahead of beta version number??

Facebook messenger claim you can text to any number.. Sadly it don't work. (via change log)

still no battery saver option for allow app to run on background and allow app to run in background even when battery saver is on.

Ain't found anything new :(

#Facebook_Messenger has got a new feature in the update! now it has a true #SyncContact feature which will sync all the contacts of your phn with the #FacebookContacts

umm its broken! cannot install on lumia 520. error updating.

My facebook notifications (pop over) now show peoples profile pics, never saw that before.

Where is calling feature for messenger..❓

Where is the option to clear all chats in a single click in WhatsApp ✔❓

I just saw the updates after reading it here but the good news is that here in the portuguese windows phone store we have a change log. I am translating the change log to english below so sorry if something is not accurate. - Improvements to speed the application - Now you can send messages to people that are not your friends in facebook - Touch in People to sincronize yout contacts - put the person phone number to send her a message in the aplication - Adds colorful drawings and text to photos from the camera roll

So it seems we have some quite good features coming in :)

that's it .. i've had lumina 920 since its release (2012) now i'm giving up on wp OS i'm changing to Android asap .. at least on whatsapp you can select multi messages, pics or videos and forward 'em i requested this feature million times and whatsapp support team is just full of $#!& !!

Me too feeling the same..! Shity developers..!

Lots of bugs after dis update :(.. #watsapp

Update once ot twice a year, haha, great job WhatsApp for SUPPORTING windows phone. Please do it better than this.

Still No audio attaching feature ;[

Why the apps in Windows phone lacks in features compared to the other platforms?

In the messenger update I have noticed one new thing that is while chatting you can send the like button even when you have at first sended the message...the previous version allowed users to send the like button when they have got reply...

Anyone out there is having troubles whit messenger notifications? Since last update i lost them at all...

There is some bug with this update whatsapp is not working in my phone and maximum i need to restart my mobile for sending messages. I am getting annoyed

We don't need bug or other small fixes we need big updates like Android do...

Facebook messenger is not working in my lumia 535 which has windows 8.1?