The popular Talkray messaging app makes its Windows Phone debut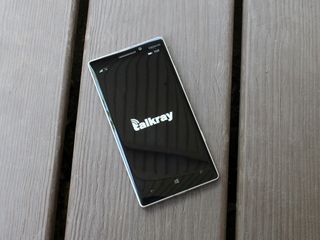 With all of the Windows 10 news coming out in the past few weeks, we missed out on a new addition to the Windows Phone app family that has a popular following on iOS and Android. The Talkray messaging app made its debut in the Windows Phone Store on July 20, but we wanted to alert you just in case you missed it.
Here's a look at the main features for the Talkray app:
BEST INTERNATIONAL CALL QUALITY: Clear and optimized for mobile calling across the world.
LOWEST DATA USAGE: Clear and optimized for mobile calling across the world.
GROUP CALLS AND MESSAGING: Supports up to 25 participants for both calls and messaging. (Please note that the current Windows Phone version doesn't support group call at the moment.)
NO NEED TO ADD FRIENDS: Works just like regular sms & phone calls by integrating with your existing phonebook. As long as your friends have Talkray installed, you can text and call them all you want for free!
SHARE PICTURES, MESSAGES, AND MORE: Share emojis, page friends, and much more.
FREE, NO HIDDEN COST: All features are free. No hidden costs. That means free group calls, free international calls, free texts, and more. Uses WiFi or a mobile data connection.
NO ANNOYING ADS: Ditch all that ad clutter and focus on your talk and texting.
SUPPORTS MULTIPLE DEVICES AND LANGUAGES: Talkray supports Windows Phones, Android Phones, Tablets, WEAR, as well as iOS. Talkray is available for dozens of languages including Arabic, Bengali, Chinese, English, French, German, Hindi, Italian, Japanese, Korean, Marathi, Portuguese, Spanish, Russian, Telugu, Thai, and more.
Thanks to Sachin for the tip!
Download Talkray from the Windows Phone Store (Free)
Windows Central Newsletter
Get the best of Windows Central in in your inbox, every day!
No group calls this is main feature

Downloaded a few days back...... :)

Oh Adele, where art thou?

How do they pay for the services they need and their expenses, if it is free to the customers?

Could it be that popular? I mean, there's nothing new here, just one more messaging app that will be bought anytime soon by any big player.

Messaging apps are very regionally based. WhatsApp is not big in the US, neither is LINE, but elsewhere...

Then which one is popular in US?

Text messaging, Skype or Facebook. And I guess some fruity people use some kind of apple thing.

They still cry for kik messenger. So....

Do you mean that WhatsApp is not big in the US for WP or in general? I'm curious, because it seems everyone I know is on WhatsApp (here in the US.) As a matter of fact, years back when I was pushing all my friends to move to Kik (they'd just left BB using BBM,) they all went to WhatsApp instead. I myself hadn't heard of Talkray and before WP I'd been on Android since 2010 (Droid X.)

A friend of mine may find this app useful, he spends much of his time In Iran and viber was recently blocked there, he Is now using whatsapp.

How many more messaging apps....

It was released about a week ago , you slow turtles -_-

I can't add my india mobile number, is their any restriction?

Same happened to me and the app showed my number as an invalid one. I just quit the app and restarted it and entered the details again and it worked then and accepted my number.

So what I don't fully understand about the messaging apps like this is, Why use these when so many ppl communicate via FB messenger anyway? Am I missing something, lol? I want to use Skype more myself, but most of my friends there are not online cuz they're on FB messenger

Neither are meant to be solely im apps

Can't get this to install on my 1520 running WinXM.

Tipped by me... :) Not a perfect app though..has many stability problems !

What does "popular" mean nowadays?

Daniel Rubino Messaging apps are very regionally based. WhatsApp is not big in the US, neither is LINE, but elsewhere...

The damned thang won't accept my Irish number. It must be very mad when it claims I don't know my phone number. I am a fifty years old guy with many years of experience in mobile computing. How won't I know my numbers. Were leleyi o.

Tried it but it failed to wake my phone up from sleep for notifications. Unfortunately only GroupMe has been somewhat reliable for notifications and even it sucks. Telegram didn't work well either. I can't use Whatsapp, Line, or WeChat because I need something that is phone number and phone independent as I carry multiple phones all the time. (oddly specific I know, but not that unique anymore with work and personal phones). The UI is fairly bad as well. The send button is in line with the message you are typing, right by the all delete button, and teh hamburger menu is in top right so you need gymnastics to reach it. Uninstalled.
Windows Central Newsletter
Thank you for signing up to Windows Central. You will receive a verification email shortly.
There was a problem. Please refresh the page and try again.