President of HTC China reveals more info behind Windows Phone 8X and 8S, hints at Zenith.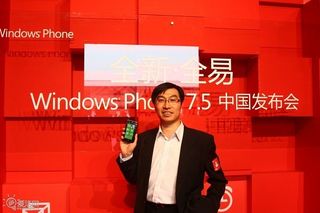 Mr. Ren Weiguang on Windows Phone 7.5 Chinese launch event. Image credit to evolife.cn
Chinese site WPDang managed to interview Mr. Ren Weiguang, the president of HTC China, after the manufacturer's September 19th announcing of the very colorful Windows Phone 8X and 8S range. The interview reveals what's probably mixed news about HTC's products.
In summary, Mr. Ren told the journalist the following:
HTC won't ditch Windows Phone or Android. The company adopted Windows Phone before it was mature, and won't abandon Android when things are starting to go sour along that path.
HTC Titan, the company's only Windows Phone legally released in China, has sold "not very well", but "as we expected". With this I totally agree. When you sell a device only in a selected few channels and don't advertise about it, this is to be expected all right...
Beats Audio was brought to Android devices with dedicated audio chips. But on Windows Phone (both 8S and 8X), it was implemented through software enhancement, because Microsoft doesn't allow the manufacturer to alter the standard circuit design. This sounds a bit cheap. Not sure how the audio performance of 8S and 8X will be, when pitched against their Android counterparts, although the addition of an amplifier in the 8X may help.
As you've found out, HTC indeed is considering colors a key differentiator. Outside the default choices, there might be new "carrier-exclusive" color patterns too. According to WPDang's informant, HTC's 8S has got unique colors to all three Chinese carriers: red for China Mobile, blue for China Unicom, and grey+yellow combo for China Telecom.
Besides 8S and 8X, HTC is working on a phone with "even bigger screen" right this moment. This could be the previously rumored quad-core device "Zenith". In another post, WPDang speculated the potentially mother of all Windows Phone 8 devices will hit the market by the very end of 2012, or early 2013.
I can't help but wonder though... If adding an audio chip alters the circuit beyond Microsoft's limit, how about Nokia? The Finnish company threw a whole optical image stablization system, complete with specially designed hardware and customized driver, into the Lumia 920. Does that mean Microsoft is granting Nokia power beyond power, allowing it to manipulate Windows Phone (the OS and specifications) in any technical fashion it likes?
Does HTC's repeated statement about "we have invented a thoroughly sound marketing strategy together with Microsoft" (dead curious about what exactly it is) mean Redmond is trying to compensate the "unfair effect" from Nokia's especially favorable treatment? If Nokia gets all the technical power, and HTC the full marketing support and naming privilege ("Windows Phone 8 series" running on Windows Phone 8 OS), then what's left for other Windows Phone manufacturers?
What about guys like ZTE and Huawei, who typically won't move until they have a clear path and objective? And Samsung, the company left in the cold with an Ativ S whose screen couldn't be lit up?
So... what do you make of the interview? Do you feel colors as a selling proposition convincing enough? Are you excited about the "even bigger" thing yet to come? Let us know in the comment field.
Sauce: WPDang (1), WPDang (2)
Get the Windows Central Newsletter
All the latest news, reviews, and guides for Windows and Xbox diehards.