Read your favorite newspapers with PressReader for Windows Phone and Windows 8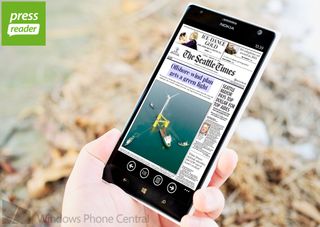 Can't get enough news? Then you're going to want to check our PressReader for Windows Phone. It's a popular application from iOS and Android that gives you a more traditional newspaper reading experience, but on your tablets, PC's and smartphones. Just as you wouldn't judge a book by its cover, don't just an app by its screenshots. PressReader is awesome.
The app came out a few days in the Windows Phone Store, but it has also been available for Windows 8 users in the Windows Store for quite some time. Today we're checking out the Windows Phone version.
PressReader (www.pressreader.com)gives you access to over 2,300 newspapers and magazines from 97 countries in 55 languages. It also does a pretty good job of replicating that feeling you get when reading articles in a newspaper.
Launch the app and you'll be able to get 7 issues for free. You can find various publications by name or country. What's nice is the app will show the number of publications available from a given country next to the name as you scroll down. For example, you'll notice 291 publications from the United States are available to read through PressReader. Tap into the USA section and you can browse for newspapers by popularity/rating or alphabetically. Pick a newspaper, an issue date and you're ready to download. You can also mark a publication to automatically download new issues and/or mark it as a favorite source in the app.
You're downloading the entire newspaper as you can see in these screenshots. At first it might seem unwieldy and counterproductive to read content like that on your smartphone or tablet, but it's not bad. You can do things like pinch to zoom to read an article. Or you can tap a headline to view an article in text mode and get a more traditional reading experience that you'd get in an RSS app. You can then have an article read to you too.
I actually liked the ability to view papers like The LA Times in newspaper form and browse for articles like I would a real newspaper. Then I'd tap the headline to go into the text view and actually read it. It's a pretty neat experience and I can see PressReader being used often on my phone.
PressReader is free for Windows Phone 8 and Windows 8. You can download 7 issues to trial. After that you'll want to create an account and subscribe to PressReader. You can either pay as you go on a per issue basis or subscribe to one of their subscription plans.
Grab it in the Windows Phone Store or the Windows Store (opens in new tab).
Windows Central Newsletter
Get the best of Windows Central in in your inbox, every day!
Not available for my 920 black update in the Netherlands... Bummer.

Have you tried changing your region to United States?

Same here. I use Twitter or the app from the local paper.

Yes, it is sad that a primarily source of news is tweets.

Not available in Spain, Lumia 920.

Not available in 720. India

Not available in Portugal :(

Looks nice. Posted via the WPC App for Android!

I'm definitely going to give this a try tonight. Thanks WPCentral... Articles like this keep us all in the know about the newest developments (app-wise) in Windows Phone

Works good...920 EE UK....Shame no London Metro

Not available in Slovenia, lumia 1020 :(

Congrats on making the quarters in hockey at the Olympics! Hopefully you guys can cause trouble for Sweeden

Not in Norway, Lumia 1020

Not available in Singapore, Lumia 1020

Addicted to news here....
Love financial, global news, etc.... Sure will like this one too Ops, too expensive I think

That's weird guys!! Cuz it's available in Algeria!! HTC 8X

Not available in Ireland. Lumia 1020

Not available in India Lumia 1320.


I see it covers lot of Indian newspapers.. But the app is not available in India? :(

What if I already have a subscription to one of the papers? Do I have to pay on top of that?

Not available for my Lumia 720 with Black updates In India. Very bad.

The news paper files are quite large, you should add something to show you how large the file is before I start downloading coz data sense shows I've downloaded 85mb and I'm just halfway through to downloading one paper...i wouldn't have started if I knew it was 150mb a pop.

Stay tuned everyone! This release of PressReader is the English version, however translations are in process and will become available for you shortly. For users interested in the English version, check back with the app store to download now – an availability update has been applied. Thanks for your feedback and happy news reading!
Windows Central Newsletter
Thank you for signing up to Windows Central. You will receive a verification email shortly.
There was a problem. Please refresh the page and try again.