As promised, Microsoft shuts down the Lumia Beamer app for Windows Phone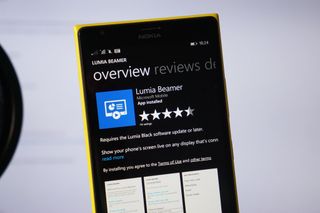 Microsoft announced earlier this year it would be shutting down a number of its Windows Phone apps, including Lumia Beamer, and today that particular app was updated to effectively retire it from circulation.
Lumia Beamer was first developed and released by Nokia, under the Nokia Beamer label. It launched just over two years ago and allowed Lumia Windows Phone devices to beam its displayed content on any screen. Microsoft renamed the app to Lumia Beamer when it acquired Nokia's Devices and Services division in 2014.
Thanks to everyone who tipped us!
Windows Central Newsletter
Get the best of Windows Central in in your inbox, every day!
At least MS was true to their promise.

One app at a time...why?!! I liked Lumia beamer then Smart cam was my favorite and it's gone, and don't make me started with photosynth you 'pos' the best 3d panorama app, the integrated facebook app in the message section was the reason I felt in love with windows phone, I know the are many more

Yeah!! Miss that built-in fb messenger

You do realize that it was Facebook that removed the integration and not MS right?

They pushed for it to be removed, but last time I fired up my HTC Mozart, it was still working. Either way, still kinda sucks.

Last time I checked it was MS who removed Facebook integration. Their reasoning was that API updates requires an update to the OS. They had the same excuse when Windows 10 development was underway, even though Messaging was broken out as a separate component with the introduction (and Skype was later added), proving that it is now technically possible without an OS update.
Everyone wants that integration back. I just don't think MS wants to do it.

FB was going to remove the API (they already did it a few months ago) and they needed to update the whole OS in WP7/WP8 to adapt to the change. So, the long term solution was to make everything an app.

It is easy to answer what is their reasoning. Microsoft withdrew somewhat from Windows phones and wants OEMs to fill the void. It doesn't want to have its own exclusive apps that OEMs can't ship with their phones. Whether it will work or not is another question and also what of those things they'll implement in the OS. Remember, Nokia was OEM and it made sense that OEM has its exclusive apps. Microsoft is OS provider and it doesn't make sense to have its own apps (just like it doesn't have any for Surface).

Sometimes I play my HTC Mozart just to remind me how great and smart WP was.

Don't forget to try to use the GPS with the phone locked or while trying to play a song. Or really any sort lf multitasking. The UI was great but even then it was behind in functionality that most consumers cared about.

I had it, but never once used it. Ah well.

I fired it up a few times, but I only ever used it as a novelty app. It was just something to show people. I never really had a need to use it... not even at the office

I had it too and never used it. Now, everything smells like shit, you can transmit a movie but you can't transmit your screen... Oh wait, you can, you only have to pay 600€ for a lumia 950 + other 100€ for a shitty adapter.... Btw, 3-4 years ago, androids actually had HDMI output. The whole tecnology thing is getting a real mafia. And later, they cry because they don't sell enough...

The Nokia n8 had HDMI out as well. Posted via the Windows Central App for Android

Shame- this was a very handy app for quick sharing. (and another that my friends with iOS/Android always went - ah.. I can do that... after A LOT of fiddling and failures)

You probably mean Microsoft XIM.

Sorry xim http://www.getxim.com/

Thanks for that - I WILL use it... but it's still no way as fast/simple as 1. Open the website, 2. point your phone at it (QR Code) and "you're done" - start sharing.

Xim is good, use it regularly, but not working on Win 10 mobile.

Xim is great. Live interaction! Multiplatform.

What did it do that miracast didn't?

You could beam your screen or camera to any device with a web browser.

You could use any screen with a browser...

This was more of a remote screen sharing app. If you find something cool, you could display it on a remote device (you could see it on any web browser, so it was platform-agnostic viewing). Now that I think about it, this would have been great for tech troubleshooting but we didn't have many complaints from our WP users.

What's it being replaced with? Integrated into Windows 10? This was one of the features that set Windows Phone (Lumias at least) apart from Android/iOS. They really should have advertised that instead of axing it.

I think they're just getting away the most possible from Nokia probably they're ditching everything that could tie them to Nokia, in some extent.

Aaaaaaand that's why we hate ms. First lumia camera ( best camera app till today ) forcing us to use the god damned windows camera >|< and now that. I am so going back to windows phone 8.1 . So going back to that. Screw win 10

How do you want to go back to WP8.1 when W10M upgrade only start next month for current selected model? W10M TP does not count.

Already arrived, W8.1 that is LOL... Everything as of the past several months just seems like a big cluster "you know what" and so disorganized, that is why I'm a click away from being a non-WP user.

Windows camera now has the same features as Lumia camera. They migrated all the features. Works great for me. Not sure what you're complaining about

Miracast doing the same thing right?

I'm not sure "set apart" is the right rhetoric. Was it cool? Yes. Was it unique? Yes. Did it attract users to the platform? Not really. So while I'm sad it's being discontinued, I can't really recall the last time I ever used it and it was honestly kind of a gimmick the way it was implemented. So not a huge loss.

Gimmick or not, everything needs a usp.

Re: TechFreak1,
What is "usp"? Is it typo for use?

Unique selling proposition

Of course it didn't attract users because MS never advertised it, so people never knew it existed. Much like MS never advertised the wireless charging feature on some phones and you see Samsung plaster their wireless charging feature for the Note/Galaxy all over the place. MS is too stupid to leverage features their phones have.

Sadly killing unpopular products that no one knows about instead of getting the word out seems to be a Microsoft speciality. Just like Home Server, which could be used to stream to a smart TV and perform autmated PC backups, and Media Center which with a special card could be used to replace the crappy cable box that Cbale companies give out. And Zune software was supposedly really good, but since it was attached to failed hardware, it got canned and replaced with new software that is only now cathing up.

Re: iMaximusRex,
The Zune desktop software is still available for free download and is still amazing. Many of it's innovations still live in the software and live on in modern and "post-modern" (?) software and apps today. It was designed and written so well that it is still leading edge compared to what Microsoft gives us today.
.
Regarding Windows Media Center, there are many people still using it daily and some still discovering and implementing WMC. The one computer systems were amazing and the flexibility of implementations is awesome. WMC is the backbone that supports very elaborate "whole house" multimedia setups. Too many features to even list. I guess it's a Microsoft secret. There is still nothing like it, that has all the features and cablecard DRM encryption.
. Yes, Microsoft doesn't know how to communicate / market it's innovations.
Very frustrating that MS doesn't seem to know what they have, and simply eliminates great products that they didn't market. So much wasted inovation. Solid software that worked and still works. It was developed back when software was vetted better than it is today.

WMC was not supporting most common digital tv standards. Typical MS effort.

Re: vhyr,
May I ask which "digital tv standards" you are referring to? The "tuners" from Ceton support all of mine and the tuners work with Windows Media Center. Just curious.

Aside from Xbox, what products does MS market on television anyway? The last thing I remember was when the Surface was first released with all of those dancers. There was once the "Really" commercial for mobile that was pretty funny but that was about it.

If they shut it down, why did I just get an update?

It's the MS way - not just take something that worked effortlessly and abandon it, but abandon it with style. Easter egg GIF of Satya flipping the bird in the update...

Just the way they did with skype on wp7. Rather than leave an app that still functions, they updated it to remove it from phone.

Read the article to find out

it was a crappy app, it rarely worked so I don't think it will be too missed by people.

No need for this app, since all phones now support Miracast, and if your phone don't you need a new phone. Lumia 640 can be bought for as low as $30.

Thats a much better option - now I need to buy a new TV/compatible devices and so do all of my family/friends etc. (The whole benefit of this was that there was no issue of compatibility!)

Do what I do buy a Fire TV stick ($25 right now) or Microsoft wireless display adapter ($30 right now @ BestBuy) and leave it in your car. Trust me Miracast is better than this app.

And ? Fuck miracast at this point. The point of that app was to not buy stupid equipment and still share pictures ( same for storyteller ). And not a what is better thing its a issue of what you love to use and what works best for you. And thats where microsoft keeps becoming EA.
Ms just wont let us decide what app or and client we use. They force us to use their bullshit ( windows camera ) because fuck consumer.
I am refering to windows phone 8.1 here . Dont understand why shut down most used win 8 apps and force plebs to move over to 10.
I just ordered my z5 premium. Fuck android but there i can use lumia camera and a similar storyteller app. Those are the apps which were most important

If you don't like Camera (the app with the same feature as Lumia Camera) there's others in the Windows store. If you like the beamer app so much maybe someone will make one similar but I'm sure the market share is not there to justify it.

I don't think the APIs are available to us "standard" developers to create this kind of app- it was able to share your screen throughout the OS. One difference between Miracast and this was that this could be used to share your screen to people in any location. This is really easy to implement on Windows PCs (I made a similar app for the fun of it as a win32 app) but the ability to show content from outside your app in a store/phone app isn't available to all devs as far as I know

Your display has to support it many offices have computers with vga or DVi inputs. This is where screen beaming was better than miracast I used to be able to display PowerPoint presentations to small groups on 24 inch displays connected to pcs Posted via the Windows Central App for Android

Re: fbendotti,
Another great "use case". I wish it was easier to find out how others use software and apps.

Miracast doesn't let you send a link to someone in another state so they can view your phone's camera or screen live on their phone or computer. Totally different things.

I just want storyteller and lumia camera back. Hope ms will actually stop playing with their dicks and focusing on giving me back my personalisation and feeedom of sharing pictures with family and friends. And lumia camera. The windows cam makes horrible pictures. Pure view no use there. If that is not happening, then android is coming back to my life. There storyteller and lumia camera are still useabld

Microsoft have a lot of work to do on W10M to keep us interested. A good start would be not killing all the innovation from Nokia.
I wish they'd fix Lumia Creative Studio to enable saving again

Ah I used it a couple of times but it was sort of redundant before it started I, if you have internet connection then you can view the pictures off the cloud.

Of the thousands of useless apps in the store they shut down one that actually works.

And family rooms... what an utterly stupid move by MS

i just used Xim app on my Lumia 950 then shared it with iPhone. Its pretty easy to use, however, photo expires within 60 min. Also, the bottom portion of the screen is not always visible all the time because of back, windows start button, and search.

I have used Xim. It's interactive, allowing any participant to zoom and pan.

And yet they released an update in the Store today for Beamer.... Very weird.

If only there was an article that explained this very thing, oh wait, we're on it.

Hope they leave refocus app alone.

I bought the $30 MS Miracast adapter at BB and used it today to watch Avengers Age of Ultron on my 50" for $0.10 streamed from my HP 7. Worked flawlessly. If you dont like the idea of a single, log into OneDrive. It is faster and more reliable. It is not the end of the world people!

That's a great price, but you can get a free movie app and toss the phone to the tv for free.

Re: Daelumia, Where did you get the movie for $0.10?
.
Re: It Wasn't Me,
Which movie app?
.
Best Wishes.

I don't understand "Microsoft promised". Promise what? To remove good application? Why? What's the point? They hate name Lumia? Send them to the doctor. All of them! They remove Lumia camera that works great and gave us Microsoft camera, text book of bugs. They have serious problem with app gape, they solving it by removing legendary apps and replacing it with bad ones... Bravo! Promised? Really? Let's all cheers!

Well, here's hoping they work quickly when adding it back as a photos plugin. Hopefully it will also come to Movies and TV.

Any of you guys know what the deal is with Here drive in windows 10. Is it gone for good or will it come back? On the Here website they have removed the download for Windows mobile. Lets hope MS did not chase this app away as well. Fortunately Here drive was made available for android and IOS recently, so we know where to go to keep it. Sigh..........

*poof* gone as i heard. I downloaded Nokia HERE maps on Android , which is very good. Don't know maybe you can grap HERE drive there, too if you want it. But you have to carry two devices then Posted via the Windows Central App for Android

Here even has a sdk for tizen but not for Windows 10? MS must have really pissed those guys off that they abandon a fully functional windows phone solution. Way to go MS!

Not in direct competition to continuum however I'm sure having miracast and continuum options (requiring you to buy the dock dongle thing) is the direction MS wants to go in this department.

If this enthusiasm is shown to bring and update apps WP would have a better fanbase. http://forums.windowscentral.com/windows-10-mobile/396501-does-microsoft...

Used to use that app all the time. Great app. So many similar nowadays.

As usual MS shuts down a fairly unique and well done app with no alternative or anything planned to replace it. Good job.

Even if they had (or have) a replacement planned, their operating strategy, lately, is to shut down and not provide continuity for customers. What is this kind of thinking? Not dependable at all. It makes supporting the Microsoft ecosystem worrisome.
Just my thoughts.

I have no idea why either. It's like the people in charge at MS are either clueless, lazy or self destructive. I think all three.

Too bad. I sometimes uaed beamer when giving presentations. Guess I'll just use Snapchat instead. Oh...

So good that Microsoft keeps its promises...!

Nokia was amazing at creating WP apps , no more .

Teacher here. Used this app in lessons to show excellent student work as the class was working, motivating kids to work harder, and showed students' messy desks as I walked around the room, motivating them to clean up messes they didn't think about.

I use this app to see scanned pic on iPad and do my homework

It was slow and couldn't do videos. Posted via the Windows Central App for Android

Yes it was slow, but it worked great for giving a PowerPoint presentation, showing office documents to colleagues, or just showing photographs to someone. Plus it worked on any device with a web browser whether it be a smart TV, desktop, laptop, tablet or a phone, running any OS. Posted via the Windows Central App for Android

Why did they bother updating it on my phone the other day then, just so that if I open it I get a messge say "ha-ha uninstall me I won't work"?

All that was Nokia should be eliminated from this world.

Guess MS figured "taking away" works for Apple, so who's to argue.

My daily driver will keep running WP81, with auto-updates of apps and OS disabled, until W10 has all the features I use in WP81 and the apps that are discontinued. I'm afraid that will easily take another year or two.

Coincidence they did it the same day they started shipping Continuum docks?

Shameless MS, retire mobile business as well.. At least then we will have less choices to deal with..

Why? It's a useful app. It was stuff like that which made me love my first Lumia. I used it a bunch of times to hold a presentation that was on my phone. Always got a wow-factor from the audience. Bad move MS. Posted via the Windows Central App for Android

I loved this app and photo beamer. Although I only used it occasionally everyone I showed it to was impressed. These are the short of features Microsoft should be working on and improving, not removing them. Posted via the Windows Central App for Android

Good riddins. There are so many better options. Tubemate. Linada Share. Easy Transfer. Nokia always gave us half cocked DLNA/UPNP anyway let those that are serious about the functionality have a crack at it. The problem I've found, is that you may have to use an app in conjunction with another app to get it to work. For example, with my Roku, while I use Linada Share on Windows Phone, I have to use an app like Local Cast for Chromecast, or Server Cast Chromecast/SmartTV, on Android to get the Roku to see it. Roku Media Player sees Linada Share, but it can never index the files. I can use Server Cast Chromecast/SmartTV to see Linada Share, and then send that to the Roku. I haven't been able to do it directly. It could be the Roku, or it could be Windows Phone. From what I can tell Microsoft wants complete control over the process, forcing users to use the Microsoft Wireless Display Adapter, or in the case of Windows 10, directly connect the phone to a TV using the Microsoft DIsplay Dock, in order to get this to work. But why? Not everyone wants screen mirroring. And Android has supported beaming data from one device to another for years. It should be infuriating, particularly for novices like myself that are struggling with something that should be rather easy on the surface. I've even considered purchasing an Android TV device or connecting another computer directly to the TV so I can use Easy Transfer to send my movies from my phone to another device and just play it back using that other device's storage. That's what I end up doing anyway with large files (larger than 500 MB). I was using Rygel to send the files from my Lubuntu box directly to the Roku, but Rygel keeps adding duplicates to the index, so the same movie shows up on Roku Media Player five or six times. Plus I want to go directly from Windows Phone to the Roku, like everyone else. I don't want to purchase a new Roku that natively supports this and I don't want to use Windows 10 to do this through a Universal App, which is the direction I think DLNA/UPNP is going to take going forward. I should be able to do this on Windows Phone 8.1 to do this natively.

What else is new... Microsoft backtracking all the good Nokia progress on the platform. Like storing maps on SD card.
Windows Central Newsletter
Thank you for signing up to Windows Central. You will receive a verification email shortly.
There was a problem. Please refresh the page and try again.