ProShot raises the bar for Windows 10 camera apps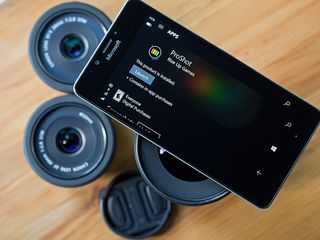 ProShot is a fantastic app for those who want more control of their Windows Phone camera and has had a strong presence in the Windows Store for years. The developers, RiseUpGames decided to start fresh and rebuild the app for Windows 10 instead of simply porting the old code from their Windows Phone 8.1 app.
A few features ended up on the cutting room floor, the layout of the viewfinder has become more user-friendly, there is a host of new features in the mix and ProShot is now available for Windows 10 PC (granted you need a camera on your tablet, laptop or computer).
ProShot for Windows Phone 8.1 is an impressive photography app for those wanting more out of their mobile cameras. ProShot for Windows 10 continues to raise the bar for camera apps and solidly delivers that DSLR feel to your Windows 10 camera.
First, let's get into the pricing of ProShot for Windows 10: $3.99 (with half-off launch day pricing of $1.99). Keep in mind, this is not an update to the Windows Phone 8.1 version of ProShot; due to Store rules and unforeseen circumstances an upgrade path was impossible. The old version will be hanging around as ProShot Classic for those with phones not on Windows 10 Mobile.
There were a few features from the old version of ProShot that could not be incorporated into the new. Real-time filters and highlight clipping were left on the cutting room floor due to compatibility issues with Windows 10. There were a few workarounds, but those consumed a lot of power and only ran well on the Microsoft Lumia 950, so they were axed. But by and large most of ProShot's features made it to the new version of the app.
So what is new? Key new features include:
The ability to shoot video with full manual controls that include frame rates, bit rates, resolution and mic levels can be seen in real-time.
Support for RAW files (saved as TIFF files)
Faster start-up and image processing
While a lot is different under the hood with ProShot, the most noticeable change comes with the viewfinder, which received a major make-over shifting the controls more to the corners of the screen. This places your shooting modes and camera settings in a more natural location as you hold your phone (or tablet, for that matter).
In the upper right corner is a button that exposes a camera mode dial that includes Auto, HDR, Auto-HDR, Program, Manual and two Custom Modes that can be set by the user.
In the bottom right corner is button access to a drive mode dial that includes Normal, Light Painting, Time-Lapse and Video capture options. It should be noted that Light Painting is a beta setting and currently not available. Each mode has a subset of settings such as the interval and duration for time-lapse images or frames per second, quality and resolution for video capture.
Exposing either settings dial also exposes the camera's self-timer options that includes one, three and ten-second timers. The Light Painting feature is a neat effect that captures several exposures and blends them together into a single image full of light trails. It's not the easiest process to describe and the developer does a great job of it at the very end of the demo video below. Hopefully, the feature becomes available across the spectrum of Windows 10 devices soon.
Along the right side of the viewfinder are even more controls for focus, flash, and settings, a button to quickly starting a video recording, and the shutter button. This cluster changes with the various camera modes. For example, when you are shooting manual the ISO, White Balance and Shutter Speed adjustments appear on this side panel. As far as settings are concerned, in general, this panel includes options for a viewfinder grid, camera level, file type (RAW, TIFF or JPEG), GPS data, Noise Reduction options and image resolution size.
You may see a slight variation in the settings depending on which Windows 10 device you are using based on the device's hardware capabilities (for example, RAW RAW file format support is not available on all Windows 10 devices).
Additional viewfinder controls include image ratio settings at the top center of the screen, an exposure compensation control (with live preview) at the bottom center and access to your image gallery in the upper left corner of the display (you can also swipe right to review your shots). Real-time ISO and Shutter Speed settings are displayed just below the image ratio settings (a neat touch to keep you informed of your camera settings).
ProShot's focus point can be moved around the viewfinder by touch or left alone to rest in the center of the viewfinder. This is a nice feature that allows you to focus on a subject in the foreground or background regardless of the framing of the shot. The app does support both front and rear facing cameras on Windows Mobile phones with a toggle button amongst the cluster of buttons at the right side of the viewfinder. You can also swipe up on the screen to zoom into your subject (4x zoom from the Lumia 950) to bring it a little closer in the viewfinder.
As with the Windows Phone 8.1 version of ProShot, the Windows 10 version can be somewhat overwhelming. Shooting with ProShot on fully-automatic works nicely and the volume of controls allows you to fine-tune things as your mood or type of shot dictates. There is an extensive help section for ProShot available through the settings panel (tap the question mark symbol) that offers a video tutorial and user manual.
Image quality with ProShot is good and the level of adjustments available are easily manipulated as your shooting environment changes. While it may take some time to get used to ProShot when using it with your Windows 10 PC's camera (tablet, laptop, webcam, etc.), the app feels right at home with your Windows Mobile phone camera.
While ProShot for Windows 10 is a solid performer, there is some room for improvement. For starters, I did experience lag times in capturing images or pulling up the dial settings. These delays did not happen every time I used ProShot and by no means is a deal breaker. I did find that after updating the Lumia 950 to the Windows 10 Anniversary Update, ProShot had noticeably more zip and the lag became a thing of the past.
There was one bit of oddness I thought was a bug that actually turns out to be an intentional feature: when you rotate the device between portrait and landscape, ProShot resets the focus mode to autofocus. It is an easy way to reset your focus, but if you use manual focus for any reason (e.g. macro), this feature can drive you nuts. I have to admit it was frustrating to have to change the focus back to manual whenever I rotated the camera from landscape to portrait orientation based on the subject I was shooting. This is a feature you can get used to, but I would have preferred seeing it as an option in ProShot's settings than a set feature.
At $3.99, ProShot falls into a zone of reasonable pricing (especially when you factor in the 1/2-off launch sale pricing) — it's not free, but it's well worth the four bucks. Again, the old version is hanging around for a while, and you'll need at least the Windows 10 Mobile Anniversary Update to run the new version of ProShot.
So who should take the plunge with ProShot? The app is well suited for those looking to have DSLR-like control over their Windows 10 camera or for those looking to learn beyond the basics of digital photography. Even those not looking to go beyond a "point and shoot" style camera will fine ProShot an appealing app for its powerful automatic settings. All in all, ProShot is a superb Windows 10 photography app, and one well worth your consideration.
Download ProShot from the Windows Store
Get the Windows Central Newsletter
All the latest news, reviews, and guides for Windows and Xbox diehards.
George is the Reviews Editor at Windows Central, concentrating on Windows 10 PC and Mobile apps. He's been a supporter of the platform since the days of Windows CE and uses his current Windows 10 Mobile phone daily to keep up with life and enjoy a game during down time.