ProShot raises the bar for Windows 10 camera apps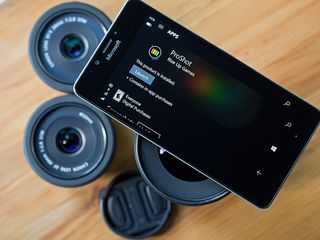 ProShot is a fantastic app for those who want more control of their Windows Phone camera and has had a strong presence in the Windows Store for years. The developers, RiseUpGames decided to start fresh and rebuild the app for Windows 10 instead of simply porting the old code from their Windows Phone 8.1 app.
A few features ended up on the cutting room floor, the layout of the viewfinder has become more user-friendly, there is a host of new features in the mix and ProShot is now available for Windows 10 PC (granted you need a camera on your tablet, laptop or computer).
ProShot for Windows Phone 8.1 is an impressive photography app for those wanting more out of their mobile cameras. ProShot for Windows 10 continues to raise the bar for camera apps and solidly delivers that DSLR feel to your Windows 10 camera.
First, let's get into the pricing of ProShot for Windows 10: $3.99 (with half-off launch day pricing of $1.99). Keep in mind, this is not an update to the Windows Phone 8.1 version of ProShot; due to Store rules and unforeseen circumstances an upgrade path was impossible. The old version will be hanging around as ProShot Classic for those with phones not on Windows 10 Mobile.
There were a few features from the old version of ProShot that could not be incorporated into the new. Real-time filters and highlight clipping were left on the cutting room floor due to compatibility issues with Windows 10. There were a few workarounds, but those consumed a lot of power and only ran well on the Microsoft Lumia 950, so they were axed. But by and large most of ProShot's features made it to the new version of the app.
So what is new? Key new features include:
The ability to shoot video with full manual controls that include frame rates, bit rates, resolution and mic levels can be seen in real-time.
Support for RAW files (saved as TIFF files)
Faster start-up and image processing
While a lot is different under the hood with ProShot, the most noticeable change comes with the viewfinder, which received a major make-over shifting the controls more to the corners of the screen. This places your shooting modes and camera settings in a more natural location as you hold your phone (or tablet, for that matter).
In the upper right corner is a button that exposes a camera mode dial that includes Auto, HDR, Auto-HDR, Program, Manual and two Custom Modes that can be set by the user.
In the bottom right corner is button access to a drive mode dial that includes Normal, Light Painting, Time-Lapse and Video capture options. It should be noted that Light Painting is a beta setting and currently not available. Each mode has a subset of settings such as the interval and duration for time-lapse images or frames per second, quality and resolution for video capture.
Exposing either settings dial also exposes the camera's self-timer options that includes one, three and ten-second timers. The Light Painting feature is a neat effect that captures several exposures and blends them together into a single image full of light trails. It's not the easiest process to describe and the developer does a great job of it at the very end of the demo video below. Hopefully, the feature becomes available across the spectrum of Windows 10 devices soon.
Along the right side of the viewfinder are even more controls for focus, flash, and settings, a button to quickly starting a video recording, and the shutter button. This cluster changes with the various camera modes. For example, when you are shooting manual the ISO, White Balance and Shutter Speed adjustments appear on this side panel. As far as settings are concerned, in general, this panel includes options for a viewfinder grid, camera level, file type (RAW, TIFF or JPEG), GPS data, Noise Reduction options and image resolution size.
You may see a slight variation in the settings depending on which Windows 10 device you are using based on the device's hardware capabilities (for example, RAW RAW file format support is not available on all Windows 10 devices).
Additional viewfinder controls include image ratio settings at the top center of the screen, an exposure compensation control (with live preview) at the bottom center and access to your image gallery in the upper left corner of the display (you can also swipe right to review your shots). Real-time ISO and Shutter Speed settings are displayed just below the image ratio settings (a neat touch to keep you informed of your camera settings).
ProShot's focus point can be moved around the viewfinder by touch or left alone to rest in the center of the viewfinder. This is a nice feature that allows you to focus on a subject in the foreground or background regardless of the framing of the shot. The app does support both front and rear facing cameras on Windows Mobile phones with a toggle button amongst the cluster of buttons at the right side of the viewfinder. You can also swipe up on the screen to zoom into your subject (4x zoom from the Lumia 950) to bring it a little closer in the viewfinder.
As with the Windows Phone 8.1 version of ProShot, the Windows 10 version can be somewhat overwhelming. Shooting with ProShot on fully-automatic works nicely and the volume of controls allows you to fine-tune things as your mood or type of shot dictates. There is an extensive help section for ProShot available through the settings panel (tap the question mark symbol) that offers a video tutorial and user manual.
Image quality with ProShot is good and the level of adjustments available are easily manipulated as your shooting environment changes. While it may take some time to get used to ProShot when using it with your Windows 10 PC's camera (tablet, laptop, webcam, etc.), the app feels right at home with your Windows Mobile phone camera.
While ProShot for Windows 10 is a solid performer, there is some room for improvement. For starters, I did experience lag times in capturing images or pulling up the dial settings. These delays did not happen every time I used ProShot and by no means is a deal breaker. I did find that after updating the Lumia 950 to the Windows 10 Anniversary Update, ProShot had noticeably more zip and the lag became a thing of the past.
There was one bit of oddness I thought was a bug that actually turns out to be an intentional feature: when you rotate the device between portrait and landscape, ProShot resets the focus mode to autofocus. It is an easy way to reset your focus, but if you use manual focus for any reason (e.g. macro), this feature can drive you nuts. I have to admit it was frustrating to have to change the focus back to manual whenever I rotated the camera from landscape to portrait orientation based on the subject I was shooting. This is a feature you can get used to, but I would have preferred seeing it as an option in ProShot's settings than a set feature.
At $3.99, ProShot falls into a zone of reasonable pricing (especially when you factor in the 1/2-off launch sale pricing) — it's not free, but it's well worth the four bucks. Again, the old version is hanging around for a while, and you'll need at least the Windows 10 Mobile Anniversary Update to run the new version of ProShot.
So who should take the plunge with ProShot? The app is well suited for those looking to have DSLR-like control over their Windows 10 camera or for those looking to learn beyond the basics of digital photography. Even those not looking to go beyond a "point and shoot" style camera will fine ProShot an appealing app for its powerful automatic settings. All in all, ProShot is a superb Windows 10 photography app, and one well worth your consideration.
Download ProShot from the Windows Store (opens in new tab)
Windows Central Newsletter
Get the best of Windows Central in in your inbox, every day!
George is the Reviews Editor at Windows Central, concentrating on Windows 10 PC and Mobile apps. He's been a supporter of the platform since the days of Windows CE and uses his current Windows 10 Mobile phone daily to keep up with life and enjoy a game during down time.
I've bought the classic* version in the past. It says the new one is not available.
** edit-available now!

The new one isn't available. Was excited about this app.

Ditto, have old one, new not available

Same here, not available (California)

Yeah yeah. USA>California. Hehe.

Not available in India also.

Try downloading using the WhatsApp trick

The ProShot Dev wrote on mspoweruser.com that the rollout process take from 4 to 16h. So let's chill out and wait because it just passed certification.

Thanks for that info! Good to know he's on top of it. Hell, the new Avis app that was "released" still isn't able to be downloaded!

You're welcome. Took some time but it's finally here. Bought and downloaded.

Now it Available in Viet Nam.

Thanks! Got it in there USA now!

That looks so cool! May consider getting that when it's available.

Edit: I was wrong. It's not available. I got switched around and was looking at the classic app.

Idk about others in the UK, but for me it just says it's not available each time I open the link, and the in-app purchases are all listed as free atm.

I dunno. Says its not available for me either and I don't have it installed at all on this machine.

Only ProShot app by Rise Up Games available in my store atm is a Windows Phone 8 version.

Ahh. There should be some kind of note about that. I mean in the app listing.

Yeah! Sadly, it only shows it after installing. The app name in the app list has the word classic in it :|

Actually with the anniversery updated store you can see it if you scroll down and have a look at the requirements. Uwps will have win10 as requirement, non uwps wp8.1 and up in general.

It's not available though. I'm on a Lumia 735 running the latest Windows 10 Mobile Fast Ring Insider build.

Whic country store ? And where your country maybe if change country work,

I downloaded it. I will probably be that point and shooter user but it looks pretty good.

I downloaded the wrong version, please don't mind me, but hey, gave this dev extra coins lol

How you install? what region are you?

Still not available in US.

Not available in australia

Me too, I also bought it in my winp8.1, ant it say not available

It a nice camera app with great features

It's shows that it is currently unavailable in windows store

But it has 7 reviews... Wut?

Probably available in 1 region but not in other yet.

But the reviews are based on regions. Like on PC my region is set to US Where I see 7 reviews. On my phone the region is India and it has 4 reviews. So if there a review in the US store that means it is available for someone with region set to US. All the reviews are different for both regions. So maybe app rings? Or private beta?

Not available in the Netherlands

ProShot has always been worth the money. Miss those old Lumia days. One picture at a time -- LG V10

So even if we bought the original Windows Phone app we have to buy this again?

Yes. This is a brand new app and an upgrade path was not possible due to store rules. One picture at a time -- LG V10

As a dev i can say you thats not true. I had a WP8.0 + Win8.1 + WP8.1 app on one app and added a universal package to it without the users having to repurchase it again. The store allows such a path... And encourages it even.

Did you also rewrite the app from the ground up for Windows 10 Mobile and users not have to repurchase it cause that's what happened here? One picture at a time -- LG V10

Yes because most of my code from Silverlight and 8.1 could not be used on 10 so i built it from ground up as a universal app, so now my app has a 8.0, 8.1 packages for Windows+WP and a Windows 10 universal package that works on PC/Mobile For the devs there is no extra work needed to combine the apps or something. Just uploading the package, adding the description and screenshots for a uwp package and thats it. so i could also publish this app as a new package and ask for another payment but i have not done so. But i aslo have to say building a complete new app is not an easy task and takes time so it if worth paying it again i think. I have purchased it again even if i have it now for a couple of years.

My last comment was not posted :/ i dont know why but yes i have built basically the whole app again for my users and Microsoft lets you add multiple packages to your app. That is not a problem at all. But i also understand the time put in this update it is worth a new purchase. Really. I fully understand the dev as i have also spent hundreds of hours building my apps without to do my actual job. but i have sitll offered them as a free upgrade if it was purchased before because this community (the majority) deservers it.

What's the name of your app?

As a dev I can confirm that they just wanted people to purchase the app twice. They can do as they like but they should not lie to their customers.

Rubbish. Absolute rubbish.

It's a different Store listing so yeah seems like you have to buy it again.

It's a new app. No developer should be required to give free products for life to single purchase customers. The WP8.1 app is still available to those who purchased it.

No one is asking for that. But they should just say that they want the money and not invent stupid / false excuses.

Now your getting it. He had to rewrite the whole app. It didnt write itself.

Not available in NL? Still no new version while the old one was updated hours ago.

I really really miss the lumia days specifically Lumia Icon. I am waiting some time in order to buy the 950 or so. Sad what's going on with with Windows Phone. Posted via the Windows Central App for Android

In which country it is available right now?

Hw to download this app??

Not available yet, western US.

Did you try going to eastern US?

Looks great. I'm a photographer, but I must say my own personal photos are mostly taken on my phone, and get quite positive comments. :)

I'm a photographer too. Most positive comments are given because consumers care more about the artistic quality and beauty of a photo rather than the technical merits of the photo or the camera behind the shots.
To them, they couldn't care less if it was taken with a potato or a $10,000 camera setup, as long as it looks great and captured the moment.
We can speak all kind of tech talk about our gear and the consumer/client will interrupt with "Uh..BUT...what does the photo look like???" :)

Exactly. Having pro equipment is great, and there's obviously stuff I can't do with my phone, but my phone now isn't what I had 5 years ago. People, my friends/family online aren't more likely to react positively to an "everyday" image taken on a phone than one I poured over for a long time in post.

I'm interested in using a potato. I'm stumped on what to use for a zoom tho', a carrot or zucchini?

Still not available yet. Waiting...

Still not avaible in sweden

Not available here in the US.

Have been waiting for this new version, but not available yet as of 7:30 am Los Angeles time.

Still waiting on it to become available... But I just want to mention, that this camera app would be flawless if they add panorama feature...

it's not available....i wonder if there is a single person that has downloaded the app

So is this actually better than standard camera app or no? Lumia ICON

Still wish you could make 3rd party camera apps the default camera.

I really thought you could. There is a default camera setting in settings, but MS camera is the only thing that shows up. I was hoping once this app hit, written for 10, i really hoped it would work that way. nope... :(

i dont like using 2 deferent camera apps, i have to choose just one is this worth it ? tried the old app it was not user friendly at all

Singapore, Lumia 1020 anniversary... not available

950XL USA Fast ring latest version -not available -

Here is a bright idea, Microsoft, please buy this app company and this app add as the inbuilt camera app and don't mess it up, let the design team of this app have a free hand in doing what they want.

Please no, the default Camera app is pretty damn good. Honestly, the old Proshot interface was quite convoluted so I'm happy this is there as an app, not a default.

Agreed, but let us have the option of choosing our default app... Sucks that the setting still doesn't work.

With the addition of this new app, Windows Central should bring back their photo contests.

My body is ready for this. I can't wait until it's available.

I succeeded to download it with the "Whatsapp" trick. Open the link to Proshot in this article on your phone Search for an app you don't have installed (anyone will do it) On this other tap on "Install" 3 times quickly Hit the back button to go back to the Proshot app Proshot should now install

Worked like a charm. Thanks.

Microsoft should seriously address this store bug. It's been a long time now.

That actually worked... Thanks

OMG, I thought this was a joke, but it actually does work!

Awesome hack. Thank you. Worked.

How do I tap on "Install" 3 times? It just starts the download so fast, right after the first tap! I'm using Lumia 930.

No need to press 3 times, just press once and quickly press back. There is a time delay before store registers download command, you need act within this narrow window


love that trick. worked great. thanks.

Found the updated app using the trick, but Store says "currently not available". Lumia 850 on the Anniversary update.

Without paying i can't save pictures. With paying (full price!) I can't open because not available!!!

Question: does ProShot allow one to dial back some of the oversaturation and color temperature the Lumia 950 camera seems to produce? That first red flower up top is one example; the magenta reds are way blown out, where it looks almost fluorescent.

I'm confused there are 2 proshot in the store. How do I differentiate them?

Can't download store says proshot is currently not available

can download but need some trick

It surely raises the bar for camera apps. The ui especially looks beautiful. The camera app has been a disappointment for me lately. When I take a photo and go to see it in the library, it loads for a while and then says image might be moved or deleted. If i check back after a long time the image is there. This is ridiculous.

Why so worry man? Here how to download it. As always, thanks to the bugs, and me. Haha. 1st, open the link (Proshot W10), it'll show unavailable. 2nd, search an app (eg. Facebook), open it. 3rd, double tap quickly on 'Install' then tap 'back' (back on Proshot). Then tap 'Downloads & Updates. There the magic will happen. Proshot w10 Installing. Once again, thanks to the bug, and me

i tot im the one who know how to download, bro u also know the trick, haha, enjoy the app But Light Painting cant use, urs also same ?


Thanks for that. Odd way of doing it, but it worked.... Hope they add a way to donate. (if there isn't an option already)

I installed it but when i open an app it closes immediately

I installed it but when i open an app it closes immediately

This ACTUALLY works!!! Kinda weird that it does....but IT DOES! How on earth did you figure this out?

need some easy trick to download new proshot

Still not available. Ireland

That worked! WC team should make an article explaining about the bug. This must be rectified by MSFT ASAP

Well, my take is when you have everything well sorted, pick the best of both worlds and combine. I think i like the current interface on pro-shot

Used the trick to download, kind of wish I didn't as I didn't have to pay for the app or HDR. RiseUp may want to pull it until that is fixed. Add a way to donate and I will give a few bucks for sure.

I hope the pricing promo is still available when this W10 version shows up on MS Canada's App Store

Thank you guys for the download trick! worked. awesome app!

Not available for me in New Jersey for my Windows 10 anniversary Lumia 640 phone.

Not available here as well. Lumia 830, US region. Not gonna do the trick as it's unfair with the dev.

Upvoted for having scruples. [thumbs]

The app seems buggy. It does some really weird ****. The RAWs it saves aren't really RAW. It just looks like it resaves terribly compressed JPEG (a lot worse the the default phone JPEG processing) as TIFF, despite being set to use sensor RAW data. ISO 100 is missing from manual settings.
​The app is probably not available for a reason. It isn't really working properly.

The App is not available .....

It says in the article that you MUST be running Anniversary Update in order to use this new version of Proshot!

Most of us are five miles ahead of the anniversary update. It shouldn't be an issue.


What are those lenses in the pic ?

New one "not available" for 950xl on fast ring

Tried the trick. I've now got it downloaded on my laptop (though it ran once and then told me it wasn't available) but I can't even follow the link in the article on my 950XL. What a crock of . . .

Store > menu > My library. You're welcome.

Thankyou but that doesnt work either. You're also slightly patronisingly welcome ;)

You're complaining because an app you shouldn't have without paying for it did not work the way you hoped?

No I'm complaining because everyday I dislike this phone just a little more and it hurts because I so want to love it

I've also payed for proshot on 2 different accounts and donated money to the developer on 2 occasions because it's so good and am happy to pay again but I appreciate your sentiment so thankyou

Love this app, can't wait to download it when It's available.

Well, looks like all of the thieves have stolen the ProShot update from us all. The developer has pulled the app from the store. I imagine it will not be available until Microsoft fixes the store glitch that allowed people to get it without paying.

This is turning out to be a f***ing joke. And of course at this point, there's very few people left at Microsoft to actually look into whatever is causing all this.

Yeah, Microsoft has put this developer through a comedy of errors, for sure. They should probably pay him directly, price x number of free downloads. If I was the developer, I'd resubmit with a higher version number, come up with a promotion that includes IAP and then make that version number the minimum for future updates.

I was trying to buy it for several hours. Used both US and Bulgaria regions. Got several different errors. At last I was able to buy it. Most likely it was an issue with MS servers. Still operator payments do not work but PayPal and Card payments started to work again.

Tried to get it the legit way but the store won't let me buy it. The purchase fails repeatedly.

Still not available in Malaysia

Still not available in a lot of places I guess !!

Now it is available for me. Don't try the store trick since the app won't open. SUPPORT THE DEV!!

The app is crashing in my Lumia 930 Anniversary Update (14393.67). Any solution guys?

Works for me but have number of issues on 930, usually with RAW sensor on big resolutions. In 5 and 3MB all works ok. HDR have horizontal lines on big res. Similar issue there was with native camera app though. No 4k and 60fps :( Filters work properly but are not live. Also sometimes gives error Component not found when using RAW. So currently RAW is problematic. However for me, most annoying is that saves images in Pictures instead of Camera roll, although preview says Opening Camera roll... Phone doesn't sync other folders with OneDrive and do not appear in Photos app. So it's an issue for me. Would love to have option for where to save.

ProShot is now ProShot Classic and you have to buy the app again. What a scamming b*****d! I won't be buying

Your choice, your decision. He who can afford a smart phone but cannot afford $3 for an app he doesn't really need.

It's available now, i buy all options, working very well

Bought it, got the discount and then bought the hdr option. Always loved the app and this one looks even better than the classic. Still miss my 1020 though!

Negative, bought the app when i was using windows 8.1 in my phone. So, now they made a different app for windows 10 mobile and i have to buy it again, seriously?

They have done a lot to make it again for Windows 10. So, I don't think that paying again matters much

You want us to organize crowd funding? Oh wait, I will pay the whole amount from my pocket ....
​-- There is no such thing as a free lunch --

Yes as it's an entirely different app written from the ground up so, you know . . .

this morning was able to download it regular from store, purchased HDR mode. Works ok so far.
Seems to Need a lot of power, taking a view shots heats up L950 very fast.

Before i hit 'buy' button, how quick does it start? Is it as quick as the native camera?

Needs transparent tile on start, especially since the app is not launchable from the camera button, dont want to ruin our start backgrounds!

Like it. However it frequently crashes, e.g. when trying to access Settings or purchase the HDR option.

Now not available, but it was available a few moments ago.

Yes, It has suddenly disappeared from the store. I saw it in the morning but now it is no more available in the store. Clicking on the link takes me to the proshot app page on windows store. But there it shows "Proshot is not currently available" although it was available in the morning.

Finally was able to buy the app and the HDR IAP this morning. Took some shots & video and generally like the app. A lot is similar to the original ProShot with the addition of video. Was able to choose 4K and 60fps video option on my 950XL. Not completely bug free, but very good for an initial release. My biggest pet peeves: Pictures don't save in the camera roll folder, but appear individually below the folders and the new app doesn't show up in the lenses on the camera app. ProShot Classic app does show up in the lenses of the camera app. A transparent tile option, like on ProShot Classic, would be greatly appreciated as well.

Proshot was removed from store, it seems.. First I couldn't download it, later I had trouble purchasing it (couldn't complete transaction - which is something I can't do since upgrading to AU in both desktop and mobile!) and now the app was removed!

Yes, It has suddenly disappeared from the store. I saw it in the morning but now it is no more available in the store. Clicking on the link takes me to the proshot app page on windows store. But there it shows "Proshot is not currently available" although it was available in the morning.

What the hell is going on?

Very late last night PST time, I was able to buy Proshot at half price, good deal although I would not mind paying full price for this app.

It could be something to do with either the fact that the store needed to clear up the problem of people being able to download it for free or may be some teething problems with the software. I bought it this morning, I've been a fan of the app for years, put it on both my phones, It's got a lovely UI etc.. but the files storage problem, not writing to either camera roll or saved photos caused a lot of problems for me. It totally froze my 950xl, so I've uninstalled it, I'll wait and see if there's an update. I'm sure it will be sorted, can't wait...

available before, but not at this moment ? ? ?

Whats's going on there? this mess up on store, available...not available,,,available...
can't understand why some People complaining about the price of this app, or why they even have to pay! strange.

I have windows 10 installed on my 730 yet the store says this app is unavailable.

Might have to give it a try

Developer announced on Twitter today that he has pulled the app again from the Store due to all the "distribution issues" until he can talk to Microsoft on Monday about it and discuss various API bugs such as the photos not saving to camera roll. I feel sorry for him. This has been one long, frustrating mess for him trying to get this app released properly.

Hopefully MS can identify all the users that circumnavigated download/install routine and pull the app from those pilferers.

Saw the "up,up,down,down..." Nintendo style cheat... but really? Don't understand how some folks get a kick out of cheating a developer, artist, or service just to thwart paying a $1.99 or $3.99? Just look at the "about..." page in the app "Special thanks to Mom, Dad, Grandma, & Grandpa," so his entire family is supporting his dreams and development of apps, pushing him on and who knows... probably a little financial support. And you want to feel smart by not paying for a product that took a lot of time for him to develop, sorry... I just don't get it. Great photo app, great UI, developed from scratch specifically for WP10. I applied Rise Up Games! Thank you for supporting WP10!

Canada store store now has Win 8 ProShot listed as "ProShot Classic" which is a change from yesterday. Still now sign of the Win10 version....

Hi. Bought this today at half price. Been out and about using it. Just Love the simplicity of out and the great pics I have got. Hope they sort the mess your out. Great work to the guy who made this.

First I got the app for free with the trick then, of course for the dev, I bought it and HDR opt too. It's too early to tell you how is the app even is the GUI seems good. By the way, in HDR mode, what's the difference between HDR and A-HDR . (Windows Store France)

Hm, still not available in my Store. Any ideas what happened and when it will be globally released?
Windows Central Newsletter
Thank you for signing up to Windows Central. You will receive a verification email shortly.
There was a problem. Please refresh the page and try again.