Celebrate the launch of Halo: The Master Chief Collection tonight at a Microsoft Store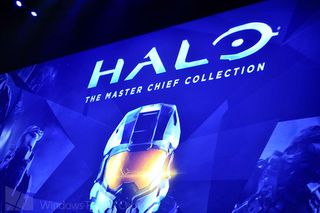 Tonight your local Microsoft Store is celebrating the launch of Halo: The Master Chief Collection for Xbox One. The Master Chief Collection is a bundle of Halo 1, Halo 2, Halo 3 and Halo 4 into one game and includes the anniversary edition of Halo 2. It's a big deal for Halo fans. You're going to want to swing by your local Microsoft Store tonight to get a free t-shirt, canteen and win some prizes.
All 106 Microsoft Store locations are celebrating the launch of Halo: The Master Chief Collection tonight. Events start tonight (November 10) at 10 p.m. local time.
The first 150 people at each location to purchase Halo will walk away with: an exclusive t-shirt and a canteen. Don't worry if you're not one of those first 150 people to show up, because you also have giveaways and more to look forward to at your Microsoft Store.
Several Microsoft Stores are also going all-out for Halo. The following stores will feature a live DJ, free and early hands-on with Halo and more:
Bridgewater Commons (Bridgewater, NJ)
Burlington Mall (Burlington, MA)
Fashion Show (Las Vegas, NV)
Oak Park Mall (Overland Park, KS)
Pioneer Place (Portland, OR)
Plaza Las Americas (San Juan, PR)
Scottsdale Fashion Square (Scottsdale, AZ)
University Village (Seattle, WA)
Westfield San Francisco Centre (San Francisco, CA)
Can't wait to go to your local Microsoft Store tonight? Before you go take a moment to get good intel unique to your store. Most Microsoft Stores are located inside a mall, and most malls don't stop open till 10 p.m. (when the Halo events start). So it might behoove you to call your Microsoft Store ahead of time to see if there's any special entrance to get into the mall after hours.
Head to the Microsoft Store website (opens in new tab) to find your local Microsoft Store and their phone number. When you click on your local Microsoft Store, you can also view the calendar for that particular store and see whether or not they're participating in events like the launch of Halo: The Master Chief Collection.
Let us know if you're hitting up your local Microsoft Store tonight!
Get the Windows Central Newsletter
All the latest news, reviews, and guides for Windows and Xbox diehards.
And if we pre-ordered digitally, can we have a digital launch party as well? :)

Yes, go for multiplayer online ;P

You'll be playing the game while they're huddled in a store like sardines.

Not if your isp is sluggish. The other day it took me the whole day to downlod fm5 patch

Wasn't halo one of the pre download games?

My Xbox One downloaded the patch already I think. I just looked at the filesize and it's 59.1GB. It was like 45GB when I completed the download initially. But I noticed when I looked at my data usage on the Xbox One, there was an insane amount of data usage this past week. Must have gotten the day one patch then. Unless there is more to download... That will suck.

Yeah the day one patch, which is the multiplayer portion, is 15gb. I guess that's kinda cool, means if you aren't connected to the net you don't have to install it I guess.

Already have my copy waiting for me at home.

I hope the servers don't buckle under the load.

I preordered from electronics boutique & I think it was they got it on Friday(guess its because of vetranarins/remember day which means no delivery's) but they are making us wait till the morning & no sign of sonic boom(3ds) being available tomorrow

I am first in line at the Microsoft store in San Juan, PR.

First in line at 12 Oaks, Michigan! Woo!

They give away free shirts, and have contests to win free stuff like a year of Xbox Music, controllers and even an Xbox. It's still to not attend if you have one in your area, as you are highly likely to win something. Heck, they usually just give out T-shirts and swag (I have a killer Sunset Overdrive shirt).

Are you going, Sam? I'll be at Walt Whitman tonight! =D

Nice, I miss my Store at Whitman. I'm up in the Boston area now. Say 'hi' to the team there.

Ok, someone pick up an extras t shirt and send it over to me in Blighty please.