Razer Lancehead review: This gaming mouse aggressively keeps you wirelessly happy
Razer's new Lancehead gaming mouse seeks to remove wireless interference while delivering blistering high performance. Here is why gamers and non-gamers should consider it.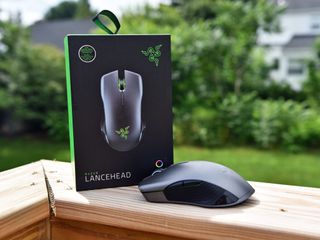 Wireless technologies, including Wi-Fi, Bluetooth, and (shudder) Miracast, bring a lot of promise to the PC world, but also some unintended consequences. One of those penalties is cross-signal interference from too many radio waves. The result? Your internet connection is inconsistent, your wireless headphones clip, and your rechargeable gaming mouse loses accuracy.
Razer, borrowing a page from Killer Wireless, thinks it has a solution that it calls Adaptive Frequency Technology (AFT) found in its new Lancehead mouse. Frequency hopping is not particularly new, but when combined with Razer's optimization hardware it could make a significant difference for those who want to game but a wireless, no latency or lossless connection.
I've been using the Razer Lancehead for the last few weeks and here is what I think.
About this review
Razer provided the Lancehead Wireless Gaming mouse for this review. The retail price for the wireless version is $139 while the wired-only version is lower at $79.
See at Amazon (opens in new tab)
Breaking out the specs
Razer Lancehead hardware
When it comes to hardware, Razer tends to throw around a lot of buzz words, but they are usually backed up by legit hardware.
The Lancehead packs a ridiculous 16,000 dots-per-inch (DPI) laser sensor and works on the 2.4 GHz wireless range via a small dongle. For reference, the popular Logitech MX Master 2S has only "up to 4,000 DPI" making the Lancehead one of the most sensitive wireless mice on the market with an alleged 99.4 percent resolution accuracy.
Of course, for those who prefer not to use wireless the included Micro-USB cable lets gamers not only recharge the mouse but use it corded as well with no compromise.
Razer Lancehead specifications
Swipe to scroll horizontally
Category
Specification
Sensor
True 16,000 DPI 5G laser
Sampling
Up to 210 inches per second
50 G acceleration
1,000 Hz polling
Wireless tech
Adaptive Frequency Technology (AFT)
2.4 GHz dongle
Buttons
Razer Mechanical Mouse Switches
Nine independently programmable buttons
Customization
On-The-Fly Sensitivity Adjustment
Materials and design
Gaming-grade tactile scroll wheel
Ambidextrous design with enhanced rubber side grips
Razer Chroma lighting with true 16.8 million customizable colors
Inter-device color synchronization
Software
Razer Synapse 3 (Beta) enabled (Coming soon)
Wired
2.1 m / 7 ft braided fiber USB charging cable
Dimensions (L x W x H)
117 x 71 mm x 38 mm (4.6 x 2.79 x 1.49 in)
Weight
111 g / 0.24 lbs (Excluding cable)
Battery life
Approximately 28 hours (Life expectancy of the battery depends on its usage)
There's no surprise that Razer packs in its Chroma accent lighting with over 16 million programmable color choices via the Razer Synapse software. Of course, should you prefer no light you can leave it disabled.
Nine programmable Mechanical Mouse Switches co-designed Omron give users plenty of usability options. Those buttons should be good for up to 50 million clicks, which is double the typical 20 million found with most standard mice.
It's worth mentioning that Razer is fond of using high quality braided cords for USB. That's the case here too with an ample seven foot (2.1 m) corded cable in the box. That Micro-USB cable can be used for charging or wired modes. Razer also includes a cool adapter so that you can convert the Micro-USB to USB Type-A for the wireless dongle. That lets you quickly switch between recharging and going wireless without sacrificing a second USB port.
Wireless what?
Razer's Adaptive Frequency Technology
At the heart of the Lancehead is Razer's Adaptive Frequency Technology (AFT). Wireless devices operate on a particular frequency – in this case, 2.4 GHz – but there are various channels on that band. If two or more devices are on that same channel, they can interfere with each other. For a gaming mouse that can mean reduced accuracy or lag.
The Lancehead can rapidly shift between channels on the 2.4 GHz frequency choosing an interference-free one instead. It does this all automagically without user input taking just milliseconds.
Razer provided me a live demo of the Lancehead's AFT in action. The test compared a competitor's gaming mouse both wired and wireless with a live visualization of the signal to the PC. Wired, of course, maintained near 100 percent accuracy with a few drop offs whereas the wireless option saw many peaks and valleys. By comparison, the Lancehead wired was more consistent, and wireless stayed near the 100 percent mark more often.
Such detail is rarely important for regular consumers, but for competitive gamers, it can mean the difference between winning or losing. That is why many players shun wireless mice altogether and opt only for wired solutions.
Razer optimized testing and performance around four scenarios:
Normal office/home conditions (with Wi-Fi router)
Normal conditions with other wireless devices (while using Wi-Fi routers and wireless headsets)
Gaming conditions (while playing an online game with Wi-Fi routers and wireless headsets)
Tournament conditions (5 wireless mice and headsets while playing a multiplayer online game)
As to why Razer uses 2.4 GHz, which is becoming more crowded, than the newer 5 GHz wireless frequency found in some wireless routers it has to do with power and efficiency. The 5 GHz range is faster but has a shorter range with some signals causing "self-interference" unless the router helps direct the wave – which they often do.
For a wireless gaming mouse, however, 5GHz technology may increase power draw while not necessarily providing better performance. Much of that reasoning is probably debatable, but this is where technology and competition become fun. Razer's AFT already increases power draw due to the calculations present so any more overhead could result in even shorter battery durations.
Sleek but not gaudy
Razer Lancehead design
The Lancehead features an ambidextrous design with software configuration for the buttons to match left or right-hand preference. In fact, the whole mouse could be cut in half, and it would be the same on each side, including the programmable buttons.
The Lancehead reviewed here has a gunmetal gray finish nicely matching the new Razer Blade Stealth 2017.
The design is aggressive but not flamboyant. There are faux intake vents on the front that match the textured rubber sides for grip.
A split down the front center hides the Micro-USB port for charging. Above that is a "gaming-grade tactile scroll wheel," which feels nice to use and has some Chroma lighting on the sides to make it easily visible.
Nine programmable buttons flank the sides and top of the mouse. The buttons have mechanical switches, and they are satisfying to click (peaking of noise those clicks are audible and not too aggressive or annoying).
For Chroma lighting, there are lights on the scroll wheel, both sides near the four buttons, and the Razer logo on the back heel of the mouse. The Chroma lighting is well done both for visual appearance as well as functionality as they help guide your eyes.
That lighting is configurable with the Razer Synapse software and includes spectrum cycling, reactive, breathing, static, and wave. With a flick of a switch, users can disable, control the brightness, even idle time to auto shut off when not in use. Preset Chroma lighting effects can even be assigned to those programmable buttons.
On the bottom of the Lancehead are a power toggle switch and profile button. The latter can be used to assign profiles to the Lancehead for multiple computers, and they are stored on the mouse or in the cloud (using the forthcoming Razer Synapse 3.0 software). A small LED lets you know the power is enabled.
Also on the bottom is a small removable door that hides a storage slot for the 2.4 GHz wireless dongle for travel.
It finally gets better
Razer Synapse 3.0
Razer's software for handling all its peripherals and laptops is dubbed Razer Synapse. The app is traditionally jet black and never scaled well for high-resolution displays. Luckily, the app is getting a makeover soon with version 3.0 of the app.
Image 1 of 2
I've been using the 3.0 (currently in beta) with the Lancehead, and it's a vast improvement. The background is now white (making the app much more legible) and it scales for 4K displays just fine. Users can now add a photo to their Razer account and with the Lancehead can assign profiles for various PCs that is associated with your account. That means you can hot-swap the Lancehead with customized lighting and performance profiles for all your PCs. For instance, if gaming on a laptop you may opt for no light to save battery.
Image 1 of 2
The Lancehead also has many configuration options, including DPI settings with a five-stage preset or letting users type in a specific DPI number that falls between 100 and 16,000 DPI. There is even an optional X-Y split for DPI setting for custom directionality. Mouse and cursor acceleration is also present along with custom calibration for your mousepad or presets if you use Razer's.
Since the Lancehead can be wireless, there are power options too with sleep mode and low-battery effects (i.e. blinking when the battery falls below user-defined percentage).