redBus.in, India's largest bus ticketing service, comes to Windows Phone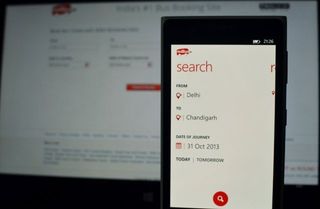 redBus.in, India's largest bus ticketing company, have launched their official Windows Phone app. While they've had an Android app for a while, Windows Phone users should be happy to be next in line. The popular service offers tickets for over 12,000 routes across India with 700+ luxury bus operators.
The app is pretty solid, bringing all the features available on the website to the Windows Phone experience, while adding a few more exclusive to Windows Phone. The app introduces a new busBuddy feature that helps you manage your bookings easily from one place, and cancel your bookings should you choose to. You can find the exact location and navigate to your boarding point on a map.
Also, apart from the secure payment gateway for credit cards, debit cards, and net banking, customers can also book cash on delivery tickets just like their website. The app also allows you to pin ticket of your upcoming trip to your Start screen.
The Windows Store app offers additional features like directions to boarding points, bus tracking, journey tips, and history as well as instant notifications for bus location and special offers. Till December 31, 2013, Windows 8 users can get ₹75 ($1.20) off for a minimum purchase of a ₹500 ($8.05) ticket as part of launch promotion.
The app is available free on the Windows Phone Store (both Windows Phone 7.x and 8) and the Windows Store (opens in new tab). So, whether you're planning to visit family or a road trip, redBus.in is a fine app to have on your phone.
USA needs to learn from India. Maybe China needs to learn too. Beautiful apps can be made and don't need to be uptight about how big you are. WP is gaining numbers. Yes, Google I am talking to you.

Thank loving this WP community!

In last few months, there have been several great (functional + beautiful) apps for WP from India, and some of them exclusives as well. The developer evangelism team at Microsoft is doing a great job I guess.

Don't talk to google as they wont have time to reply you and are busy getting more apps unlike WP celebrating at every single app Lol MISERABLE ppl.. :D

What are you doing here then, watching us miserable people celebrate? That's even worst, since you are not even interested in the app.

Good argument,now I am sure google will adopt WP OS after your plead :)

I downloaded thus app almost a month ago and i m wondering , by seeing this article now . N i already booked ticket once using redbus one month ago. Its not new app which is already available so please give some new news wp central guys pls

News aren't always supposed to be new. Plus he didn't write "breaking news" or "news flash"

But the article seems like its a fresh app in store. That's what his point is. I've this app already and checked whether it is a third party app after seeing this article.

I agree...I too got confused with this article...guess the app was available more than a month, also recently there was an update released too.

I will have to agree with commenting group here. Sure news need not be 'breaking news' but it should not be a history book either. A small note saying, 'we missed reporting this app when it arrived last month' would have been nice.

Well.. I've been using this app for about 6 Months now.... It was updated a month back and a new update now. Other than few added features, I don't see much of a difference... not complaining though.... possibly the title should have been something like.. "Redbus.in updated with new features"?

I've been using this app from 3-4 months...

This app has been available since months! But very stable and handy! It got me out of a tight situation where i was stranded in a place with no transport out and in five minutes i had my tickets booked to go back home :) Am i to guess baxiabhishek is a new Indian member in the editorial team of WPcentral? ;)

Yeah! Welcome Abby to our team, he's going to help us cover India. Find him on Twitter - @baxiabhishek

Can I help you to cover Brazil??? :)

Finally we can see some news during the day time!

More round the clock news for us :) We already get a deluge overnight.

+1, that Pin to start option is awesome, glad that many apps are now taking the benefit of Start Screen. Such another stable app is TOI, it hasn't been updated since its release but frankly it doesn't need one, it already follows the best WP UI. But its Windows 8 and counter parts need serious updates. Both crash like hell sometimes and Win 8 app also looks ugly.

Why can't we use wallet to pay for stuff in third party apps? No api? Super easy for the user.

Yeah, MS really needs to open up wallet and create an api for devs. As it it now, it's kinda... useless :/

Redbus has been available as an app for close to a year atleast...why report it now...?

Version 2.0 went live yesterday.

Hmm...tried the download link...still shows version 1.2.1 ...maybe it will take a while to reflect in the store...? Or maybe the new version isnt there for wp7..

Hi. Are you still on WP7?

Did i say or infer that its bad in any way or manner? I also had a HTC HD7 & gifted 2 of them to my sis & her son.

Yup...still on my lumia 800...kinda going through that long wait of building up some funds before I buy my next phone...:)

So the next phone will be.....?

I have a 920 now. Waiting for 1520 to show up.

Now, if only ngpay will follow suit... :-X

i sent an email to the guys over at NGPAY.. they replied stating that they're working on a Windows Phone app and that it would be released soon.. They couldn't give me a release date though.. But hey, atleast we've got confirmation that they're working on it.. :P

NGPAY is fairly popular. Having NGPAY's app for WP will be a good thing.

Nice to see India becomes WP8 stronghold. Hope WP8 ll spread more in India and neighbour countries.

In here India lumia 520 is selling like hot cakes and we recommend that to our family and colleagues coz laggy android and plastic garbage Samsung. That android wants to know about our contacts, location , our colour of the underwear too haha droid sucks

This app has been available from few months now... But the new update has enabled more features... :)

This app is in store from a long time.

Do Indians pay for bus ticket's ?!

Why don't you stand in line & find out? By the way bring a chair.;)

Oh? So you always travel without tickets?

Can you please tell which country you are from? To the best of my knowledge, people needs to pay something to travel. I think yours Is wonderland..

I'm from S.A.,we got a lot of free things here !

Actually i have this app from a month!

Wow,how much for a ticket on a roof ?!

We have come a long way from it!

Very mature man. The roof is generally free. Like your mom.

Awesome.. The UI is quite good... Now I just need Citibank and ICICI to release their app..

+1 Really waiting for Citibank. HDFC Bank one is very cool. Two banks I have accounts in.

Now that we know you have accounts in two banks we can all sleep well :)

this app is in the store since months.. only that it received a major update yesterday.. windows is growing so fast.. only OS with IRCTC official app.. also getting games made for movie promotionns like krrish 3 and dhoom 3.. all angry.birds.. templw run.. temple run 2 coming soon was announced in the event at abu dhabi.. and hell lot of xbox and non xbox games dat even oder OSes dont have.. only lacks BBM and Subway Surfer right now.. BBM coming to Windows 8 PC soon.. so its like whatsapp for phone and bbm while on pc.. no official announcement about BBM and Subway Surfer for Windows Phone OS.. should be coming soon I feel. :)

Panda run! Same as subway surfers..try it once

true.. but still subway surfer is required for dis OS.. rest all the top apps and games r der.. and obvio OS is the most fluid.. much better dan Android and iOS even at lower hardware ;)

It will come.Patience Padawan!

What do you mean by comes to? It has been from the time I bought my L920 (in Jan). They just updated the app.

Well,Well,Well, it seems that i have o lot of angry Indians here,so let me say it this way...in India 65% of bus passengers do NOT pay there tickets,and not becaouse they are not honest,but becaouse they can not afford it,and also the buses are so avercrouded that you even have to sit on the roof to get a ride,so all you smartphone users please pay regualy your tikets with your app as this way you will help poor peaple get a ride. Best wishes to all .

really, So i guess u are from 1970s or 80s era since ur comment seems so visit India now and u will know the difference gues u have been sponsoring for those 65% of travellers running some TRAVELINDIAFREE Campaign . Get the facts before giving an opinion

Well,as far as i'v seen about a month back India hasen't changed to much,there are moor habitants than 30 years ago,but the way of living is about the same,and also the way of traveling....it's very human !! regards,my friend,i am just kidding.

The facts are all around you,just open your eyes!

I really want to live in this "India" of yours where I don't have to pay for my ride, will save a lot for my next WP :P Btw, travelling on rooftops can only be seen in some very rural areas with inadequate transport facilities... its not a norm as you state.

Your in it man,just look around yourself !

A lot has changed bro....a lot

Yeah,India has more buses :)

this app was always available.. just that it has only been updated..

Yeah,a lot has changed bro....India has more busses :)

Ye kaunsa chutiya hai re..

I guess there's only Indians here,no General Custer around ?and for the idiot that stated that the roofs of busses are free like my mother,yes you are right,but the difference is that she chooses who to Mary,yours was sold at a street fair.

Yeah,!and I am free and sitting on the roof of a bus.

Don't be angry bro, everyone is proud of their country, u will be too, leave the topic and lets work for windows phone

I kept the topic alive,otherwise it was boring:)

Bruno and bus roofs of India.....
When will this story end bro...?

Come on guys a bit of humors never killed anyone :)

I have had the Red Bus app on my Lumia 800 for a while now, is this the WP8 version?

Bruno.. By the number of comments you posted, evidently you need a job... :P

Redbus is looking good in their first phase. But when Goibibo owns the Redbus, after that there are lot of booking issues are kept coming from users. Redbus are even don't refund the refer and earn credit and sometimes they also don't refund bank credit as well. As I am also operating my own website OPCOUPON where I am not able to give the perfect answer to my users about redbus issue. Because their customer service is also not responding every time. Its a good step as Rebus is also available on Windows phone.
Windows Central Newsletter
Thank you for signing up to Windows Central. You will receive a verification email shortly.
There was a problem. Please refresh the page and try again.