Require ideas for wedding invitations? How about Windows Phone?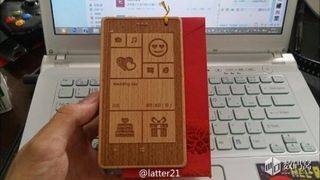 Windows Phones aren't just used as mobile phones, they can also be used for unique and interesting ideas. The photo above shows exactly what we're talking about today - wedding invitations. The editor of a Chinese Windows Phone website has used a Nokia smartphone as the design for invitations to be sent out to guests.
They're absolutely stunning, taking full advantage of the iconic Windows Phone Start screen. The level of detail is flawless too, with a camera hole acting as a means to connect the ribbon. So which Windows Phone was used?
Yep, you guessed it; the Lumia 1020. So if you're ever stuck for ideas on your big day, be sure to think outside the box.
Source: Digi-wo; via: WeLoveWindowsPhone.hk
Windows Central Newsletter
Get the best of Windows Central in in your inbox, every day!
Rich Edmonds was formerly a Senior Editor of PC hardware at Windows Central, covering everything related to PC components and NAS. He's been involved in technology for more than a decade and knows a thing or two about the magic inside a PC chassis. You can follow him on Twitter at @RichEdmonds.
My gf would never let me do this, as much as I'm tempted lol

I will "convince" mine into letting me.

I got married two months ago and I was put in charge for the table cards. https://www.facebook.com/photo.php?fbid=372499159518453&set=a.3717583295...
and the getaway car http://www.flickr.com/photos/mathenywedding/9017605153/in/pool-mathenywe...
and our honeymoon we went to Microsoft.

Batmobile!! That's awesome dude, Congrats on getting married in style :)

Wrong girlfriend dude.. ;)

its HIS girlfriend dude, take it easy ;)

My wife is a wedding planner and LOVES her 920, but has since seen the 1020 lol, gunna have to FWD this to her

A great camera phone for a wedding!

+1... Well, unless your GF loves Microsoft.

+920, re: getting hitched.

No, i agree... This is nothing short of retarded. I mean seriously, I know this is WPC, but can we avoid being fanboys who think anything to do with our chosen brand is amazing!

This takes it to a who new geek level... I love my WP but not nearly enough to do something as awful as this...

This is at the pinnacle of Fanboy love if you did this.

My boyfriend would probably not care for this idea either. At the same time, he probably wouldn't be surprised if I suggested it because he knows I'm a smartphone geek/addict, lol!

Man, if Window's phone had been out when I got married, I'd have been tempted to do that and my husband would probably have let me too. :-)

Lol, we're only at the 3 and 1/2 years mark. Too soon I think. ;-)

Windows not Window's :P
Huge difference, but funny!

It looks cool but it's also quite stupid. It's a wedding, not a place to show your fanboyism.

LOL. Absolutely not. What next? Start decorating Chrismas trees with Live Tiles?

Actually, I think someone already did that last Christmas...I could swear I saw a picture of that on Nokia's facebook or something...

Yep someone already did that...

When and where did you know that? Can you give me the link to go there?

If Nokia had paid for my wedding provide the 1020 for recording and pics, hell I would had done this made a 1020 cake and live streamed it on Nokia YouTube. But it ain't that serious.

If Nokia would pay for *my* wedding and provide the 1020 for recording and pics, I would do this, make a 1020 cake and live stream it on Nokia YouTube.
At the moment I don't even have a girlfriend - but I'd Bing one fast!

My girlfriend would kill me if I did this (first because it's way too nerdy and second 'cause she's an iPhone girl).

haha! then make a duet version of your wedding invitation, one with the Windows Phone, and another one with iOS.

I used a photo taken with my Lumia 920 as the front for a postcard-style invitation for my wedding. Camera on this thing is so awesome...

Were could we get this done? It would be a great idea for a kids 4th bday party!

It's easy dude. Just make the design, and send it to the creative publisher you know to print the design out.

I'd like to make a Windows version of that. No, no, no, not the Windows Phone version, but the Windows desktop version.

My wife and I were not making any progress with ideas for our invites, so I made a "Windows Phone Hub" style invite.

As you may have guessed, it was rejected. But it was a fun idea. http://sdrv.ms/1eHwXG7

That's cool you should have sent out before showing her. I was given the task of table cards. I posted a link above. My wife asked me to take her to Redmond for our honeymoon.

I woulda sent real 1020's. With the cost of wedding invitations, you might even save some money. Then when the big day arrives all your guests are armed with best in class cameras.

Get some custom apps developed to make the whole thing completely integrated and voila!

I'd just buy a whole bunch of 520's and put a wedding invite as a lock screen on them and send out. As opposed to the 1020 idea it's economically feasible at least. :)

This doesn't remind anyone of the wedding WP commercial?
Windows Central Newsletter
Thank you for signing up to Windows Central. You will receive a verification email shortly.
There was a problem. Please refresh the page and try again.