Revealed – The Nokia Lumia 929, Verizon's 5 inch 1080P Windows Phone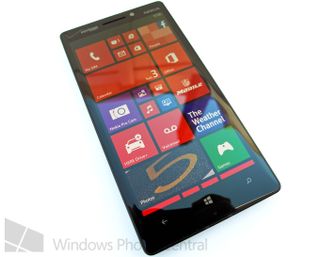 Although Nokia had a lot to announce a few weeks ago in Abu Dhabi, one of those devices not mentioned was the Nokia Lumia 929, destined for Verizon. That device is said to be in carrier testing right now and it could be released between Thanksgiving and the beginning of next year.
The Nokia Lumia 929 is a custom phone built for Verizon, featuring a 5-inch 1080P AMOLED display. It's in many ways just a bigger, more powerful Lumia 928, as it features a Quad-Core Snapdragon 800 CPU and updated internals.
Now, high quality photos of this device have been revealed to Windows Phone Central and we have the inside scoop of Verizon's flagship Lumia.
Verizon Nokia Lumia 929 – Release date TBD
Qualcomm Quad-core Snapdragon 800 at 2.2 GHz
5 inch AMOLED display, 1080 x 1920
2 GB of RAM; 32 GB of internal storage (no micro SD)
20 MP PureView rear camera with oversampling (16 MP + 5 MP photos); Front facing camera
Dual LED flash
NFC, Wi-Fi, Bluetooth 4.0 LE
Qi wireless charging
FM Radio
At least three HAAC microphones
Data Sense, NFL Mobile, Verizon Tones, VZ Navigator, My Verizon Mobile, Nokia StoryTeller, Nokia Screen Beamer
Available colors: glossy white or matte black
Size (hand measured)
Height: 136.5 mm
Width: 71.4 mm
Thickness: 10.5 mm
Weight: 166 g
Our source of the images has revealed that the body is similar to the Lumia 928, though there is a metal band wrapping around the edge of the phone to make it sturdier. There is a headphone jack on the center-top and a micro USB charger at the bottom, a change from the Lumia 928. Buttons are said to be ceramic and the LTE radio takes a micro SIM card, which is positioned near the top.
The device is said to be very quick, most likely due to the advanced Qualcomm processor. The device will also ship with Windows Phone Update 3 and of course the Lumia Black firmware.
Overall, Verizon appears to have a winner on their hands with this phone. At 1080P, the display looks fantastic and the smaller size (when compared to the Lumia 1520), means more people will gravitate towards it when looking for a new phone. The high end specs should satisfy most tech enthusiasts and the Nokia build quality should make this a great seller.
Windows Central Newsletter
Get the best of Windows Central in your inbox, every day!
Daniel Rubino is the Editor-in-chief of Windows Central, head reviewer, podcast co-host, and analyst. He has been covering Microsoft since 2007 when this site was called WMExperts (and later Windows Phone Central). His interests include Windows, laptops, next-gen computing, and for some reason, watches. Before all this tech stuff, he worked on a Ph.D. in linguistics, watched people sleep (for medical purposes!), and ran the projectors at movie theaters because it was fun.
This phone looks sleek as hell !!!! Too big for my liking but nevertherless, I would say no if someone gave me one.

Smaller than the 1520, so good for me.

Perfect size. I hope the SIM slot is unlocked for use on AT&T and other carriers.

All Verizon phones with LTE must be unlocked as part of their agreement with the FCC in leasing the LTE band that they have leased. Search 47 CFR 27.16 for the fine print.

Does that mean it will work 100% properly on ATT? Meaning, 3g, 4g, and LTE all work like any other ATT phone? If so i'll be getting one of these, i'd goto verizon, but the mrs. isn't going to give up her 1020 any time soon.

No guarantees. Look in the 822 and 928 forums to see threads about people using the devices on other carriers. There have been difficulties, but I believe they have all been resolved with GDR2. Research for yourself and decide if the risk is worth it to you.

Not necessarily. Different phones are optimized for different bands. I don't know what the discrepencies are between Verizon and AT&T but it's significant from AT&T to T-Mobile, I can attest to this. I had a phone designed for AT&T unlocked and it performed terribly on T-Mobile. I'd previoulsy owned the TM version of the phone and the difference in speed and signal strength were both significant (enough for me to get another phone). Again I don't know if the same applies with Verizon but it's a definite possibility.

So do i i would take it to Tmobile all the way! and this phone aint big although the pic makes it look bigger its about the same size as the S3 or S4

I hope this will be released worldwide. 1520 is too big for most people. 5 inch is perfect phone and would be a great successor for Lumia 920.

The Note 3 is similar in size to the 1520 and Samsung sold 5 million in the first month of release. Obviously there is a pretty large market for large screen phones.

Note 3 also has a stylus. After playing around with Note 3, a stylus would be a nice feature on the 929/1520, etc...I can't help but think Nokia is going to have a hard time competing on this size device when there are similar products with more features. A stylus might seem like a nascent option, but on 5"+ phones it almost seems like a natural fit.

Agreed. Same issue as HTC One Max. Larger phone is awesome, but compared to others with a s-pen, the features are lacking. It's what I jumped to the Note 3 for.

Only with styluses. Without that it might as well be smaller.

928, you mean - this bad boy's coming to Verizon and I can't wait. Daddy likey.

I suspect this will be named something other than 929. maybe 930 or 940. This is a true 920 successor. I think it will outperform HTC One, S4 but still unsure about iPhone 5S. 5S has got a blazing fast chip too bat it does not has Windows :P

If this device would be released worldwide I would hand my lumia 920 to my wife and buy me one of these. Or if they release a device with all identifical technical specs but with a body like the 920 I would definitely buy it. My dream device would be a 1080p lumia 920-like (or a little bigger, 32GB, Qi, ...) device with a camera similar to the 1020 but with a smooth performance.

What's with the disformed back plate on picture 5? Hopefully this is just a bad prototype because it's not like Nokia to ship with build quailty like that.

Why no micro sd... Grrrhhhh...:(

That's the reason i didn't upgraded to 925... Currently using 820.... 1320 and 1520 are way to big....!!!

Screenshot of Phone Storage settings it has the Store new * on

Too big? Did you look at comparison pic between 929 and 1020? Almost same size. If you look carefully, I think Nokia design has lost some bezel.

Lumia 929 will be the most successful Nokia high-end phone ever. It easily beats AT&T L1520 in every aspects - size, weight, RAM and inbuilt Qi. It has combined the best parts of L925, L928 and L1520 into one device. Nokia should make it available globally. They will be surprised how well it will do. Between L929 and L525, WP will make a major crack in the US market. I'm ready to make a jump from AT&T to Verizon in the coming June.

One fatal flaw is the lack of a SD card slot. If it had that I'd definitely consider getting one.

It is a debatable subject whether a microSD is needed with the expanding use of the Cloud storage. 32Gb serves me fine on my L920 and L1020. I always have 10-12GB storage left on my phones. I never felt the need for microSD. Besides, I heard there will be a 64GB version for L929. That would definitely void the needs for microSD, as least for me anyway.

I have a 32GB 920 and it's FULL. Streaming isn't reliable in the multiple locations I travel. That's why I purchased a ATIV S I've got over 50GB on my SD card. I'd love to have a large screen SD card option on a Nokia.

There is no debate. After i reinstalled my apps I had 7gb left on my 920 on day 1. Until carriers bring back unlimited data and at an affordable price people will be too overage fee conscious to use cloud extensively. Plus the cloud can be slooooow for larger data transfers.

Unless it just doesn't work for you (flawless in my city and many surrounding states on east coast for me) Tmobile has full unlimited data. So carriers don't need to just bring it back, they need to stop being greedy. This device is a HIT for me, to bad I just got JUMP on Tmobile, looks like ima have to give my GF the JUMP upgraded phone since Nokia is being stingy on Tmobile. Actually I wanna wait to see HTC's offering for GDR3 first, they've always been more reliable for me anyway.

I would like to see the 929 with the 1020's camera (41 mp + Xenon flash) and micro-SD then it would be perfect and I would pay retail and sell my 928.

No xenon flash though :( <--928 owner

So that makes L929 perfect- then. :-) Since you start picking on L929, let's see what else it lacks. It could also come with a stylus. Does it have 4 stereo speakers as on L1520? We need to know more.

THIS. I've been totally spoiled by the Xenon on my 928!

I have the 928 and the problem with the Xenon flash is almost every picture I take with it on it gives me red eyes on all of my subjects. And I looked and there is no real good app at removing them in the app store

I'd consider leaving AT&T for this phone. Especially since the 1520 is having it's QI wireless charging pulled. Dumb move AT&T!

You mean you wouldn't say no...right?

Yes you are right. I wouldn't say no to getting one. I love my 620. I had the HTC Titan 1 to begin back in the days and it was a bit too big at 4.7. I mainly use my phone for just that. Texting, phoning, skype, check the weather, quick news read, songza, you get the idea. When I do need the bigger screen I use my Surface Pro. Rarely do I play games on it or watching a full length video. All in all, it's a beautiful phone and I'm sure I could get used to using a larger screen device. Just wouldn't fit in most of the pocket compartments that I have on my backpacks, snowboard cellphone jacket pocket, etc...

I like the looks of the phone. I'm curious to see how well it sells. I like the sloped design to the side of the phone. Lumia 928 was uncomfortable to hold.

This, on AT&T. Please? I just want the 1520 in a smaller form factor, same specs.

How tables have turned! ATT always got the latest and greatest, now its Verizon's turn - at least this time.

Now you know how all of us VZW people have felt the past few years...

I am on VZW right now and will be moving to AT&T during Thanksgiving for a Lumia 1020. It is unfortunate that this amazing phone is coming to VZW though. I can tell you right now that Verizon will stunt its growth by holding back updates and long testing cycles making it a PITA to own it. AT&T offers a much more easier update deployment path to manufacturers while VZW imposes too many restrictions. End result is that the customers end up running lousy S/W for too long without any updates. One look at VZW's WP record is sufficient to know this.

LOL You must not be on WPC much. Just ask how long the 928 had GDR2 before ATT 920 got it.

That's one of the reason's I left AT&T, too long for S/W updates. I don't know if Verizon is any better but I'll be giving them a shot with this 929 once it's released.

This was NOT the case for the last update for the 928 or 822. Those phones had GDR2 waaaay before anything on AT&T.

speaking of 928 and 822 does anyone know if GDR3 fixed the mms issue for gsm users?

I have GDR3 on my 822 but I don't use GSM so I couldn't tell you. Come to think of it, I'm curious to know who uses GSM on Verizon phones. Do you mean unlocked phones using them on another carrier?

I'm confused by your comment. Didn't GDR2 come to Verizon months before it came to AT&T?

+ DVP, HD7, 900, 920, 925, 1020, 1520, Ativ S,

Yes, AT&T gets exclusives on the 1020 and 1520, I believe, and Verizon gets an exclusive on the 929. This is quite ridiculous and so 5 years ago. When Microsoft assimilates Nokia, job 1 needs to be killing the carrier exclusives. Let's have a coherent line of killer phones that you can get on whatever carrier you have. Enough is enough.

This! They also need to find a better way to name their phones, the numbering system is AWFUL!

No it isn't. It's quite clear and easy to understand. In short - x20 is the determines the model, higher is higher end. If it doesn't end in 20, it's a carrier exclusive thing, but higher is better, but marginally. But then again, it's getting confusing... why 929 and not 930?... Carriers! (booo)

The second number supposedly denotes the generation. Perhaps phones released next year will have a '3'.

Agreed. The biggest impediment to Windows Phone growth in the U.S. is the fact that most carriers don't carry most Windows Phones. The exclusivity strategy is so stupid.

Absolutely. Handsets like the SIII and iPhone are top sellers because, well, they're available EVERYWHERE. This is why Nokia has frustrated me thus far. I will not change providers just to get a phone.

I like the idea of no exclusives. But a big reason for getting an exclusive is to enable a specific carrier to advertise the phone and not lose the sale to a rival carrier offering the same phone. The rival carrier could offer discounts based on money saved by not advertising. It does work for iPhone and Galaxy phones because the carriers don't really have to advertise them. Word of mouth and the news media do more than any advertising could. Nokia needed help advertising the Lumia phones and the exclusivity to the carrier was one way to offset that cost.

Sadly, AT&T will just take away Qi and strip it down to 8GB or something. Oh, and it'll only be available in black.

AT&T? No way, they are glacial on updates, and won't support the QI wireless chargers I bought from them. They blocked the WP flagship phone (1520) from any other carriers, then crippled it, so why stick around? The Lumia 929 is my ticket back to Verizon. I've been on AT&T because the phones were better, but Verizon actually has better coverage in my area. I would have stayed on AT&T for the 1520, but they crippled it so much that the 929 is the better phone. So, bye bye AT&T.

Lool i seem to agree with err'thing you say sir haha

Give me this phone on att please!

Beautiful, great rundown!

i want this!will this be available to other countries?:)

This is exactly what I've been looking for, too bad it's only on Verizon (for now).

Nice, but I would prefer a 1020 variant for vzw.

Damn. No MicroSD and only 32GB compared to the the 1520 for AT&T? The consumer's getting the stick here, that's for sure...

Yeah... There was a report of a 64GB model. If that was true, I would have gone for it in a heartbeat, but 32 is just not enough for me to switch from my 920 as I'll have the same storage issues.

The Verizon 8X came with 16gb, and I have to just watch it when it comes to games. Surely 32gb will be enough for me.

"640K ought to be enough for anybody." (I know he didn't really say that but it's still sounds funny.) :p

Yeah... An almost perfect phone aaaaand no microSD. Nooooooooo

This is exactly what I want, for AT&T, and when 8.1 drops! I've been sitting on an upgrade for 4 months!

I thought so too from the first pic, but the rounded back kinds of kills the Surface look

Indeed but the sides remind me of the Surface.

I concur as well. That profile pic made me think of the surface as well. Why won't they release a 64GB model though?

I thought the same thing at first but after looking at some of the other photos, I think the angled edge look was really caused by the 'fish eyed lense' effect of the camera taking the picture. It is more pronounced on pictures taken close-up, like the ones in the article.

As a T-Mo prepaid customer, this is likely my next phone. It'll probably come GSM unlocked and will be compatible with T-Mo's LTE and 1900MHz HSPA+. Now...for a release date...

All Verizon phones already come GSM unlocked.

Im in the same boat. Hope the off contract price is decent.

I'm gonna guess it won't be. That is, $750-$800 pre-tax.

I don't know what the price was for 928. But 920 was only $450 on ATT, which was much cheaper than the international price (same story for 520/521). So that tells me that the carriers must have been picking up some of the phone costs in exchange for exclusivity. That's why with every new Lumia I have a hope that we see a nice price. But I've been disappointed by the prices of the 925 and 1020. So who knows.

Rumored to be $500. I think that's ... generous, but since it's an exclusive you never know ...

ATT and Cyan and this is my wife's next phone.

Really hope this comes to the UK in some form or other!

Hopefully the latter, 10.5mm is quite thick, and I'm not really a big fan of the design. However if this had the design of the 925, then that'd be something I'd be very interested in for sure. But that's just my opinion.

I'd like to see this in the UK as well. It would be nice to see a 5" Nokia released worldwide actually. As nice as the 1320 and 1520 are, not sure I want to move up to a 6" screen yet.

Awesome specs. If Nokia produce a global variant with a design more inline with the traditional Lumia language then I'll certainly be dipping in.

I want this phone but I'm on Tmobile....will it work with a tmob sim card I wonder!

Yes, so long as it is unlocked. (there is no reason to believe it wouldn't come unlocked)

Thx....looking out for the international version then....

No, it will not, Verizon is not a GSM network like T-Mobile, it is CDMA and thus will not be compatible (different bands and frequencies)

You may want to do your research before advising. Verizon's phones have had GSM compatibility for the past couple years. Remember LTE is a GSM technology and thus the phones have a SIM slot. They are also all unlocked on Verizon due to FCC agreements. The 929 will indeed work on T-Mo.

Verizon always gets the perfected one :(( Want this at Finland...

Verizon always gets the perfected one :(( Want this at Finland...

God damn, that looks perfect...thibk it'll be possible to get one unlocked and use it on ATT?

Ok T-Mobile your turn! I want the 1520 or something more similar to the 925! Right now! Lol!

Nokia already said they have NOTHING in the works for Tmobile in the forseeable future.

From the front and side it really resembles Surface, imo. Very sleek. I'd be very upset if this didn't see an international release. As great as the 1520 looks, it's too big for me and the 929 looks like a much more manageable size, being only slightly larger than the 920 and 1020. I'd be interested to see how the display looks though, the size of even the medium tiles will be smaller than even on the 3.8" 620 if I've done my calculations right... Fingers crossed for international version, with a more 1520esque design and multiple colours (ideally cyan). I don't ask for too much really... ;)

Can't wait! Come on finish the testing!

One word came in mind after first image I saw: WOWWWWWWWWWWWWWWWWWWWW

Urghh..that Verizon logo on top -_-

That's a great looking device. I wish tmobile would get their act together and pick up a 5-6" 20 MP variant. Though the latest rumor is that they will pass on this round of high end WP. Sucks for JUMP customers.

This will definitely appeal to those who want a smaller 1520. That's one of the things I've seen floating all over the web-- that the 1520 is just too large. I personally love everything about the 1520 aside from the fact that there's no love for Canada at the moment... :(

I really hope they release a high end Lumia with a 4.3" display (I would hope for same processor, storage, camera, 720P screen would ok as long as its a high quality one).

This with the 720/1520 design would be the perfect phone with me.

Wireless Qi charging. Winning! Wish there was expandable storage though :/

don't like the design..give a 5" lumia 925 with the specs of the 1520 and i'm sold

This is just the phone I want, damn it... The 1520 is too big for me.

This looks great! Tcman88 said that the model he tested was 64gb. Any news on that?

Will be getting rid of my 928 for this

I'm thinking the same thing.

Doesn't Verizon have an upgrade plan like tmobile and att? I may do the same thing, though I'm happy with the 4.5 screen.

Why can't they build it with windows RT?

Better they don't. This way we get more battery life and snappier speed.

Oh like the Lumia 2520? =/

Does it have RT? Doubt it. Heavier OS, heavier power consumption.

The Lumia 2520 is a tablet. So yes, it comes with Windows RT (8.1 presumably...)

It also has 3400mAh battery (I could be wrong, could be the phablet that has the 3400). Lol.

i hope it has at least a 3,000 battery. if it's less than 2500 i can't see getting it.

Yeah, it's the phablet with the 3400mAh batterk, the 2520 tablet actually comes with a 8000mAh battery.

So with 32Gb of storage, approx how much of it will actually be available once out of the box and updated? Anyone?

32GB actually = 29.8 and system will be ~ 3gb with gddr3....so 26gb (.8gb accounting for built in apps, and stuff Nokia adds with black)

I might need to take someone elses upgrade on the plan to trade in my 928 for this. The screen Isn't too big and it looks great!

Goodbye att. Hello again Verizon

Daniel, windows phone has overtaken iphone in italiy during the Q3 2013 and you don't covered it yet..it's a kinda odd!

Mmm, might have to badger my Mom to use one of her five (!) available upgrades to get this for me. GSM unlocked means I can use it on AT&T!
Right?

Sweet aside the lack of an sd card

Qi charging. What slap in the face to att (customers).

The Power Matters Alliance and the removal of Qi wireless charging from Lumia 1520

I would love to see T-Mobile get a device just like this come 8.1. I'd be happy as a clam.

I really wanted 64gb or MicroSD...but otherwise, it looks good...

2 mms thicker than the 1520. And just a little thinner than the 920. I don't find it attractive personally but glad Verizon is getting the phone they need

That's the first thing I thought too. I'd take a variant on ATT that is 7 to 8mm thick since I assume they will remove Qi. 10mm is pretty thick (about the same as my Lumia 900 but I prefer thinner for the next two years of a new contract!)

And if Nokia doesn't release an international version of this, they'll be throwing away tons of potential customers that want a phone as good as the competition but without the ridiculously high height of the 1520. I want this phone and I want it in Europe, not just as an exclusive to some bloody American carrier.

Bloody Americans always interrupting me :P

I am green with envy. I cannot wait to see the inevitable ATT 5" phone.

Sold! Definitely my next phone. I was flip flopping between this or the 1020. not anymore. It is a little chunky but not an issue for me. Would looove to see this in white.

It is so nice to see WPs with up-to-date internal tech coming into the market!

Love it...want it. Really like the edging of the device, similar to the Surface Pro style. 5" is big but the bezel is more used for screen so not much bigger than 928? I want it...in Canada!!

Looks absolute class...hope its available worldwide..

I want this in the UK, perfect upgrade for my L920.

it looks like Surface style

1. God their logo is so ugly and intrusive. 2. I hope they at least release it in red. Why only black and white? Geez.

Right? You think Big Red would capitalize on effortless branding... =/

Wow, gorgeous device! If it had microSD it would be perfect.

Hmmm... TMO variant... 5" is prime for me. Even tho im still getting used to my L925 haha

32gb and Qi wireless charging, those two things make it more appealing then the 1520, throw in the 5 inch screen (which is just right if your looking for a bigger phone) and you have yourself a winner

All these phones pose a problem. I want a god damn new phone every year. I wish we were due for an upgrade every year (all these prepay in advance to upgrade each year just seems far to expensive). I may be totally wrong, but I feel as if these carriers make it way easier and cheaper to upgrade your phone every year if you own an iPhone, other wise drop dead.

I wish I was like that... I still haven't upgraded to WP8, because I want a flagship phone with microSD. Only Ativ has delivered, but it was too big and seemed plastic & flimsy... Also Nokia's support is hard to ignore.

Verizon take my money already.

The glass. The way the sides taper from the bezel, narrowing as they approach the back of the phone....This looks like a mini version of the Surface upon which I am typing. Is this the long rumoured Microsoft phone?

No SD? No sale. My 822's internal memory is already ⅔ full without media. My 32GB SD card has > 20GB used. This means that this phone is worthless to me UNLESS they ship a 64GB version OR add an SD card. Using SkyDrive complete sucks because you can't just share a picture without downloading it first. And I really effin' hate when the SkyDrive folders show a blank grey icon instead of a picture thumbnail.

I have to agree here. I don't want everything in the cloud. I want my entire music collection on my phone. With XBOX Music, if they don't cataloge an album, you can put it in the cloud...no option for manual entry. A 64GB phine would be great.

Nevermind most people today have meetered data plans limited at 2gb, that really kills the point of cloud storage...

Well, there's WiFi, but I hate having to keep moving things on & off my mobile all the time.

BTW, ATT don't bring this! Bring a 1080p version of the 1020!

With tungsten flash, but without the camera hump. By April of next year. In red. And in the traditional 800, 900, ... look, not that squarish design of the 929.

Does anyone know if this will work with Rogers in Canada?

I can't believe they just leave out the only thing that would make this perfect, microSD. I really want to know what size of battery this has.

Is there anything known about an European version?

5" I like more than 6". No "that's what she said" comments please.. ;)

There's already 2 new gigantaphones, sorry, phablets on the market... It's a niche market, we don't need more! It's hard enough constraining my laughter at people talking on their Notes :P

That's what he said then?

International version, pleeeeeeeease! Lumia 1420, maybe?

5" is such a perfect size for me. I still want the 1520. On a side note: will the 929 be an unlocked device?

I'm waiting for the first device to carry WP8.1. These (nice) hardware upgrades don't yet really justify for an upgrade in my case.

Hopeing for amazing things from Nokia 929. Need a change.....sick of iphone!

i hope it will looks like lumia 925 but bigger. i also hope it realeses worldwide

Who ever took these pics can't take photos for shit, the pics are pack with glare and the angles are just terrible. How hard was it to use a phone to take pics of a phone, my god a 4 year old would do a better job. The phone looks great but judging by these horrible pics you would say it's not a good looking phone. C'mon Man!!!!

Don't hold back. Say what you really think :P

This looks like a fantastic product. Too bad it's Verizon only!! WHY, NOKIA, WHY???

I like this enough to leave AT&T. So tired of their update practices with WP. And now the whole issue with QI charging is making me loath to keep giving them anymore of my income.

If this came in yellow or cyan, I would drop AT&T for it!

No 64gb model like rumored ? No SD card support ? If there ANY apps right now that NEED a quad core or 2gb (besides a few photo apps) ? Are there any that are due soon ? it's been discovered that the smaller tiles are just a registry key that needs to be changed, so even the 928 could do it, if someone hacks it open. With only 32gb it's a disapointment to me, I guess I will stick with my buggy 928 unless I can score one of these cheap with out a contract (keeping my unlimited data).... Looks like a nice phone but, with out more than 32gb or expandable storage, it does not solve problems I have with my current phones... Where are the 128gb options ? Come on this is 2013, not 2010....

What about its battery?
Is it going to be the same L920 or L1520?

This is my question. What will the battery life be like?

i hope it has at least a 3,000 battery. if it's less than 2500 i can't see getting it.

I hope it's gonna be 3400mAh

FM radio ? Or did Verizon Strip that feature from this one too ?

It has FM Radio. Added to the list.

Looks good. Lets hope its works.

I want this... I actually want this. I just want it to be as thin as the Lumia 925. How thick is it in comparison to the 928?

I'm thinking the same thing.

The weight is similar to my 820's, already with Qi wireless charging capability. Am I right? Bring this to Europe immediately!

Did they mention battery size? Didn't see it in there.

Now we just need this phone and the 1020 blended together and come to att and i'll be set. :)

I wish it had the same styling as the 1520. The 928 and 929 are a bit plain in my eye.

Damn! That looks good! I'm gonna have to check it out!

Second pic, looks like a surface phone.

absence of an sdcard is a deal breaker. also the screen technology seems different. not as bright and vibrant, sounds like they are not using the apical display technology here... otherwise i would get this over 1520. I JUST want a 5" version if 1520 and I'm fine.

Definitely my next phone. For now, happy with my 8X.

Have Att now but just moved and have no signal. Contact up at the end of the month so I'll be switching to Verzion this phone will be the perfect upgrade from my Titan, didn't care for any of their other phones.

I need to hustle some money fast, because this WILL be the phone that retires my Trophy wife ...

One disappointing remark: it seems, beside the addional column(s) of tiles, the interface is just scaled up to the larger screen (which means you'll still see titles running off the screen :-( ). I was hoping that the OS would make better use of the additional real estate: imaging the keyboard the size it is on a 4" screen with more room to read what you're typing above it. I use Word a lot, so I miss my Touch Pro2's outstanding sliding landsape keyboard. :-)
I didn't mind the 3.5" screen. That thing was a writer's dream. Not to mention X times more features in Mobile Word.

Why black and white???????? Give me yellow!!!! For once Verizon...at least Verizon Red

I would murder for my favorite color.....YELLOW! My 928 theme is all yellow :-)

Amen. This, a thousand times over.

I guess to appeal to business-peoples.

I really wouldn't call this phone a "phablet" as it's about the same size as the galazy s3. I can carry it in my pocket without a problem. One thing that I hope they focus on when marketing is the screen. It's 1080p, sure, but the blacks are SOOO black while the colors are super vibrant. And when using this in direct sunlight, it is phenominal how clear you can read text and see color. It is hard to tell where the screen ends, and the bezel under the glass begins.

I wonder why it has a whole new gen of CPU and better ram but still 92x. So really, I can't wait to see what specs is qualified for x3x Lumia Phone ? Maybe 64 bit, Pureview 2.0, new form factor ? any guess ?

Many have guessed that they're waiting on WP8.1 for x3x. Which is kind of stupid really, if they made this the 930 and make it available internationally, I bet it would sell.

True sequel to the 920! Built in wireless charging

I would get this in a heartbeat if I could transfer my 928 phone payment to it. I can't lose my grandfathered unlimited data plan.

You can. I've done that very thing. I have a 928 that I transferred from a Galaxy Nexus without loosing my granfathered plan. Happy shopping...

Disappointed that it doesn't have a micro SD slot, I would probably get the 929 if it had one.

No micro SD and no FM radio? Is this a joke? Edit: I see FM has been added. Still don't know why the 928 got the fucking shaft there.

it seems like a lil' bit thick don't you think?

Only slightly bigger than 1020, built-in wireless charging and no hump, how awesome is that? Now if only they would release it internationally, but I'm not holding much hope for this seeing how the 928 never became available elsewhere. Stupid carriers deals!

No hump? The entire phone is a big hump! :D

Stoked! I hope it comes out before thanksgiving...

Dam the style that Nokia has is far better then anyones

This would be the perfect phone for me if it was smaller and had a microSD slot.

Why is EVERYONE complaining about a microSD slot? Everything is in the cloud these days, why would it matter? 32gb is far more than any other phone out there. iPhone sells how many at launch, has 16gb, sucky OS and sells for ~$100 more? Worried about your pictures? Autoback them up! Let's not complain at such an amazing device. I have been running Android for years and love my Galaxy S3, but Windows Phone has won me over big time.

Well, Kelly, maybe not everyone has the same needs as you. Here are some reasons for a microSD slot: 1. You can store more for free on a card than you can in the cloud. 2. Files load faster from the card. 3. Doesn't require a data signal. 4. Doesn't have a data cap. 5. No one can see what files you have on your card. 6. Uses less battery. etc... If the phone makers offered a 128GB option I wouldn't need a card slot, but they don't. We've been getting the same amounts of storage in phones for years even though storage prices continually get cheaper.

What the hell, man? I JUST switched to AT&T to get the best Windows Phone(s) available, and THEN Verizon announces this... This looks more appealing to me than the 1520, since 6 inches may be too big.

Also, wish the speaker was at the bottom, instead of on the back ugh

Bring this to the UK please ! Or i will start a petition lol

Another phone that is too large to have such underwhelming specs. Nokia and WP need to concentrate less on the US market,as Americans(who love their iPhones) are not going to switch devices unless you are pushing the envelope in technology and features. After all this time the L920 is still the most feature rich WP, go figure. No SD card, 16&32 GB phablet devices, and they expect to compete against Apple and Samsung? When, and if, Apple decides to make a phablet device there would no longer be a need for these low spec oversized phones.

The lack of an SD card is a non-issue for most people, especially given the default 32GB of storage. As we move towards cloud computing the amount of internal storage on the device becomes less and less an issue. This has Snapdragon 800. 5" 1080P screen. Built in wireless charging. It is by no means underwhelming.

32gb of storage is acceptable for most users, but at some point People should be past being disappointed because Nokia consistently puts out large phones with underwhelming storage availability. If I'm carrying around a large 5in. Phone, I want more than 32gb storage. I'll admit otherwise it is leaps and bounds better than the milk toast version on AT&T.

This American doesn't love iPhone.

Verizon, why you no give us colors?????

The naming scheme is getting more and more confusing by the day.

What's confusing? It's an upgrade to Verizon's Lumia 928. As far as I know, there isn't an international 928 or 929 so there isn't any reason for it to follow the usual conventions. It's a phone meant solely for Verizon and CDMA carriers in the US.

Hope fm radio actually works in this model. live up to date traffic monitoring goes out via FM radio signals (in a lot of areas) and is the down side of the 928. with 64gb and FM Radio (if confirmed) I will probably look to out right buy this one.

I hope we aren't being forced into a bigger device if we want the top of the line model. I think the 920/1020 is the ideal size. Any bigger and I'll be forced to consider something else. Nokia can make all the phablets they want as long as the normal sized phones aren't compromised in the hardware department.

i chose the 822 for its size.

I would like a 5.2 inch Nokia on T-Mobile, please! :)

Ok, the flash is the deal breaker for me. Keeping my 928. Maybe a 930 with same specs and Xenon, flash for next November. But to those die hard trophy owners, here is your next phone!

With the benefits of Xenon flashes that we've seen on Nokia phones, what exactly is the reason they continue to bring new phones with duel LED instead of going completely with Xenon/LED arrangements? Cost? Power usage? Can't physical space since the 928 had it. Very surprised that 929 doesn't have it since 928 had it. The Lumia line seems to be getting very spread out these days... would it not be better to have 520-820 phones be their own "brand" (non-Lumia), have the Lumias be flagship feature laden phones of sizes from 4.5" to 5", and then have a separate "brand" for over 5" phablets and maybe even into the tablet range? All moot questions since Microsoft will have to do something, but just seems like there's too wide of a range of features and sizes for everything to be a "Lumia" and still make sense to consumers.

I really, really, REALLY hope that Nokia release an international version of this or release another 5 inch device. While the 1520 looks great, a 6 inch screen is a bit too big for an every day phone for me. I would've thought that Nokia would've released a 5 inch flagship device to go along with the 1520 anyway, have 2 high end devices but give the consumer the choice between a 6 inch display or a more pocket friendly 5 inch display. They do tend to release multiple variants of phones year to year so hopefully a 5 inch display device for the rest of the world isn't too far away?

After the 920 at 4.5" I always thought the 1020 should have been 5".

So psyched to see that Verizon Tones ane VZ Navigator will be in the new build!! Seriously, this is my next phone so long as the battery life doesn't suck rocks. Which it might - its absence from this massive leak is conspicuous.

Those "VZW" app better be uninstallable, I don't want that crap taking up space on my phone being I would never use VZW software.

Good too here. Thanks Indistingishable!

i almost thought you were serious

Omgosh I think I'm in love! This will be my new WP8 phone with Big Red. YAY Nokia and Verizon!!

Looks like a damn plank . . . . . . okay -- a shiny plank.

I was so darn excited when it was rumored that this was going to be available for pre-order on 6 November... Now sometime between Thanksgiving and EOY kind a sucks! But I'll be there as soon as the on-line ordering opens up! My NL 822 is getting a bit stale compared to all the newer devices out there these days. Unfortunatley I broke my NL 928 and had to reactivate the NL 822. That's another thing that makes this delay for the NL 929 such a PITA!

So we don't get the IPS LCD of the 1520. F you Verizon. Always has to be one step behind on phones.

Yes. I do like tis one. It could replace my 920 and AT&T all at the same time.

5 inches is the sweet spot for me. Not too big or small! But Verizon never seems to get colorful Lumias!

I won't get another Windows Phone until MS eliminates the 50 MB over the air download limit. Some of the podcasts I listen to are over 50 MB. Many games are over 50 MB. Apple restricts downloads to 100 MB. Android doesn't have a limit. If the file is over a certain size the download has to be split in to 2 files. The only high speed broadband available where I live is 4G/LTE.

what, really? that sucks. I pay full retail to keep my unlimited data.

Wow no one is talking about how black the screen is

Poor us (Philippines). Can't get one locally. :'c

LOL..Think like this, while we are waiting for the more polished devices we have to option to invest our money on to other things. I hope you can still remember the L920 Beta phases...

Wow that is a thick device... Looks great overall! Can't wait to get my hands on it.

This fone looks smart in all ways, coming in with the GDR3 + Lumia Black.. s**t the updates Im waiting for on my lumia 920. Another year to my next update and this the Lumia 929. could be rhe one. I believe this will be a good seller. Knowing Nokia and Microsoft by the time IM ready for my upgrade something even better looking and smarter will be announced. IM all for whatever comes freaking go Nokia Gooow.... Cant wait....

I'm glad I purchased the Lumia 928 in May. At this rate I will wait until a Lumia that includes room for an SD card slot is released. It is my hope it will happen by May 2015.

Really hope this phone come's out in red sometime.

No SD slot. 10.5 mm thickness!?!?!? How about that Lumia 1520 :)

Let's make it clear. Nokia is making a HUGE MISTAKE by keeping this device exclusive for Verizon. It has to be internationally sold. It is exactly the kind of device that peoples want. 1520 is to big for a lot of people. This one seems to be the perfect commitment.

Instagram! Come quickly! I don't care for it, but when people ho buy a new phone, they'll be asking for the big five to be in it, 1) Facebook 2) Twitter 3) Instagram 4) YouTube 5) fill in the blank

Needs a stylus and sketchbook app.

Does Qi charging mean that it doesn't need one of those stupid case/plates? This WILL be my next phone regardless. Love my 928, but the 1080p display/extra tile support is a must, plus the upgraded camera and processor!

Yes, most likely Qi charging is built in, just like my HTC 8X

I can see business users gravitating towards this. Large screen, Office, traditional colors & fast.

If this indeed will work on T-Mobile, it's gonna be mine! Muwahhaha.

AT&T cripples the hardware and Verizon cripples the software.

How the hell does Verizon cripple the software?

If this is released in Canada, I'll forgo the iPhone 6.

It makes me sick seeing everyone gets cool windows phones accept those of us on Sprint. Why can't this come to Sprint, I mean really?

I feel for you! It also keeps potential customers away! Sprint has ZERO Nokias!! Very strange... bad blood between the two companies? I know the 8XT is probably solid (I know the 8X is at least) and I'm sure the Ativ is fine, but to not sell the top WP manufacturer at all seems strange.

I must have it!! My precious!!

could give me a good reason to jump to verizon from at&t. still upset over the way at&t hacked up the 1520. and the way they send out up grades for their phones.

I'm curious. How does At&t send out phone upgrades?

How much do you all reckon this will cost off-contract?

Ok ive read that there might be a 64gb varient, anyone got news on this? Why wnt they give us storage? People want it, just read the comments of this page. Also i hope they give this monster to the world, becase it would sell big time. And while I'm at it, why no colors? Nokia is known for colors, People want colors, why wnt verizon give us colors? The 822 came in white grey and black, i was so disappointed after seeing the 920 and such. Then they came out with a red on for Valentines day months after i bought it? Come on! Im scared to buy this phone for the same reason. Waiting on snapchat to come to wp8 anyway, so until it does i cant get a new phone. 822 with swapchat is awesome. But its a deal breaker with more storage, i use and love xbox music, i dload albums by the dozen.

Wow after being with cingular /ATT for over a decade and my love for technology, and the crippled 1520 may switch my family plan to verizon (5 lines) if they give me a corporate discount. #attdid1520wrong

This phone is fantastic!!! I'm on AT&T, but contemplating a switch - this just might finalize my decision.

And yes, AT&T is shitting on everyone with the removal of the wireless charging feature.

Yeah, the phone looks great and everything and it's definitely on par with the high-end Android devices. Now the only thing I need to know is how big the battery is going to be to feed this monster.

This looks like a Surface Phone.

Anyone know if the 3-medium column size is optional? I really prefer the look where you can have one large live tile fill the screen from side to side, not have to have 1 large and 1 medium.

Looks nice I I hope soon that the normal L1520 can be on multiple carriers

Will it be avaible in Canada?

Is it my imagination or is that a flat magnesium back and a kickstand away from being the Surface Phone? The screen, the angles on the sides, all remisicent of Surface. I hope the merger goes through soon so we can finally see the Nokia built Surface Phone :-)

Another practical MYSAGA M2 smartphone like Nokia Lumia 929

when will it be out of USA ... or it is exclusively fo USA verizon ???& is it really made of alimunium or polycarbonate ??


what about lumia 1020 i think they are the same it differs only in the camera & the cam of 929 isn`t bad ... so what is the difference??

Is there such an application named "Voicemail"? Or is it just tile from Verizon?

Hopefully its not Verizon locked!!!!!!

So do i i would take it to Tmobile all the way! and this phone aint big although the pic makes it look bigger its about the same size as the S3 or S4

I would love this phone, hope MS can get more apps and then I would definitely pick up a lumia on verizon. Love Nokia hardware but the lack of apps killed it for me.

This phone is beautiful! Perfect size, great insides, and on Verizon. Extremely excited about this phone and ready to buy it.

At&t dropped the ball. This is the perfect phone for me what a bummer it's for Verizon only.

Looks awesome wondering how good the battery life will be. I am a life time Android user and even had an iPhone for about a month. I have been looking at Nokia new phones and wondering when Verizon will carry a new Nokia Windows phone.

My life is empty without this phone.

I've been so happy with my 928 that I never want to change it. That 20 MP camera, well, let's say my next camera will be a Nokia 929 which can be used for phone service and more!

Curse you, Sprint. Dig the unlimited service; don't dig the pathetic device line up. Not 1 Lumia and nothing on the horizon!!! Big brother VZ gets all the good toys..

Where is our Lumia Black Update? :(

Rumors of 21 Nov 2013 Availabilty from Verizon appear to be in error! I am bummed!

Looks like a perfect size, function, etc. except for the fact that it (again) does not have micro SD, so we are stuck with the on board memory.

I am completely disgusted with my experience at a Verizon Store yesterday. I know the retail stores are bad, but this is really pathetic. I asked about getting a Windows phone. The store rep said there is less than ONE thousand apps and no one likes them. She tried to steer me to other phones. I immediately corrected her AND her manager who was completely clueless about Windows phone. Told them over two hundred thousand apps, etc. They didn't care AT all about knowing anything about Windows phone. THIS is literally the reason Windows phone isn't at a much higher sale rate in the U.S.A. Idiot store reps misinforming customers. It's really disgusting.