Review: Microsoft KIN, Part Three: Performance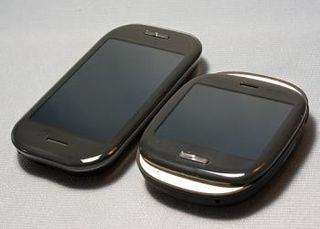 In looking at the Microsoft KIN, we've taken a look at the design of the KIN and the KIN's software. In this last part of the review, we pull everything together and look at the KIN's performance.
As was mentioned at the start, while the KIN is a Windows Phone I don't think it was ever intended to take the place of a Windows Phone running Windows Mobile or Windows Phone 7. However, after using the KIN for some time now, it is a good alternative for someone wanting more than your standard feature phone but less than a Windows Phone running Windows Mobile.
After the break, we'll run down the KIN's software, camera, phone, and overall performance.
Software
Microsoft did a good job of designing software to keep you up to date with your social networking sites. The main page does feel a little cluttered. The larger screen of the KIN Two helps spread things out a bit. While each post tile is date stamped and identified by the source (e.g. Facebook, Twitter, etc.) it takes some time to get used to having all the feeds on one page.
The email application isn't much different than other email/messaging application. You have your full range of email sources from Gmail to AOL Mail to Exchange Server mail to generic POP mail accounts. The browser was a little on the slow side, but there are so many variables with page loads it's hard to blame the KIN alone. As with other aspects of the KIN, the layout of the browser takes a little getting used to as well.
The processor in the KIN moves things along nicely and the touch screen is very receptive to the touch. Neither of the KIN models locked up, stalled or otherwise bugged out during the test period.
The KIN Spot is a nice feature on the KIN. It's helpful in allowing you to easily send links, pictures, and other items to friends from one spot. The KIN Spot really shines when you want to pull in items from various sources.
Lastly, the KIN Studio is a very nice online component. It serves as a backup for your KIN, extends your access to photos and videos, and compliments the phone really well. The only thing missing is a calendar.
Camera
The KIN One comes fitted with a 5mp camera and the KIN Two has an 8mp camera. The image quality from KIN models was good. Still images were sharp, colorful, and well exposed. The KIN Two images seemed a nudge under-exposed but nothing a little post-processing can't handle.Video footage was equally impressive.
Video capture was equally nice. It's not great but I think it would hold it's weight up against other Windows Phone cameras.
The KIN's camera has geo-tagging ability as well as the ability to email images and footage as well as the ability to upload them to your Facebook or Windows Live page. In-camera settings are basic covering resolution, lighting, flash settings, and a few modes (auto, night, and burst).
My only issue with the camera was the shutter button position. It was a little on the awkward side on both KIN Models. The button sits flush requiring a little contortion of the finger to get it pressed. I also experience a little "focus hunting" with both models.
Phone Performance
Both KIN models performed well as phones. Sound quality was good with adequate volume levels. The KINs are fitted with bluetooth and headset performance wasn't much different from any other phone. Both KIN models have speakers but are a tad on the muted side.
The KIN models designs are distinct and will likely appeal to different audiences. The unique style of the KIN One is more suited for those looking to stand out while the conservative appearance of the KIN Two will appeal those with... conservative tastes. The size of the KIN models may also come into play on selecting one over the other. The KIN One was a touch too small for my hands while the KIN Two fit more natural. Regardless, both are quality made Windows Phones.
The biggest performance issue in using the phone is manipulating the volume keys on the KIN One. I think if they sat a little lower on the side of the KIN One, they would feel more natural to manipulate.
Generational Perspective
I had my 14 year old tinker with the KIN and he thought the KIN One was "cool". The KIN Two was too plain in his mind. He is currently using a Samsung feature phone and his needs are basically texting, calls, taking photos and he would like to keep up with his Facebook page better.
At first, he agreed that the KIN One's keyboard was too small but after about an hour, said he got used to it. It didn't take him long to learn his way around the KIN's software and the only help he needed was to set-up the Windows Live account. Where it took me some time to get used to the KIN's software, my son dove right into it. Keep in mind, he hasn't been using Windows Mobile for the past five years.
He was impressed with the KIN One and is already saving his allowance should the KIN come to AT&T.
My wife, on the other hand, thought the KIN One was "cute" and that the KIN Two "looked like my other phone (AT&T Tilt2). She saw the KIN as interesting but not a substitute for her iPhone. For someone who's day is filled by hourly appointments, the lack of a calendar was a major drawback in her opinion.
She like the social integration the KIN software presented and saw it better suited for my son. Needless to say, she's sticking with her iPhone.
Final Thoughts
When compared to a Windows Phone running Windows Mobile, the KIN can pale in comparison. However, if all you need out of a phone is a browser, email, and the ability to interact with your social networks, the KIN will do nicely.
As mentioned, the KIN has the feel of a feature phone but with more "feature". Unfortunately, many will consider the KIN a feature phone with a smartphone price. If the pricing point could be more competitive with the feature phone market, I think the KIN would be better received.
The KIN models offer two distinctly different styles, either being attractive to a wide range of consumers. The software, while taking a while to get used to, is stable, smooth and does a good job of it. It really needs a calendar to be complete though.
In time, I wouldn't be surprised to eventually see the KIN to be to Windows Phone 7 as Windows Mobile Standard is to Windows Mobile Professional. Microsoft hasn't closed the door to the possibility of allowing the KIN to load third party apps which only expand the KIN's potential.
The KIN isn't for everyone and if a Windows Phone is too much for you or you have a teenager looking to go beyond the feature phone, the KIN is worth a look. It is currently only available on the Verizon Network and only time will tell if other carriers will pick this latest Windows Phone up.
Does the KIN take social to an 11? It have potential and does make sharing your life a little easier. But for now, it's holding steady at about an 8.5.
Get the Windows Central Newsletter
All the latest news, reviews, and guides for Windows and Xbox diehards.
George is the Reviews Editor at Windows Central, concentrating on Windows 10 PC and Mobile apps. He's been a supporter of the platform since the days of Windows CE and uses his current Windows 10 Mobile phone daily to keep up with life and enjoy a game during down time.
My wife would be a great candidate for this phone, if it didn't require the same smartphone dataplan that a far more capable phone requires. If we could use a $15 or $20 a month dataplan with it, the Kin1 would be my wifes next phone. As it stands, I can't recommend that she gets one as she could get a real smartphone for the same cost, and she doesn't want to spend that much money per month anyways. Nice way for Verizon to kill users who are comfortable having a cheap dataplan instead of no data at all like she currently does.

powerful mobile phones.But i do believe that mobile phones from Vkamobi are the best for me, especially the PinPhone 3GS 16GB .

The Kin One offers easy access to contacts and social networking sites. The One and its sibling, the Kin Two, are the first Windows phones to feature the Zune multimedia experience, including Zune Pass.

I have KIN Two and I like its 8mp camera because its image quality is very good than KIN One which has 5mp camera. Video recording feature is also better than KIN One.

Well looks nice and reviews are also good.I m thinking to buy this Kin mobile as its features look nice and impressive.

I used thi phone, Battery life and cellular service was excellent and I even got a bit full on the size and design. It is a solid phone with features solid and those who want to branch from the design standard smartphone will be pleasantly surprised by this new offer.

It is a solid phone with features solid and those who want to branch out from standard designs smart-phone will be pleasantly surprised by this new offer.