Review - Official Encyclopedia Britannica app for Windows Phone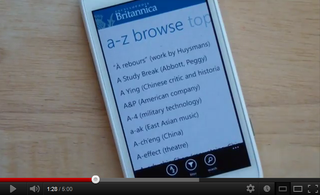 Yesterday we saw the release of the official Encyclopedia Britannica app for Windows Phone. The issue we had with the app was twofold: it fetches for $4.99 and there is no trial. On top of that, it looks like you have to pay that $4.99 a year to renew the app.
The question for many would be Is it worth it? Well, we ponied up for the app and show you what we think.
In essence, the official Encyclopedia Britannica app is well done. It's fast, smooth and has a lot of features. In short, if you pay the $4.99 for this app you'll get a fairly solid and reliable encyclopedia with offline saving abilities, pinnable entries to your Start screen, sharing options and a well done (but not totally Metro) UI.
But you know where this is going…with free services like Wikipedia out there, it's hard to justify the $5 a year for this app when you can get the free and superbly done MyEncyclopedia (currently not available for some reason) app with no risk. Of course Britannica has been around forever, are considered more of an authority on issues and we understand they're trying to redefine themselves in 2012 (the company just recently stopped printing actual encyclopedias).
So for $5 you get a solid app and are supporting a legacy company but for many of you, you'll probably want to skip over this one as there is nothing exactly remarkable about it either except the quality of the content.
Pick up Encyclopedia Britannica here for $4.99 (no trial) in the Windows Phone Marketplace.
Daniel Rubino is the Editor-in-chief of Windows Central, head reviewer, podcast co-host, and analyst. He has been here covering Microsoft since 2007 when this site was called WMExperts (and later Windows Phone Central). His interests include Windows, Microsoft Surface, laptops, next-gen computing, and for some reason, watches. Before all this tech stuff, he worked on a Ph.D. in linguistics and ran the projectors at movie theaters, which has done absolutely nothing for his career.
So where is this MyEncyclopedia app? It doesn't come up in the Marketplace (US)...??

Ah, looks like it was pulled. Bummer.

Bummer, indeed. It's my go-to app for Wikipedia.

I just Bing search the topic plus wiki and can have the page up in less than 10 seconds. I don't want a separate app, but understand why some folks would.

It was pulled due to Wikipedia's mobile site being redesigned so it couldn't function correctly. Hopefully we'll see a compatible version soon!

Well, I just got an email back from Rudy on MyEncylopedia:

"MyEncyclopedia was an app that has participated to a Orange contest and published as an orange app.

The problem is that I did not have access to the marketplace to update the app.

I now have the rights to the application, so I'll improve it and republish it under my own name"

Good to know, I just went looking to download it and had the same trouble. Let us know when the new version comes out!

Well that sure explains it. It is still on the marketplace, it's just hidden. I managed to get to it using Reinstaller, but wasn't able to download it.

I could see this totally being worth it for a student who wants an on the go reference. Especially with MS office built in for documents. Great for making some last minute changes to an assignment. This would be more useful than Wikipedia because most teachers will not allow you to cite Wikipedia as a source since it is editable by anyone. Britannica however is just fine to site.

Half the time wiki is just plain wrong or not 100% its not peer reviewed or anything like that random people who don't know anything can edit it or idiots just getting a laugh, I a few years ago I was looking up WW2 and wiki said it took place from 1600-1700 now im no expert on the WWs but I know for sure none of the took place in the renaissance, with this its no doubt peer reviewed you know your getting real facts with everything, wiki is not 100% percent free by the way you have to pay for the net to use it :P $5 is a good price but subscription is a little iffy but you guys said it was a nice app so its a buy for me :P

You don't have to pay for internet at a library, or at work, or at an educational establishment (such as a university), a café with free wi-fi or even at a friend's house! I could go on, but I'm sure you get the point...

Lol obviously, that's why I said 'its not 100% free' not 'its not free' I thought I implied that there are places were its free I guess people just can't read between the lines as well as others haha and it may be free to you but someone is still paying so its still not technically 'free' like breathing or laughing ect are lol

It's difficult to read in between the lines when your paragraph is one large run on sentence.

Well like I said b4 I guess its harder for some people like you obviously, and calm down people why take a comments section so seriously? What I said was clearly not meant to be taken literally hence the smiley face with it tongue out

I wasn't being overly serious either, it's just the way I wrote it it accidentally seemed that way.

Lol um troll? I hope so or maybe Wikipedia lover? If its that your joke failed cause its says it right on the top of wiki im pretty sure "online encyclopaedia" :P haha maybe you should look it up in an e.....

I go back to the PDA era, when apps were more expensive, so 5 bucks doesn't bother me if its a good product.
Wiki is a great and credit worthy project, but as mentioned fact checking and accuracy is much better with Britannica. Also the articles are better written and edited, so generally more enjoyable to read.

Hello every body!!!
Some news about MyEncyclopedia:
MyEncyclopedia was developed in 2 days for a french contest (Orange). I wasn't not able to update the app cause it was published under the Orange publisher account, not mine.
In order to be able to update the app (I wasn't very happy about the design), we have removed the app from the Orange account, but... my PC was stolen 1 week ago, so I lose some code sources, but don't worry, it's ok now I will be able to publish the update in 10 days. Does the price change ?
No ! free without ads ;)
Enjoy

Great dev, thanks for the contribution!

This is a great app for those who love knowledge. And where else would you get quenched for knowledge than from Britannica? Go get it.!!


Buggy app:(! After trying changing the fontsize app crashes on my HTC Titan...

Remember me, I'm the kid who had a report due on space?
Windows Central Newsletter
Thank you for signing up to Windows Central. You will receive a verification email shortly.
There was a problem. Please refresh the page and try again.