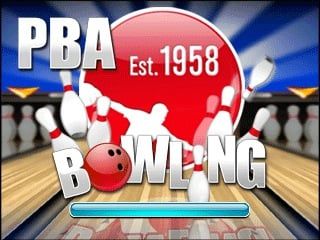 For some, gaming software is a staple item for Windows Mobile devices. These applications can offer an entertaining escape from the stresses of life. They are a great means to help pass the time while you are waiting in car pool line, for a particular class to start, or any other situation where you have time to spare. Concrete Software has introduced PBA Bowling ($19.95) that is not only entertaining but incorporates motion technology to give it a unique edge.
To see if PBA Bowling rolls a strike, read on!
Loading PBA Bowling is just as easy as any other Windows Mobile software and getting started is equally as easy. PBA Bowling offers single games as well as tournament play. The high resolution graphics is really good and adds the gaming experience. Offered for Windows Mobile standard and professional, PBA Bowling offers straight forward controls making it easy to get started bowling.
The game has three levels of difficulties as well as various customizable options from the weight and appearance to lane types. You also have different locations of play including Tokyo, Las Vegas, El Paso, Indianapolis, and Reno where you play against popular PBA Bowlers such as Pete Weber, Chris Barnes and ten other PBA players. If you can pair your device with another, you have a multi-player/head to head mode.
It's really tough to mess up a bowling game but you can make it stand out. The graphics of the game helps PBA Bowling stand out as well as the conventional gaming controls. Conventional controls allow you to determine ball placement, angle of throw and power of the throw. In addition to the conventional controls, Concrete Software incorporates motion technology to give the game a 'life-like' feel. In order to use this feature, the device you are playing PBA Bowling on must have an on-board camera. The camera picks up your phones motion and transfers it to the bowling ball.
The concept is really neat but the application leaves room for improvement. I also must include a STRONG word of caution to those who try this motion technology. It is extremely important that you keep a firm grip on your phone when making the bowling motion. AGAIN, it is extremely important that you keep a firm grip on your phone when making the bowling motion. If not, you run the risk of sending your Windows Mobile device sailing across the room, causing you to hope and pray it impacts something soft. I speak from experience on that and would add that the Samsung BlackJack II is one tough phone.
While the motion swing is an interesting concept, you really have to have a level swing to control the ball with any success. The slightest deviation sends the ball to the gutter. It's a feature of PBA Bowling that makes it interesting to explore but I'd stick with the conventional controls.
With either option, conventional or motion, you have the ability to add spin to the throw as the ball travels down the bowling lane. This helps you control things a little better. Game flow was steady with no delays in page loading experienced.
Overall Impression
PBA Bowling ($19.95) is an entertaining, mildly addictive, game for Windows Mobile devices. If you enjoy bowling if is highly addictive. PBA Bowling offers straight forward game play with the ability not only to play single games but compete in multi-game tournaments.
While the motion technology adds to the games uniqueness, it is better to play this game with conventional controls through the phones keyboard or touch screen. I like the concept of using the phone's camera to allow for motion control but right now the control this option offers is too sensitive.
If you like bowling or are simply looking for an entertaining application for your Windows Mobile device, PBA Bowling is worth a strong look and definitely worth the trail download.
Swipe to scroll horizontally
| | |
| --- | --- |
| Ratings (out of 5)Ease of Use: 5/5 (motion control 3/5)Navigation: 5/5Graphics: 5/5Entertainment Value: 5/5Overall: 4.5/5 | ProsEasy NavigationQuality GraphicsConsMotion Technology not that great |
Get the Windows Central Newsletter
All the latest news, reviews, and guides for Windows and Xbox diehards.