Review: Resco Explorer (2007)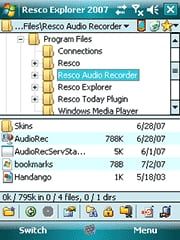 Back in October of last year, I named Resco Explorer in my very select list of Must Have Software for your WM phone. Now, nearly 8 months later, it is still a must have for anyone with a WM phone. Why is that do you ask? In this review I will highlight all of the major reasons why.
If you ever had to navigate or work with any files or folders on your phone, wanted to edit the registry, map your phone to a hard drive on your network, connect to an FTP server, navigate to and browse other computers on your network, or encrypt your files... then Resco Explorer for you. Maybe you never even stopped to think that you could do any of these things. There is so much that Resco has packed into their version of Explorer 2007, that I do not think I could possiblly list them all within the scope of this review... but I will give it a try!
Read on for the full review of Resco Explorer 2007!
(Note, Resco Explorer 2008 is now available! It features everything in 2007 and adds a new look that easier to navigate, including a quick search bar and also with advanced network settings.)
Interface / Navigation
Resco Explorer is really a collection of utilities. They call each individual utility a module. The nice thing about Resco Explorer is that if you know how to navigate in one module, like File Explorer, then you already know how to navigate several other modules, like the Registry editor or FTP Explorer. All of the basic stuff is right at your stylus tip with a tap-and-hold pop up menu, or by clicking Menu at the bottom of the screen. Some of the advanced features are a little more buried at times, but usually placed in a very logical order. In fact, if you find yourself doing the same command often, like create folder, you can assign it to a keyboard shortcut.
Depending on your current knowledge of WM OS, there could be a learning curve, depending on the feature or module you are working on, and what you want to accomplish with it. But with the help of many of our articles here at WMExperts, found in the How To section like How To: Install, Uninstall, and Transfer Files on Windows Mobile or How To: Edit the Registry, or our forums here at WMExperts and Resco Explorer Forum, you should be able to be up and running in no time, doing whatever you want to do.
Modules
Now let's take a look at least some of the most impressive of the modules that Resco has included in Explorer 2007.
File Explorer
This probably is the number one module that most people will use. This is by far the best file explorer for the WM OS on the market today. You can easily create folders, delete files, search for folders and files, etc. Just about anything you do in file explorer on your PC you can do here on your WM phone. It is easy to navigate and holds a lot of power under the hood. For example, you select multiple files and drag and drop files or folders.
Registry Editor
This is probably the second most used module in Explorer 2007. And just like the file explorer, it is one of the best registry editors I have worked with and remains my personal favorite.
Built In Viewer
Resco Explorer has a built in viewer that can be used for viewing files in TXT, BIN or HEX format, as well as JPEG, GIF, BMP and PNG graphics. If you have a separate viewer like Resco Photo Viewer 2007, then you can also configure the file explorer to use that instead. A nice touch for most of us who have not spent extra money on a 3rd party viewer.
Network Browser / Mapping Network Drive
This is a really cool module. With it, you can easily browse the computers on your network. This can make it very easy to copy files to and from your handheld to any computer on your network. You can even map a hard drive to your handheld for fast and easy access without having to browse to it every time.
FTP Explorer
If you or your company has an FTP server, with this nifty module you can now browse it just as easily as if you were at your PC. This can be especially handy if you have a website or files with your company on an FTP server and you want to transfer pictures or an email attachment from your phone to your FTP server without having to wait to sync up with a PC first.
Strong File Encryption
The Enhanced Cryptographic Provider can encrypt any file you want with strong algorithms such as RC2-128, DES-56, 3DES TWO KEY-112, 3DES-168. You can also install a Windows 95/98/ME/2000/XP/Vista shell extension to use the encryption/decryption process on your desktop PC.
Zip Archive Management
Sometimes handling zipped documents can be a pain on a WM phone, but with Resco Explorer, it can do just about anything you need to with your zipped files, including creating your own zipped files to save precious storage on your phone. The zipped files are compatible with PCs and it also supports RAR compressed files.
Today Plugin
It even comes with a Today plugin where you can launch your favorite programs or documents, check your battery status, browse your storage card with a single tap, etc.
Conclusion
As you can see, this is one of the most comprehensive software utilities you can get for a WM phone. It provides several tools that the WM OS somehow seemed to have missed. It is easy to navigate and to use. It is loaded with tools for the beginner to the most advanced WM user, so it has something to offer to everyone without fear of outgrowing it. For at the last 3 years, this has been on my Must Have Software list and has proven its place on the list repeatedly during that time with nothing else coming close to replacing it yet.
Swipe to scroll horizontally
| | |
| --- | --- |
| Ratings (out of 5 stars)Interface: 5Ease of use: 4Features / Tools: 5Overall | ProsComprehensive collection of utilitiesModules integrated nicely togetherMenus / options well laid outConsSome tools are advanced and may require a learning curve to use |
Get the Windows Central Newsletter
All the latest news, reviews, and guides for Windows and Xbox diehards.