Must Have Windows Mobile Software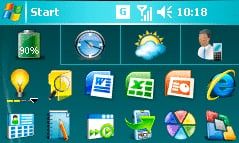 In Part One of this series, we covered How To: Install, Uninstall, and Transfer Files on Windows Mobile. Now that you're an expert on installing, let's take a good look at the What... what software do you want to install and where to find it. Because there is so much WM software out there to choose from, it can be a VERY expensive adventure, trying to figure out which programs you really want or need.
In this part of the the Windows Mobile Guide, I will focus on what are the must have software apps I recommend everyone should have, software apps I would suggest getting, and where to get them all. I will even show you where to get tons of software for free...legally!
RECOMMENDED FIRST BUY SOFTWARE
Every WM phone comes with the basics that you will need right out of the box. You could, for the most part, get by without buying anything extra. But there are some really cool ad-ons that can make your phone more user friendly, more entertaining, and personalized for your specific personal or professional needs and wants. Sometimes it is just because the software that came with the phone is simply too basic and you really want/need those extra features and tools.
I am actually asked fairly often what is the first thing they should buy for their phone, and here is what I tell them (click on their names to see more details of any of the following programs):
MUST HAVE SOFTWARE
Resco Explorer 2007 for Pocket PC: This is what the original WM File Explore should be. It gives you full control of finding, viewing, and managing all of the files on your phone and memory card. It is easy to use and loaded with options and features.


Spb Mobile Shell: I personally recommend only three Today Screen plugins to everyone. This is one of them. It offers quick photo speed dialing with one finger tap on a picture of the person you want to call. It gives you quick access to your favorite and most used programs. You will always have the latest Weather at the tip of your fingers with the weather program of your choice. It is organized in tabs that help to make sure that you do not accidentally launch a program or call someone when the phone is in its case or in your pocket. It also offers one of the easiest ways to find a contact and call them with the included Spb Contacts.



Spb Phone Suite: This handy little plugin allows you to view how many calls you have missed, plus how many Voicemails, Emails, SMS, and MMS you have not read. This also includes a call filter so you don't have to worry about getting calls from those you put on your blacklist, and it gives you an option to send a text message to someone if you cannot answer their call right then. It includes phone profiles, so by a tap of your finger you can silence everything on your phone when you enter a meeting at work, or make sure that everything is as loud as it can be if you are in the car. These profiles can be scheduled ahead of time to make sure you don't forget to set it. It also offers a photo speed dial.



PocketBreeze / ContactBreeze: This dual is the third Today Screen plugin that I personally recommend to anyone. It makes it a snap to review your calendar, look up contacts, and read your email... all without opening up any PIM or email client. It saves you time and it saves you loads of memory so you do not have to have a calendar and email client running in the background at all times.



Sprite Backup or SPB Backup: This is absolutely the single, no questions asked,

MUST HAVE!

There is nothing more frustrating (or heartbreaking) than when you just got your phone all set up just like you want it... you have all your contacts entered... all your games installed...all the Registry Tweaks are just the way you want them... and then... tragedy strikes and for whatever reason you are forced to do a hard reset on your phone wiping out all your changes and bringing the phone back to the same state as if you just opened the box for the first time. Either Backup program will work fine. It is often times more of a personal preference vs features. I personally use Sprite Backup. Keep an eye out in the future for a Smackdown review between these two backup solutions here at WMExperts.

SPB Backup:

Sprite Backup:


Working It All Together: Now how does all work together? Here are some of screen shots of my Today Screen:
Recommended Software
Here are some recommended programs that are certainly not must haves, but I find very nice to have and I use all of the time:
Splash ID: This is a great utility for keeping track of all your account information securely on your phone and on your PC, with its desktop companion utility, which makes it very easy to enter in all your data and then sync it with your phone. You will never be without medical insurance numbers, frequent flyer account numbers, credit card numbers, etc... plus you will always have all the contact phone numbers for every account you put in there. So if your wallet is stolen, you can instantly call your bank, your credit card companies, still be able to call your insurance companies, etc., as you are able to record complete information about any account you have from the YMCA to your unlimited limit American Express Platinum Card.


PocketMusic Player for Pocket PC: There are loads of MP3 players available... and a lot of the benefits between them comes down to simply personal preference. I have used this one and loved it because it is easy to use, nice interface, skinable, and it has the nice small touches, like when you manually skip to the next song, it fades out the current one first.



Weather: I find it very handy to have updated access to the latest weather reports. There are a lot of weather programs out there with some offering more features than others. I'll recommend just one: SBP Weather -- This works great with the SBP Mobile Shell




HELPFUL TIP: I also recommend saving all of your purchased WM applications and Freeware apps you like on a data CD or DVD just in case your hard drive crashes. This way you don't have to go hunting all over the net to get another copy of everything and try to remember where you bought or downloaded each app. When you do this, also take the extra second now to save the Serial number for your program in a text file along with the program, or you will have go hunting anyway. I recommend doing all of this, as you will be surprised at a how fast you can collect so much.
SOFWARE RESOURCES ON THE NET
Now that we have the first must have software purchases out of the way, and now that you are a pro at installing any application or game you want to, let's look at some resources on the internet where you can start to explore all of the software that is really out there for you. There are usually a couple different type of sites that include those who are basically a software warehouse (or resellers) with just about anything you could want. There are sites that offer only free software... and then there are the websites for specific companies that may offer a large line of their products.
Software Warehouse Sites:
WMExpertsStore
www.handango.com
www.pocketgear.com

www.pocketpcmag.com
Free Software Sites:
Popular Company Sites:
HELPFUL TIP: With most products nowadays, you can shop around to find the best deal (heck I even play one company against the other and often times get an even lower price), but this is usually not the case with WM software. You may find a short lived special somewhere, but generally speaking, no matter where you go, it will be the same price. This then just leaves you with who to buy it from. Look at their customer service, return policy, and availability to redownload if you have lost your original copy due to a hard drive melt down.
WM GUIDE TO BE CONTINUED.....
This series of the Window Mobile Guide is just getting started. Keep an eye out for later additions to the series that will include how to stream TV and music to your handheld, tweak the registry with a register editor, how to organize your program menus, how to make your WM device more one handed friendly, and lots more...
Get the Windows Central Newsletter
All the latest news, reviews, and guides for Windows and Xbox diehards.