Review: Telus Touch Pro 2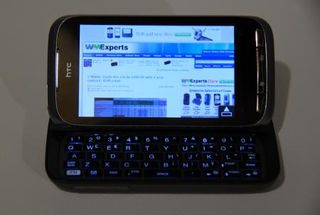 We don't get out much. And we especially don't get up to Canada enough. And so we asked one of our Canadian readers, Gregory, to check out the Telus version of the Touch Pro 2. And Gregory knocked it out of the park.
So, after the break, check out his impression of one of the most anticipated phones of the year.
The Phone
The Touch Pro 2 is a gem. It's got a gorgeous 3.6-inch touchscreen, with 480x800 resolution and beautiful colour. The device also has a slide-out keyboard. The keyboard feels good to the fingers and I don't miss a key very often when typing on it. It features shortcut keys for e-mail and SMS, or you can use a two key combination for Internet (Opera) or the HTC Comm Manager. I would have liked to see a key combination for Windows Live Messenger. The keyboard has a great layout, with numbers across the top, but no CTRL or ALT keys, so many popular keyboard shortcuts (like copy/paste) aren't available.
In addition to the slide out keyboard, the screen tilts up to a 50-degree angle. This is something that I didn't really understand before I got my hands on the phone. After using it for a while, I found I like how I can put the phone down on a surface (table) and use it as a miniature netbook computer. This is great for typing out a longish e-mail, or simply watching a movie without having to hold the phone in my hand.
The downside to the slide/tilt feature is the mechanism feels a little fragile to me, and I worry about the phone lasting through the term of the typical [Canadian] 3-year contract. The unit is also a little difficult to hold in the hand, and can slide out very easily when the keyboard isn't open. With the keyboard open, the tendency is to hold it in a way that sometimes the left hand hits the sleep button unintentionally.
What I found rather bold was the choice to put the reset button on the inside, behind the battery cover. Truth be told, I haven't had to go press that button too often either. The phone is smooth and fast when using it.
TouchFlo 3D is smooth and sexy. It isn't without it's problems though. I found some of HTC's fiddling with the UI to have negative effects. Reminders/Alarms that are supposed to repeat, don't. The screen lock is awkward and unpredictable. Sometimes I find the phone on and unlocked, while other times I can't seem to unlock the darn thing between the "hit cancel then unlock" loops. The snooze setting for reminders will only accept 5 minutes for the snooze time, where as you normally get a variety of times to choose from with the default Windows Mobile reminder.
Phone Calls
While we're all gawking at the marvel of the Touch Pro 2, the first improvement I was looking for over my Touch Vogue was how well it works as an actual phone.
Dialling is as easy as pressing the talk button and mashing a few onscreen buttons, or you can use the phone's built-in Voice Command software. Unlike the Vogue, the dialler tends to do as I ask it to – and I call the person I think I'm trying to call. A feature I like on this device is how the screen will automatically turn off when you hold the phone up to your head. No more hanging up on the caller because your cheek found the "End Call" button on the screen. If you want to put the call on speakerphone, simply flip it over and after a second or so the speaker activates. Sound quality for the speakerphone mode is clear and the noise cancelling seems to work well.
When holding the phone up to my ear to talk, some callers did note that I sounded far away until I enabled the Auto Volume Control in the phone settings.
Toys
The Touch Pro 2 has a 3.2 megapixel autofocus camera, but no camera "button." I found it tedious to get back to the home screen, where I find the shortcut to the camera application. The camera has autofocus so it's much more useful for snapping business cards to OneNote. You choose what to focus on by tapping on the touchscreen, which is fairly useful. Image quality is typical of HTC Windows Mobile devices – usually the colours are muted and it's still tremendously easy to blur the photo.
GPS is available ... ish. Officially, the GPS is available only for Telus Navigator. There is no QuickGPS program on the device and initial satellite acquisition can take a long time. Of the two TP2 devices in our household, only one of them will consistently get a GPS lock. Once you get it running, the GPS is available to other programs including Google Latitude, unofficially. The API is present on this phone for running Latitude in the background using cell-tower triangulation, which is handy.
Aimed at business users, the device can still hold its own in the multimedia department. The phone comes with PowerPoint and something called JETCET Mobile Presenter. There is TV Out via the Mini-USB.
I loaded a bunch of Quicktime and DivX movies onto the Micro-SD card and it had no problems with playing either format. The position of the speaker on the back of the keyboard means the sound is muffled when using the phone to watch a movie with the keyboard open as a stand. The bottom of the phone features that 3.5mm headphone jack right beside the Mini-USB connector. You can use either connector for your headphones, and HTC provides a nifty equalizer program as well. What's really helpful is you can plug a charger in – any USB charger and still use headphones, without having to remember that MiniUSB splitter. Today I'm using my old iPod headphones ... the iPod is gathering dust now.
Even though other Touch Pro 2's have them, there is no FM Tuner on this model that I can find, nor is the front facing camera available.
Connections
What I really like about the way HTC customizes Windows Mobile is how they wrap the WiFi and Bluetooth connections. The interfaces for both are great for fat fingers or for the keyboard. Pairing a Bluetooth device is painless as is connecting to a WiFi hotspot. That shortcut key to the Comm Manager is a great help too.
The Telus Touch Pro 2 is also a world phone. The phone comes with a Telus SIM Card, and it supports a bunch of GSM goodness. It should be mentioned though, the phone is SIM locked to that Telus SIM Card, and there is an unlock utility in the settings menu ... if you have the code.
Bottom Line
It's been a while since we've seen a Windows Mobile phone that causes others to look and say "wow." In the last week I've had that happen almost every time I check my email with another person nearby.
The phone does what it's supposed to, when it's supposed to and it is feature packed. I find that I use it instead of my laptop computer for a lot of tasks, including remote server administration.
It's expensive, but worth it.
The Specs:
Storage 512 MB
RAM: 288 MB
Processor: Qualcomm MSM7600 at 528 MHz
Screen: 3.6" WVGA 480x800, 65536 Colours
Bluetooth 2.1/2.1+EDR
Battery: 1500 mAh (6 hours talk, 270 hours standby)
Connectors: MiniUSB, 3.5mm stereo headphone
Camera: 3.2 Megapixel, with Autofocus
GPS: aGPS (Officially only for Telus Navigator)
WiFi (802.11 b/g)
Data: EVDO REV A, HSPA
Networks: 1X EVDO REV A 800/1900MHz, HSPA 2100MHz, GSM/ GPRS/EDGE 850/900/1800/1900MHz
G-Sensor
Light Sensor, auto backlight on the LCD & Keyboard
Backlit Keyboard with screen that tilts to 50 degrees.
Size & Weight: 114.15 mm(L)x 63 mm(W)x 13.35 mm(T), 115 g with battery pack
Included Software:
HTC TouchFlo 3D
Adobe Reader LE
HTC Album
HTC Audio Booster (for Headphone Use)
Bubble Breaker
HTC Calculator
HTC Camera / Video
HTC Comm Manager
HTC Streaming Media
HTC YouTube App
JETCET PRINT 5
JETCET Presenter 5
MS Live Search (link)
MP3 Trimmer
HTC Mail Setup
MS Live Messenger
TELUS Mobile TV
TELUS Navigator (link)
MS Office (Word, Excel, Powerpoint, OneNote)
Opera Browser 9.5
RSS Hub
MS Remote Desktop Mobile
SIM Manager
Solitaire
TELUS Pocket Express
Teeter
HTC Voice Recorder
Windows Media Player
HTC Wireless Modem
WorldCard Mobile
MS Voice Command
Pricing: $649 no contract / $599 1-year / $ 549 2-year / $249 3-year.
Get the Windows Central Newsletter
All the latest news, reviews, and guides for Windows and Xbox diehards.
Phil is the father of two beautiful girls and is the Dad behind Modern Dad. Before that he spent seven years at the helm of Android Central. Before that he spent a decade in a newsroom of a two-time Pulitzer Prize-finalist newspaper. Before that — well, we don't talk much about those days. Subscribe to the Modern Dad newsletter!