Review: XOLO Win Q900s Windows Phone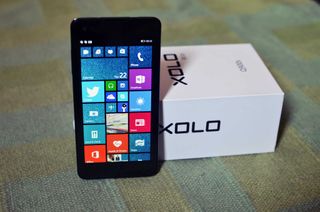 Few months ago, the Indian handset maker, XOLO, introduced their maiden Windows Phone device, the XOLO Win Q900s, that went on sale recently.
Touted as the world's lightest Windows Phone and sold at a sub-₹10,000 (US$160) price, the phone competes with budget Android smartphones as well as the Lumia 530, Lumia 630, and the Micromax Canvas Win W121.
Design
The XOLO Win Q900s is a variant of the Android-based XOLO Q900s, and retains the build from the latter. It's awkward, and confusing for somebody who's used a Windows Phone before. Maybe, it's a good thing for people who are switching to Windows Phone from an Android smartphone.
The three buttons on the bottom do not follow the Windows Phone guidelines. One, instead of the Windows logo as the Start button, there's a hollow circle. It works the same way, but is an aberration from the norm. Also, along with the missing Windows flag on the Start button, there's no Windows branding anywhere on the device.
The second thing is the two dots on the either side of the Start button, instead of the Back and Search buttons. Again, they work the same way, but the functionality is swapped. The button on the right side works as the Back button while the button on the left side works as the Search button.
This inconsistent design choice aside, the first thing you'll notice about the XOLO Win Q900s is that it is surprisingly light. At just 100g, it feels like most phones before you put the battery in them. It's also pretty thin, a welcome deviation in the world of chunky Lumias.
Being light is not the only design credential the device packs in though. It looks quite slick and while it sports a glossy black front, the rear panel has a matte finish which makes the phone great to grip. A metallic rim runs across the edges that adds to the style. It's a good-looking phone coming from a domestic player at the price point it comes at. Under the rear cover, you'd find two micro SIM slots and a microSD slot along with the removable 1800mAh battery.
Hardware
The XOLO Win Q900s sports a 4.7-inch screen with 720x1280 resolution. The screen is quite sharp and the colors are great, but the display is a little dull even with the brightness setting set to high.
The Win Q900s is powered by a leaden quad-core Qualcomm Snapdragon 200 processor running at 1.2GHz with Adreno 302 graphics and 1GB of RAM. The phone offers 8GB of internal storage expandable up to 32GB with a microSD card. In most cases, the phone breezes through most things, but struggled with graphic intensive games or playing even 720p videos. The only niggle I faced was that on several occasions, the phone recognized swipes as taps, and scrolling through the Home screen, I inadvertently found myself launch random apps.
On the specifications sheet, the XOLO Win Q900s offers a fair balance for a phone in the sub-₹10k price segment. It's generally pleasant to use, and offers quite the bang for the buck.
I was a little apprehensive about the modest 1800mAh battery, a price you pay for the phone being that thin and light, but with moderate usage, the phone lasted me through the day which was impressive and a testimony to Windows Phone's power management at the OS level.
Software
While the Windows Phone 8.1 experience is consistent across phones from different OEMs, many of us associate Windows Phone with Nokia and expect the signature Lumia experiences from any Windows Phone device.
That bit is missing, and is the biggest compromise you'll make. The fantastic Nokia Camera app is missing (although you'll find quite a few decent alternatives on the Store), there's no MixRadio, and the HERE navigation suite is absent too. Of course, the Microsoft apps and services like Office, OneDrive, and Skype are packed in.
XOLO's only addition is a XOLO Care app that essentially is a shortcut to reach the company's support channels.
Camera
To be fair, at this price point, I wasn't expecting a lot from the camera on the XOLO Win Q900s. There's an 8-megapixel rear camera and a 2-megapixel front-facing one.
With that expectation, the camera doesn't disappoint. In most cases, it takes fairly decent shots and even in low light conditions, the photos are good enough. If you look at the pictures on a larger display or your computer, you'll notice a little graininess and noise, but it's passable. While I was fine with the camera performance, the video recording is disappointing. Even in good light conditions indoors, the videos turn out to be grainy. The audio too is muffled in most cases, but that could be a problem in playback as well.
Summary
The XOLO Win Q900s is a lazy attempt from the company shoving in Windows Phone on the Android hardware they would've had lying around. There's little optimization, but the overall build quality and the design exceeds the effort bringing in a good looking option to the limited Windows Phone stable. It's a worthy alternative at its price point, and apart from a few worries, a fairly decent product – both in hardware and performance.
You can order one from Amazon (opens in new tab) or Flipkart (opens in new tab), and other online and offline retailers in India. At most stores, the device is available is for less than ₹8,500, making the XOLO Win Q900s a pretty good buy.
Windows Central Newsletter
Get the best of Windows Central in in your inbox, every day!
nice... Hope sell more than android version... ;)

Microsoft will earn still more on android. I guess that's y they aren't in a hurry in Windows phone to capture it instead they are working to unify things and give a better experience

Being a WP loyalist, I hope so too, but it depends on how Xolo markets the handset, which it is not doing well.

When will it come to the UK? Joke. Not taking anything else than 1530.

You folks ought to re-colonize India and murder this phone in its cradle...just sayin..

Like HTC and Samsung, Xolo and Micromax have launched just one WP handset. Atleast Xolo promoted it a bit on TV but I have never seen any mention of the Micromax WP handset. Sadly, couple of month after the launch and they will say no point making WP handsets as there is no market for them!

Your last Para. That's what HTC once told.

And sadly, that's why the WP marketshare remains low; because of the callous attitude of the non-Nokia OEM's towards WP.

It's a cycle.
1. Low market share
2. OEMs resists due to low market share.
3. Low market share due to lack of apps (there are more reasons)
4. Lack of apps due to lesser dev interested in WP
5. Less dev's interest due to 1.

never ending dilemma of windows phone

Do you think that swipe/tap issue could be because you got a faulty device?

Most probably thats what you can expect from cheap clones. That phones is what it is: a cheap, low quality chinese crap. If someone wants a somewht OKish smartphone but has an empty-ish wallet, can buy sich thing. But dont expect: - great battery life
- precise touch
- high quality camera
- fast processor
- durable case
- wifi radio, and mobile signal reception can be also questionable
- + the extra chinese spyware put into the ROM after the OS has been delivered by MS. The OEMs (may have) ways to put their crap into it. But hey, at least you have the freedom to choose if you want Redmond, US secret agency, EU secret agency, or Chinese government getting your private data.

lol i agree with everything you said but not sure if they can just put spyware into the OS it's WP not Android lol. Tighter restrictions.
Also what i meant to ask was could Abhishek get a replacement since it's under warranty and maybe review that?

Haha .. I agree that the phone is cheap and raw material used is Chinese but, a big but, OEM is Indian. So don't worry about the spyware thing and all. chill
+ it has a snapdragon...

But you should know that this device is manufactured in China and imported to India by LavaPhones .

Again.. Lava is also Indian.
+ Sony, Nokia, samsung,.. In short, all other international OEMs also manufacturing their device in china. So.. In the end.. your statement doesn't make any sense...

Why does this phone get called a "Lazy attempt" but the HTC One M8 isn't called the same thing? Granted they are two different price points and levels of a phone but that same "Lazy attempt at shoving windows phone into an android phone" should apply to that one as well. Seems unfair to simply apply that tag to the Xolo. That aside, I love the design of this phone. I am not into low end but it looks great.

It has everything people care for which the entry-level Lumias lack...

Not sure what Lumia has to do with my question lol

I think he was talking about the misplacement of the hardware keys and not using the traditional windows buttons. They didn't put much effort into altering the design in anyway but just swapped the OS into an android phone. But the m8 isn't the same case. It is indeed a complete windows phone

No, he is writing about dual sim and SD support. Damn. Need a chalkboard and drawing...

Because HTC actually did something? Like making apps for the M8 for Windows.

What exactly has HTC done lmao. All they did was make a windows phone version of an android phone lol.

Not really, they included their android suite of apps into their phone and also got the Dot Case to work.

Agreed. They also ported a flagship, not a low end phone. And didn't reverse back and search. Seriously that right there would drive me crazy.

You, it would drive crazy. A noob it would not. They wouldn't know any better

Until they switched to a different phone. They'd be hitting the wrong button all the time. I'm thinking of families too. If my wife had that and I had my Nokia it would be torture to use each others phones. It's just so pathetic. How hard would it have been to just swap sides to be the same as other Windows Phones?

The swapped and mislabeled buttons are pretty much unforgivable. I can't believe Microsoft is allowing that crap to fly... the placement of the back button and the labeling should most definitely be mandatory. Yuck.

It's kind of a slap In the face to not have any windows logo on the phone. At least the m8 has the on screen buttons and a windows logo on the back.

Maybe its actually an embarrassment.

I think it would have been better for them to use on-screen buttons instead of capacitive buttons given the inconsistent design from other Windows Phone devices. That or maybe the presentation of those buttons should still be part of the spec. Either way, that's a huge knock on this, from my perspective.

I know this handset is not aimed at me, but if you cant even get the hard buttons right, or don't think its worth your time, I will never buy your phone or any other device you make.

Not great but good for the price.

This is what's boggling my mind... There's no Here maps for WP... I know that sounds wrong, but it's true.... How could they have Here maps for Android, but not devices like this?... I could've sworn that Nokiasoft released a version of HM for non Lumia WP's... What am I missing Here❓

Below Rs10,000 lumias are rubbish. Atleast xolo gave a front came and flash!! Phew!! Good attempt though xolo service care is pathetic in India

These OEMs still need some time and money to spend on their after sales service.

I would like you to try the Lumia 520/525, which is below 10k, and then comment on whether -10k Lumias are rubbish or not.

My mom lumia 630 beats the shit out of my htc 8x.. Lumia are AWESOME price point never matters..

I think xolo is not the problem as much as India is...

No HERE Maps? I though it was the default WP Maps app.

So you can have here maps on htc , samsung and even now on androis but you cant have it on a wp...

You can get it for free in the store. It's just not preinstalled.

Is it any better than the Yeez 4.7 ?

Jolly jolly good (with head swaying side to side)!

The phone is superb. For Rs. 10k, you get features not found in a Lumia 630 and I heard that its performance is pretty good too. However, I do not expect it to succeed, because sadly, these non-Nokia WP handsets have never succeeded because of the indifferent attitude of the OEMs like Samsung, HTC, Micromax etc. towards WP. They will shove their Android devices down the customer's throats, however bad they are, through heavy marketing, but will treat their WP devices like their unwanted child, however good they are; neglecting it completely by not marketing or supporting it with regular software updates. Take Micromax for instance; the WP handest they have in their stable, the Canvas Win, has really good specs, especially the W121. But no mention of this phone anywhere except on their website and Facebook page (and even that is restricted to a single article). Also, Micromax, known for its aggressive marketing, hasn't even bothered to market the phone. There are no print or TV advertisements for the phone. Yet it heavily markets the innumerable Canvas phones running on Android. Xolo too, just advertised the phone a bit on the TV, but that also stopped. I know that the popularity of these OEM's rose because of Android, but if they have a WP handset in their stable, why can't they promote and support it at least decently? Or if they won't do that, then why should they bother even selling a WP handset? If only these OEMs would change their opinion about Windows Phone, then only can Windows Phone, despite it being the best mobile OS, pose a serious challenge to Android's market share.

I wonder why they even bother making one at all...

Guys just tell me is lumia 730 a good option to buy. At ₹15000. I think 730 is the best deal. Kindly suggest me

Yes, its a good deal. For 15k, you will get a 5MP front camera, 1GB RAM, microSD storage of upto 128GB and the latest WP 8.1 GDR1 with Lumia Denim firmware. Plus Lumia's build and camera quality is always rocking.

Depends on your usage. But from my perspective, Lumia 730 has got everything that an above-average user seeks in a smartphone to have a true WP experience.
Source: One of my friends has upgraded his 620 to the 730 and he's happy like never before.

The Yezz Billy 4.7 and this are exactly the same device

+1520, and there's another one. I forgot the name.

Instead of Windows logo why this phone has a logo as "Cortana" O

Sharp eyes! I didn't think that way but it really resembles Cortana!

It's not. It's their attempt at a universal device

Know that, it just coincides as Cortana happens to look like that.

It's a circle. Looks like alot of things. That button doesn't even interact with Cortana

Yeah, it's just a button for the start screen.
I wonder, had HTC really launched M8 for Windows if Microsoft didn't allow on-screen navigation bar?

Hmmm. Interesting thought

So they made a universal phone and are cramming as many OSs as they can. It's a business strategy. They'll fail like others. Oh well

Looking forward for the YOLO phone

The nerv some ppl should really try to do something good or don't do it at all. Great lets all say hi to the new windows mobile OS letdown!

Recently so many giveaways have been happening on WindowsCentral that an article with xolo "WIN" looked like another giveaway ... :D

You criticized the yezz Billy 4000 for the odd configuration, but not this?

the problem is the battery too low

I have L520 & was looking for an upgradation.This mobile fits in all the criterions but i shall not buy it,simply because of non availiability og Windows Phone type buttons..Huge crime if u ask me!!

Your grammar is a crime, even a felony

Nice. Now listen up Microsoft, this is how you build a budget phone.

Yeah, with messed up buttons? No thank you. Glad you don't run Microsoft.

Buttons are ace. That's about it.

If you want different buttons, buy the phone with the buttons you want. This is a budget phone that runs the OS quite nicely. If it isn't something that you would buy, don't buy it. Simple.

As soon as I read it lags I stopped reading.Never expect from these cheap shit phones.

The phone looks good, but xolo has shown some laziness by keeping the same home key buttons... If u guys can't even change the home keys then why the hell did u even launched the phone??? This silly dots are just so confusing.

This thing is an abomination and brings shame to the Windows Phone family. If they couldn't even get the buttons oriented correctly, why not opt for onscreen? And the other issue with touch/gesture misreads is also not excusable. Get it together, XOLO!

I think "Blu Win Hd" is a better phone for the price

You think right. Just wish a white variant could finally become available.

I like the buttons. Nothing else. Hope this gets adopted. At the very least the search button could be customizable too.

Mr Baxi, why don't you mention that out of the two SIMs, one has to be GSM while the second has to be CDMA? Its an important factor for people's buying decison and you are totally omitting it. Deliberately, eh?

Can't really compete with the Blu Win HD

It do have dragon trail glass for protection...... But I saw many with Canvas Win W121 .... As many of friends loved O.S

//The only niggle I faced was that on several occasions, the phone recognized swipes as taps, and scrolling through the Home screen, I inadvertently found myself launch random apps.// There goes the sales of Win Q900S down.

Nice and thin! Why can't Microsoft just copy this design and call it the. 935?
Windows Central Newsletter
Thank you for signing up to Windows Central. You will receive a verification email shortly.
There was a problem. Please refresh the page and try again.