Rocket League coming to Xbox One in Feb. 2016 with exclusive Halo and Gears of War vehicles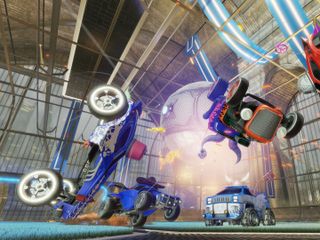 Confirming previous rumors, the popular car combat-sports game Rocket League is indeed coming to the Xbox One in February 2016. Not only that, but the Xbox One version will get some exclusive cars based on Microsoft's Halo and Gears of War franchises.
The trailer for Rocket League on Xbox One shows the two new vehicles, the Gears of War "Armadillo" and the Halo "Hogsticker".
The Xbox One version of Rocket League includes:
Exclusive Battle-Cars: 16 Cars + 2 Xbox One Exclusives (the Halo "HogSticker," an alternate version of the Warthog, and the Gears of War "Armadillo")
Garage Customization items: More than 400 different pieces, including Paint Types, Wheels, Rocket Trails, Antennas, and Toppers
Maps: DFH Stadium, Beckwith Park, Mannfield, Urban Station, Utopia Coliseum, Wasteland (with multiple variants of most of those maps)
Multiplayer: 4-Player Splitscreen, 8-Player Online, Ranked and Unranked Play, Special Mutator-Themed playlist(s), Private Match support (with named rooms and optional passwords)
Game Modes: Exhibition 1v1, 2v2, 3v3, 4v4, Unfair Mode (1v2, 1v3, 1v4), Offline Season Mode
More Features: Replay Viewer, Customizable controls, "Mutator" game-variant options (Ball Type, Ball Speed, Boost Strength, Max Score, Match Length, etc., etc.)
44 Achievements
Rocket League comes to Xbox One in February 2016.
Watch this turn out to be one of February's Games with Gold free games, the day it launches. You can almost count on it.

No it will probably not. Why? Cause they only did it on PSN to get some talk going and to introduce players to the game. And it kinda backfired because a lot of PS players got it for free. Thus resulting in only getting profits from selling DLC. On PC it ended up being the most sold game for many weeks (on steam), which is no small feat. For the X1 i think they will surely give it some discount, but don't expect it to drop for free. What you can expect is every DLC until then, which isn't bad. Plus free maps and stuff, except free cars and stuff to put on it.

Off topic:- please help me out guys. My L625 is not getting any phone update.it's just showin "we are unable to check for updates(80072ee2).

I've googled that it just showed me to hard reset your phone but that doesn't work.

Please read http://windowscentral.com/commenting-guidelines/ and then ask your question in the forums.

Thanks for your support guys bt I got that.

@Nik Rolls, That's not helpful, either answer his question or keep scrolling you troll

Nah, that was a long time ago. He changed.

I got Rocket League through on PSN+, this game is so much fun!! Haven't played it for a few months though.

So... It's not that much fun?

It's alot of fun, but like any game it, it eventually get's neglected in favour of life and/or other games...

You really need to play it with some mates ;)

It was a free game of the month on ps4! So hopes that they give it to is in games with gold ;) , buy still if it costs around 10£ it's more than worth it.

Cross play? (skimmed at word, didn't read the full article)

Well maybe you should read and not have others do the reading for you.

Yep, and now that I'm not working I will. Happy I helped you stroke your e-penis to fulfil the sad life you must have

Finally! This game is great on PC. Will the XB1 version be cross platform like the PC/PS4?

I'll buy once it's free with Gold Posted via the Windows Central App for Android
Windows Central Newsletter
Thank you for signing up to Windows Central. You will receive a verification email shortly.
There was a problem. Please refresh the page and try again.