Rowi developers launch Start screen sharing site MyTil.es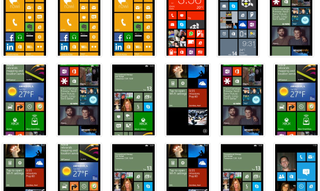 Here's a fun little experiment from Hidden Pineapple, the minds behind Windows Phone and Windows 8 Twitter client Rowi. It's called mytil.es and is simply a place to share your Windows Phone 8 home screens.The site allows you to:
See the latest screenshots posted
Sign in with Facebook or Twitter and upload your own
E-mail your screenshots to a specific e-mail address to upload them
View details about each screenshot
Download the full size screenshot
Facebook Like or Tweet a screenshot
They are doing a soft launch and just seeing if there is any interest for projects like this. Be sure to report any bugs and leave feedback for the team. For me personally, it's fun to see little projects like this for the Windows Phone community. I'm looking forward to seeing how other people organize their start screen. So, what apps occupy your home screen "above the fold"? Share them in the comments below!
Bonus Tip: Don't know how to do a screenshot in Windows Phone 8? Just press Power and the Windows key at the same time. Then head to your Photo Hub and look under Screenshots. That's it!
Neat idea. Wonder if WP7.8 will have screen shot natively, that would nice for us to join too without having to dev unlock.

100000000000x yes!
There is no reason that this would not be able to be in WP 7.8! Its not even hardware dependent (it is, but you do not need something more powerful to take a screenshot...)

It's true - the app switcher already takes screenshots (not saved) when you switch to another task. Try tilting your phone when you press the home screen and you can get a diagonal screenshot ;)

You might see your upload image appear twice or so, it's just a fluke and the developers said a fix will be here shortly.

lol mine showed up 3 times

Needs a nice, easy way to scroll through the individual images with next and previous buttons.

I love the new Start screen on my HTC Titan <3
https://dl.dropbox.com/u/19707357/Start.jpg

How u make the background green?

Custom ROM. Doesn't really work that well, but it gives it a more unique look.

Cool site. Does anyone know what app/setting allows some of the posters to use labels (e.g. Games, News) to section off their home screen?

Groupy or New Group* I use both

Cool the image for the story shows my screen shot right in the center

I wonder who reviews the screenshots to filter out the jubblies, beavers, and peckers that are inevitably going to be submitted to mytil.es...

In the about section they mention for people to not be dicks and use common sense. It's a fun tool for the community to show off how they've organized their Start screen. Hopefully we won't be seeing any peckers.

Very cool!! A native app will be fun too since I want full screen pictures :)

A lot of them look horribly cluttered! Groupy should see a spike in downloads. Nice site though.

I wish I could send my ENTIRE home screen. The whole thing is way more interesting than just the first page.

Yeah, that would be cool!! I'm going to get to work on that over on the WindowsPhone Blog. Great idea.

Doesn't seem to work with the emails

This site just further proves that the WP8 start screen is the most customizable of any platform.. Period!

Android is more customizable. There are way more unique things you can do with an Android homescreen, from widgets to themed icons etc. In the end, WP8 is just a bunch of coloured tiles, there's nothing all that unique between each start screen. Not that I don't like that, because I much prefer the WP8 start screen compared to Android's often cluttered and ugly home screen. But in terms of customizability, Android always wins, hands down.

Would like to thank the Chicagoan going to a hurricane sandy relief drive. Props from Brooklyn

Awesome. Just uploaded mine and made it my Facebook pic

Will 7.8 include the option to take a screen capture?

I really wish someone would make a utility that would allow changing the colour of an individual tile--then we could get creative. WP is starting to look bland with all the devs just choosing the theme colour instead of nice custom icons.

You can post screen shots in our forum
http://forums.wpcentral.com/windows-phone-8/201935-post-your-home-screen...

This is EXACTLY what I needed! It is so time-consuming to get the Start screen perfectly geared towards you, and I think this will help beginners get some inspiration for creating their own. I just hope the devs can find ways to make the site last more than a couple days or weeks.

Some of the screens over there are just horrible. If I wanted a phone full of small tiles I'd go with an iPhone. There's one REALLY good one that's basically using 3 columns though, a girl split into 3 pics in the left column, empty middle column and some tiles on the right column. White background. Girl is blonde wearing red. Best one I've seen yet.

Thank you. That's my lumia 920 homescreen.
I love this minimalist style <3
http://mytil.es/tile/50b47c591ce8971b21000021

Did Nest functionality ever happen? I temporarily switched to Carbon, until that crew blew us off.

Using App Folder: https://mytil.es/tile/52d014edf365d50200000001 :D
Windows Central Newsletter
Thank you for signing up to Windows Central. You will receive a verification email shortly.
There was a problem. Please refresh the page and try again.