Royal Bank of Scotland developing Windows Phone app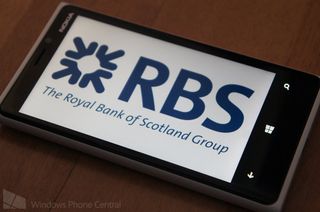 The Royal Bank of Scotland (RBS) has stated on Twitter that a Windows Phone app is currently in development and should be available soon. The establishment is a popular choice for consumers in the UK and an app for the platform will surely be welcomed by those who enjoy mobile banking while on the go.
RBS joins a number of banks across the globe who have already released apps for Windows Phone. Details on the RBS app are sketchy, but we can imagine it would support tight security, account management and fund transfer functionality. Natwest should also sport a similar solution with RBS being the parent group. We'll update with more information when available.
Thanks, Abu, for the tip!
Rich Edmonds is Senior Editor of PC hardware at Windows Central, covering everything related to PC components and NAS. He's been involved in technology for more than a decade and knows a thing or two about the magic inside a PC chassis. You can follow him over on Twitter at @RichEdmonds.
It would be nice for Citizens Bank and Charter One Bank to make use of this app in the U.S. as well, because they are owned by RBS.

I came to the comments just to agree. I am hoping WPCentral can send RBS a reply on our behalf to urge them to encourage their U.S. branches to make use of the frameworks developed for this app. Thanks for bringing this up. I have been long awaiting a Charter One app.

Hopefully this will be available for 7.x devices.

Hey if you have a look on the ideas bank on the rbs website they say the app is for windows 7.5 so good news for us windows 7 users :-D

This is very good news as RBS also own NatWest which means we get one for them too and maybe this might set a precedent for other UK banks to follow.

Would be nice if Barclays Bank did as well the iPhone app is great but now I've moved to WP8 I miss it

Yeah, I'm gonna tweet them both and see what's going on.

natwest tweeted a month or two ago that they where working on a wp app & that it mite be out by the end of 2012. obviously that has now passed but hopefully it means its close to release.

I tweeted Natwest asking them about this a few days and they replied "Hi, thank you for your tweet windows phone 8 app should be out soon."

I've asked the same question to NatWest directly who confirmed the same - app will be out shortly.

The sooner the better, its about time some UK banks started supporting Windows Phone. Here's hoping RBS are also referring to a NatWest app in development.

+1 here here. A banking app, Sky Go, BBC iPlayer and a good betting app and the Windows Phone 8 has everything covered for UK users ;)
Butter me.

Haha, thx for posting :), if anyone is reading this.. Tweet your banks to get them to make apps!! Theyll only do it if we show there is consumer demand.

Fingers crossed for Halifax and Lloyds

Just asked them on Twitter: "We're looking into it, but there are no solid plans as yet. Keep following for future updates."
So I think keeping your fingers crossed would be a good idea.

Was that reply from Lloyds or Halifax?

Lloyds, but as their systems should be completly merged soon I would expect any app would be available for both.

The Halifax app on iOS is just a link to their mobile website and hasn't been updated since it launched. I'm not holding my breath for the WP8 version.

Shame HSBC has no plans to do this. :(

Pleased to see I'm not the only one for HSBC! C'mon what are you waiting to develop an app for us?

I'm with HSBC too, so I'll be sure to hit them up ;-)

Sure hope Capital One, also make an app for the platform soon too!

Same there. Have been waiting since WP7.

Got exciited when i saw Royal Bank of... then i saw Scotland instead of Canada. lol
Only "Canadian" bank app is ING Canada.

Just did a search though and looks like Royal Bank of Canada app is coming though!
https://twitter.com/AskRBCCanada/status/278564857534615552

Excellent.....been waiting for this.

My local bank already has one :) (Rabobank)

Sounds great. NatWest has been promising this for over a year. Lets hope it will be soon

Would be nice to just get Mobank app back. Not sure where that went. It supported loads of banks.

That's good we need wells Fargo here in the states

I'm in India,and I need an app for icici bank,sbi

I hope the Natwest app comes out at the same time. While I go into town every day right now, their online banking is an absolute pain - going to need to keep a closer eye on finances after splurging £300 on a Lumia 920 too.

Great news. HSBC, please take note.

Sent off an app request for a Navy Federal Credit Union app for WP8. Here's hoping...

Great news!!! Been waiting for this!!!

I don't know why everyone is so worried about not having a banking app. The phones now have good browsers so don't really need banking apps. I had the Lloyds app on my 5800 and still have it on my N8. It's still just as easy to log on the website.

It will be exactly the same as natwests app just like on the iPhone. That's why they have announced together as its the same app

I send Nationwide an email via online banking. No plans for release yet but my request has been sent to the developers. Encourage you to do the same :)

CapitalONE also replied to me with "no ETA at this time, but stay tuned!"


Come on Natwest... Pull your finger out
Windows Central Newsletter
Thank you for signing up to Windows Central. You will receive a verification email shortly.
There was a problem. Please refresh the page and try again.