Run Windows Mobile, or Android, but not both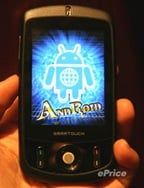 Here's a Chinese copy that brings the best of current operating systems. The QiGi i6 is pretty much a knockoff of the HTC Touch, in looks anyway. Under the hood we have the following:
Marvell 624MHZ processor.
256 megs ROM/128 megs RAM.
2.8-inch QVGA screen.
WiFi, GPS and Bluetooth.
2MP camera.
MicroSD.
And it comes with either Windows Mobile, or Google's Android operating system.
This is an either/or deal. There's no dual-boot. The phone either runs Android, or it runs Windows Mobile. Don't really think the hardware's beefy enough to do both anyway.
But this certainly isn't the first time a device has been offered with more than one operating system. Palm's been doing it for some time with its Garnet OS and Windows Mobile, albeit with subtle differences between devices, as seen in the Treo 700p/700w/700wx and the 750 and 755p.
eprice.com via unwiredview
Get the Windows Central Newsletter
All the latest news, reviews, and guides for Windows and Xbox diehards.