Samsung impresses with updates to Beauty, MiniDiary and RSS Times for Windows Phone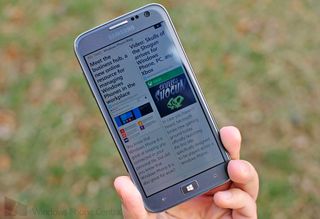 We give some grief to Samsung around these parts often enough, even though we actually dig the ATIV S. The company seems very tepid in their treatment and that's been felt by you, the audience. Case in point, when Nokia updates their apps, we get flooded with tips. When Samsung does the same (and one can argue it's more significant due to its rarity), we get one tip. C'est la vie.
Still, that won't hamper us from celebrating when they do choose to update some of their apps and they've done a few this week.
Check out our coverage and video tour of Samsung's apps for Windows Phone 8 after the break...
Beauty
We teased Samsung for releasing this app that seemingly did nothing. Or rather, there were no settings, no About screen explaining what it did. It was just a Lens you use to take a photo and something happened.
The latest version (1.0.0.132) doesn't fix many of those things—there's still no settings, no explanation, no About screen. But we did a few comparison shots with it and the native camera. We can now definitively say that Beauty does smooth our skin tones and such on faces and yes, as an app for taking photos of people's faces, it works. It's especially evident for skin smoothing on cheeks.
Think of it as a toned down Glamour Shots for your ATIV. Grab that app here in the Samsung Collection.
RSS Times
Samsung's "stylish" and free Google Reader for Windows Phone is on version 2.0.1.0 now. We haven't used this app before but according to reader chataddicted, the app hasn't been updated in quite some time.
Version 2.x is evidently optimized for Windows Phone 8 with doublewide Tiles, Lockscreen image and detailed information support and we're not going to pull any punches: it's freaking gorgeous.
The app has a very minimal feel to it, focusing on typography and not chrome. It does a nice job of reformatting articles into this format and it comes across as clean and elegant. It can be tad slow sometimes but that's really a nitpick from the user experience.
Over all a nice experience and that Lockscreen support is quitter killer. You can pick up RSS Times here in the Samsung Collection.
Mini Diary
Samsung's diary on the go also received a sold update with Windows Phone 8 support. It too was knocked up to version 2.0 and it's also quite an elegant app. Designed to document your travels, the app allows you to embed photos, drawings, voice notes while it automatically pulls in your location and weather (both are optional).
Later, you can head back into your memories by sorting through date or location.
While we personally have little use for the app, it's very well designed and easy to use. It also has doublewide Tile support showing your latest entry.
The big changes with version 2.0 is you can save, backup and restore your Diaries to SkyDrive, making it a less volatile information should you ever switch devices (or lose one). The other new feature is also smart: password protection. Yup, now you can add a password to help protect any information you may be storing in your daily diary.
Not bad Samsung, not bad all. (Unfortunately we can't find the Store link for this app).
Collins Advanced Dictionary
Yes, Samsung released a Oxford Chinese Dictionary to the Samsung Collection. The 16MB app is actually a decent portable dictionary with "over 300,000 words". It's completely offline too, which is great for when you're in those situations where data usage is verboten.
To be honest, when we run it seems just like a normal dictionary—you can create flashcards, look up things, link to Bing or Wikipedia for more info. It's quite nice and for free, not a bad option.
You can find the Collins Advanced Dictionary here in the Samsung Collection.
Thanks, chataddicted, for the heads up
Windows Central Newsletter
Get the best of Windows Central in in your inbox, every day!
Daniel Rubino is the Editor-in-chief of Windows Central, head reviewer, podcast co-host, and analyst. He has been covering Microsoft since 2007 when this site was called WMExperts (and later Windows Phone Central). His interests include Windows, laptops, next-gen computing, and for some reason, watches. Before all this tech stuff, he worked on a Ph.D. in linguistics, watched people sleep (for medical purposes!), and ran the projectors at movie theaters because it was fun.
Cool apps from Samsung. I'd like the dictionary app.

really????. you signed up to troll here. what a idiot you are

His intention was to get a rise from ppl, and you gave it to him ;)

Love my job, since I've been bringing in $5600… I sit at home, music playing while I work in front of my new iMac that I got now that I'm making it online https://goo.gl/7pV8d

Every thing but WP is dead. Trust me I know this to be true because my moms a lawyer. if you post this in 50 forums, AOL teamed up with virgin mobile and will pay you 50$. ;)

I suppose Mini Diary hasn't been updated for 7.8? I have Omnia 7 on 7.8 and I can't even find the app in the Store anymore :(

Hey I'd happily buy a Samsung flagship windows phone, if only they'd actually release one in the US.

I like the ATIVs if it hit T-MO yes I would buy one.

Yaaa finally they are supporting us.....im so happy.. :) thanks dani...

Dan you're a pretty good drawer ;)

Well isn't that nice!!! Good job Samsung.. And, please keep trying.

I wonder if that fairy tale, I mean Ativ S, has an audio adjustment app...

I still wouldn't buy a Samsung phone. Until I see the same level of commitment as Nokia, then ilk consider them again. MS partnering with Samsung to sell windows phones is a huge mistake. The inky reason Samsung is interested is because it gives them an opportunity to sell more of their android phones to businesses. Ex. Samsung: "hey check out this windows phone we offer for your business. Oh you don't like it? Well check out and galaxy phone."

Too true. They will just take Microsoft's expertise and apply it to their Android sets! Soon we're going to see a "business" hub in Samsung's Android phones that will provide all these upcoming features.

I disagree... Alotta android ppl are more samsung fans then android fans and a samsung windows phone gives those ppl an option other then android. In fact id like to see more samsung phones, options are never a bad thing

I still wouldn't buy a Samsung phone. Until I see the same level of commitment as Nokia, then ill consider them again. MS partnering with Samsung to sell windows phones is a huge mistake. The only reason Samsung is interested is because it gives them an opportunity to sell more of their android phones to businesses. Ex. Samsung: "hey check out this windows phone we offer for your business. Oh you don't like it? Well check out and galaxy phone."

Oh... I just found out the Samsung section is gone from my store on my Samsung Focus.... I don't know if it's because of the update to 7.8. And when I go on one of the apps from the links in the WPcentral app it says it's not available for my phone.

If updated recently, go to every section and update in the phone. Like Contacts, Office and SkyDrive, Xbox etc etc.

On wp8 Ativ s I only see 5 Apps now, minidiary, chaton is missing. They were there before

Simply click on any of the Samsung apps in the Samsung HUB, then scroll down in the description of that app and click on "More from Samsung" and you'll find all the others.

Thank you! :)
Found ChatOn and the Dictionary addons, still not the Minidiary.

I have samsung win8 tablet and have had android phone. I think Samsung is one of the worst software provider. Lots of bugs and bad performance. If i remember correctly name the of one program was kies and that had some serious problems.

Looks really nice, is there a way to get those on a Lumia?

Nope...these are Samsung exclusives that appear in the 'samsung collection'..lumia has the 'nokia collection' which is exclusive to them...

This is coming out on Nokia phones!!! Its a disgrace, im getting an android asap

The Yell app was updated not too long a go for the first time in awhile. Not overly sure what it brought to the table (WP8 support perhaps?)

Not to forget ChatOn, one of the best messaging apps for WP.

Daniel, why do you keep teasing me with that Ativ S? =( we need them here in the US

I think the same thing everytime its the phone used in a story

watch out on the dictionary app. Samsung pulled this before where they offered that dictionary as a free update then an update made it a trial.
i liked the minidiary app but the lack of export or post to facebook is kinda lame. skydrive helps I guess.

Hey u want to share ur personal diary in fb.... Omg... Its a diary apps man not notes or task...by the way u can share ur photoes and writing in fb just open the page then click the share button below....

Where's all the "fragmentation" hysteria and calls for Samsung to release all these apps for the betterment of the platform?

Can't say that because all those people would rightfully be called hypocrites, I think it is good any of the carriers improves their commitment to wp8, not every provider can be the end all and be all of all things mobile, specialization is needed and welcome to address more market segments and niches

Software support was the main reason I jumped ship from Samsung and went to Nokia, I'm glad I did.

Need lot more from Samsung

Daniel is it a slow day weres all the new articles come on :'(

Its already Sunday nothing :/

I got mini diary update in my 7.5

i wanted that phone. damn you samsung. ill make do with my 920 for now

and you would be a much better person for it.

Make do? Not the words I would use. I loved my old focus but I like my 920 a lot more

Would like to try the Ativ S. I've had the 920 for over a month and no matter how you try to hide it, the 920 is a brick. No need for it to be heavy and thick, and don't give me that optical stabilization ****s*it story for its shortcomings.
Windows Central Newsletter
Thank you for signing up to Windows Central. You will receive a verification email shortly.
There was a problem. Please refresh the page and try again.