Skiing Fred, hit the slopes and escape the Grim Reaper's grasp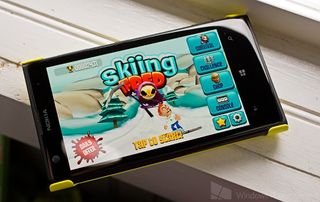 Skiing Fred is an action packed skiing game for Windows Phone 8 that has you try to navigate down a trap riddled ski slope, keeping one step ahead of the Grim Reaper.
It is the first of the Fred series of games to land in the Windows Phone Store. The Fred series of games have seen a nice amount of success over on iOS and Android. Based on the short time we have spent with Skiing Fred, it should have similar success here.
Skiing Fred's Main Menu
Skiing Fred is an action sports game that takes Fred down the slippery slopes, collecting gold coins, avoiding a wide assortment of death traps and enduring a vast range of weather conditions.
The main menu offers options to play the survival mode, challenge a friend online, visit the game's shop to buy upgrades, boosts and avatars, enter cheats, and access the game's settings that cover turning on/off the gore, adjust the sound, and adjust the video quality.
Quick note on video quality is that while you have a high, medium and low setting, the low setting works out rather nice. The high end will let you see the individual snowflakes as they fall but also is more demanding on system resources.
Skiing Fred and His Downhill Run
Game play has you controlling Fred's movement with your Windows Phone tilt sensors, tapping the left side of the screen to slow down, tapping the right side to jump and tap/holding the right side of the screen to speed up. A double tap of the right screen will let Fred perform a few mid-air stunts for added height.
Scoring is displayed at the top of the screen, as is your coin count and bonus meters.
Along the downhill journey, you will have to maneuver Fred around a wide assortment of death traps that include spiked rocks, saw blades, and lava pits. To add to the challenge, the weather conditions will change as you advance through the game to add apocalyptic meteor showers to dodge and blinding blizzards to navigate through.
Catching a Ride On Your Friendly Pterodactyl
At some point the Grimmy Reaper will make an appearance and Fred will have to out run him to continue his ski run. You also have a Pterodactyl that appears throughout the game that will swoop down, snatch Fred up and carry him down the course. The Pterodactyl is controls much like Fred with your Windows Phone tilt sensor steering it as it soars down the course.
As Fred dodges the dangers, he can take out wandering penguins and collect gold coins. The penguins add bonus points to your score and the gold coins can be used in the game's store to buy upgrades, boost and avatar characters to swap Fred out with.
Skiing Fred's Game Shop
The goal is to make it as far as possible before you crash and burn (or get impaled by one of those spikey things). The further you go, the more points you earn. Skiing Fred also has several missions that you have to complete as well. These range from buying a bonus item in the Shop to taking out a certain amount of penguins.
Overall, Skiing Fred is a fun game for Windows Phone 8. Graphics are well done, animations add to the gaming experience and the game itself is rather challenging. While I liked the game, it could use a little fine-tuning. Nothing detrimental but just a few tweaks that would improve the overall gaming experience.
Load times were noticeably longer (lowering the graphic quality helps) and instability issues were present that caused the game to crash from time to time. The crashes weren't to the level that it will drive you crazy but noticeable.
While the game does have a tutorial that walks you through the gaming controls, Skiing Fred lacks a help section. A help section would come in handy to explain the online play, what some of the gauges on the gaming screen mean or how the Survival Mode differs from the main gaming mode.
You also have an intro scene that you have to deal with every time you play the game. There needs to be a setting to disable it at some point.
While there is room for improvement, Skiing Fred is a welcome addition to the Windows Phone 8 gaming library. Think of it as Minion Rush on a snowboard just without the quirky sound effects.
Skiing Fred is a free game available for Windows Phone 8 with a few in-app purchase opportunities through the game's shop. It does require 1GB of RAM so it will not run on low-memory devices such as the Nokia Lumia 520.
You can find Skiing Fred here in the (opens in new tab) Windows Phone Store.
Windows Central Newsletter
Get the best of Windows Central in in your inbox, every day!
George is the Reviews Editor at Windows Central, concentrating on Windows 10 PC and Mobile apps. He's been a supporter of the platform since the days of Windows CE and uses his current Windows 10 Mobile phone daily to keep up with life and enjoy a game during down time.
Dedalord, please make this game available here in Brazil! You can use PEGI/ESRB to do that. I can help.

Vai na configuração do celular, região+idioma, muda o país para Estados Unidos e clica no botão de reiniciar que vai aparecer. Pronto! Agora você já pode baixar o jogo!!!

Contact directly the developers, post comments here won't change anything

Many developers go there and listen to their users in here...

Downloading now.
Hope they port it 512mb devices.

I have it installed on my 520 and it runs great!

1gb ram requirement!!!!!!/!!
*#%$##$*

Sideload the app. Its how i ran Tr2 and ss.

How do you do it??
Explain please

He's just bluffing. "Sideload" ...
Get lost

Im not bluffing. Download the xap from the store, download the wp8sdk, and deploy the app.

What is wp sdk and how to get it

The windows phone 8 software developement kit it allows you to deploy apps on a developer unlocked device. Download it here: http://developer.windowsphone.com/en-us/downloadsdk

Sorry for my disturbance as i am just 18 and new to this.but is those processes free and could you point me an forum discussing these all for my l520 and thankss.

This process is for developers, and besides would NOT work. XAP files from the store.are encrypted and cannot be deployed by the SDK, only unencrypted. You'd be better off using the "proxy trick". On the software section of the forum has a thread about it (How to install Nokia Camera or something along those lines).

Pls give the link of proxy trick. Pls.

It doesn't let you sideload apps from the marketplace and you KNOW this. Either that or you don't know what the hell you are talking about. So you are either a troll, or someone trying to act like they know more than they really do (aka, loser)

First windows problem after that ram problem

More than 60% of windows phone selling device are 512Ram still lots of games are not available on it
my poor 720:-(

New good looking games almost never run on 512 devices at launch. Most of them will be optimised down the line, no worries.

Mother of all f**ks :| why so racism against 512 mb devices :p

Hope they optimize it soon....

I hope subway surfer is come to 512ram really love it

Dear Santa, I hope that tommorow , all games with 1Gb requirements will be optimize and Windows Phone 8.1 update will be release as soon as possible as our pain of waiting also grow .

Dear Santa not wanna 8.1 at least please give m GDR3

Haha . Yeah Santa , at least GDR3 .

You can easily get gdr3 by enabling preview for developers.

But i don't hav developer account...how ??

Download preview for developer app from store.follow the steps and get gdr3

Get GDR3 through developer preview. It's totally free.

Sorry, santa is off duty tomorrow

will any new games be ported to 512 mb ram phones .....

Sounds like this game isn't very optimized for mobile period. I'm stuck with a 512MB device too, but don't mind if it's kinda glitchy to begin with. Been enjoying Rabbids for the last few days anyway. Well worth the $0.99 for those complaining that none of the new games are optimized for the 520.

Rabbid works on the 520 but it is not even close to what I would call optimized. It is laggy to the point of almost unplayability.

Works fine on mine. I'm almost done with the second world.

regretting now that i bought a lumia 620. should have bought 820 or 920 instead

Low end lagdroid with top games with lags...512mb Windowsphone minimum games with no lags..nyc competition..hmmm

I should have bought a android instead of my lumia

Please get outta here,and make sure you don't get hit by the door

Get hit by the door to knock some sense into you to upgrade to a real Lumia. A cheap or $$ hemdroid is gonna be weak.

512 Mb owners are the new WP7 owners.

Good grief, 'Horace Goes Skiing' has been rebooted! I never thought I'd see the day... To those buying new phones, 512meg models are often great phones, but they are never going to be the gamer's choice. I think we all know that, deep down. Games will always be an area that stresses the spec sheet somewhat. Yes, you can game on low spec kit and it is fun to try, but many games (usually the best ones, the ones you want) will always need the higher spec devices to shine as the author intended. No surprises there, really.

No ss no tr2 no skiing no gta for 512 MB ram.then y did u make devices with 512 MB ram...:(:(:(:(

Because it's reasonable priced devices for the majority that use a phone as an actual phone. If your main goal with a phone is gaming, then you buy the right ones that are most suitable for that purpose.

Even cheap price android can run tr2 and ss.bt not Lumia 520,620,720...

Yeah, if u love lagginess

Actually there are methods do some binging rather google.

@Tafsern if the platform is less than 10% and 90% within that percentage cannot play the game, could it be worthy to the developers? Besides, your saying goes something like if you want to play games, be rich and buy high end phone. At least they should give a date by which the game will be optimized for 512 MB devices, if it ever released. By that way, people won't complain that no app for 512MB devices.

No, if people actually want an actual phone, there are sub $20 options

All smartphones are for gaming.they should make games for mobiles and not mobiles for games...

Dang it, George, take the day off... It's Christmas!

I have downloaded and it runs smooth on my Lumia 820 In option it has graphic quality

Wow man... On Christmas day
..

IM must say android is better than wp in gaming :* ...

Amusing game. Especially when you hit the traps.

Okay so is this grand theft auto?

Ok I have a MacBook pro and I want a windows 8 2&1 any ideas?

From how long its been here http://www.windowsphone.com/s?appid=0df498ab-54ea-4c37-8d38-aa856180ab27

Looks like fun game. Downloading

WHATTTT! game looks awesome and i like the concept, not your everyday endless runner, its sad that me and my 620 are excluded tho

Is there a newspaper boy on a bicycle saying "I want my two dollars"?

My L820 is stuck on loading screen. I've tryed to open it for like 30 minutes now ._.

The same happens here. Anyone got it running on L820?

Can anyone send the link for preview for developers app ?

Check out "Preview for Develo..." for Windows Phone http://www.windowsphone.com/s?appid=178ac8a1-6519-4a0b-960c-038393741e96

Some specialists patch the xap called as patched xap remove the encryption.i don't want to discuss more about this because it may hurt devs.do some bing search u can know
Windows Central Newsletter
Thank you for signing up to Windows Central. You will receive a verification email shortly.
There was a problem. Please refresh the page and try again.