Slack Windows Phone beta update adds auto-complete features and more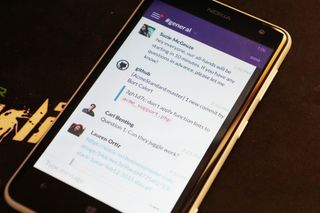 The popular business-based messaging service Slack continues to improve its recently launched Windows Phone beta app. A new version is available to download from the Windows Phone Store, which adds auto-complete for user mentions, channel mentions and emoji, among other additions and improvements.
The official Slack website has posted a detailed change log for the updated app, which has the version number of 2015.1002.0.0:
WHAT'S FIXED:
Fixed an issue where users were not prompted to join an existing team if they didn't have an account yet
Fixed an issue where activating two factor authentication made signing back in difficult
Fixed an issue where new messages from closed direct messages might not be added to the channel list properly
Fixed an issue where attachments did not always display action links
Fixed more things
Minor UI enhancements
WHAT'S NEW
Auto-complete for @ user mentions, channel mentions and emoji
Added copy message text option to message context menu (shows dialog where you can directly select text).
In case you're wondering why it works this way: 1) Windows Phone doesn't let us directly add text to the clipboard and 2) becuase of how messages are displayed with formatting, direct text selection is not possible. The popup displays unformatted text which can be directly selected & copied.
KNOWN ISSUES
Messages cannot be sent while disconected. In the future we plan to have better handling for queueing messages sent, but for now the send button should be disabled when there isn't a connection available.
Note: A few people have seen messages get sent multiple times if there are connectivity issues.
TODO LIST
Performance improvements - it can always be better
Slash commands with auto-complete
Animated gifs - We love them, but unfortunately support is lacking in the Windows Phone image control. We're working on a solution.
Adding reactions & a fancy emoji picker
Starring and viewing starred items
Commenting on files
Search
Mulit-team support
Offline support
Channel Info pane
More integration with Windows Phone specific features
Let us know what you think about how the Slack open beta test for Windows Phone is doing in the comments!
Download Slack (Beta) for Windows Phone
Source: Slack
Windows Central Newsletter
Get the best of Windows Central in your inbox, every day!
My main request remains: multi-team support. I'm enrolled in multiple teamsites, so i need this to switch. Currently i'm only in one (the most important one) but i'm missing out on other things.

Same here, but man am I glad they're making a Windows phone app!!

They've given assurance that the feature is in works

Please move that multi-team support to the top of the TODO list

Slack is beginning to devote attention to Windows Phone (and eventually Windows 10). I am concerned about the limitations of Windows Phone and how they have affected developers' abilities to bring over their best features over. For example, Slack has complained about the image control in their changelog.

Me too. The question is do WP MS people hear of these complaints?

I'd be willing to bet that GIFs are supported in Windows 10. But the fact that they need to support 8 as well makes it difficult.

Tunde, that limitation for animated GIF is easily overcome. It just means the basic control doesn't do it. There are options available for them.

Are living images coming to windows 10 because right now they do not work on my 920?

Multi-room chat and messaging aimed at businesses (though anyone can use it). It's geared towards privacy and being managed by the group members. It's free to use and my company loves it. You should give it a shot or watch some vids about it.

Cut me some slack puhlease...